Abstract
Background
To prospectively observe the effects of undercorrection of myopia on myopia progression and axial elongation in a population of 12-year-old Chinese children.
Methods
A total of 2,267 children in the Anyang Childhood Eye Study were examined at baseline, and 1,769 were followed for 1 year. Ocular examinations included cycloplegic autorefraction, axial length, visual acuity, vertometry, and accommodative lag. Questionnaires were completed by children and parents. Undercorrection of myopia was determined at baseline if presenting visual acuity could be improved by at least 2 lines with subjective refraction.
Results
Of 253 myopic children with spectacles and available information, 120 (47.4 %) were undercorrected (−4.63D  to −0.50D) and 133 (52.6 %) were fully corrected. In a multivariate model adjusting for age, gender, number of myopic parents, time spent on near work and outdoor activities per day, usage and time for wearing spectacles per day, children with undercorrection had significantly more baseline myopia (P < 0.01) and longer axial length (P = 0.03) than children with full correction. However, there were no significant differences in myopia progression (P = 0.46) and axial elongation (P = 0.96) at 1 year between the two groups of children. The regression analysis showed that myopia progression significantly decreased with increasing amount of undercorrection (r 2 = 0.02, P = 0.02) in all children. Accommodative lag significantly decreased with increasing amounts of undercorrection (P < 0.01).
Conclusions
Based on this 1-year study in Chinese children, undercorrection or full correction of myopia by wearing spectacles did not show any differences in myopia progression or axial elongation.
Access options
Buy single article
Instant access to the full article PDF.
US$ 39.95
Tax calculation will be finalised during checkout.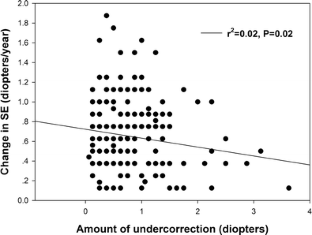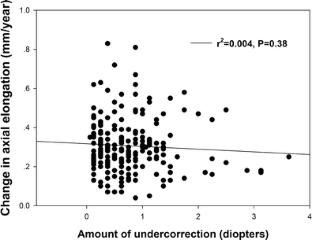 References
1.

Pan CW, Ramamurthy D, Saw SM (2012) Worldwide prevalence and risk factors for myopia. Ophthalmic Physiol Opt 32:3–16

2.

Morgan IG, Ohno-Matsui K, Saw SM (2012) Myopia. Lancet 379:1739–1748

3.

Robaei D, Rose K, Kifley A, Mitchell P (2005) Patterns of spectacle use in young Australian school children: findings from a population-based study. J AAPOS 9:579–583

4.

Robaei D, Kifley A, Rose KA, Mitchell P (2006) Refractive error and patterns of spectacle use in 12-year-old Australian children. Ophthalmology 113:1567–1573

5.

He M, Xu J, Yin Q, Ellwein LB (2005) Need and challenges of refractive correction in urban Chinese school children. Optom Vis Sci 82:229–234

6.

Zhang M, Lv H, Gao Y, Griffiths S, Sharma A, Lam D, Li L, Tse YK, Liu X, Xu D, Lu B, Congdon N (2009) Visual morbidity due to inaccurate spectacles among school children in rural China: the see well to learn well project, report 1. Invest Ophthalmol Vis Sci 50:2011–2017

7.

Guo Y, Liu LJ, Xu L, Lv YY, Tang P, Feng Y, Meng L, Jonas JB (2014) Visual impairment and spectacle use in schoolchildren in rural and urban regions in Beijing. Eur J Ophthalmol 24:258–264

8.

Rai S, Thapa HB, Sharma MK, Dhakhwa K, Karki R (2012) The distribution of refractive errors among children attending Lumbini Eye Institute, Nepal. Nepal J Ophthalmol 4:90–95

9.

Dandona R, Dandona L, Srinivas M, Sahare P, Narsaiah S, Munoz SR, Pokharel GP, Ellwein LB (2002) Refractive error in children in a rural population in India. Invest Ophthalmol Vis Sci 43:615–622

10.

Sapkota YD, Adhikari BN, Pokharel GP, Poudyal BK, Ellwein LB (2008) The prevalence of visual impairment in school children of upper-middle socioeconomic status in Kathmandu. Ophthalmic Epidemiol 15:17–23

11.

Resnikoff S, Pascolini D, Mariotti SP, Pokharel GP (2008) Global magnitude of visual impairment caused by uncorrected refractive errors in 2004. Bull World Health Organ 86:63–70

12.

Congdon N, Wang Y, Song Y, Choi K, Zhang M, Zhou Z, Xie Z, Li L, Liu X, Sharma A, Wu B, Lam DS (2008) Visual disability, visual function, and myopia among rural chinese secondary school children: the Xichang Pediatric Refractive Error Study (X-PRES)–report 1. Invest Ophthalmol Vis Sci 49:2888–2894

13.

He M, Huang W, Zheng Y, Huang L, Ellwein LB (2007) Refractive error and visual impairment in school children in rural southern China. Ophthalmology 114:374–382

14.

Al Wadaani FA, Amin TT, Ali A, Khan AR (2013) Prevalence and pattern of refractive errors among primary school children in Al Hassa, Saudi Arabia. Glob J Health Sci 5:125–134

15.

Smith EL 3rd (2013) Optical treatment strategies to slow myopia progression: effects of the visual extent of the optical treatment zone. Exp Eye Res 114:77–88

16.

Roberts WL, BR (1963) Evaluation of bifocal correction technique in juvenile myopia. OD dissertation. Massachusetts College of Optometry

17.

Tokoro T, Kabe S (1965) Treatment of the myopia and the changes in optical components. Report II. Full-or under-correction of myopia by glasses. Nippon Ganka Gakkai Zasshi 69:140–144

18.

Roberts WLBR (1967) Evaluation of bifocal correction technique in juvenile myopia. Optom Wkly 58:25–28

19.

Phillips JR (2005) Monovision slows juvenile myopia progression unilaterally. Br J Ophthalmol 89:1196–1200

20.

Ong E, Grice K, Held R, Thorn F, Gwiazda J (1999) Effects of spectacle intervention on the progression of myopia in children. Optom Vis Sci 76:363–369

21.

Chung K, Mohidin N, O'Leary DJ (2002) Undercorrection of myopia enhances rather than inhibits myopia progression. Vis Res 42:2555–2559

22.

Adler D, Millodot M (2006) The possible effect of undercorrection on myopic progression in children. Clin Exp Optom 89:315–321

23.

Li SM, Liu LR, Li SY, Ji YZ, Fu J, Wang Y, Li H, Zhu BD, Yang Z, Li L, Chen W, Kang MT, Zhang FJ, Zhan SY, Wang NL, Mitchell P, the Anyang Childhood Eye Study G (2013) Design, methodology and baseline data of a school-based cohort study in central China: the Anyang Childhood Eye Study. Ophthalmic Epidemiol 20:348–359

24.

Sheppard AL, Davies LN (2010) Clinical evaluation of the Grand Seiko Auto Ref/Keratometer WAM-5500. Ophthalmic Physiol Opt 30(2):143–151

25.

Nakatsuka C, Hasebe S, Nonaka F, Ohtsuki H (2005) Accommodative lag under habitual seeing conditions: comparison between myopic and emmetropic children. Jpn J Ophthalmol 49:189–194

26.

Gwiazda J, Thorn F, Bauer J, Held R (1993) Myopic children show insufficient accommodative response to blur. Invest Ophthalmol Vis Sci 34:690–694

27.

Smith EL 3rd (2013) Effects of local myopic defocus on refractive development in monkeys. Optom Vis Sci 90(11):1176–1186

28.

Smith EL 3rd (2014) Visual regulation of refractive development: insights from animal studies. Eye (Lond) 28(2):180–188

29.

Saw SM, Nieto FJ, Katz J, Schein OD, Levy B, Chew SJ (2000) Factors related to the progression of myopia in Singaporean children. Optom Vis Sci 77:549–554

30.

Guggenheim JA, Northstone K, McMahon G, Ness AR, Deere K, Mattocks C, Pourcain BS, Williams C (2012) Time outdoors and physical activity as predictors of incident myopia in childhood: a prospective cohort study. Invest Ophthalmol Vis Sci 53:2856–2865

31.

Jones LA, Sinnott LT, Mutti DO, Mitchell GL, Moeschberger ML, Zadnik K (2007) Parental history of myopia, sports and outdoor activities, and future myopia. Invest Ophthalmol Vis Sci 48:3524–3532

32.

Rose KA, Morgan IG, Ip J, Kifley A, Huynh S, Smith W, Mitchell P (2008) Outdoor activity reduces the prevalence of myopia in children. Ophthalmology 115:1279–1285
Acknowledgments
The ACES was supported by Beijing Nova Program (Z121107002512055), the Major State Basic Research Development Program of China ("973" Program, 2011CB504601) of the Ministry of Science and Technology, the Major International (Regional) Joint Research Project of the National Natural Science Foundation of China (81120108007), the National Natural Science Foundation of China (81300797), and Research Foundation of Beijing Tongren Hospital Affiliated to Capital Medical University (2012-YJJ-019).
All authors certify that they have NO affiliations with or involvement in any organization or entity with any financial interest (such as honoraria; educational grants; participation in speakers' bureaus; membership, employment, consultancies, stock ownership, or other equity interest; and expert testimony or patent-licensing arrangements), or non-financial interest (such as personal or professional relationships, affiliations, knowledge or beliefs) in the subject matter or materials discussed in this manuscript.
About this article
Cite this article
Li, S.Y., Li, SM., Zhou, Y.H. et al. Effect of undercorrection on myopia progression in 12-year-old children. Graefes Arch Clin Exp Ophthalmol 253, 1363–1368 (2015). https://doi.org/10.1007/s00417-015-3053-8
Received:

Revised:

Accepted:

Published:

Issue Date:
Keywords
Myopia progression

Undercorrection

Full correction

Children