Abstract
Purpose
Emulsification of silicone oil in the eye is a difficult problem. In an effort to find an objective way to quantify emulsification, we used the Coulter principle to measure silicone oil emulsified droplets from the washings of a series of patients.
Methods
Aqueous washouts after silicone oil removal were obtained from nine patients (nine eyes). We used the Coulter counter Multisizer® 4 to obtain the size distribution of the oil droplets.
Results
Over 65 % of the emulsified silicone oil droplets in the clinical samples had a diameter smaller than is detectable by light microscopy (2 μm). The median size of the droplets was between 1.1 and 1.9 μm. Based on the Spearman's correlation coefficient (r), there was a strong correlation between the number of the droplets that cannot be seen (between 1 and 2 μm) and those that can be seen (7–30 μm) (r = 0.817, p = 0.007).
Conclusion
Once emulsification was detected clinically in the anterior chamber, extensive emulsification would have already occurred in the posterior chamber, with most of the emulsified droplets that were too small in size to be seen on clinical examination. Ostwald ripening might explain why there were so many small droplets. The predominance of small droplets might account for some of the clinical complications associated with silicone oil use.
Access options
Buy single article
Instant access to the full article PDF.
USD 39.95
Price excludes VAT (USA)
Tax calculation will be finalised during checkout.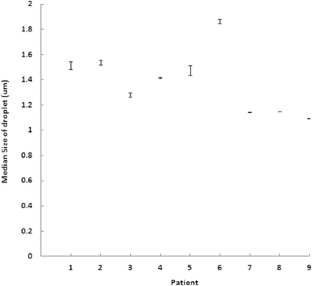 References
Toklu Y, Cakmak HB, Ergun SB, Yorgun MA, Simsek S (2012) Time course of silicone Oil emulsification. RETINA 32(10):2039–2044

Avitabile T, Bonfiglio V, Cicero A, Torrisi B, Reibaldi A (2002) Correlation between quantity of silicone Oil emulsified in the anterior chamber and high pressure in vitrectomized eyes. RETINA 22(4):443–448

Ichhpujani P, Jindal A, Jay Katz L (2009) Silicone oil induced glaucoma: a review. Graefes Arch Clin Exp Ophthalmol 247(12):1585–1593

Morphis G, Irigoyen C, Eleuteri A, Stappler T, Pearce I, Heimann H (2012) Retrospective review of 50 eyes with long-term silicone oil tamponade for more than 12 months. Graefes Arch Clin Exp Ophthalmol 250(5):645–652

Lewis H, Burke J, Abrams G, Aaberg T (1988) Perisilicone proliferation after vitrectomy for proliferative vitreoretinopathy. Ophthalmology 95(5):583–591

Honavar SG, Goyal M, Majji AB, Sen PK, Naduvilath T, Dandona L (1999) Glaucoma after pars plana vitrectomy and silicone oil injection for complicated retinal detachments. Ophthalmology 106(1):169–177

Savion N, Alhalel A, Treister G, Bartov E (1996) Role of blood components in ocular silicone oil emulsification. studies on an in vitro model. Invest Ophthalmol Vis Sci 37(13):2694–2699

Berrod J-P, Rozot P, Raspiller A, Thiery D (1994) Fluid air exchange in vitreo retinal surgery. Int Ophthalmol 18(4):237–241

Edmundson IC (1966) Coincidence error in coulter counter particle size analysis. Nature 212(5069):1450–1452

Federman JL, Schubert HD (1988) Complications associated with the use of silicone oil in 150 eyes after retina-vitreous surgery. Ophthalmology 95(7):870–876

Riedel KG, Gabel VP, Neubauer L, Kampik A, Lund OE (1990) Intravitreal silicone oil injection: complications and treatment of 415 consecutive patients. Graefes Arch Clin Exp Ophthalmol 228(1):19–23

Lai W, Wong D, Li K, Leow P-l (2008) Emulsification and inverted hypopyon formation of oxane HD in the anterior chamber. Graefes Arch Clin Exp Ophthalmol 246(11):1633–1635

Nakamura K, Refojo M, Crabtree D (1990) Factors contributing to the emulsification of intraocular silicone and fluorosilicone oils. Invest Ophthalmol Vis Sci 31(4):647–656

Scott IU, Flynn HWJ, Murray TG, Smiddy WE, Davis JL, Feuer WJ (2005) Outcomes of complex retinal detachment repair using 1000- vs 5000-centistoke silicone oil. Arch Ophthalmol 123(4):473–478

Cibis PA, Becker B, Okun E, Canaan S (1962) The Use of liquid silicone in retinal detachment surgery. Arch Ophthalmol 68(5):590–599

Heidenkummer H-P, Kampik A, Thierfelder S (1992) Experimental evaluation of in vitro stability of purified polydimethylsiloxanes (silicone Oil) in viscosity ranges from 1000 to 5000 centistokes. RETINA 12(3):S28–S32

Chan YK, Ng CO, Knox PC, Garvey MJ, Williams RL, Wong D (2011) Emulsification of silicone oil and eye movements. Invest Ophthalmol Vis Sci 52(13):9721–9727

Williams RL, Day M, Garvey MJ, English R, Wong D (2010) Increasing the extensional viscosity of silicone Oil reduces the tendency for emulsification. RETINA 30(2):300–304

Voorhees PW (1985) The theory of Ostwald ripening. J Stat Phys 38(1–2):231–252

Watzke RC (1967) Silicone retinopiesis for retinal detachment: a long-term clinical evalution. Arch Ophthalmol 77(2):185–196

Wickham L, Asaria RH, Alexander R, Luthert P, Charteris DG (2007) Immunopathology of intraocular silicone oil: enucleated eyes. Br J Ophthalmol 91(2):253–257

Moisseiev J, Barak A, Manaim T, Treister G (1993) Removal of silicone Oil in the management of glaucoma in eyes with emulsified silicone. RETINA 13(4):290–295
Conflict of interest
Financial and proprietary interest: Nil
About this article
Cite this article
Chan, Y.K., Cheung, N., Chan, W.S.C. et al. Quantifying silicone oil emulsification in patients: are we only seeing the tip of the iceberg?. Graefes Arch Clin Exp Ophthalmol 253, 1671–1675 (2015). https://doi.org/10.1007/s00417-014-2866-1
Received:

Revised:

Accepted:

Published:

Issue Date:

DOI: https://doi.org/10.1007/s00417-014-2866-1
Keywords