Abstract
Purpose
To investigate the role of reactive oxygen species (ROS) in retinal development during the early postnatal stage of rd1 mice.
Methods
Development of the three retinal vascular layers of C57BL/6 J (WT) and C3H/HeN (rd1) mice was evaluated from 9th postnatal day (P9) to P21. Retinal ROS production was semi-quantitatively measured using dihydroethidium fluorescence. Mice were treated with intraperitoneal injections of 4-hydroxy-2,2,6,6-tetramethylpiperidin-1-oxyl (TEMPOL) at a dose of 275 mg/kg body weight, and PBS as the control from P3 to P8.
Results
Rd1 mice showed retardation of retinal vascular development in the deep layer at P9. No significant difference was observed in the outer nuclear layer thickness of rd1 and WT mice. ROS production in the outer nuclear layer of rd1 mice was significantly higher than that in the outer nuclear layer of WT mice at P9, P13, and P17 (P < .05). TEMPOL facilitated the development of the deep vascular layer when compared with injection of PBS.
Conclusions
Retardation of retinal vascular development is observed in rd1 mice; ROS is partially responsible for this finding. When using rd1 mice, we should be aware of this difference in comparison to other retinal degeneration animal models and human pathophysiological changes.
Access options
Buy single article
Instant access to the full article PDF.
USD 39.95
Price includes VAT (USA)
Tax calculation will be finalised during checkout.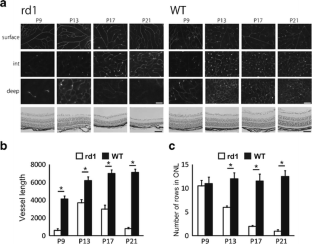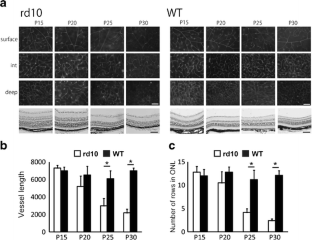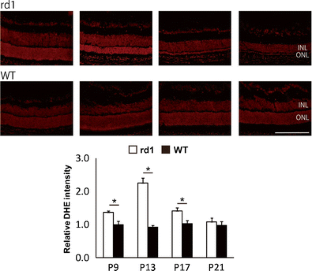 References
1.

Hartong DT, Berson EL, Dryja TP (2006) Retinitis pigmentosa. Lancet 368(9549):1795–1809

2.

Otani A, Dorrell MI, Kinder K, Moreno SK, Nusinowitz S, Banin E, Heckenlively J, Friedlander M (2004) Rescue of retinal degeneration by intravitreally injected adult bone marrow-derived lineage-negative hematopoietic stem cells. J Clin Invest 114(6):765–774

3.

Fukuda S, Nagano M, Yamashita T, Kimura K, Tsuboi I, Salazar G, Ueno S, Kondo M, Kunath T, Oshika T, Ohneda O (2013) Functional endothelial progenitor cells selectively recruit neurovascular protective monocyte-derived F4/80/Ly6c macrophages in a mouse model of retinal degeneration. Stem Cells 31(10):2149–2161

4.

Yu DY, Cringle SJ, Su EN, Yu PK (2000) Intraretinal oxygen levels before and after photoreceptor loss in the RCS rat. Invest Ophthalmol Vis Sci 41(12):3999–4006

5.

Yu DY, Cringle S, Valter K, Walsh N, Lee D, Stone J (2004) Photoreceptor death, trophic factor expression, retinal oxygen status, and photoreceptor function in the P23H rat. Invest Ophthalmol Vis Sci 45(6):2013–2019

6.

Bill A, Sperber GO (1990) Control of retinal and choroidal blood flow. Eye (Lond) 4(Pt 2):319–325

7.

Penn JS, Li S, Naash MI (2000) Ambient hypoxia reverses retinal vascular attenuation in a transgenic mouse model of autosomal dominant retinitis pigmentosa. Invest Ophthalmol Vis Sci 41(12):4007–4013

8.

Bowes C, Li T, Danciger M, Baxter LC, Applebury ML, Farber DB (1990) Retinal degeneration in the rd mouse is caused by a defect in the beta subunit of rod cGMP-phosphodiesterase. Nature 347(6294):677–680

9.

Pittler SJ, Baehr W (1991) Identification of a nonsense mutation in the rod photoreceptor cGMP phosphodiesterase beta-subunit gene of the rd mouse. Proc Natl Acad Sci U S A 88(19):8322–8326

10.

Komeima K, Usui S, Shen J, Rogers BS, Campochiaro PA (2008) Blockade of neuronal nitric oxide synthase reduces cone cell death in a model of retinitis pigmentosa. Free Radic Biol Med 45(6):905–912

11.

Vitolo JM, Cotrim AP, Sowers AL, Russo A, Wellner RB, Pillemer SR, Mitchell JB, Baum BJ (2004) The stable nitroxide tempol facilitates salivary gland protection during head and neck irradiation in a mouse model. Clin Cancer Res 10(5):1807–1812

12.

Lohr HR, Kuntchithapautham K, Sharma AK, Rohrer B (2006) Multiple, parallel cellular suicide mechanisms participate in photoreceptor cell death. Exp Eye Res 83(2):380–389

13.

Rohrer B, Pinto FR, Hulse KE, Lohr HR, Zhang L, Almeida JS (2004) Multidestructive pathways triggered in photoreceptor cell death of the rd mouse as determined through gene expression profiling. J Biol Chem 279(40):41903–41910

14.

Rhee SG (2006) Cell signaling. H2O2, a necessary evil for cell signaling. Science 312(5782):1882–1883

15.

Humphries P, Kenna P, Farrar GJ (1992) On the molecular genetics of retinitis pigmentosa. Science 256(5058):804–808

16.

Farber DB, Lolley RN (1974) Cyclic guanosine monophosphate: elevation in degenerating photoreceptor cells of the C3H mouse retina. Science 186(4162):449–451

17.

Sharma AK, Rohrer B (2004) Calcium-induced calpain mediates apoptosis via caspase-3 in a mouse photoreceptor cell line. J Biol Chem 279(34):35564–35572

18.

Fox DA, Poblenz AT, He L (1999) Calcium overload triggers rod photoreceptor apoptotic cell death in chemical-induced and inherited retinal degenerations. Ann N Y Acad Sci 893:282–285

19.

Soule BP, Hyodo F, Matsumoto K, Simone NL, Cook JA, Krishna MC, Mitchell JB (2007) The chemistry and biology of nitroxide compounds. Free Radic Biol Med 42(11):1632–1650

20.

Sanz MM, Johnson LE, Ahuja S, Ekström PA, Romero J, van Veen T (2007) Significant photoreceptor rescue by treatment with a combination of antioxidants in an animal model for retinal degeneration. Neuroscience 145(3):1120–1129

21.

Hahn SM, Tochner Z, Krishna CM et al (1992) Tempol, a stable free radical, is a novel murine radiation protector. Cancer Res 52(7):1750–1753

22.

Chang B, Hawes NL, Hurd RE, Davisson MT, Nusinowitz S, Heckenlively JR (2002) Retinal degeneration mutants in the mouse. Vis Res 42(4):517–525

23.

Chang B, Hawes NL, Pardue MT, German AM, Hurd RE, Davisson MT, Nusinowitz S, Rengarajan K, Boyd AP, Sidney SS, Phillips MJ, Stewart RE, Chaudhury R, Nickerson JM, Heckenlively JR, Boatright JH (2007) Two mouse retinal degenerations caused by missense mutations in the beta-subunit of rod cGMP phosphodiesterase gene. Vis Res 47(5):624–633

24.

Liu J, Wang J, Huang Q, Higdon J, Magdaleno S, Curran T, Zuo J (2006) Gene expression profiles of mouse retinas during the second and third postnatal weeks. Brain Res 1098(1):113–125

25.

Dorfman AL, Joly S, Hardy P, Chemtob S, Lachapelle P (2009) The effect of oxygen and light on the structure and function of the neonatal rat retina. Doc Ophthalmol 118(1):37–54

26.

Dembinska O, Rojas LM, Varma DR, Chemtob S, Lachapelle P (2001) Graded contribution of retinal maturation to the development of oxygen-induced retinopathy in rats. Invest Ophthalmol Vis Sci 42(5):1111–1118
Acknowledgments
Supported in part by research grants KAKENHI 25861614 from the Japan Society for the Promotion of Science, Tokyo, Japan, the Japan Science and the Technology Agency under a program of development of systems and technology for advanced measurement and analysis.
About this article
Cite this article
Fukuda, S., Ohneda, O. & Oshika, T. Oxidative stress retards vascular development before neural degeneration occurs in retinal degeneration rd1 mice. Graefes Arch Clin Exp Ophthalmol 252, 411–416 (2014). https://doi.org/10.1007/s00417-013-2551-9
Received:

Revised:

Accepted:

Published:

Issue Date:
Keywords
Retinal degeneration

Vascular attenuation

Tempol

Free radical

rd1 mouse