Abstract
Background
People who suffer from myalgic encephalomyelitis/chronic fatigue syndrome (ME/CFS) often report that their eye movements are sluggish and that they have difficulties tracking moving objects. However, descriptions of these visual problems are based solely on patients' self-reports of their subjective visual experiences, and there is a distinct lack of empirical evidence to objectively verify their claims. This paper presents the first experimental research to objectively examine eye movements in those suffering from ME/CFS.
Methods
Patients were assessed for ME/CFS symptoms and were compared to age, gender, and education matched controls for their ability to generate saccades and smooth pursuit eye movements.
Results
Patients and controls exhibited similar error rates and saccade latencies (response times) on prosaccade and antisaccade tasks. Patients showed relatively intact ability to accurately fixate the target (prosaccades), but were impaired when required to focus accurately in a specific position opposite the target (antisaccades). Patients were most markedly impaired when required to direct their gaze as closely as possible to a smoothly moving target (smooth pursuit).
Conclusions
It is hypothesised that the effects of ME/CFS can be overcome briefly for completion of saccades, but that continuous pursuit activity (accurately tracking a moving object), even for a short time period, highlights dysfunctional eye movement behaviour in ME/CFS patients. Future smooth pursuit research may elucidate and improve diagnosis of ME/CFS.
Access options
Buy single article
Instant access to the full article PDF.
US$ 39.95
Tax calculation will be finalised during checkout.
Subscribe to journal
Immediate online access to all issues from 2019. Subscription will auto renew annually.
US$ 119
Tax calculation will be finalised during checkout.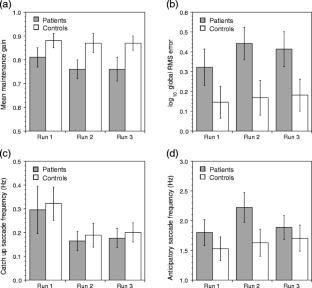 References
1.

NICE Clinical Guideline 53, Developed by the National Collaborating Centre for Primary Care. (2007) Chronic fatigue syndrome/myalgic encephalomyelitis (or encephalopathy): Diagnosis and management of CFS/ME in adults and children. Retrieved from http://www.nice.org.uk/nicemedia/live/11824/36193/36193.pdf [Accessed 10th April 2013]

2.

Lorusso L, Mikhaylova SW, Capelli E, Ferrari D, Ngonga GK, Ricevuti G (2009) Immunological aspects of chronic fatigue syndrome. Autoimmun Rev 8:287–291

3.

Chen R, Liang FX, Moriya J, Yamakawa J, Sumino H, Kanda T, Takahashi T (2008) Chronic fatigue syndrome and the central nervous system. J Int Med Res 36:867–874

4.

Hollingsworth KG, Jones DE, Taylor R, Blamire AM, Newton JL (2010) Impaired cardiovascular response to standing in chronic fatigue syndrome. Eur J Clin Invest 40:608–615

5.

Carruthers BM, Jain AK, De Meirleir KL, Peterson DL, Klimas NG, Lerner AM et al (2003) Myalgic encephalomyelitis ⁄ chronic fatigue syndrome: clinical working case definition, diagnostic and treatment protocols. J Chronic Fatigue Syndr 11:7–116

6.

Carruthers BM, van de Sande MI, De Meirleir KL, Klimas NG, Broderick G, Mitchell T et al (2011) Myalgic encephalomyelitis: international consensus criteria. J Internal Med 270:327–338

7.

Christley Y, Duffy T, Martin CR (2012) A review of the definitional criteria for chronic fatigue syndrome. J Eval Clin Pract 18:25–31

8.

Fukuda K, Straus SE, Hickie I, Sharpe MC, Dobbins JG, Komaroff A (1994) The chronic fatigue syndrome: a comprehensive approach to its definition and study. Ann Intern Med 121:953–959

9.

Griffith JP, Zarrouf FA (2008) A systematic review of chronic fatigue syndrome: don't assume it's depression. Prim Care Companion J Clin Psychiatry 10(2):120–128

10.

Capuron L, Welberg L, Heim C, Wagner D, Solomon L, Papanicolaou DA et al (2006) Cognitive dysfunction relates to subjective report of mental fatigue in patients with chronic fatigue syndrome. Neuropsychopharm 31:1777–1784

11.

Majer M, Welberg LAM, Capuron L, Miller AH, Pagnoni G, Reeves WC (2008) Neuropsychological performance in persons with chronic fatigue syndrome: results from a population study. Psychosom Med 70:829–836

12.

Michiels V, Cluydts R, Fischler B (1998) Attention and verbal learning in patients with chronic fatigue syndrome. J Int Neuropsychol Soc 4:456–466

13.

Cockshell SJ, Mathias JL (2010) Cognitive functioning in chronic fatigue syndrome: a meta-analysis. Psychol Med 40:1253–1267

14.

Cook DB, O'Connor PJ, Lange G, Steffener J (2007) Functional neuroimaging correlates of mental fatigue induced by cognition among chronic fatigue syndrome patients and controls. NeuroImage 36:108–122

15.

Flor-Henry P, Lind JC, Koles ZJ (2010) EEG source analysis of chronic fatigue syndrome. Psychiat Res 181:155–164

16.

Lange G, Steffener J, Cook DB, Bly BM, Christodoulou C, Liu WC et al (2005) Objective evidence of cognitive complaints in Chronic Fatigue Syndrome: A BOLD fMRI study of verbal working memory. Neuroimage 26:513–524

17.

Leslie S (1997) Chronic fatigue syndrome: optometric clinical presentation and management. J Behav Optom 8:155–161

18.

Potaznick W, Kozol N (1992) Ocular manifestations of chronic fatigue and immune dysfunction syndrome. Optom Vis Sci 69:811–814

19.

Vedelago LJ (1997) Visual dysfunction in chronic fatigue syndrome. J Behav Optom 8:149–154

20.

Sereno AB, Holzman PS (1995) Antisaccades and smooth pursuit eye movements in schizophrenia. Biol Psychiatry 37:394–401

21.

Jason LA, Evans M, Porter N, Brown M, Brown A, Hunnell J et al (2010) The development of a revised Canadian myalgic encephalomyelitis chronic fatigue syndrome case definition. Am J Biochem Biotechnol 6:120–135

22.

Bach M (1996) The "Freiburg Visual Acuity Test" — automatic measurement of visual acuity. Optom Vis Sci 73:49–53

23.

Wechsler D (1981) Manual for the Wechsler adult intelligence scale—revised. Psychological Corporation, New York

24.

Austin MP, Mitchell P, Wilhelm K, Parker G, Hickie I, Brodaty H et al (1999) Cognitive function in depression: a distinct pattern of frontal impairment in melancholia? Psychol Med 29:73–85

25.

Hoyer WJ, Stawski RS, Wasylyshyn C, Verhaeghen P (2004) Adult age and digit symbol substitution performance: a meta-analysis. Psychol Aging 19:211–214

26.

Holzman PS, O'Brian C, Waternaux C (1991) Effects of lithium treatment on eye movements. Biol Psychiatry 29:1001–1015

27.

Smyrnis N (2008) Metric issues in the study of eye movements in psychiatry. Brain Cogn 68:341–358

28.

O'Driscoll GA, Callahan BL (2008) Smooth pursuit in schizophrenia: a meta-analytic review of research since 1993. Brain Cogn 68:359–370

29.

Ross RG, Olincy A, Zerbe G, Radant A (2003) Which duration of postsaccadic slowing identifies anticipatory saccades during smooth pursuit eye movements? Psychophysiology 38:325–333

30.

Bäckman L, Small BJ, Wahlin A, Larsson M (2000) Cognitive functioning in very old age. In: Salthouse TA, Craik FIM (eds) The handbook of aging and cognition, 2nd edn. Lawrence Erlbaum Associates, Inc., Mahwah, pp 499–558
Acknowledgements
This research was funded by ME Research UK and the Irish ME Trust. We are extremely grateful to all our participants, especially those suffering from ME/CFS, for taking part in the study. We thank Professor Leonard Jason, DePaul University, Chicago for kindly providing us with the DePaul Symptom Questionnaire (DSQ).
Additional information
The authors have no financial relationship with the body that funded this research. The authors have full control of all primary data, and agree to allow Graefe's Archive for Clinical and Experimental Ophthalmology to review their data upon request.
About this article
Cite this article
Badham, S.P., Hutchinson, C.V. Characterising eye movement dysfunction in myalgic encephalomyelitis/chronic fatigue syndrome. Graefes Arch Clin Exp Ophthalmol 251, 2769–2776 (2013). https://doi.org/10.1007/s00417-013-2431-3
Received:

Revised:

Accepted:

Published:

Issue Date:
Keywords
Myalgic encephalomyelitis (ME)

Chronic fatigue syndrome (CFS)

Eye movements

Prosaccades

Antisaccades

Smooth pursuit