Abstract
Background
Approximately one in ten students aged 6 to 16 in Ontario (Canada) school boards have an individual education plan (IEP) in place due to various learning disabilities, many of which are specific to reading difficulties. The relationship between reading (specifically objectively determined reading speed and eye movement data), refractive error, and binocular vision related clinical measurements remain elusive.
Methods
One hundred patients were examined in this study (50 IEP and 50 controls, age range 6 to 16 years). IEP patients were referred by three local school boards, with controls being recruited from the routine clinic population (non-IEP patients in the same age group). A comprehensive eye examination was performed on all subjects, in addition to a full binocular vision work-up and cycloplegic refraction. In addition to the cycloplegic refractive error, the following binocular vision related data was also acquired: vergence facility, vergence amplitudes, accommodative facility, accommodative amplitudes, near point of convergence, stereopsis, and a standardized symptom scoring scale. Both the IEP and control groups were also examined using the Visagraph III system, which permits recording of the following reading parameters objectively: (i) reading speed, both raw values and values compared to grade normative data, and (ii) the number of eye movements made per 100 words read. Comprehension was assessed via a questionnaire administered at the end of the reading task, with each subject requiring 80% or greater comprehension.
Results
The IEP group had significantly greater hyperopia compared to the control group on cycloplegic examination. Vergence facility was significantly correlated to (i) reading speed, (ii) number of eye movements made when reading, and (iii) a standardized symptom scoring system. Vergence facility was also significantly reduced in the IEP group versus controls. Significant differences in several other binocular vision related scores were also found.
Conclusion
This research indicates there are significant associations between reading speed, refractive error, and in particular vergence facility. It appears sensible that students being considered for reading specific IEP status should have a full eye examination (including cycloplegia), in addition to a comprehensive binocular vision evaluation.
Access options
Buy single article
Instant access to the full article PDF.
USD 39.95
Price includes VAT (USA)
Tax calculation will be finalised during checkout.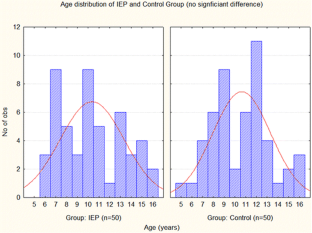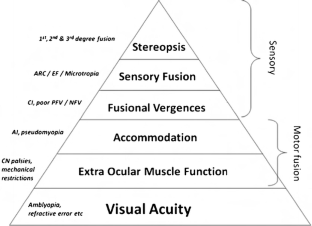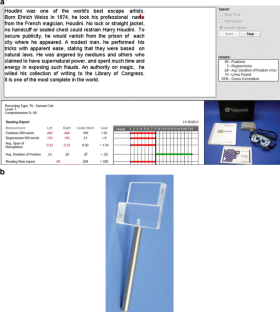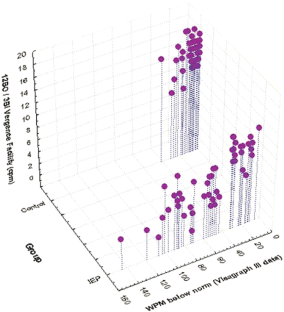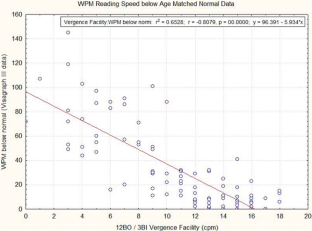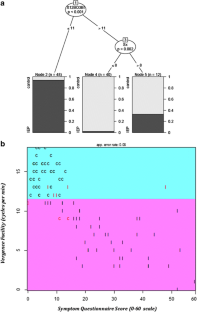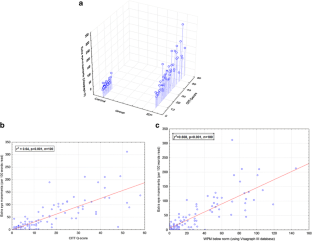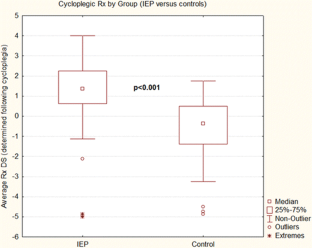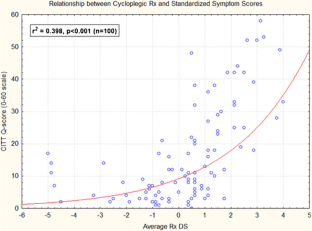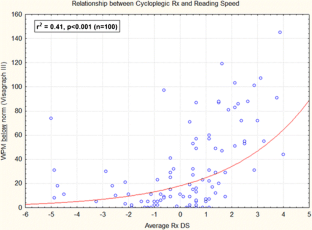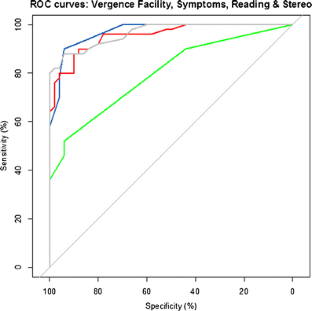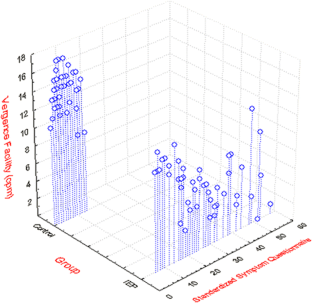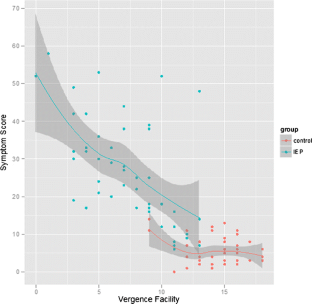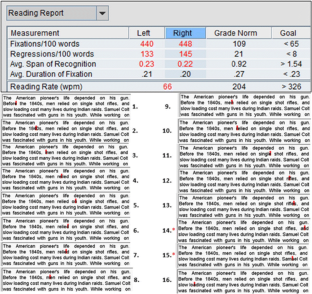 References
1.

Sheedy JE (1988) Binocular versus monocular task performance. Am J Optom Phys Opt 63:839

2.

Jones RK, Lee DN (1981) Why two eyes are better than one: the two views of binocular vision. J Exp Psychol Hum Percept Perform 7:30

3.

Kulp MT, Schmidt PP (1996) Effect of oculomotor and other visual skills on reading performance. A literature review. Optom Vis Sci 73(4):283–292

4.

Kulp MT, Schmidt PP (1996) Visual predictors of reading performance in kindergarten & first grade children. Optom Vis Sci 73(4):255–262

5.

Young B, Collier-Gary K, Schwing S (1994) Visual factors: a primary cause of failure in beginning reading. J Optom Vis Dev 32(1):58–71

6.

Grisham D, Powers M, Riles P (2007) Visual skills of poor readers in high school. Optometry 78(10):542–549

7.

Fulk G, Goss D (2001) Relation between refractive status and teacher evaluation of school achievement. J Optom Vis Dev 32:80–82

8.

Rosner J, Rosner J (1997) The relationship between moderate hyperopia and academic achievement. How much plus is enough? J Am Optom Assoc 68:648–650

9.

Eames T (1955) The influence of hypermetropia and myopia on reading achievement. Am J Ophthalmol 39:375–377

10.

Grisham J, Simons H (1986) Refractive error the reading process: a literature analysis. J Am Optom Assoc 57:44–55

11.

Simons H, Grisham J (1987) Binocular anomalies and reading problems. J Am Optom Assoc 58:578–587

12.

Granet DB, Gomi CF, Ventura R, Miller-Scholte A (2005) The relationship between convergence insufficiency and ADHD. Strabismus 13:163–168

13.

Scheimann M, Blaskey P, Ciner EB, Gallaway M, Parisi M, Pollack K, Selznick R (1990) Vision characteristics of individuals indentified as Irlen filter candidates. J Am Optom Assoc 61:600–605

14.

Clinical Practice Guideline (2011) ADHD: clinical practice guidelines for the diagnosis, evaluation and treatment of ADHD disorder in children and adolescents. J Pediatrics 128(5):1007–1021

15.

Borsting E, Rouse M, Chu R (2005) Measuring ADHD behaviours in children with symptomatic accommodative dysfunction or convergence insufficiency: a preliminary study. Optometry 76(10):588–592

16.

Colby D, Laukkanen HR, Yolton RL (1998) Use of the Taylor visagraph system to evaluate eye movements made during reading. J Am Optom Assoc 69(1):22–32

17.

Webber A, Wood J, Gole G, Brown B (2011) DEM test, Visagraph eye movement recordings and reading ability in children. Optom Vis Sci 88(2):295–302

18.

Crawford C (2002) Learning Disabilities in Canada: Economic Costs to Individuals, Families and Society. Prepared for the Learning Disabilities Association of Canada by the Roeher Institute

19.

Quaid PT, Hamilton-Wright A (2010) Diagnosing extraocular muscle dysfunction in clinic: comparing computerized hess analysis, Park's 3-step test and a novel 3-step test. J Optom Vis Dev 41(3):143–157

20.

Gall R, Wick B, Bedell H (1998) Vergence facility: establishing clinical utility. Optom Vis Sci 75(10):731–742

21.

Sassanov O, Sassonov Y, Koslowe CK, Shneor E (2010) The effect of test sequence on measurement of positive and negative fusional vergence. J Optom Vis Dev 41(1):24–27

22.

CITT Investigator Group (2008) A randomized clinical trial of treatments for symptomatic convergence insufficiency in children. Arch Ophthalmol 126(10):1336–1349

23.

Marran LF, DeLand PN, Nguyen AL (2006) Accommodative insufficiency is the primary source of symptoms in children diagnosed with convergence insufficiency. Optom Vis Sci 83(5):281–289

24.

Kleinstein RN, Jones LA, Hullett S, Kwon S, Lee RJ, Friedman NE, Manny RE, Mutti DO, Yu JA, Zadnik K (2003) Refractive error and ethnicity in children. Arch Ophthalmol 121:1141–1147

25.

Zadnik K (1997) Myopia development in childhood. Optom Vis Sci 74:603–608

26.

Borsting E, Rouse MW, Deland PN, Hovett S, Kimura D, Park M, Stephens B (2003) Association of symptoms and convergence and accommodative insufficiency in school-aged children. Optometry 74(1):25–34

27.

Simons HD, Gassler PA (1988) Vision anomalies and reading skill: a meta analysis of the literature. Am J Optom Physiol Opt 65(11):893–904

28.

Grisham JD, Simons HD (1986) Refractive error and the reading process: a literature analysis. J Am Optom Assoc 57(1):44–55

29.

Palomo-Alvarez C, Puell MC (2010) Binocular function in school children with reading difficulties. Graefes Arch Clin Exp Ophthalmol 248:885–892

30.

O'Donaghue L, Rudnicka A, McClelland J, Logan N, Saunders K (2012) Visual acuity measures do not reliably detect childhood refractive error: an epidemiological study. PLoS ONE 7(3):1–7

31.

Aziz S, Cleary M, Stewart HK, Weir CR (2006) Are orthoptic exercises an effective treatment for convergence and fusion deficiencies? Strabismus 14:183–189

32.

Gallaway M, Boas M (2007) The impact of vergence and accommodative therapy on reading eye movements and reading speed. J Optom Vis Dev 38(3):115–120

33.

Maples WC (2003) Visual factors that significantly impact academic performance. Optometry 74(1):35–39
Acknowledgements / Disclosures
The authors have no financial interests in any of the products or testing procedures discussed in this paper. No conflicts of interest or conflicting affiliations are reported as of the date of submission of this paper. The authors have full control of all primary data, and agree to allow Graefe's Archive for Clinical and Experimental Ophthalmology to review any data if requested. The authors wish to thank two anonymous reviewers for helpful comments in the preparation of this manuscript. The authors would also like to thank Dr. Patricia Hyrnchak (Faculty, University of Waterloo) for valuable comments on the manuscript prior to submission.
About this article
Cite this article
Quaid, P., Simpson, T. Association between reading speed, cycloplegic refractive error, and oculomotor function in reading disabled children versus controls. Graefes Arch Clin Exp Ophthalmol 251, 169–187 (2013). https://doi.org/10.1007/s00417-012-2135-0
Received:

Revised:

Accepted:

Published:

Issue Date:
Keywords
Binocular vision

Reading

Visagraph

Vergence

Accommodation