Access options
Buy single article
Instant access to the full article PDF.
US$ 39.95
Tax calculation will be finalised during checkout.
Subscribe to journal
Immediate online access to all issues from 2019. Subscription will auto renew annually.
US$ 119
Tax calculation will be finalised during checkout.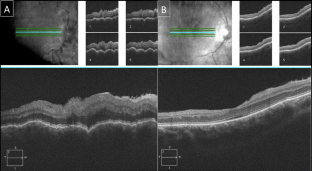 References
1.

Ceruti P, Tosi R, Marchini G (2009) Gas tamponade and cyclocryotherapy of a chronic cyclodialysis cleft. Br J Ophthalmol 93:414–416

2.

Chandler PA, Maumenee AE (1961) A major cause of hypotony. Am J Ophthalmol 52:609–618

3.

Rabinowitz M, Khator P, Shah CP, Ichhpujani P, Spirn MJ, Moster MR (2011) Direct cyclopexy with a posterior infusion cannula. Ophthalmic Surg Lasers Imaging 42:175–176

4.

Aminlari A, Callahan CE (2004) Medical, laser, and surgical management of inadvertent cyclodialysis cleft with hypotony. Arch Ophthalmol 122:399–404

5.

Helbig H, Foerster MH (1996) Management of hypotonous cyclodialysis with pars plana vitrectomy, gas tamponade, and cryotherapy. Ophthalmic Surg Lasers 27:188–191

6.

Kumar M, Kesarwani S (2011) Post-traumatic cyclodialysis cleft with hypotonic maculopathy. Clin Exp Optom
Acknowledgments
A special thank you goes to Dr Claudia Toci for her valuable comments about ocular fluidodynamics and to Marco Carrera for the technical support.
No research funding.
No proprietary interests
Competing interest
The authors declare that they have no competing interests.
Consent
Mario R Romano, MD PhD that examined the patient, received the informed written consent from the patient for publication of the manuscript and any accompanying images.
About this article
Cite this article
Romano, M.R., Vinciguerra, R., Randazzo, A. et al. Management of cyclodialysis cleft associated to hypotonic maculopathy. Graefes Arch Clin Exp Ophthalmol 251, 1023–1024 (2013). https://doi.org/10.1007/s00417-012-2048-y
Received:

Revised:

Accepted:

Published:

Issue Date:
Keywords
Travoprost

Spontaneous Closure

Intra Ocular Pressure

Scleral Buckling

Healon