Abstract
Purpose
Previous studies have reported that astaxanthin (AXT) has antioxidative and anti-inflammatory effects in addition to its ability to shorten blood transit times. As laser speckle flowgraphy (LSFG) can noninvasively visualize the hemodynamics of the choroidal circulation, we used the technique to evaluate whether continuous ingestion of 12 mg of AXT per day could increase quantitative blood flow velocity.
Methods
In this randomized, double-blind, placebo-controlled study, we examined 20 healthy volunteers who ingested 12 mg AXT or placebo capsules over a 4-week period. LSFG was measured in the right eyes of all subjects at pre-ingestion, and at 2 and 4 weeks after the treatment of AXT. LSFG values were used to calculate the square blur rate (SBR), which is a quantitative index of relative blood flow velocity.
Results
A significant increase of the macular SBR was seen 4 weeks after AXT ingestion when compared to the pre-ingestion values (Wilcoxon signed-rank test, P = 0.018). In contrast, no statistical difference in the macular SBR was detected in the placebo group (Friedman test, P = 0.598). No subjective or objective adverse events were found after the 12-mg AXT ingestion.
Conclusions
Results suggest that administration of AXT over a 4-week period can elevate the choroidal blood flow velocity without any adverse effects.
Access options
Buy single article
Instant access to the full article PDF.
US$ 39.95
Tax calculation will be finalised during checkout.
Subscribe to journal
Immediate online access to all issues from 2019. Subscription will auto renew annually.
US$ 119
Tax calculation will be finalised during checkout.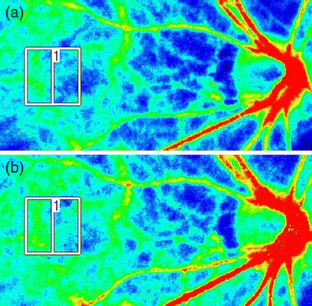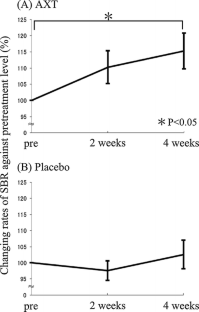 References
1.

Esterbauer H, Jurgens G, Quehenberger O, Koller E (1987) Autoxidation of human low density lipoprotein: loss of polyunsaturated fatty acids and vitamin E and generation of aldehydes. J Lipid Res 28:495–509

2.

Tanaka T, Makita H, Ohnishi M, Mori H, Satoh K, Hara A (1995) Chemoprevention of rat oral carcinogenesis by naturally occurring xanthophylls, astaxanthin and canthaxanthin. Cancer Res 55:4059–4064

3.

Wang X, Willen R, Wadstrom T (2000) Astaxanthin-rich algal meal and vitamin C inhibit Helicobacter pylori infection in BALB/cA mice. Antimicrob Agents Chemother 44:2452–2457

4.

Li W, Hellsten A, Jacobsson LS, Blomqvist HM, Olsson AG, Yuan XM (2004) Alpha-tocopherol and astaxanthin decrease macrophage infiltration, apoptosis and vulnerability in atheroma of hyperlipidaemic rabbits. J Mol Cell Cardiol 37:969–978

5.

Ohgami K, Shiratori K, Kotake S, Nishida T, Mizuki N, Yazawa K, Ohno S (2003) Effects of astaxanthin on lipopolysaccharide-induced inflammation in vitro and in vivo. Invest Ophthalmol Vis Sci 44:2694–2701

6.

Uchiyama K, Naito Y, Hasegawa G, Nakamura N, Takahashi J, Yoshikawa T (2002) Astaxanthin protects beta-cells against glucose toxicity in diabetic db/db mice. Redox Rep 7:290–293

7.

Naito Y, Uchiyama K, Aoi W, Hasegawa G, Nakamura N, Yoshida N, Maoka T, Takahashi J, Yoshikawa T (2004) Prevention of diabetic nephropathy by treatment with astaxanthin in diabetic db/db mice. Biofactors 20:49–59

8.

Miyawaki H, Takahashi J, Tsukahara H, Takehara I (2008) Effects of astaxanthin on human blood rheology. J Clin Biochem Nutr 43:69–74

9.

Hussein G, Nakamura M, Zhao Q, Iguchi T, Goto H, Sankawa U, Watanabe H (2005) Antihypertensive potential and mechanism of action of astaxanthin: II. Vascular reactivity and hemorheology in spontaneously hypertensive rats. Biol Pharm Bull 28:967–971

10.

Hirose S, Saito W, Yoshida K, Saito M, Dong Z, Namba K, Satoh H, Ohno S (2008) Elevated choroidal blood flow velocity during systemic corticosteroid therapy in Vogt–Koyanagi–Harada disease. Acta Ophthalmol 86:902–907

11.

Grunwald JE, Metelitsina TI, Dupont JC, Ying GS, Maguire MG (2005) Reduced foveolar choroidal blood flow in eyes with increasing AMD severity. Invest Ophthalmol Vis Sci 46:1033–1038

12.

Ohi Y, Kitamura A, Tsukahara H, Takahashi J, Itakura H (2011) The supplementation inquest of astaxanthin on blood kinetics. Journal of Clinical Therapeutics & Medicines 27: [Epub ahead of print]

13.

Tamaki Y, Araie M, Kawamoto E, Eguchi S, Fujii H (1995) Non-contact, two-dimensional measurement of tissue circulation in choroid and optic nerve head using laser speckle phenomenon. Exp Eye Res 60:373–383

14.

Isono H, Kishi S, Kimura Y, Hagiwara N, Konishi N, Fujii H (2003) Observation of choroidal circulation using index of erythrocytic velocity. Arch Ophthalmol 121:225–231

15.

Takayama J, Mayama C, Mishima A, Nagahara M, Tomidokoro A, Araie M (2009) Topical phenylephrine decreases blood velocity in the optic nerve head and increases resistive index in the retinal arteries. Eye Lond 23:827–834

16.

Tamaki Y, Araie M, Kawamoto E, Eguchi S, Fujii H (1994) Noncontact, two-dimensional measurement of retinal microcirculation using laser speckle phenomenon. Invest Ophthalmol Vis Sci 35:3825–3834

17.

Riva CE, Titze P, Hero M, Petrig BL (1997) Effect of acute decreases of perfusion pressure on choroidal blood flow in humans. Invest Ophthalmol Vis Sci 38:1752–1760

18.

Sugiyama T, Utsumi T, Azuma I, Fujii H (1996) Measurement of optic nerve head circulation: comparison of laser speckle and hydrogen clearance methods. Jpn J Ophthalmol 40:339–343

19.

Ishii K, Tomidokoro A, Nagahara M, Tamaki Y, Kanno M, Fukaya Y, Araie M (2001) Effects of topical latanoprost on optic nerve head circulation in rabbits, monkeys, and humans. Invest Ophthalmol Vis Sci 42:2957–2963

20.

Hayashi N, Ikemura T, Someya N (2011) Effects of dynamic exercise and its intensity on ocular blood flow in humans. Eur J Appl Physiol 111:2601–2606

21.

Alm A, Bill A (1973) Ocular and optic nerve blood flow at normal and increased intraocular pressures in monkeys (Macaca irus): a study with radioactively labelled microspheres including flow determinations in brain and some other tissues. Exp Eye Res 15:15–29

22.

Schatz H (1994) Fluorescein angiography: basic principles and interpretation. In: Ryan SJ (ed) Retina. Mosby, St. Louis, pp 911–984

23.

Iwamoto T, Hosoda K, Hirano R, Kurata H, Matsumoto A, Miki W, Kamiyama M, Itakura H, Yamamoto S, Kondo K (2000) Inhibition of low-density lipoprotein oxidation by astaxanthin. J Atheroscler Thromb 7:216–222

24.

Osterlie M, Bjerkeng B, Liaaen-Jensen S (2000) Plasma appearance and distribution of astaxanthin E/Z and R/S isomers in plasma lipoproteins of men after single dose administration of astaxanthin. J Nutr Biochem 11:482–490

25.

Coral-Hinostroza GN, Ytrestoyl T, Ruyter B, Bjerkeng B (2004) Plasma appearance of unesterified astaxanthin geometrical E/Z and optical R/S isomers in men given single doses of a mixture of optical 3 and 3'R/S isomers of astaxanthin fatty acyl diesters. Comp Biochem Physiol C Toxicol Pharmacol 139:99–110

26.

Ellis PD (2010) The essential guide to effect sizes: statistical power, meta-analysis, and the interpretation of research results. Cambridge University Press, Cambridge UK
Acknowledgments
This work was supported by the 21st Century COE Program "Topological Science and Technology", Ministry of Education, Culture, Sports, Science and Technology, Japan, and a grant from the Ministry of Education, Culture, Sports and Technology, Japan.
Conflict of interest
Hiroki Tsukahara is an employee of Fuji Chemical Industry Co., Ltd. The AXT capsules were provided by the company.
Additional information
This research project is registered with UMIN-CTR under the clinical trial registration number UMIN000004754.
About this article
Cite this article
Saito, M., Yoshida, K., Saito, W. et al. Astaxanthin increases choroidal blood flow velocity. Graefes Arch Clin Exp Ophthalmol 250, 239–245 (2012). https://doi.org/10.1007/s00417-011-1843-1
Received:

Revised:

Accepted:

Published:

Issue Date:
Keywords
Astaxanthin

Laser speckle flowgraphy

Choroidal blood flow velocity