Abstract
Purpose
The aim of this study was to characterize the functional and clinical disturbances and screen the optimal functional tests in assessing Bietti's crystalline dystrophy (BCD) patients by a cross-sectional method.
Methods
The clinical characteristics of BCD were studied in 15 Chinese patients using fundoscopy, fundus fluorescein angiography (FFA), and autofluorescence (AF). The functional features were evaluated by full-field electroretinography (fERG), 85º and 30º perimetry, multifocal ERG (mERG), and chromatic pupillometry.
Results
The 15 patients were separated into three clinical stages according to their fundus features. fERG- and mERG- showed reduced reponses in the early stages. Substages could be further defined according to the fERG results in the intermediate stages. Reduced pupillary light reflex (PLR) activities with blue-and white-light stumili existed in all patients. The most reduced PLR activities were elicited in the advanced stage of patients who had other nonresponsive functional tests.
Conclusions
This study identified the most sensitive functional methods for assessing BCD patients, and the significance of PLR in the advanced stages. In addition, the defined-substages can help us understand the disease more clearly.
Access options
Buy single article
Instant access to the full article PDF.
USD 39.95
Price excludes VAT (USA)
Tax calculation will be finalised during checkout.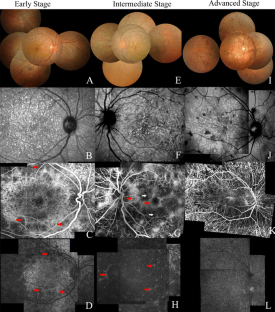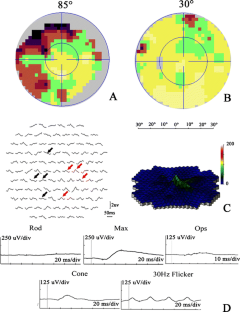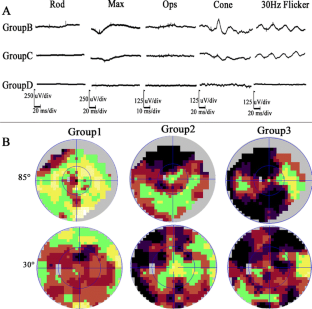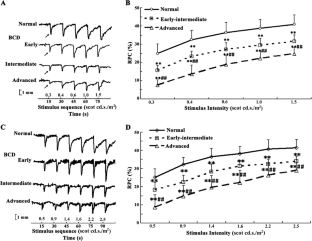 Reference
Bietti GB (1937) Su alcune forme atipiche o rare di degenerazione retinica (degenerazione tappetoretiniche e quadri morbosi similari). Boll Oculist 16:1159–1244

Yokoi Y, Nakazawa M, Mizukoshi S, Sato K, Usui T, Takeuchi K (2010) Crystal deposits on the lens capsules in Bietti crystalline corneoretinal dystrophy associated with a mutation in the CYP4V2 gene. Acta Ophthalmol 88:607–609

Jin ZB, Ito S, Saito Y, Inoue Y, Yanagi Y, Nao-I N (2006) Clinical and molecular findings in three Japanese patients with crystalline retinopathy. Jpn J Ophthalmol 50:426–431

Lai TY, Chu KO, Chan KP, Ng TK, Yam GH, Lam DS, Pang CP (2010) Alterations in serum fatty acid concentrations and desaturase activities in Bietti crystalline dystrophy unaffected by CYP4V2 genotypes. Invest Ophthalmol Vis Sci 51:1092–1097

Lin J, Nishiguchi KM, Nakamura M, Dryja TP, Berson EL, Miyake Y (2005) Recessive mutations in the CYP4V2 gene in East Asian and Middle Eastern patients with Bietti crystalline corneoretinal dystrophy. J Med Genet 42:e38

Tabatabaei A, Soleimani M, Moghimi S, Kiarudi MY (2009) A case of Bietti crystalline dystrophy with preserved visual acuity and extinguished electroretinogram: a case report. Cases J 2:7100

Chen H, Zhang M, Huang S, Wu D (2008) Functional and clinical findings in 3 female siblings with crystalline retinopathy. Doc Ophthalmol 116:237–243

Mansour AM, Uwaydat SH, Chan CC (2007) Long-term follow-up in Bietti crystalline dystrophy. Eur J Ophthalmol 17:680–682

Fong AM, Koh A, Lee K, Ang CL (2008) Bietti's crystalline dystrophy in Asians: clinical, angiographic and electrophysiological characteristics. Int Ophthalmol 29:459–470

Mataftsi A, Zografos L, Milla E, Secretan M, Munier FL (2004) Bietti's crystalline corneoretinal dystrophy: a cross-sectional study. Retina 24:416–426

Kretschmann U, Usui T, Ruether K, Zrenner E (1996) Electroretinographic campimetry in a patient with crystalline retinopathy. Ger J Ophthalmol 5:399–403

Usui T, Tanimoto N, Takagi M, Hasegawa S, Abe H (2001) Rod and cone a-waves in three cases of Bietti crystalline chorioretinal dystrophy. Am J Ophthalmol 132:395–402

Hattar S, Lucas RJ, Mrosovsky N, Thompson S, Douglas RH, Hankins MW, Lem J, Biel M, Hofmann F, Foster RG, Yau KW (2003) Melanopsin and rod–cone photoreceptive systems account for all major accessory visual functions in mice. Nature 424:76–81

Trejo LJ, Cicerone CM (1982) Retinal sensitivity measured by the pupillary light reflex in RCS and albino rats. Vision Res 22:1163–1171

Kardon R, Anderson SC, Damarjian TG, Grace EM, Stone E, Kawasaki A (2009) Chromatic pupil responses: preferential activation of the melanopsin-mediated versus outer hotoreceptor-mediated pupil light reflex. Ophthalmology 116:1564–1573

Jiang MQ, Thompson HS (1985) Pupillary defects in retinitis pigmentosa. Am J Ophthalmol 99:607–608

Wride N, Habib M, Morris K, Campbell S, Fraser S (2009) Clinical evaluation of a rapid pupil-based assessment of retinal damage associated with glaucoma. Clin Ophthalmol 3:123–128

Zaidi FH, Moseley MJ (2004) Use of pupil size and reaction to detect orbital trauma during and after surgery. Clin Otolaryngol Allied Sci 29:288–289, author reply 290

Marmor MF, Fulton AB, Holder GE, Miyake Y, Brigell M, Bach M (2009) ISCEV Standard for full-field clinical electroretinography (2008 update). Doc Ophthalmol 118:69–77

Lee KY, Koh AH, Aung T, Yong VH, Yeung K, Ang CL, Vithana EN (2005) Characterization of Bietti crystalline dystrophy patients with CYP4V2 mutations. Invest Ophthalmol Vis Sci 46:3812–3816

Aleman TS, Jacobson SG, Chico JD, Scott ML, Cheung AY, Windsor EA, Furushima M, Redmond TM, Bennett J, Palczewski K, Cideciyan AV (2004) Impairment of the transient pupillary light reflex in Rpe65(−/−) mice and humans with leber congenital amaurosis. Invest Ophthalmol Vis Sci 45:1259–1271

Li A, Jiao X, Munier FL, Schorderet DF, Yao W, Iwata F, Hayakawa M, Kanai A, Shy Chen M, Alan Lewis R, Heckenlively J, Weleber RG, Traboulsi EI, Zhang Q, Xiao X, Kaiser-Kupfer M, Sergeev YV, Hejtmancik JF (2004) Bietti crystalline corneoretinal dystrophy is caused by mutations in the novel gene CYP4V2. Am J Hum Genet 74:817–826

Wilson DJ, Weleber RG, Klein ML, Welch RB, Green WR (1989) Bietti's crystalline dystrophy. A clinicopathologic correlative study. Arch Ophthalmol 107:213–221

Jurklies B, Jurklies C, Schmidt U, Wessing A, Bornfeld N (2001) Corneoretinal dystrophy (Bietti) — Long-term course of one patient over a period of 30 years, and interindividual variability of clinical and electrophysiological findings in two patients. Klin Monatsbl Augenheilkd 218:562–569

Gaucher D, Saleh M, Sauer A, Bourcier T, Speeg-Schatz C (2010) Spectral OCT analysis in Bietti crystalline dystrophy. Eur J Ophthalmol 20:612–614

Zenteno JC, Ayala-Ramirez R, Graue-Wiechers F (2008) Novel CYP4V2 gene mutation in a Mexican patient with Bietti's crystalline corneoretinal dystrophy. Curr Eye Res 33:313–318

Tabatabaei A, Soleimani M, Moghimi S, Kiarudi MY (2009) A case of Bietti crystalline dystrophy with preserved visual acuity and extinguished electroretinogram: a case report. Cases J 2:7100

Schweitzer NM, Bouman MA (1958) Differential threshold measurements on the light reflex of the human pupil. AMA Arch Ophthalmol 59:541–550

Lucas RJ, Douglas RH, Foster RG (2001) Characterization of an ocular photopigment capable of driving pupillary constriction in mice. Nat Neurosci 4:621–626

Grozdanic SD, Matic M, Sakaguchi DS, Kardon RH (2007) Evaluation of retinal status using chromatic pupil light reflex activity in healthy and diseased canine eyes. Invest Ophthalmol Vis Sci 48:5178–5183

Kardon R, Anderson SC, Damarjian TG, Grace EM, Stone E, Kawasaki A (2011) Chromatic pupillometry in patients with retinitis pigmentosa. Ophthalmology 118:376–381
Acknowledgments
This work was supported by the National Basic Research Program of China (973 Program, No. 2007CB512203) and the Innovation and Clinical Technology Fund of Southwest Hospital, Third Military Medical University, Chongqing, China (SWH2007007). The authors thank all of the patients who participated in the study and their family members. They also thank Zhenglin Yang at the Molecular Biology Lab, People's Hospital of Sichuan Province, China, for supporting the genetic study of BCD. The authors thank Dr. T. FitzGibbon for comments and suggestions on earlier drafts of the paper.
Financial disclosures
The authors have no proprietary or commercial interest in any of the materials discussed in this article.
Additional information
All of the authors have full control of all primary data, and they agree to allow Graefe's Archive for Clinical and Experimental Ophthalmology to review the data upon request. The clinical trials had been registered in Chinese Clinical Trial Registry (ChiCTR-TRC-00000411).
About this article
Cite this article
Liu, D.N., Liu, Y., Meng, X.H. et al. The characterization of functional disturbances in Chinese patients with Bietti's crystalline dystrophy at different fundus stages. Graefes Arch Clin Exp Ophthalmol 250, 191–200 (2012). https://doi.org/10.1007/s00417-011-1809-3
Received:

Revised:

Accepted:

Published:

Issue Date:

DOI: https://doi.org/10.1007/s00417-011-1809-3
Keywords
Bietti's crystalline dystrophy

Fundoscopy

Fundus fluorescein angiography

Autofluorescence

Full-field electroretinography

Perimetry

Multifocal ERG

Chromatic pupillometry