Abstract
Background
The indications for enucleation have changed significantly over the past 60 years. We conducted a clinicopathologic study of enucleated globes to determine how and why the indications for enucleation have changed over time.
Methods
This retrospective review examined the pathology reports for 3,264 enucleated globes submitted to the Doheny Eye Institute between 1950 and 2006. Three years per decade were examined to generate a representative pool of specimens for each decade. Although the data for the 2000s were only available up to 2006, the data for this decade are drawn from 3 sample years as are all other decades. Pathology reports were reviewed for demographic information (age, sex, and ethnicity), clinical history prior to enucleation, and pathologic findings and diagnoses. Specimens were grouped according to the reason for enucleation into the following categories: atrophic/phthisis bulbi, congenital, glaucoma, infection, longstanding retinal detachment, trauma, tumor, uveitis, and other.
Results
During the study period, there were 3,264 enucleated globes. Overall, the total number of enucleations decreased over time from a peak of 1,014 in the 1960s to 275 in the 2000s. Glaucoma was the most common reason for enucleation during the 1950s (23%, 127 globes) and 1960s (31%, 315 globes). However, glaucoma steadily decreased over the following decades, and was responsible for only 8% (23 globes) of enucleations in the 2000s. Neovascular glaucoma (including glaucoma secondary to retinal vein occlusion and diabetic neovascularization) accounted for 21% (27 globes) of enucleations in the 1950s. By the 2000s, this number was 57% (13 globes). Trauma-related glaucoma accounted for 34% (43 globes) of all enucleations due to glaucoma in the 1950s, and 0% (0 globes) in the 2000s. Enucleation of globes with intraocular neoplasms accounted for 14% (79 globes) of total enucleations in the 1950s, 33% (120 globes) in the 1990s, and 51% (141 globes) in the 2000s. Uveal melanoma was the main intraocular neoplasm in the 1950s (77%, 60 globes), and retinoblastoma was the primary tumor in the enucleated globes of the 2000s (69%, 97 globes).
Conclusions
Improved medical and surgical treatment of conditions that lead to end-stage eye disease have led to a decrease in total enucleated globes. This is particularly evident for glaucoma. Changing demographics in Los Angeles and referral patterns are most likely responsible for the increase in retinoblastoma. The absolute number of enucleations secondary to neoplasms has not decreased over time, despite an increase in globe-conserving treatments such as chemotherapy and radioactive plaques.
This is a preview of subscription content,
to check access.
Access this article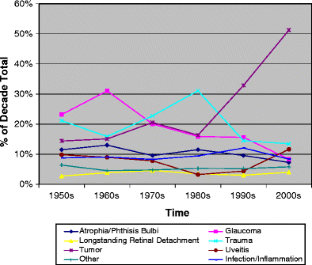 References
Spraul CW, Grossniklaus HE (1997–1998) Analysis of 24,444 surgical specimens accessioned over 55 years in an ophthalmic pathology laboratory. Int Ophthalmol 21:283–304

Gunalp I, Gunduz K, Ozkan M (1997) Causes of enucleation: a clinicopathological study. Eur J Ophthalmol 7:223–228

Scat Y, Liotet S, Bellefqih S (1996) Etiology of enucleations. Apropos of 3,246 cases. J Fr Ophtalmol 19:242–247

Obuchowska I, Sherkawey N, Elmdhm S (2005) Clinical indications for enucleation in the material of Department of Ophthalmology, Medical Academy in Bialystok in the years 1982–2002. Klin Oczna 107:75–79

Hansen AB, Petersen C, Heegaard S (1999) Review of 1028 bulbar eviscerations and enucleations. Changes in aetiology and frequency over a 20-year period. Acta Ophthalmol Scand 77:331–335

Saeed MU, Chang BY, Khandwala M (2006) Twenty year review of histopathological findings in enucleated/eviscerated eyes. J Clin Pathol 59:153–155

Erie JC, Nevitt MP, Hodge D, Ballard DJ (1992) Incidence of enucleation in a defined population. Am J Ophthalmol 113:138–144

Stiebel H, Sela M, Pe'er J (1995) Changing indications for enucleations in Hadassah University Hospital, 1960–1989. Ophthalmic Epidemiol 2:123–127

Naumann GO, Portwich E (1976) Etiology and final clinical cause for 1,000 enucleations. (A clinico-pathologic study). Klin Monatsbl Augenheilkd 168:622–630

Davanger M (1970) Causes of enucleation in Uganda. Br J Ophthalmol 54:252–255

Lim JK, Cinotti AA (1976) Causes for removal of the eye: a study of 890 eyes. Ann Ophthalmol 8:865–869

de Gottrau P, Holbach LM, Naumann GO (1994) Clinicopathological review of 1,146 enucleations (1980–90). Br J Ophthalmol 78:260–265

Cheng GY, Li B, Li LQ, Gao F, Ren RJ, Xu XL, Jonas JB (2008) Review of 1375 enucleations in the TongRen Eye Centre, Beijing. Eye Nov 22(11):1404–1409

Singh AD, Topham A (2003) Incidence of uveal melanoma in the United States: 1973–1997. Ophthalmology 110:956–961

Ries LAG, Smith MA, Gurney JG, Linet M, Tamra T, Young JL, Bunin GR (eds) (1999) Cancer Incidence and Survival among Children and Adolescents: United States SEER Program 1975–1995, National Cancer Institute, SEER Program. NIH Pub. No. 99-4649. Bethesda, MD.

Jampol LM, Moy CS, Murray TG, Reynolds SM, Albert DM, Schachat AP, Diddie KR, Engstrom RE Jr, Finger PT, Hovland KR, Joffe L, Olsen KR, Wells CG, Collaborative Ocular Melanoma Study Group (COMS Group) (2002) The COMS randomized trial of iodine 125 brachytherapy for choroidal melanoma. Ophthalmology 109:2197–2206

Gombos DS, Cheves-Barrios AP (2007) Current treatment and management of retinoblastoma. Curr Oncol Rep 9:453–458
Acknowledgments
This study was supported in part by NIH grant EY 03040.
We would like to thank Laurie Dustin of the University of Southern California for her assistance with the statistical analysis of this data.
Additional information
Conflict of Interest
There is no conflict of interest for any author.
Financial Support
Supported in part by NIH grant EY 03040
About this article
Cite this article
Setlur, V.J., Parikh, J.G. & Rao, N.A. Changing causes of enucleation over the past 60 years. Graefes Arch Clin Exp Ophthalmol 248, 593–597 (2010). https://doi.org/10.1007/s00417-009-1262-8
Received:

Revised:

Accepted:

Published:

Issue Date:

DOI: https://doi.org/10.1007/s00417-009-1262-8
Keywords