Abstract
Background
In this study, we evaluated the anatomic and functional outcome and intraocular adverse effects after a 3-month endotamponade with Densiron 68, a mixture of F6H8 with silicone oil, in complex inferior re-detachments.
Methods
Forty-eight eyes of 48 patients aged 27–82 years with retinal re-detachment due to proliferative vitreoretinopathy (PVR) grades CP1 to CA7 were included. Mean duration of the Densiron endotamponade was 108.7±66.9 days, with a mean follow-up after removal of 102.8±31.9 days.
Results
Twenty-two patients (45.8%) showed stable retinal reattachment after Densiron removal. Fourteen patients (29.2%) developed retinal re-detachment after removal, generally within 1 month and in the upper circumference (n=8). In 11 patients (22.9%) recurrent re-detachment (inferior n=8) appeared during Densiron endotamponade. In one eye (2.1%) treatment was primarily unsuccessful. Visual acuity improved from mean logMAR 1.66±1.03 to 1.47±0.97 (not statistically significant, P=0.257). Side effects included temporary inflammatory reaction (n=10), fibrin accumulation (n=6), sterile hypopyon (n=2), vitreous hemorrhage (n=6), elevated IOP (n=5), emulsification (n=4) and chronic hypotony (n=4).
Conclusion
The anatomical success rate without further interventions of 45.8% (22 of 48 patients) seems unsatisfactory. However, in evaluating the potential of Densiron, it should be considered that all patients in this study had previous surgery with standard procedures, including silicone oil, which had already failed. Intraoperative laser photocoagulation of the periphery of the upper quadrants might reduce the risk of retinal re-detachments.
Access options
Buy single article
Instant access to the full article PDF.
USD 39.95
Price excludes VAT (USA)
Tax calculation will be finalised during checkout.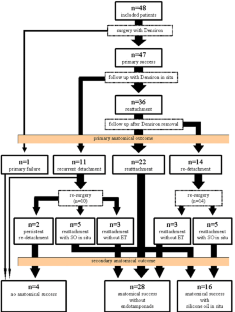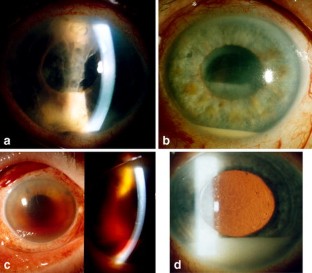 References
Abrams GW, Azen SP, McCuen BW II, Flynn HW Jr, Lai MY, Ryan SJ (1997) Vitrectomy with silicone oil or long-acting gas in eyes with severe proliferative vitreoretinopathy: results of additional and long-term follow-up. Silicone study report 11. Arch Ophthalmol 115:335–344

Chang S, Sparrow JR, Iwamoto T, Gershbein A, Ross R, Ortiz R (1991) Experimental studies of tolerance to intravitreal perfluoro-n-octane liquid. Retina 11:367–374

Chang S, Zimmerman NJ, Iwamoto T, Ortiz R, Faris D (1987) Experimental vitreous replacement with perfluorotributylamine. Am J Ophthalmol 103:29–37

Falkner CI, Binder S, Kruger A (2001) Outcome after silicone oil removal. Br J Ophthalmol 85:1324–1327

Fisk MJ, Cairns JD (1995) Silicone oil insertion. A review of 127 consecutive cases. Aust N Z J Ophthalmol 23:25–32

Flaxel CJ, Mitchell SM, Aylward GW (2000) Visual outcome after silicone oil removal and recurrent retinal detachment repair. Eye 14:834–838

Gerding H, Kolck A (2004) Perfluorohexyloctane as internal tamponade in patients with complicated retinal detachment. Results after 6 months. Ophthalmologie 101:255–262

Hiscott P, Magee RM, Colthurst M, Lois N, Wong D (2001) Clinicopathological correlation of epiretinal membranes and posterior lens opacification following perfluorohexyloctane tamponade. Br J Ophthalmol 85:179–183

Hoerauf H, Kobuch K, Dresp J, Menz DH (2001) Combined use of partially fluorinated alkanes, perfluorocarbon liquids and silicone oil: an experimental study. Graefe's Arch Clin Exp Ophthalmol 239:373–381

Johnson RN, Flynn HW Jr, Parel JM, Portugal LM (1989) Transient hypopyon with marked anterior chamber fibrin following pars plana vitrectomy and silicone oil injection. Arch Ophthalmol 107:683–686

Jonas JB, Knorr HL, Rank RM, Budde WM (2001) Retinal redetachment after removal of intraocular silicone oil tamponade. Br J Ophthalmol 85:1203–1207

Kampik A, Hoing C, Heidenkummer HP (1992) Problems and timing in the removal of silicone oil. Retina 12:S11–S16

Kirchhof B, Wong D, Van Meurs J, Hilgers RD, Macek M, Lois N, Schrage NF (2002) Use of perfluorohexyloctane as a long-term internal tamponade agent in complicated retinal detachment surgery. Am J Ophthalmol 133:95–101

Kobuch K, Menz IH, Hoerauf H, Dresp JH, Gabel VP (2001) New substances for intraocular tamponades: perfluorocarbon liquids, hydrofluorocarbon liquids and hydrofluorocarbon-oligomers in vitreoretinal surgery. Graefe's Arch Clin Exp Ophthalmol 239:635–642

La Heij EC, Hendrikse F, Kessels AG (2001) Results and complications of temporary silicone oil tamponade in patients with complicated retinal detachments. Retina 21:107–114

Lucke K, Laqua H (1990) Proliferative virtreoretinopathy silicone oil in the treatment of complicated retinal detachments. Springer, Berlin Heidelberg New York, pp 81–88

Machemer R, Aaberg TM, Freeman HM, Irvine AR, Lean JS, Michels RM (1991) An updated classification of retinal detachment with proliferative vitreoretinopathy. Am J Ophthalmol 112:159–165

Malchiodi-Albedi F, Matteucci A, Formisano G, Paradisi S, Carnovale-Scalzo G, Perilli R, Scorcia G, Caiazza S (2003) Perfluorohexyloctane (F6H8) induces structural modifications and increases apoptosis in rat primary retinal cultures. J Biomed Mater Res, Part B Appl Biomater 65:133–136

Meinert H, Roy T (2000) Semifluorinated alkanes–a new class of compounds with outstanding properties for use in ophthalmology. Eur J Ophthalmol 10:189–197

Mertens S, Bednarz J, Engelmann K (2002) Evidence of toxic side effects of perfluorohexyloctane after vitreoretinal surgery as well as in previously established in vitro models with ocular cell types. Graefes Arch Clin Exp Ophthalmol 240:989–995

Miyamoto K, Refojo MF, Tolentino FI, Fournier GA, Albert DM (1984) Perfluoroether liquid as a long-term vitreous substitute. An experimental study. Retina 4:264–268

Nabih M, Peyman GA, Clark LC Jr, Hoffman RE, Miceli M, Abou-Steit M, Tawakol M, Liu KR (1989) Experimental evaluation of perfluorophenanthrene as a high specific gravity vitreous substitute: a preliminary report. Ophthalmic Surg 20:286–293

Roider J, Hoerauf H, Kobuch K, Gabel VP (2002) Clinical findings on the use of long-term heavy tamponades (semifluorinated alkanes and their oligomers) in complicated retinal detachment surgery. Graefes Arch Clin Exp Ophthalmol 240:965–971

Schatz B, El-Shabrawi Y, Haas A, Langmann G (2004) Adverse side effects with perfluorohexyloctane as a long-term tamponade agent in complicated vitreoretinal surgery. Retina 24:567–573

Schatz B, Langmann G, Faulborn J (2001) Erfahrungen mit Fluoron (F6H8) als Tamponade in der komplexen Netzhautchirurgie. Spektrum Augenheilkd 15:238–241

Sparrow JR, Matthews GP, Iwamoto T, Ross R, Gershbein A, Chang S (1993) Retinal tolerance to intravitreal perfluoroethylcyclohexane liquid in the rabbit. Retina 13:56–62

Stolba U, Krepler K, Pflug R, Velikay M, Wedrich A, Binder S (1997) Experimental vitreous and aqueous replacement with perfluorophenanthrene. Clinical, histologic, and electrophysiologic results. Retina 17:146–153

Stolba U, Krepler K, Velikay-Parel M, Binder S (2004) The effect of specific gravity of perfluorocarbon liquid on the retina after experimental vitreous substitution. Graefes Arch Clin Exp Ophthalmol 242:931–936

Theelen T, Tilanus M, Klevering BJ (2004)Intraocular inflammation following endotamponade with high-density silicone oil. Graefes Arch Clin Exp Ophthalmol 242:617–620

Velikay M, Wedrich A, Stolba U, Datlinger P, Li Y, Binder S (1993) Experimental long-term vitreous replacement with purified and nonpurified perfluorodecalin. Am J Ophthalmol 116:565–570

Vote B, Wheen L, Cluroe A, Teoh H, McGeorge A (2003) Further evidence for proinflammatory nature of perfluorohexyloctane in the eye. Clin Exp Ophthalmol 31:408–414

Wolf S, Schon V, Meier P, Wiedemann P (2003) Silicone oil-RMN3 mixture ("heavy silicone oil") as internal tamponade for complicated retinal detachment. Retina 23:335–342

Wong D, Van Meurs JC et al. (2005) A pilot study on the use of a perfluorohexyloctane/silicone oil solution as a heavier than water internal tamponade agent. Br J Ophthalmol 89(6):662–665

Zeana D, Becker J, Kuckelkorn R, Kirchhof B (1999) Perfluorohexyloctane as a long-term vitreous tamponade in the experimental animal. Experimental perfluorohexyloctane substitution. Int Ophthalmol 23:17–24
About this article
Cite this article
Sandner, D., Engelmann, K. First experiences with high-density silicone oil (Densiron) as an intraocular tamponade in complex retinal detachment. Graefe's Arch Clin Exp Ophthalmo 244, 609–619 (2006). https://doi.org/10.1007/s00417-005-0110-8
Received:

Revised:

Accepted:

Published:

Issue Date:

DOI: https://doi.org/10.1007/s00417-005-0110-8
Keywords