Abstract
Background
Oxidative stress during ischemia-reperfusion (I/R) is thought to be a major cause of retinal injury after I/R. The present study was aimed at investigating the protective role of antioxidant application.
Methods
Four commonly used antioxidants (vitamin E=alpha tocopherol, lutein, fenugreek=Trigonella foenum-graecum and germander=Teucrium multicaule) were applied in ischemia-reperfusion (I/R) injury of the right retinae of 51 adult pigmented rats. Each of the antioxidants was administered every 6 h, beginning 6 h before the ischemia. After 60 min ischemia and 24 h reperfusion, we assayed (1) oxidative damage by measuring malondialdehyde (MDA), (2) apoptosis by measuring activated caspase-3 (using immunoblots), and (3) intrinsic antioxidative capacity by measuring glutathione (GSH) levels in the retinae.
Results
In the order of lutein>Trigonella>vitamin E>Teucrium, all four compounds were effective in preventing retinal damage by I/R, as (1) they significantly decreased the formation of MDA (8.83, 16.48, 17.24, 18.5 nmol/100 mg tissue wet weight, respectively) compared with I/R without protection (23.29 nmol/100 mg tissue wet weight; controls: 8.0 nmol/100 mg tissue wet weight); (2) they significantly inhibited the activation of caspase-3 [0.01, 0.02, 0,02, and 0.04 arbitrary units (AU), respectively, versus control, 0.0, and I/R, 0.08 AU]; and (3) they significantly decelerated the loss of GSH (from control levels of 36.04 nmol/100 mg tissue wet weight) to 30.4, 15.98, 18.1, 15.02 nmol/100 mg tissue wet weight, respectively (lutein, Trigonella, vitamin E, Teucrium), compared with unprotected I/R (12.84 nmol/100 mg tissue wet weight).
Conclusions
Our study shows that lutein, Trigonella, Teucrium and vitamin E exert protection against in vivo retinal I/R injury in rats; this may recommend these compounds (in particular, lutein) for clinical use in patients with different types of ocular I/R injuries.
This is a preview of subscription content,
to check access.
Access this article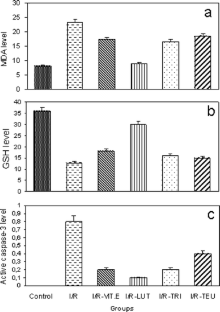 Similar content being viewed by others
References
Alves-Rodrigues A, Shao A (2004) The science behind lutein. Toxicol Lett 150:57–83

Anderson M, Honarvar A, Sjöstrand J, Peterson A, Karlsson J (2003) Decreased caspase-3 activity in human lens epithelium from posterior subcapsular cataracts. Exp Eye Res 76:175–182

Augustin AJ, Spitznas M, Koch F, Grus F, Lutz J (1998) Effects of perfluorooctylbromide and vitamin E on ischemia induced reti oxidative tissue damage. Exp Eye Res 66:19–24

Banin E, Berenshtein E, Kitrossky N, Pe'er J, Chevion M (2000) Gallium-desferrioxamine protects the cat retina against injury after ischemia and reperfussion. Free Rad Biol Med 28:315–323

Barry MC, Grace PA (1997) Ischemia reperfusion injury. Basic Surgical Sci 56:68–72

Bron AM, Maupoil V, Garcher C, Guyonnet G, Chelqi EH, Rochette L (1995) Modification of vitamin E during ischemia-reperfusion in rat retina. Invest Ophthalmol Vis Sci 36:1084–1087

Celebi S, Dilsiz N, Yilmaz T, Kukner AS (2002) Effects of melatonin, vitamin E and octreotide on lipid peroxidation during ischemia-reperfusion in the guinea pig retina. Eur J Ophthalmol 12:77–83

Chidlow G, Schmidt KG, Wood JP, Melena J. Osborne NN (2002) Alpha-lipoic acid protects the retina against ischemia-reperfusion. Neuropharmacology 43:1015–1025

Ettaiche M, Fillacier K, Widmann C, Heurteaux C, Lazdunski M (1999) Riluzole improves functional recovery after ischemia in the rat retina. Invest Ophthalmol Vis Sci 40:729–736

Hegde KR, Henein MG, Varma SD (2003) Establishment of mouse as an animal model for study of diabetic cataracts: biochemical studies. Diabetes Obes Metab 5:113–119

Hildeman DA (2004) Regulation of T-cell apoptosis by reactive oxygen species. Free Radic Biol Med 15;36:1496–1504

Huster D, Hjelle OP, Haug FM, Nagelhus EA, Reichelt W, Otterson OP (1998) Subcellular compartmentation of glutathione and glutathione precursors. A high resolution immunogold analysis of the outer retina of guinea pig. Anat Embryol (Berl). 198:277–287

Huster D, Reichenbach A, Reichelt W (2000) The glutathione content of retinal Müller (glial) cells: effect of pathological conditions. Neurochem Int 36:461–469

Ikeda K, Negishi H, Yamori Y (2003) Antioxidant nutrients and hypoxia/ischemia brain injury in rodents. Toxicology 189:55–61

Katai N, Yoshimura N (1999) Apoptotic retinal neuronal death by ischemia-reperfusion is executed by two distinct caspase family proteases. Invest Ophthalmol Vis Sci 40:2697–2705

Kowluru R, Kern TS, Engerman RL (1994) Abnormalities of retinal metabolism in diabetes or galactosemia. II. Comparision of gamma-glutamyl transpeptidase in retina and cerebral cortex, and effects of antioxidant therapy, Curr Eye Res 13:891–896

Kuriyama H, Waki M, Nakagawa M, Tsuda M (2001) Involvement of oxygen free radicals in experimental retinal ischemia and the selective vulnerability of retinal damage. Ophthalmic Res 33:196–202

Kuroiwa S, Katai N, Yoshimura N (1999) A possible role for p16INK4 in neuronal cell death after retinal ischemia-reperfusion injury. Invest Ophthalmol Vis Sci 40:528–533

Landrum JT, Bone RA (2001) Lutein, zeaxanthin, and the macular pigment. Arch Biochem Biophys 385:28–40

Lee AYW, Chung SSM (1999) Contributions of polyol pathway to oxidative stress in diabetic cataract. FASEB J 13:23–30

Lowry OH, Rosebrough NJ, Farr AL, Randall RJ (1951) Protein measurement with the Folin phenol reagent. J Biol Chem 193:265–275

Lu N, Shimura M, Kinukawa Y, Yoshida M, Tamai M (1999) Quantitative analysis of leukocyte dynamics in retinal microcirculation of rats with short-term ischemia-reperfusion injury. Curr Eye Res 19:403–410

Muller A, Pietri S, Villain M, Frejaville C, Bonne C, Culcas M (1997) Free radicals in rabbit retina under ocular hyperpressure and functional consequences. Exp Eye Res 64:637–643

Osborne NN, Cazevieille C, Wood JPM, Nash MS (1998) Flupirtine, a nonopioid centrally acting analgesic, acts as an NMDA antagonist. Gen Pharmacol 30:255–263

Ozden S, Kildaci B, Muftuoglu S, Cakar N, Yildirim C (2001) Effect of trimetazidine on retinal ischemia/reperfusion injury in rats. Ophthalmologica 215:309–317

Paasche G, Huster D, Reichenbach A (1998) The glutathione content of retinal Müller (glial) cells: the effects of aging, and of application of free radical scavengers. Ophthalmic Res 30:351–360

Pow DV, Crook DK (1995) Immunocytochemical evidence for the presence of high levels of reduced glutathione in radical glial cells and horizontal cells in the rabbit retina. Neurosci Lett 193:25–28

Rami A, Jansen S, Giesser I, Winckler J (2003) Post-ischemic activation of caspase-3 in the rat hippocampus: evidence of an axonal and dendritic localization. Neurochem Int 43:211–223

Robinson WG, Kuwabara T, Bieri JG (1979) Vitamin E deficiency and retina: photoreceptor and pigment epithelial changes. Invest Ophthalmol Vis Sci 18:683–690

Schütte M, Werner P (1998) Redistribution of glutathione in the ischemic rat retina. Neurosci Lett 17:53–56

Siu AW, Reiter RJ, To CH (1998) The efficacy of vitamin E and melatonin as antioxidants against lipid peroxidation in rat retinal homogenates. J Pineal Res 24:239–244

Siu AW, Reiter RJ, To CH (1999) Pineal indoleamines and vitamin E reduce nitric oxide-induced lipid peroxidation in rat retinal homogenates. J Pineal Res 27:122–128

Sugawara T, Chan, PH (2003) Reactive oxygen radicals and pathogenesis of neuronal death after cerebral ischemia. Antioxid Redox Signal 5:597–607

Sundelin SP, Nilsson SE (2001) Lipofuscin-formationin retinal pigment epithelial cells is reduced by antioxidants. Free Radic Biol Med 31:217–225

Szabo ME, Droy-Lefaix MT, Doly M (1997) Direct measurement of free radicals in ischemic/reperfused diabetic rat retina. Clin Neurosci 4:240–245

Szabo ME, Droy-Lefaix MT, Doly M, Carre C, Braquet P (1991) Ischemia and reperfusion-induced histologic changes in the rat retina. Invest Ophthalmol Vis Sci 32:1471–1478

Szabo ME, Haines D, Garay E, Chiavaroli C, Farine J, Hannaert P, Berta A, Garay RP (2001) Antioxidant properties of calcium dobesilate in ischemic/reperfused diabetic rat retina. Eur J Pharm 428:277–286

Tagami M, Yamagata K, Ikeda K, Fujino H, Nara Y, Nakagawa K, Kubota A, Numano F, Yamori Y (1999) Genetic vulnerability of cortical neurons isolated from stroke-prone spontaneously hypertensive rats in hypoxia and oxygen reperfusion. Hypertens Res 22:23–29

Takahashi A, Masuda A, Sun M, Centonze VE, Herman B (2004) Oxidative stress-induced apoptosis is associated with alterations in mitochondrial caspase activity and Bcl-2-dependent alterations in mitochondrial pH. Brain Res Bull 62:497–504

Tezel G, Wax MB (1999) Inhibition of caspase activity in retinal cell apoptosis induced by various stimuli in vitro. Invest Ophthalmol Vis Sci 40:2660–2667

Tsujikawa A, Ogura Y, Hirosbiba N, Miyamoto K, Kiryu J, Tojo SJ, Miyasaka M, Honda Y (1999) Retinal ischemia-reperfusion injury attenuated by blocking of adhesion molecules of vascular endothelium. Invest Ophthalmol Vis Sci 1183–1190

Ulrich WD, Reimann J (1986) Survival and revial times of the retina: ERG studies of total ocular ischemia in rabbits and cats. Doc Ophthalmol 63:91–99

Ulubelen A, Topcu G, Kolak U (2000) Bioactive natural products, Part D. In: Studies in natural products chemistry, 23. Elsevier, pp 591–648

Vats V, Yadav SP, Biswas NR, Grover JK (2004) Anti-cataract activity of Pterocarpus marsupium bark and Trigonella foenum-graecum seeds extract in alloxan diabetic rats. J Ethnopharmacol 93:289–294

Warrier PK (1995) Ocium basilicum Linn. In: Warrier PK, Nambiar VPK, Ramankutty C (eds) Indian medicinal plants. Orient Longman, Madras, pp 160–163

Wiegand RD, Joel CD, Rapp LM, Nielsen JC, Maude MB, Anderson RE (1986) Polyunsaturated fatty acids and vitamin E in rat rod outer segments during light damage. Invest Ophthalmol Vis Sci 27:727–733

Wu GS, Walker J, Rao NA (1993) Effect of deferoxamine on retinal lipid peroxidation in experimental uveitis. Invest Ophthalmol Vis Sci 34:3084–3089

Yilmaz T, Celebi S, Kukner AS (2002) The protective effects of melatonin, vitamin E and octreotide on retinal edema during ischemia-reperfusion in the guinea pig retina. Eur J Ophthalmol 12:443–449
Acknowledgements
We would like to thank Dr Andreas M. Papas from Eastman Chemical Company, USA. for sending us free vitamin E forms. Thanks are due to Dr. Yousef Yafai for scanning the Western blots (assessment of caspase-3 activity).This work was supported by research grant numbers, SBAG-2698, TÜBİTAK, 180, 296 and 434, HÜBAK, Turkey, DAAD and DFG, Germany, for the prevention of blindness. AR was supported by the Interdisziplinäres Zentrum für Klinische Forschung (IZKF) Leipzig at the Faculty of Medicine of the Universität Leipzig (project C 05).
About this article
Cite this article
Dilsiz, N., Sahaboglu, A., Yıldız, M.Z. et al. Protective effects of various antioxidants during ischemia-reperfusion in the rat retina. Graefe's Arch Clin Exp Ophthalmo 244, 627–633 (2006). https://doi.org/10.1007/s00417-005-0084-6
Received:

Revised:

Accepted:

Published:

Issue Date:

DOI: https://doi.org/10.1007/s00417-005-0084-6
Keywords