Abstract
Objective
To determine the causes of any vision change reported during pregnancy.
Setting
An obstetrical practice in Southampton, New York.
Study population
Two hundred forty pregnant women were asked whether they had any alteration in vision. Those who agreed to take part in the study (83) and who complained of vision changes (12) were matched with the next patient seen in the practice who was asymptomatic.
Observation
All patients underwent a complete ophthalmic examination, including refraction. Those who had alterations in vision status were seen again after delivery.
Main outcome measures
Changes in visual acuity and refractive error during pregnancy.
Results
All women who complained of visual changes were found to have experienced a myopic shift from pre-pregnancy levels. (0.87±0.3 diopters in the right eye (P<0.0001) and 0.98±0.3 diopters in the left eye (P<0.0001). Post partum, all subjects returned to near pre-pregnancy levels of myopia.
Conclusions
This report links worsening of myopia to pregnancy. The causes of this myopic shift are not readily evident and merit further investigation.
Access options
Buy single article
Instant access to the full article PDF.
USD 39.95
Price excludes VAT (USA)
Tax calculation will be finalised during checkout.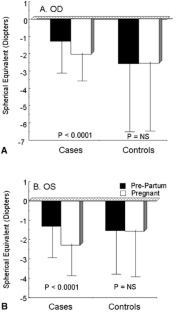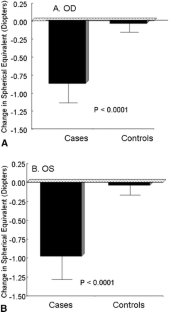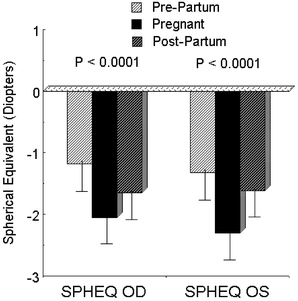 References
Christian P, Khatry SK, et al (2001) Zinc supplementation might potentiate the effect of vitamin A in restoring night vision in pregnant Nepalese women. Am J Clin Nutr 73(6): 1045–1051

Duke-Elder S (1976) System of ophthalmology. Mosby, St Louis

Gavan G, Popa DP (1989) [Data on ophthalmologic diseases during pregnancy]. Rev Chir Oncol Radiol O R L Oftalmol Stomatol Ser Oftalmol 33(4): 271–275

Hilton GF (1958) Some effects of pregnancy on the eye. Am J Optom Arch Am Acad Optom 35: 117–124

Manges TD, Banaitis DA, et al (1987) Changes in optometric findings during pregnancy. Am J Optom Physiol Opt 64(3): 159–166

Offret H, Blanchard M, et al (1980) [Ophthalmologic pathology in the pregnant woman]. J Fr Ophtalmol 3(11): 679–689

Soni PS (1980) Effects of oral contraceptive steroids on the thickness of the cornea. Am J Optom Physiol Optics 57: 825–834

Soni PS (1982) Effects of oral contraceptive steroids on corneal curvature. Am J Optom Physiol Optics 59: 199–201

Sunness J (1988) The pregnant woman's eye. Surv Ophthalmol 32(4): 219–238

Vaughan D, Asbury T (1974) General ophthalmology. Lange, Los Altos, California

Wang FM (1984) Perinatal ophthalmology. In: Duane TD, Jaeger EA (eds) Clinical ophthalmology. Harper and Row, Philadelphia

Weinreb RN, Lu A, et al (1987) Maternal ocular adaptations during pregnancy. Obstet Gynecol Surv 42(8): 471–483

Weinstock FJ (1971) Transient severe myopia. JAMA 217(9):1245–1246
Acknowledgements
The author would like to thank the staff of Hamptons Obstetrics and Gynecology for their invaluable assistance in this study. They include Drs. Hunt, Diaz, Murphy and Rolston as well as Ruth Lazars. He would also like to thank Jane Bender, Sandy Hiltner, Tracy Kohnken, Polly Stark, Kyra Viet and Janet Wright of Peconic Ophthalmology. In addition, Dr. Elizabeth Shane assisted in manuscript preparation.
About this article
Cite this article
Pizzarello, L.D. Refractive changes in pregnancy. Graefe's Arch Clin Exp Ophthalmol 241, 484–488 (2003). https://doi.org/10.1007/s00417-003-0674-0
Received:

Revised:

Accepted:

Published:

Issue Date:

DOI: https://doi.org/10.1007/s00417-003-0674-0
Keywords
Myopia

Refractive Error

Post Partum

Corneal Thickness

Spherical Equivalent