Abstract
Purpose
To determine the prognostic value of nasociliary skin lesions (Hutchinson's sign) for ocular inflammation and corneal sensory denervation in acute herpes zoster ophthalmicus.
Methods
A longitudinal observational study with a 2-month follow-up was performed involving 83 non-immunocompromised adults with acute herpes zoster ophthalmicus, with a skin rash duration of less than 7 days, referred by their general practitioner. All skin lesions at the tip, the side and the root of the nose, representing the dermatomes of the external nasal and infratrochlear branches of the nasociliary nerve, were documented by taking photographs and marking anatomical drawings. Ocular inflammatory signs were observed by slit-lamp biomicroscopy, and corneal sensitivity was measured with the Cochet–Bonnet esthesiometer at 2-month follow-up.
Results
Hutchinson's sign was a powerful predictor of ocular inflammation and corneal denervation in herpes zoster ophthalmicus [relative risks: 3.35 (CI 95%: 1.82–6.15) and 4.02 (CI 95%:1.55–10.42), respectively]. The manifestation of herpes zoster skin lesions at the dermatomes of both nasociliary branches was invariably associated with the development of ocular inflammation.
Conclusion
Clinicians should be alert for early skin lesions within the complete nasociliary dermatome, because they are a reliable prognostic sign of sight-threatening ocular complications in acute herpes zoster ophthalmicus.
Access options
Buy single article
Instant access to the full article PDF.
USD 39.95
Price excludes VAT (USA)
Tax calculation will be finalised during checkout.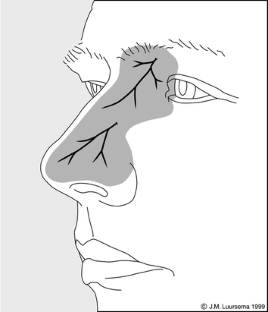 References
Bayu S, Alemayehu W (1997) Clinical profile of herpes zoster ophthalmicus in Ethiopians. Clin Infect Dis 24(6):1256–1260

Donahue JG, Choo PW, Manson JE, Platt R (1995) The incidence of herpes zoster. Arch Intern Med 155:1605–1609

Fleming DM (1991) Epidemiology of shingles. J R Soc Med 84:184

Harding SP, Lipton JR, Wells JCD (1986) Natural history of herpes zoster ophthalmicus: predictors of postherpetic neuralgia and ocular involvement. Br J Ophthalmol 71:353–358

Hope-Simpson RE (1965) The nature of herpes zoster: A long term study and a new hypothesis. Proc R Soc Med 58:9-20

Hutchinson J (1865) A clinical report on herpes zoster frontalis seu ophthalmicus (shingles affecting the forehead and the nose). Royal London Ophthalmic Hospital Report 5:191–215

Kestelyn P, Stevens AM Bakkers e.a. (1987) Severe herpes zoster opthalmicus in young African adults: marker for HLTV III seropositivity. Br J Ophthalmol 71:806–809

Lewallen S (1994) Herpes zoster ophthalmicus in Malawi. Ophthalmology 101:1801–1804

Liesegang TJ (1984) The varicella-zoster virus: systemic and ocular features. J Am Acad Dermatol 11:165–191

Liesegang TJ (1996) Herpes zoster. In: Mannis MJ, Macsai MS, Huntley AC (eds) Eye and skin disease. Lippincott-Raven, Philadelphia, pp 459–470

Mahalingam R, Wellish M, Wolf W, et al (1990) Latent varicella-zoster viral DNA in human trigeminal and thoracic ganglia. N Engl J Med 323:627–631

Margolis TP, Milner MS, Shama A, Hodge W, Seiff S (1998) Herpes zoster ophthalmicus in patients with immunodeficiency virus infection. Am J Ophthalmol 125:285–291

Marsch RJ, Cooper M (1993) Ophthalmic herpes zoster. Eye 7:350–370

Pavan-Langston D (1994) Viral disease of the cornea and external eye. In: Albert DM, Jacobiec FA (eds) Principles and practice of ophthalmology. Saunders, Philadelphia, pp 117–161

Pernkopf E (1980) Atlas of topographical and applied human anatomy, 2nd edn. Urban & Schwartzenberg, Baltimore

Potamitis T, O'Sullivan JN, Mohan-Roberts V (1997) Corneal exposure in herpes zoster ophthalmicus. Br J Gen Pract 47(418):330–331

Roat MI (1999) Corneal disorders. In: Beers MH, Berkow R, (eds) The Merck Manual, 17th edn. Merck Research Laboratories, pp 718–724

Schmader K, George LK, Burchett BM, Pieper CF, Hamilton JD (1995) Racial differences in the occurrence of herpes zoster. J Infect Dis 171:701–704

Schmader K (1997) Herpes zoster. In: Cassel CK, et al. (eds) Geriatric medicine. Springer, New York, pp 841–854

Seiff SR, Mehta AM (1990) Herpes zoster ophthalmicus: the changing epidemiology and its implications for treatment. West J Med 153(4):445–446

Womack LW, Liesegang TJ (1983) Complications of herpes zoster ophthalmicus. Arch Ophthalmol 101:42–45

Yamada K, Hayasaka S, Yamamoto Y, Setogawa T (1990) Cutaneous eruption with or without ocular complications in patients with herpes zoster involving the trigeminal nerve. Graefes Arch Clin Exp Ophthalmol 228:1–4
Acknowledgements
The authors wish to thank Jan Maarten Luursema for his visual representation of the nasociliary dermatome and Wilma Yzerman for her help in the preparation of the manuscript.
About this article
Cite this article
Zaal, M.J.W., Völker-Dieben, H.J. & D'Amaro, J. Prognostic value of Hutchinson's sign in acute herpes zoster ophthalmicus. Graefe's Arch Clin Exp Ophthalmol 241, 187–191 (2003). https://doi.org/10.1007/s00417-002-0609-1
Received:

Revised:

Accepted:

Published:

Issue Date:

DOI: https://doi.org/10.1007/s00417-002-0609-1
Keywords