Abstract
Background
More research is needed to understand the contribution of comorbidities to MS symptomatology.
Objectives
To examine the dose–response relationship between the number of comorbidities and severity of MS symptoms and to assess the relative contribution of comorbidity groups and individual comorbidities to the severity of each symptom.
Methods
We surveyed 1223 participants of the Australian MS Longitudinal Study for the presence of 30 comorbidities and the severity of 13 MS symptoms (0–10 scale). The associations between comorbidities and symptoms were assessed using negative binomial regression. The relative contributions of comorbidities to the severity of symptoms were assessed using general dominance analysis.
Results
Higher number of comorbidities was most strongly associated with a higher severity of pain and feelings of anxiety and depression (ratios of means ≥ 0.12 per comorbidity increase). Comorbidities explained between 3.7% (spasticity) and 22.0% (feelings of anxiety) of the total variance of symptom severity. Mental health and musculoskeletal disorders contributed most strongly to the severity of the most common symptoms in MS.
Conclusions
Our findings support that early recognition and optimal management of comorbidities, particularly of mental health and musculoskeletal disorders, could have a positive impact on the severity of symptoms of people with MS.
Access options
Buy single article
Instant access to the full article PDF.
US$ 39.95
Tax calculation will be finalised during checkout.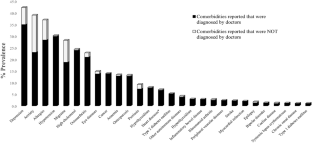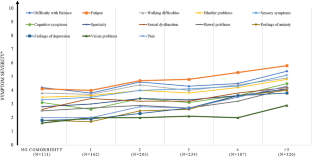 References
1.

World Health Organization (2006) Neurological disorders: public health challenges. WHO Press, World Health Organization, 20 Avenue Appia, 1211 Geneva 27, Switzerland. https://www.who.int/mental_health/publications/neurological_disorders_ph_challenges/en/. Accessed 1 Oct 2019

2.

Gelfand JM (2014) Chapter 12 - Multiple sclerosis: diagnosis, differential diagnosis, and clinical presentation. In: Goodin DS (ed) Handbook of clinical neurology, vol 122. Elsevier, Amsterdam, pp 269–290

3.

Ziemssen T (2011) Symptom management in patients with multiple sclerosis. J Neurol Sci 311:S48–S52

4.

Zwibel HL, Smrtka J (2011) Improving quality of life in multiple sclerosis: an unmet need. Am J Managed Care 17(5):S139–S145

5.

Tobin WO (2019) Management of multiple sclerosis symptoms and comorbidities. Continuum (Minneap Minn) 25(3):753–772

6.

Marrie RA, Cohen J, Stuve O, Trojano M, Sorensen PS, Reingold S, Cutter G, Reider N (2015) A systematic review of the incidence and prevalence of comorbidity in multiple sclerosis: overview. Mult Scler J 21(3):263–281. https://doi.org/10.1177/1352458514564491

7.

Marrie RA, Patten SB, Tremlett H, Wolfson C, Warren S, Svenson LW, Jette N, Fisk J (2016) Sex differences in comorbidity at diagnosis of multiple sclerosis: a population-based study. Neurology 86(14):1279–1286

8.

Marrie RA, Horwitz RI (2010) Emerging effects of comorbidities on multiple sclerosis. Lancet Neurol 9:820–828. https://doi.org/10.1016/S1474-4422(10)70135-6

9.

Newland PK, Lorenz R, Budhathoki C, Jensen MP (2015) The presence of symptoms with comorbid conditions in individuals with multiple sclerosis (MS). Clin Nurs Res 25(5):532–548. https://doi.org/10.1177/1054773815592817

10.

Fiest KM, Fisk JD, Patten SB, Tremlett H, Wolfson C, Warren S, McKay KA, Berrigan L, Marrie RA (2015) Comorbidity is associated with pain-related activity limitations in multiple sclerosis. Mult Scler Relat Disord 4(5):470–476

11.

Fiest KM, Fisk JD, Patten SB, Tremlett H, Wolfson C, Warren S, McKay KA, Berrigan LI, Marrie RA (2016) Fatigue and comorbidities in multiple sclerosis. Int J MS Care 18(2):96–104

12.

Taylor BV, Palmer A, Simpson S Jr, Lucas R, Group NS, Simmons RD, Mason D, Pearson J, Clarke G, Sabel C, Willoughby E, Richardson A, Abernethy D (2013) Assessing possible selection bias in a national voluntary MS longitudinal study in Australia. Mult Scler J 19(12):1627–1631. https://doi.org/10.1177/1352458513481511

13.

Polman CH, Reingold SC, Banwell B, Clanet M, Cohen JA, Filippi M, Fujihara K, Havrdova E, Hutchinson M, Kappos L, Lublin FD, Montalban X, O'Connor P, Sandberg-Wollheim M, Thompson AJ, Waubant E, Weinshenker B, Wolinsky JS (2011) Diagnostic criteria for multiple sclerosis: 2010 revisions to the McDonald criteria. Ann Neurol 69(2):292–302. https://doi.org/10.1002/ana.22366

14.

Kang JH, Chen YH, Lin HC (2010) Comorbidities amongst patients with multiple sclerosis: a population-based controlled study. Eur J Neurol 17(9):1215–1219. https://doi.org/10.1111/j.1468-1331.2010.02971.x

15.

Marrie R, Horwitz R, Cutter G, Tyry T, Campagnolo D, Vollmer T (2008) Comorbidity, socioeconomic status and multiple sclerosis. Mult Scler 14:1091–1098. https://doi.org/10.1177/1352458508092263

16.

Zhang Y, Taylor BV, Simpson S Jr, Blizzard L, Palmer AJ, van der Mei I (2020) Validation of 0–10 MS symptom scores in the Australian multiple sclerosis longitudinal study. Mult Scler Relat Disord 39:101895

17.

Learmonth YC, Motl RW, Sandroff BM, Pula JH, Cadavid D (2013) Validation of patient determined disease steps (PDDS) scale scores in persons with multiple sclerosis. BMC Neurol 13(1):37

18.

Hohol MJ, Orav EJ, Weiner HL (1995) Disease steps in multiple sclerosis: a simple approach to evaluate disease progression. Neurology 45(2):251–255

19.

Greenland S (1989) Modeling and variable selection in epidemiologic analysis. Am J Public Health 79(3):340–349

20.

Kamangar F (2012) Confounding variables in epidemiologic studies: basics and beyond. Arch Iran Med 15:508–516

21.

Luchman J (2013) DOMIN: stata module to conduct dominance analysis. https://ideas.repec.org/c/boc/bocode/s457629.html. Accessed 16 Apr 2018

22.

Azen R, Budescu D (2003) The dominance analysis approach for comparing predictors in multiple regression. Psychol Methods 8:129–148

23.

Azen R, Traxel N (2009) Using dominance analysis to determine predictor importance in logistic regression. J Educ Behav Stat 34:319–347

24.

Marrie RA (2018) Comorbidities in multiple sclerosis: a clinical resource guide. The Consortium of Multiple Sclerosis Centers (CMSC); Nurse Practitioner Alternatives (NPA); Catamount Medical Education. https://mscomorbidities.com/.

25.

Lo LMP, Taylor BV, Winzenberg T, Palmer AJ, Blizzard L, Ahmad H, Hussain MA, Van der Mei I (2020) Estimating the relative contribution of comorbidities in predicting health-related quality of life of people with multiple sclerosis. J Neurol (Accepted)

26.

Sascha G, Jonathan S, Mervin B, Psych C, Morrow SA (2019) Depressive symptoms are associated with more negative functional outcomes than anxiety symptoms in persons with multiple sclerosis. J Neuropsychiatry Clin Neurosci 31(1):37–42

27.

Bakshi R, Shaikh ZA, Miletich RS, Czarnecki D, Dmochowski J, Henschel K, Janardhan V, Dubey N, Kinkel PR (2000) Fatigue in multiple sclerosis and its relationship to depression and neurologic disability. Mult Scler J 6(3):181–185

28.

Feinstein A (2006) Mood disorders in multiple sclerosis and the effects on cognition. J Neurol Sci 245(1):63–66

29.

Morrow SA, Rosehart H, Pantazopoulos K (2015) Anxiety and depressive symptoms are associated with worse performance on objective cognitive tests in MS. J Neuropsychiatry Clin Neurosci 28(2):118–123

30.

Arnett PA, Barwick FH, Beeney JE (2008) Depression in multiple sclerosis: review and theoretical proposal. J Int Neuropsych Soc 14(5):691–724

31.

ShayestehAzar M, Kariminasab MH, Saravi MS, Abedini M, Fazli M, Hashemi SA, Abdizadeh P (2015) A survey of severity and distribution of musculoskeletal pain in multiple sclerosis patients; a cross-sectional study. Arch Bone Jt Surg 3(2):114–118

32.

Dobson R, Ramagopalan S, Giovannoni G (2012) Bone health and multiple sclerosis. Multiple Sclerosis J 18(11):1522–1528. https://doi.org/10.1177/1352458512453362

33.

Marrie RA, Hanwell H (2013) General health issues in multiple sclerosis: comorbidities, secondary conditions, and health behaviors. Continuum (Minneap Minn) 19(4):1046–1057

34.

Zhang T, Tremlett H, Leung S, Zhu F, Kingwell E, Fisk JD, Bhan V, Campbell TL, Stadnyk K, Yu BN, Marrie RA, Epidemiology CTit, Impact of Comorbidity on Multiple S (2016) Examining the effects of comorbidities on disease-modifying therapy use in multiple sclerosis. Neurology 86(14):1287–1295. https://doi.org/10.1212/WNL.0000000000002543

35.

Degenhardt A, Ramagopalan SV, Scalfari A, Ebers GC (2009) Clinical prognostic factors in multiple sclerosis: a natural history review. Nat Rev Neurol 5(12):672–682
Acknowledgements
The authors would like to express their deepest gratitude for all the participants of the Australian Multiple Sclerosis Longitudinal Study for their continuous support and enthusiasm to respond to all surveys.
Funding
This study was supported by Multiple Sclerosis Research Australia.
Ethics declarations
Conflicts of interest
The authors have no conflict of interest to disclose.
Ethics approval
Ethical approval for the study was initially given by the Australian Capital Territory Health Human Research Ethics Committee (HREC) and then by the Tasmanian Health and Medical HREC when the study centre was relocated to Tasmania in 2014.
Informed consent
All participants provided informed consent.
Electronic supplementary material
Below is the link to the electronic supplementary material.
About this article
Cite this article
Lo, L.M.P., Taylor, B.V., Winzenberg, T. et al. Comorbidities contribute substantially to the severity of common multiple sclerosis symptoms. J Neurol 268, 559–568 (2021). https://doi.org/10.1007/s00415-020-10192-z
Received:

Revised:

Accepted:

Published:

Issue Date:
Keywords
Multiple sclerosis

Prevalence

Comorbidity

Symptoms

Musculoskeletal disorder

Mental health disorder