Abstract
Objective
To find out if Charcot–Marie–Tooth (CMT) patients, who have peripheral vestibular as well as peripheral somatosensory impairment, have worse postural balance than those who do not.
Methods
We studied 32 patients with various CMT phenotypes and genotypes. Vestibular function was measured with the video head impulse test (vHIT) which tests vestibulo-ocular reflex (VOR) gain from each of the six semicircular canals in response to rapid head rotations. Postural balance was evaluated with a battery of four postural tests with emphasis on the modified clinical test of sensory integration in balance (mCTSIB).
Results
Half of the 32 patients had some impairment of vestibular function ranging from mild, affecting only 1–2 semicircular canals, to almost total affecting all 6 semicircular canals. Their mCTSIB scores correlated with VOR gain from the vertical rather than from the lateral semicircular canals. The worse the vertical VOR gain the worse the mCTSIB score.
Conclusion
We propose that any CMT patient could have clinically inapparent vestibular impairment that can be easily measured with the vHIT. This vestibular impairment could be contributing to their imbalance and could respond to a focused vestibular rehabilitation program.
Access options
Buy single article
Instant access to the full article PDF.
US$ 39.95
Tax calculation will be finalised during checkout.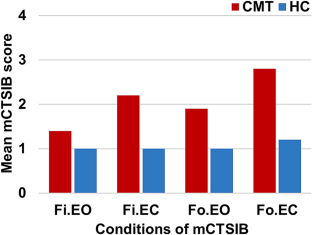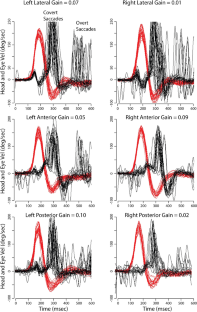 References
1.

Poretti A, Palla A, Tarnutzer AA, Petersen JA, Weber KP, Straumann D, Jung HH (2013) Vestibular impairment in patients with Charcot-Marie-tooth disease. Neurology 80(23):2099–2105. https://doi.org/10.1212/WNL.0b013e318295d72a

2.

Pérez-Garrigues H, Sivera R, Vílchez JJ, Espinós C, Palau F, Sevilla T (2014) Vestibular impairment in Charcot-Marie-Tooth disease type 4C. J Neurol Neurosurg Psychiatry 85(7):824–827. https://doi.org/10.1136/jnnp-2013-307421

3.

Dacković J, Keckarević-Marković M, Komazec Z, Rakocević-Stojanović V, Lavrnić D, Stević Z, Ribarić K, Romac S, Apostolski S (2008) Hereditary motor and sensory neuropathy Lom type in a Serbian family. Acta Myologica Myopathies Cardiomyopathies 27(2):59–62

4.

Jen J, Baloh RH, Ishiyama A, Baloh RW (2005) Dejerine-Sottas syndrome and vestibular loss due to a point mutation in the PMP22 gene. J Neurol Sci 237(1–2):21–24. https://doi.org/10.1016/j.jns.2005.05.003

5.

Blanquet M, Petersen JA, Palla A, Veraguth D, Weber KP, Straumann D, Tarnutzer AA, Jung HH (2018) Vestibulo-cochlear function in inflammatory neuropathies. Clin Neurophysiol 129(4):863–873. https://doi.org/10.1016/j.clinph.2017.11.025

6.

Akdal G, Tanrıverdizade T, Şengün İ, Bademkıran F, Koçoğlu K, Yüceyar AN, Ekmekçi Ö, Karasoy H, Halmágyi GM (2018) Vestibular impairment in chronic inflammatory demyelinating polyneuropathy. J Neurol 265(2):381–387. https://doi.org/10.1007/s00415-017-8712-8

7.

Halmágyi GM, Curthoys IS (2018) The video head impulse test in clinical practice. Neurol Sci Neurophysiol 35(1):1–5. https://doi.org/10.5152/NSN.2018.0001

8.

McGarvie LA, MacDougall HG, Halmagyi GM, Burgess AM, Weber KP, Curthoys IS (2015) The video head impulse test (vHIT) of semicircular canal function—age-dependent normative values of VOR gain in healthy subjects. Front Neurol 6:154. https://doi.org/10.3389/fneur.2015.00154

9.

Horak FB (1987) Clinical measurement of postural control in adults. Phys Ther 67(12):1881–1885. https://doi.org/10.1093/ptj/67.12.1881

10.

Shumway-Cook A, Horak FB (1986) Assessing the influence of sensory interaction of balance. Suggestion from the field. Phys Therapy 66(10):1548–1550. https://doi.org/10.1093/ptj/66.10.1548

11.

Berg K, Wood-Dauphinee S, Williams JI, Gayton D (1989) Measuring balance in the elderly: preliminary development of an instrument. Physiotherapy Canada 41(6):304–311. https://doi.org/10.3138/ptc.41.6.304

12.

Berg KO, Wood-Dauphinee SL, Williams JI, Maki B (1992) Measuring balance in the elderly: validation of an instrument. Can J Public Health 83(2):S7–S11

13.

Shumway-Cook A, Woollacott M (1995) Assessment and treatment of the patient with mobility disorders. In: Shumway-Cook A, Woollacott M (eds) Motor control: theory and practical applications, vol 1. Williams and Wilkins, Baltimore, pp 315–354

14.

Storey E, Tuck K, Hester R, Hughes A, Churchyard A (2004) Inter-rater reliability of the International Cooperative Ataxia Rating Scale (ICARS). Movement Disord 19(2):190–192. https://doi.org/10.1002/mds.10657

15.

Jacobson GP, Newman CW (1990) The development of the Dizziness Handicap Inventory. Arch Otolaryngol Head Neck Surg 116(4):424–427. https://doi.org/10.1001/archotol.1990.01870040046011

16.

Karapolat H, Eyigor S, Kirazl Y, Çelebisoy N, Bilgen C, Kirazli T (2009) Reliability, validity and sensitivity to change of turkish dizziness handicap inventory (DHI) in patients with unilateral peripheral vestibular disease. J Int Adv Otol 5(2):237–345
Acknowledgements
Authors thank Prof. Dr. G. M.Halmagyi for linguistic help and comments, Mr Leigh McGarvie for help with video head impulse testing.
Funding
Study funded by the Scientific and Technological Research Council of Turkey (TÜBİTAK) under Grant no. (216S658).
Ethics declarations
Conflicts of interest
None of the authors have conflict of interest.
Ethics approval
Local ethics committee approved the study. All study procedures have been performed in accordance with the ethical standards laid down in the 1964 Declaration of Helsinki and its later amendments.
About this article
Cite this article
Akdal, G., Koçoğlu, K., Tanrıverdizade, T. et al. Vestibular impairment in Charcot–Marie–Tooth disease. J Neurol 268, 526–531 (2021). https://doi.org/10.1007/s00415-020-10186-x
Received:

Revised:

Accepted:

Published:

Issue Date:
Keywords
CMT disease

Modified clinical test of sensory integration in balance

Vestibulo-ocular reflex

Video head impulse test