Abstract
Objective
Gluten neuropathy (GN) is the term used to describe peripheral neuropathy that occurs in patients with gluten sensitivity (GS) or coeliac disease (CD) in the absence of other risk factors. We aimed to describe the neurophysiological progression rate of GN across time and look into the potential role of genetic susceptibility in its development.
Methods
This is a cohort study of 45 patients with GN with a mean follow-up period of 8 ± 5 years. The assessments included clinical and neurophysiological data and HLA-DQ genotyping.
Results
The mean age at diagnosis was 60 ± 12 years. The majority of patients had a length-dependent neuropathy (75.6%), whereas the rest were diagnosed with sensory ganglionopathy (SG).
DQA1*02-positive patients were more likely to suffer with SG compared to the DQA1*02 negative patients (60% versus 13.8%, p = 0.009). There was also a trend for statistical significance regarding the DQB1*06 allele and the DQA1*01/DQB1*06 haplotype were found more frequently in patients with GN than in healthy controls (p = 0.026 and p = 0.047, respectively). A linear effect of time on the neurophysiological findings was found in radial sensory nerve action potential (1.9% mean annual decrement, p = 0.036), sural sensory nerve action potential (3.3% mean annual decrement, p = 0.013) and tibial nerve motor compound action potential (6.5% mean annual decrement, p < 0.001) amplitudes, independently from age or gender.
Conclusions
GN is a late manifestation of GS and CD. The majority of patients have the length-dependent neuropathy with a linear deterioration over time. HLA genotyping of GS and CD patients who suffer from neuropathic symptoms is recommended as it can help identifying patients at risk for developing SG.
Access options
Buy single article
Instant access to the full article PDF.
USD 39.95
Price includes VAT (USA)
Tax calculation will be finalised during checkout.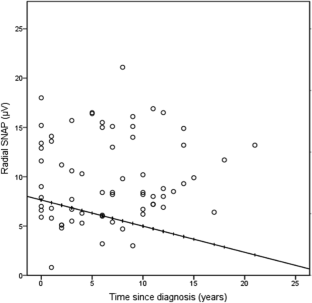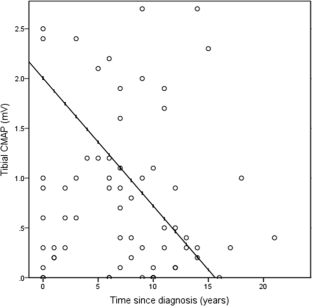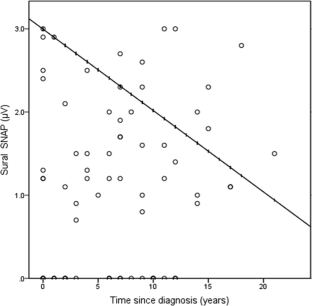 References
1.

Brown WC (1908) Sprue and its treatment. Bale and Danielsson

2.

Hadjivassiliou M, Gibson A, Davies-Jones GA, Lobo AJ, Stephenson TJ, Milford-Ward A (1996) Does cryptic gluten sensitivity play a part in neurological illness? Lancet 347(8998):369–371

3.

Hadjivassiliou M, Sanders DS, Grünewald RA, Woodroofe N, Boscolo S, Aeschlimann D (2010) Gluten sensitivity: from gut to brain. Lancet Neurol 9(3):318–330

4.

Zis P, Sarrigiannis PG, Rao DG, Hadjivassiliou M (2018) Quality of life in patients with gluten neuropathy: a case-controlled study. Nutrients 10(6)

5.

Hadjivassiliou M, Croall ID, Zis P, Sarrigiannis PG, Sanders DS, Aeschlimann P, Grünewald RA, Armitage PA, Connolly D, Aeschlimann D, Hoggard N (2019) Neurologic deficits in patients with newly diagnosed celiac disease are frequent and linked with autoimmunity to transglutaminase 6. Clin Gastroenterol Hepatol 17(13):2678–2686

6.

Zis P, Sarrigiannis PG, Rao DG, Hewamadduma C, Hadjivassiliou M (2016) Chronic idiopathic axonal polyneuropathy: a systematic review. J Neurol 263(10):1903–1910

7.

Zis P, Hadjivassiliou M, Rao DG, Sarrigiannis PG (2019) Electrophysiological determinants of the clinical severity of axonal peripheral neuropathy. Muscle Nerve 59(4):491–493

8.

Leis AA, Schenk MP (2013) Atlas of nerve conduction studies and electromyography. Oxford University Press, New York

9.

Esper GJ, Nardin RA, Benatar M, Sax TW, Acosta JA, Raynor EM (2005) Sural and radial sensory responses in healthy adults: diagnostic implications for polyneuropathy. Muscle Nerve 31(5):628–632

10.

Camdessanché JP, Jousserand G, Ferraud K, Vial C, Petiot P, Honnorat J, Antoine JC (2009) The pattern and diagnostic criteria of sensory neuronopathy: a case-control study. Brain 132(Pt 7):1723–1733

11

Zis P, Hadjivassiliou M, Sarrigiannis PG, Barker AStJE, Rao DG (2017) Rapid neurophysiological screening for sensory ganglionopathy: a novel approach. Brain Behav 7(12):e00880. https://doi.org/10.1002/brb3.880

12.

Lancaster AK, Single RM, Solberg OD et al (2007) PyPop update - a software pipeline for large-scale multilocus population genomics. Tissue Antigens 69(s1):192–197

13.

González-Galarza FF, Takeshita LY, Santos EJ, Kempson F, Maia MH, da Silva AL, Teles e Silva AL, Ghattaoraya GS, Alfirevic A, Jones AR, Middleton D (2015) Allele frequency net 2015 update: new features for HLA epitopes, KIR and disease and HLA adverse drug reaction associations. Nucleic Acids Res 43(Database issue):D784–D788

14.

Benjamini Y, Drai D, Elmer G et al (2001) Controlling the false discovery rate in behavior genetics research. Behav Brain Res 125:279–284

15.

Narum SR (2006) Beyond Bonferroni: less conservative analyses for conservation genetics. Conserv Genet 7:783–787

16.

Hadjivassiliou M, Sanders DD, Aeschlimann DP (2015) Gluten-related disorders: gluten ataxia. Dig Dis 33(2):264–268

17.

Sarrigiannis PG, Hoggard N, Aeschlimann D, Sanders DS, Grünewald RA, Unwin ZC, Hadjivassiliou M (2014) Myoclonus ataxia and refractory coeliac disease. Cerebellum Ataxias 1(1):11

18.

Gordon N (2000) Cerebellar ataxia and gluten sensitivity: a rare but possible cause of ataxia, even in childhood. Dev Med Child Neurol 42(4):283–286

19.

Hadjivassiliou M, Kandler RH, Chattopadhyay AK, Davies-Jones AG, Jarratt JA, Sanders DS, Sharrack B, Grünewald RA (2006) Dietary treatment of gluten neuropathy. Muscle Nerve 34(6):762–766

20.

Zis P, Sarrigiannis PG, Rao DG, Hadjivassiliou M (2018) Gluten neuropathy: prevalence of neuropathic pain and the role of gluten-free diet. J Neurol 265(10):2231–2236

21.

Rouvroye MD, Zis P, Van Dam AM, Rozemuller AJ, Bouma G, Hadjivassiliou M (2020) The neuropathology of gluten-related neurological disorders: a systematic review. Nutrients 12(3):822

22.

Zis P, Rao DG, Sarrigiannis PG, Aeschlimann P, Aeschlimann DP, Sanders D, Grünewald RA, Hadjivassiliou M (2017) Transglutaminase 6 antibodies in gluten neuropathy. Digest Liver Dis 49(11):1196–1200

23.

Kaukinen K, Partanen J, Mäki M, Collin P (2002) HLA-DQ typing in the diagnosis of celiac disease. Am J Gastroenterol 97(3):695–699
Acknowledgements
We would like to thank Dr Dasappaiah Ganesh Rao for his contribution in the data collection. We would like to thank all participants in the study.
Ethics declarations
Conflicts of interest
The authors declare no conflict of interest.
Ethical standards
The study protocol has been approved by the local ethics committee.
Disclosures
Panagiotis Zis, Ptolemaios Georgios Sarrigiannis, Artemios Artemiadis, David Sanders and Marios Hadjivassiliou have nothing to disclose.
Electronic supplementary material
Below is the link to the electronic supplementary material.
About this article
Cite this article
Zis, P., Sarrigiannis, P., Artemiadis, A. et al. Gluten neuropathy: electrophysiological progression and HLA associations. J Neurol 268, 199–205 (2021). https://doi.org/10.1007/s00415-020-10137-6
Received:

Revised:

Accepted:

Published:

Issue Date:
Keywords
Peripheral neuropathy

Gluten sensitivity

Coeliac disease

Progression

HLA genotyping