Abstract
Background
Cerebral venous thrombosis (CVT) is associated with intracranial hemorrhage.
Aim
To identify clinical and imaging features of CVT-associated intracranial hemorrhage. We hypothesized that higher clot burden would be associated with a higher risk of intracranial hemorrhage.
Methods
We performed a retrospective analysis of an international, multicenter cohort of patients with confirmed cerebral venous thrombosis who underwent computed tomography within 2 weeks of symptom onset. Clinical and imaging features were compared between patients with and without intracranial hemorrhage. Clot burden was assessed by counting the number of thrombosed venous sinuses and veins on confirmatory imaging.
Results
We enrolled 260 patients from 10 institutions in Europe and Mexico. The mean age was 42 years and 74% were female. Intracranial hemorrhage was found in 102 (39%). Among them parenchymal hemorrhage occurred in 64 (63%), in addition, small juxta-cortical hemorrhage was found in 30 (29%), subarachnoid hemorrhage in 24 (24%) and subdural hemorrhage in 11 (11%). Multiple concomitant types of hemorrhage occurred in 23 (23%). Older age and superior sagittal thrombosis involvement were associated with presence of hemorrhage. The number of thrombosed venous sinuses was not associated with intracranial hemorrhage (median number IQRInterquartile ratio] of sinuses/veins involved with hemorrhage 2 (1–3) vs. 2 (1–3) without hemorrhage, p = 0.4).
Conclusion
The high rate of intracranial hemorrhage in cerebral venous thrombosis is not explained by widespread involvement of the venous sinuses. Superior sagittal sinus involvement is associated with higher bleeding risk.
Access options
Buy single article
Instant access to the full article PDF.
US$ 39.95
Tax calculation will be finalised during checkout.
Subscribe to journal
Immediate online access to all issues from 2019. Subscription will auto renew annually.
US$ 159
Tax calculation will be finalised during checkout.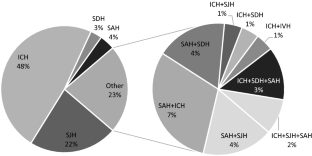 References
1.

Ferro JM, Bousser MG, Canhao P et al (2017) European stroke o. european stroke organization guideline for the diagnosis and treatment of cerebral venous thrombosis - endorsed by the european academy of neurology. Eur J Neurol 24:1203–1213

2.

Saposnik G, Barinagarrementeria F, Brown RD et al (2011) American heart association stroke c, the council on e, prevention diagnosis and management of cerebral venous thrombosis: a statement for healthcare professionals from the american heart association/american stroke association. Stroke 42:1158–1192

3.

Silvis SM, De Sousa DA, Ferro JM et al (2017) Cerebral venous thrombosis. Nat Rev Neurol 13:555–565

4.

Rother J, Waggie K, van Bruggen N et al (1996) Experimental cerebral venous thrombosis: evaluation using magnetic resonance imaging. J Cereb Blood Flow Metab 16:1353–1361

5.

Sato S, Miyahara Y, Dohmoto Y, Kawase T, Toya S (1983) Cerebral Microcirculation in experimental sagittal sinus occlusion in dogs. In: Auer LM, Loew F (eds) The Cerebral Veins. Springer, Vienna

6.

Gotoh M, Ohmoto T, Kuyama H (1993) Experimental study of venous circulatory disturbance by dural sinus occlusion. Acta Neurochir (Wien) 124:120–126

7.

Schaller B, Graf R, Sanada Y et al (2003) Hemodynamic changes after occlusion of the posterior superior sagittal sinus: an experimental PET study in cats. AJNR Am J Neuroradiol 24:1876–1880

8.

Kurokawa Y, Hashi K, Okuyama T et al (1990) Regional ischemia in cerebral venous hypertension due to embolic occlusion of the superior sagittal sinus in the rat. Surg Neurol 34:390–395

9.

Oppenheim C, Domigo V, Gauvrit JY et al (2005) Subarachnoid hemorrhage as the initial presentation of dural sinus thrombosis. AJNR Am J Neuroradiol 26:614–617

10.

Sztajzel R, Coeytaux A, Dehdashti A et al (2001) Subarachnoid hemorrhage: a rare presentation of cerebral venous thrombosis Headache. J Head Face Pain 41:889–892

11.

Ferro JM, Canhao P, Stam J et al (2004) Investigators I Prognosis of cerebral vein and dural sinus thrombosis: results of the International Study on Cerebral Vein and Dural Sinus Thrombosis (ISCVT). Stroke 35:664–670

12.

Fink JN, McAuley DL (2001) Safety of anticoagulation for cerebral venous thrombosis associated with intracerebral hematoma. Neurology 57:1138–1139

13.

Pizzi MA, Alejos DA, Siegel JL et al (2016) Cerebral venous thrombosis associated with intracranial hemorrhage and timing of anticoagulation after hemicraniectomy. J Stroke Cerebrovasc Dis 25:2312–2316

14.

Coutinho JM, van den Berg R, Zuurbier SM et al (2014) Small juxtacortical hemorrhages in cerebral venous thrombosis. Ann Neurol 75:908–916

15.

Takahashi S, Shinoda J, Hayashi T (2012) Cerebral venous sinus thrombosis in an adult patient presenting as headache and acute subdural hematoma. J Stroke Cerebrovasc Dis 21:338–340

16.

Girot M, Ferro JM, Canhao P et al (2007) Investigators I Predictors of outcome in patients with cerebral venous thrombosis and intracerebral hemorrhage. Stroke 38:337–342

17.

Buyck P (2019) Diagnostic accuracy of non-contrast ct imaging markers in cerebral venous thrombosis. Neurology 1:6

18.

Dmytriw AA, Song JSA, Yu E et al (2018) Cerebral venous thrombosis: state of the art diagnosis and management. Neuroradiology 1:97

19.

Barboza MA, Mejias C, Colin-Luna J et al (2015) Intracranial venous collaterals in cerebral venous thrombosis: clinical and imaging impact. J Neurol Neurosurg Psychiatry 86:1314–1318

20.

Schuchardt F, Hennemuth A, Schroeder L et al (2017) Acute Cerebral venous thrombosis: three-dimensional visualization and quantification of hemodynamic alterations using 4-dimensional flow magnetic resonance imaging. Stroke 48:671–677

21.

Zhang S, Zhao H, Li H et al (2017) Decompressive craniectomy in hemorrhagic cerebral venous thrombosis: clinicoradiological features and risk factors. J Neurosurg 127:709–715

22.

Sahin N, Solak A, Genc B et al (2014) Cerebral venous thrombosis as a rare cause of subarachnoid hemorrhage: case report and literature review. Clin Imaging 38:373–379

23.

Mohri H (1987) Acquired von Willebrand disease in patients with polycythemia rubra vera. Am J Hematol 26:135–146

24.

Murakawa M, Okamura T, Tsutsumi K et al (1992) Acquired von Willebrand's disease in association with essential thrombocythemia: regression following treatment. Acta Haematol 87:83–87

25.

Ferro JM, Lopes MG, Rosas MJ et al (2002) Cerebral venous thrombosis portugese collaborative study G. Long-term prognosis of cerebral vein and dural sinus thrombosis results of the VENOPORT study. Cerebrovasc Dis 13:272–278

26.

Damak M, Crassard I, Wolff V et al (2009) Isolated lateral sinus thrombosis: a series of 62 patients. Stroke 40:476–481

27.

Kumral E, Polat F, Uzunkopru C et al (2012) The clinical spectrum of intracerebral hematoma, hemorrhagic infarct, non-hemorrhagic infarct, and non-lesional venous stroke in patients with cerebral sinus-venous thrombosis. Eur J Neurol 19:537–543

28.

Bansal H, Chaudhary A, Mahajan A et al (2016) Acute subdural hematoma secondary to cerebral venous sinus thrombosis: case report and review of literature. Asian J Neurosurg 11:177

29.

Azeemuddin M, Awais M, Mubarak F et al (2018) Prevalence of subarachnoid haemorrhage among patients with cranial venous sinus thrombosis in the presence and absence of venous infarcts. Neuroradiol J 31:496–503

30.

Arnoux A, Triquenot-Bagan A, Andriuta D et al (2017) Imaging characteristics of venous parenchymal abnormalities. Stroke 48:3258–3265

31.

Zhou G, Li M, Zhu Y et al (2016) Cerebral venous sinus thrombosis involving the straight sinus may result in infarction and/or hemorrhage. Eur Neurol 75:257–262
Acknowledgments
The Florey Institute of Neuroscience and Mental Health acknowledges the strong support from the Victorian Government and in particular the funding from the Operational Infrastructure Support Grant.
Funding
This research received no specific grant from any funding agency in the public, commercial, or not-for-profit sectors.
Ethics declarations
Conflicts of interest
The authors declare that there is no conflict of interest.
Consent to participate
Informed consent was not sought for the present study because of the retrospective, anonymized nature of the study, in accordance with the participating center's ethics committee's policies.
Ethical approval
Specific approval of the project by an Ethics Committee (Leuven, Graz) or a waiver due to the anonymized, retrospective data and imaging collection (Amsterdam, Nîmes, Mexico City, Essen, Brescia, Sevilla, Barcelona, Helsinki) were obtained by each participating site, according to local regulations.
About this article
Cite this article
Afifi, K., Bellanger, G., Buyck, P.J. et al. Features of intracranial hemorrhage in cerebral venous thrombosis. J Neurol 267, 3292–3298 (2020). https://doi.org/10.1007/s00415-020-10008-0
Received:

Revised:

Accepted:

Published:

Issue Date:
Keywords
Bleeding.

Cerebral venous thrombosis

Hemorrhage

Stroke