Abstract
Objective
To determine whether diffusion-weighted imaging (DWI) can help differentiate peri-ictal signal abnormality from limbic encephalitis (LE) among patients with medial temporal lobe T2-hyperintensity.
Methods
We retrospectively identified patients with peri-ictal medial temporal lobe T2-hyperintensity using a Mayo Clinic database, and reviewed their DWI to look for unique diffusion restriction patterns. We then identified patients with medial temporal lobe T2-hyperintensity and LE, and reviewed their DWI to see if these patterns were ever present. Presence of diffusion restriction patterns was confirmed by a blinded neuro-radiologist.
Results
We identified 10 patients without LE who had peri-ictal unilateral medial temporal lobe T2-hyperintensity, ipsilateral to focal seizure onset. Nine of 10 (90%) had at least one of two diffusion restriction patterns potentially unique to seizure activity; four had gyriform hippocampal diffusion restriction ("Pattern 1"), three had diffuse hippocampal diffusion restriction that spared the most medial temporal lobe structures ("Pattern 2"), and two had both diffusion restriction patterns. The median patient age was 62 years (range 2–76 years) and 3/9 (33%) were female. In comparison, among patients with medial temporal lobe T2-hyperintensity and LE, only 5/57 (9%) had one of the diffusion restriction patterns ("Pattern 2") identified (P < 0.0001); all five had seizures reported.
Conclusions
In patients with medial temporal lobe T2-hyperintensity and one of the diffusion restriction patterns described herein, the signal abnormality may be a peri-ictal phenomenon rather than indicative of LE and should prompt investigation for seizure. Even in patients with LE, these patterns should raise concern for seizure.
Access options
Buy single article
Instant access to the full article PDF.
USD 39.95
Price includes VAT (USA)
Tax calculation will be finalised during checkout.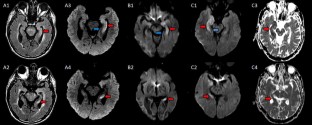 Availability of data and material
Anonymized data is available for all study patients and will be shared by request from any qualified investigator.
References
1.

Graus F, Titulaer MJ, Balu R, Benseler S, Bien CG, Cellucci T et al (2016) A clinical approach to diagnosis of autoimmune encephalitis. Lancet Neurol 15(4):391–404

2.

Chow FC, Glaser CA, Sheriff H, Xia D, Messenger S, Whitley R et al (2015) Use of clinical and neuroimaging characteristics to distinguish temporal lobe herpes simplex encephalitis from its mimics. Clin Infect Dis 60(9):1377–1383

3.

Budhram A, Leung A, Nicolle MW, Burneo JG (2019) Diagnosing autoimmune limbic encephalitis. CMAJ 191(19):E529–E534

4.

Vogrig A, Joubert B, Ducray F, Thomas L, Izquierdo C, Decaestecker K et al (2018) Glioblastoma as differential diagnosis of autoimmune encephalitis. J Neurol 265(3):669–677

5.

Kim SE, Lee BI, Shin KJ, Ha SY, Park J, Park KM et al (2017) Characteristics of seizure-induced signal changes on MRI in patients with first seizures. Seizure 48:62–68

6.

Macher S, Zimprich F, De Simoni D, Hoftberger R, Rommer PS (2018) Management of autoimmune encephalitis: an observational monocentric study of 38 patients. Front Immunol 9:2708

7.

Kim JA, Chung JI, Yoon PH, Kim DI, Chung TS, Kim EJ et al (2001) Transient MR signal changes in patients with generalized tonicoclonic seizure or status epilepticus: periictal diffusion-weighted imaging. AJNR 22(6):1149–1160

8.

Chatzikonstantinou A, Gass A, Forster A, Hennerici MG, Szabo K (2011) Features of acute DWI abnormalities related to status epilepticus. Epilepsy Res 97(1–2):45–51

9.

Szabo K, Poepel A, Pohlmann-Eden B, Hirsch J, Back T, Sedlaczek O et al (2005) Diffusion-weighted and perfusion MRI demonstrates parenchymal changes in complex partial status epilepticus. Brain 128(Pt 6):1369–1376

10.

Zalewski NL, Lennon VA, Lachance DH, Klein CJ, Pittock SJ, McKeon A (2016) P/Q- and N-type calcium-channel antibodies: oncological, neurological, and serological accompaniments. Muscle Nerve 54(2):220–227

11.

Dubey D, Pittock SJ, Kelly CR, McKeon A, Lopez-Chiriboga AS, Lennon VA et al (2018) Autoimmune encephalitis epidemiology and a comparison to infectious encephalitis. Ann Neurol 83(1):166–177

12.

López Chiriboga AS, Siegel JL, Tatum WO, Shih JJ, Flanagan EP (2017) Striking basal ganglia imaging abnormalities in LGI1 ab faciobrachial dystonic seizures. Neurol (R) Neuroimmunol Neuroinflamm 4(3):e336

13.

Kotsenas AL, Watson RE, Pittock SJ, Britton JW, Hoye SL, Quek AM et al (2014) MRI findings in autoimmune voltage-gated potassium channel complex encephalitis with seizures: one potential etiology for mesial temporal sclerosis. AJNR 35(1):84–89

14.

Sener RN (2001) Herpes simplex encephalitis: diffusion MR imaging findings. Compute Med Imaging Gr 25(5):391–397
Funding
There is no funding to report for this research.
Ethics declarations
Conflicts of interest
Dr. Adrian Budhram has no disclosures to report. Dr. Jeff Britton is a consultant for UCB pharmaceuticals, investigational drug discussion, Rozanolixizumab; a co-investigator, unpaid, for GW Pharma in a double-blind, randomized, placebo-controlled study to investigate the efficacy and safety of cannabidiol (GWP42003-P, CBD) as add-on therapy in patients with tuberous sclerosis complex who experience inadequately-controlled seizures; a co-investigator, unpaid, for Grifols Pharmaceuticals in a Randomized Double-Blind Placebo Controlled Study of IVIG in Patients with Voltage-Gated Potassium Channel Complex Antibody Associated Autoimmune Epilepsy. Dr. Greta Liebo has no disclosures to report. Dr. Divyanshu Dubey has a patent pending for Kelch-like protein 11 as a marker of neurological autoimmunity and has received research support from Grifols, Translational Research Innovation and Test Development Office and, Center for Clinical and Translational Science. Dr. Dubey has consulted for UCB and Astellas. All compensation for consulting activities is paid directly to Mayo Clinic. Dr. Anastasia Zekeridou has a patent pending on PDE10A-IgG as a biomarker of neurological autoimmunity. Dr. Eoin Flanagan is a site principal investigator in a randomized placebo-controlled clinical trial of Inebilizumab (A CD19 inhibitor) in neuromyelitis optica spectrum disorders funded by MedImmune/Viela Bio. He receives no personal compensation and just receives reimbursement for the research activities related to the trial. Dr. Andrew McKeon reports grants from Alexion, grants from Grifols, grants from Euroimmun, outside the submitted work; in addition, Dr. McKeon has a patent Septin-5-IgG pending, a patent PDE10A-IgG pending, a patent MAP1B-IgG pending, and a patent GFAP-IgG pending. Dr. Sean Pittock reports grants, personal fees and non-financial support from Alexion Pharmaceuticals, Inc.; grants from Grifols, Autoimmune Encephalitis Alliance; grants, personal fees, non-financial support and other from MedImmune, Inc.; Dr. Pittock has a patent # 9,891,219 (Application#12-573942) "Methods for Treating Neuromyelitis Optica (NMO) by Administration of Eculizumab to an individual that is Aquaporin-4 (AQP4)-IgG Autoantibody positive". Dr Pittock also has patents pending for the following IgGs as biomarkers of autoimmune neurological disorders (septin-5, Kelch-like protein 11, GFAP, PDE10A and MAP1B). Dr. Sherri Braksick has no disclosures to report. Dr. Nicholas Zalewski has no disclosures to report.
Ethics approval
The Mayo Clinic Institutional Review Board (IRB) approved the study (IRB number 08‐006647).
Consent to participate
As patients were identified retrospectively informed consent was not specifically obtained for this submission, but the patients did agree to use of their medical records for research purposes and no patient-identifying images have been included.
Consent to publication
The authors consent to the publication of this manuscript. The manuscript and figures have not been published or copyrighted elsewhere.
About this article
Cite this article
Budhram, A., Britton, J.W., Liebo, G.B. et al. Use of diffusion-weighted imaging to distinguish seizure-related change from limbic encephalitis. J Neurol 267, 3337–3342 (2020). https://doi.org/10.1007/s00415-020-10007-1
Received:

Revised:

Accepted:

Published:

Issue Date:
Keywords
Seizure

Peri-ictal

Limbic encephalitis

Magnetic resonance imaging

Diffusion-weighted imaging