Abstract
Objective
We investigated the long-term cognitive effects of concussion in 19,261 members of the general population and a cohort of varsity American football players with a history of frequent head impacts, using tests that are known to be sensitive to small changes in performance.
Methods
We asked 19,261 participants to complete a demographic questionnaire and 12 cognitive tests measuring aspects of executive function, including inhibitory control. We compared the performance of those reporting a history of concussion (post-concussion) to those reporting no history of concussion (non-concussed) on the cognitive battery and four non-cognitive variables. We used the results of this population-level study to predict the profile of cognitive performance in varsity American football players, who completed the same cognitive tasks.
Results
Post-concussion and non-concussed participants did not differ on 11 of the 12 cognitive tasks employed. However, on a test of inhibitory control based on the classic Stroop paradigm, post-concussion participants showed accuracy-related impairments specific to the incongruent conditions of the task. Post-concussion participants reported higher levels of anxiety, depression, and trouble concentrating. An entirely independent sample of 74 varsity American football players demonstrated the same pattern of impairment: compared to healthy controls, they scored significantly lower on the test of inhibitory control but were indistinguishable from controls on the 11 other tasks.
Interpretation
Self-reported concussion is not associated with long-term general effects on cognitive function. Nevertheless, those who report at least one concussion and those who expose themselves to long-term frequent sport-related head impacts do have a modest, but statistically robust, deficit of inhibitory control.
Access options
Buy single article
Instant access to the full article PDF.
US$ 39.95
Tax calculation will be finalised during checkout.
Subscribe to journal
Immediate online access to all issues from 2019. Subscription will auto renew annually.
US$ 159
Tax calculation will be finalised during checkout.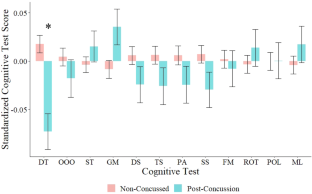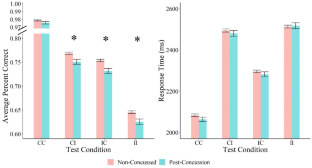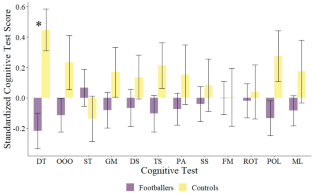 References
1.

Faul M, Xu L, Wald M, Coronado V (2010) Traumatic Brain Injury in the United States: Emergency Department Visits, Hospitalizations and Deaths 2002–2006. In: U.S. Dep. Heal. Hum. Serv. Centers Dis. Control Prev. www.cdc.gov/TraumaticBrainInjury. Accessed 22 Jan 2018

2.

McCrory P, Meeuwisse W, Dvořák J et al (2017) Consensus statement on concussion in sport—the 5th international conference on concussion in sport held in Berlin, October 2016. Br J Sports Med 51:838–847. https://doi.org/10.1136/bjsports-2017-097699

3.

West TA, Marion DW (2014) Current recommendations for the diagnosis and treatment of concussion in sport: a comparison of three new guidelines. J Neurotrauma 31:159–168. https://doi.org/10.1089/neu.2013.3031

4.

Binder LM, Rohling ML, Larrabee GJ (1997) A review of mild head trauma. Part I: meta-analytic review of neuropsychological studies. J Clin Exp Neuropsychol 19:421–431. https://doi.org/10.1080/01688639708403870

5.

Schretlen DJ, Shapiro AM (2003) A quantitative review of the effects of traumatic brain injury on cognitive functioning. Int Rev Psychiatry 15:341–349

6.

Iverson GL (2005) Outcome from mild traumatic brain injury. Curr Opin Psychiatry 18:301–317. https://doi.org/10.1097/01.yco.0000165601.29047.ae

7.

Rohling ML, Binder LM, Demakis GJ et al (2011) a meta-analysis of neuropsychological outcome after mild traumatic brain injury: re-analyses and reconsiderations of Binder et al. Clin Neuropsychol 25:608–623. https://doi.org/10.1080/13854046.2011.565076

8.

Belanger HG, Curtiss G, Demery JA et al (2005) Factors moderating neuropsychological outcomes following mild traumatic brain injury: a meta-analysis. J Int Neuropsychol Soc. https://doi.org/10.1017/S1355617705050277

9.

Iverson GL, Schatz P (2015) Advanced topics in neuropsychological assessment following sport-related concussion. Brain Inj 29:263–275. https://doi.org/10.3109/02699052.2014.965214

10.

Zwibel H, Heron-Burke A (2016) Beware the classroom costs of sports head injuries. In: Newsweek. https://www.newsweek.com/beware-classroom-costs-sports-head-injuries-412392. Acccessed 30 Jan 2018

11.

Allen BJ, Gfeller JD (2011) The immediate post-concussion assessment and cognitive testing battery and traditional neuropsychological measures: a construct and concurrent validity study. Brain Inj 25:179–191. https://doi.org/10.3109/02699052.2010.541897

12.

Echemendia RJ, Iverson GL, Mccrea M et al (2013) Advances in neuropsychological assessment of sport-related concussion. Br J Sports Med 47:294–298. https://doi.org/10.1136/bjsports-2013-092186

13.

Resch J, Driscoll A, McCaffrey N et al (2013) ImPact test-retest reliability: reliably unreliable? J Athl Train 48:506–511. https://doi.org/10.4085/1062-6050-48.3.09

14.

Hampshire A, Highfield RR, Parkin BL, Owen AM (2012) Fractionating human intelligence. Neuron 76:1225–1237. https://doi.org/10.1016/j.neuron.2012.06.022

15.

Bor D, Duncan J, Wiseman RJ, Owen AM (2003) Encoding strategies dissociate prefrontal activity from working memory demand. Neuron 37:361–367

16.

Williams-Gray CH, Hampshire A, Robbins TW et al (2007) Neurobiology of disease catechol O-methyltransferase val 158 met genotype influences frontoparietal activity during planning in patients with Parkinson's disease. J Neurosci 27:4832–4838. https://doi.org/10.1523/JNEUROSCI.0774-07.2007

17.

Mehta MA, Owen AM, Sahakian BJ et al (2000) Methylphenidate enhances working memory by modulating discrete frontal and parietal lobe regions in the human brain. J Neurosci 20:65. https://doi.org/10.1523/JNEUROSCI.20-06-j004.2000

18.

Owen AM, Milner B, Petrides M, Evans AC (1996) Memory for object features versus memory for object location: a positron-emission tomography study of encoding and retrieval processes. In: Proceedings of the National Academy of Sciences. pp 9212–9217

19.

Owen AM, Hampshire A, Grahn JA et al (2010) Putting brain training to the test. Nat Lett 465:775–779. https://doi.org/10.1038/nature09042

20.

Aggarwal CC (2015) Data mining: the textbook. Springer International Publishing, New York

21.

Wagenmakers E-J (2007) A practical solution to the pervasive problems of p values. Psychon Bull Rev 14:779–804

22.

Lakens D (2017) Equivalence tests: a practical primer for t tests, correlations, and meta-analyses. Soc Psychol Personal Sci 8:355–362. https://doi.org/10.1177/1948550617697177

23.

Cohen J (1962) The statistical power of abnormal-social psychological research: a review. J Abnorm Soc Psychol 65:145–153. https://doi.org/10.1037/h0045186

24.

Moretti L, Cristofori I, Weaver SM et al (2012) Personal View Cognitive decline in older adults with a history of traumatic brain injury. Lancet Neurol 11:1103–1112. https://doi.org/10.1016/S1474-4422(12)70226-0

25.

Maitland SB, Intrieri RC, Schaie KW, Willis SL (2000) Gender differences and changes in cognitive abilities across the adult life span. Aging Neuropsychol Cogn 7:32–53

26.

Rosselli M, Ardila A (1990) Neuropsychological ASSESSMENT IN ILLITERATES II. Language and praxic abilities. BRAIN Cogn 12:281–296

27.

Sarsour K, Sheridan M, Jutte D et al (2011) Family socioeconomic status and child executive functions: the roles of language, home environment, and single parenthood. J Int Neuropsychol Soc 17:120–132. https://doi.org/10.1017/S1355617710001335

28.

Stroop JR (1935) Studies of interference in serial verbal reactions. J Exp Psychol 18:643–662

29.

Sigurdardottir S, Andelic N, Roe C et al (2009) Post-concussion symptoms after traumatic brain injury at 3 and 12 months post-injury: a prospective study. Brain Inj 23:489–497. https://doi.org/10.1080/02699050902926309

30.

King NS, Kirwilliam S (2011) Permanent post-concussion symptoms after mild head injury. Brain Inj 25:462–470. https://doi.org/10.3109/02699052.2011.558042

31.

McCrea M, Iverson GL, Mcallister TW et al (2009) An integrated review of recovery after mild traumatic brain injury (mTBI): implications for clinical management. Clin Neuropsychol 23:1368–1390. https://doi.org/10.1080/13854040903074652

32.

Broglio SP, Collins MW, Williams RM et al (2015) Current and emerging rehabilitation for concussion. A review of the evidence. Clin Sports Med 34:213–231

33.

Guskiewicz KM, Weaver NL, Padua DA, Garrett WE Jr (2000) Epidemiology of concussion in collegiate and high school football players. Am J Sports Med 28:643–650

34.

McCrea MA, Guskiewicz KM, Marshall SW et al (2003) Acute effects and recovery time following concussion in collegiate football players. JAMA 290:2556. https://doi.org/10.1001/jama.290.19.2556
Acknowledgements
We thank the Canada Excellence Research Chairs (CERC) program, which generously supported the research reported here (grant #215063 awarded to AMO).
Ethics declarations
Conflicts of interest
AMO is a Fellow of CIFAR and co-Director of the Azrieli Program in Brain, Mind, and Consciousness. Some of the cognitive tests used in these two studies are marketed by Cambridge Brain Sciences Inc., of which Dr. Owen is the unpaid Chief Scientific Officer. Under the terms of the existing licensing agreement, Dr. Owen and his collaborators are free to use the platform at no cost for their scientific studies and such research projects neither contribute to, nor are influenced by, the activities of the company. As such, there is no overlap between the current study and the activities of Cambridge Brain Sciences Inc., nor was there any cost to the authors, funding bodies or participants who were involved in the study.
Ethical statement
This study was approved by the Health Sciences Research Ethics Board of the University of Western Ontario. All procedures performed in studies involving human participants were in accordance with the ethical standards of the institutional and/or national research committee and with the 1964 Helsinki declaration and its later amendments or comparable ethical standards.
Electronic supplementary material
Below is the link to the electronic supplementary material.
About this article
Cite this article
Stafford, C.A., Stojanoski, B., Wild, C.J. et al. Concussion-related deficits in the general population predict impairments in varsity footballers. J Neurol 267, 1970–1979 (2020). https://doi.org/10.1007/s00415-020-09749-9
Received:

Revised:

Accepted:

Published:

Issue Date:
Keywords
Concussion

Neuropsychology

High-response rate survey

Inhibitory control

Varsity football