Abstract
Background
The symptomatic treatment of myotonia and myalgia in patients with dystrophic and non-dystrophic myotonias is often not satisfactory. Some patients anecdotally report symptoms' relief through consumption of cannabis.
Methods
A combination of cannabidiol and tetrahydrocannabinol (CBD/THC) was prescribed as compassionate use to six patients (four patients with myotonic dystrophy types 1 and 2, and 2 patients with CLCN1-myotonia) with therapy-resistant myotonia and myalgia. CBD/THC oil was administered on a low dose in the first 2 weeks and adjusted to a higher dose in the following 2 weeks. Myotonia behaviour scale (MBS), hand-opening time, visual analogue scales (VAS) for myalgia and myotonia, and fatigue and daytime sleepiness severity scale (FSS, ESS) were performed weekly to monitor treatment response.
Results
All patients reported an improvement of myotonia especially in weeks 3 and 4 of treatment: MBS improved of at least 2 points in all patients, the hand-opening time variously improved in 5 out of 6 patients. Chronic myalgia was reported by both DM2 patients at baseline, one of them experienced a significant improvement of myalgia under treatment. Some gastrointestinal complaints, as abdominal pain and diarrhoea, improved in 3 patients; however, 4 out of 6 patients reported new-onset constipation. No other relevant side effect was noticed.
Conclusions
These first empirical results suggest a potentially beneficial role of CBD/THC in alleviating myotonia and should encourage further research in this field including a randomized-controlled trial on larger cohorts.
Access options
Buy single article
Instant access to the full article PDF.
US$ 39.95
Tax calculation will be finalised during checkout.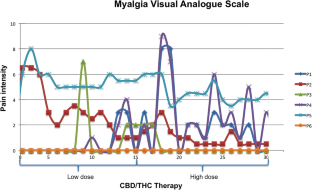 References
1.

Wenninger S, Montagnese F, Schoser B (2018) Core clinical phenotypes in myotonic dystrophies. Front Neurol 9:303. https://doi.org/10.3389/fneur.2018.00303

2.

Miró J, Gertz KJ, Carter GT, Jensen MP (2014) Pain location and intensity impacts function in persons with myotonic dystrophy type 1 and facioscapulohumeral dystrophy with chronic pain. Muscle Nerve 49(6):900–905. https://doi.org/10.1002/mus.24079.3

3.

Heatwole C, Bode R, Johnson N, Quinn C, Martens W, McDer MP, Rothrock N, Thornton C, Vickrey B, Victorson D, Mox-ley R (2012) Patient-reported impact of symptoms in myotonic dystrophy type 1 (PRISM-1). Neurology 79(4):348–357. https://doi.org/10.1212/WNL.0b013e318260cbe6

4.

Heatwole C, Johnson N, Bode R, Dekdebrun J, Dilek N, Hilbert JE, Luebbe E, Martens W, McDermott MP, Quinn C, Rothrock N, Thornton C, Vickrey BG, Victorson D, Moxley RT (2015) Patient-reported impact of symptoms in myotonic dystrophy type 2 (PRISM-2). Neurology 85(24):2136–2146. https://doi.org/10.1212/WNL.0000000000002225

5.

Johnson NE, Heatwole CR (2013) Teaching video neuroimages: trapezius myotonia percussion sign in myotonic dystrophy type 2. Neurology 80(24):e251. https://doi.org/10.1212/WNL.0b013e318296e905

6.

Suokas KI, Haanpää M, Kautiainen H, Udd B, Hietaharju AJ (2012) Pain in patients with myotonic dystrophy type 2: a postal survey in Finland. Muscle Nerve 45(1):70–74. https://doi.org/10.1002/mus.22249

7.

Sansone VA (2016) The dystrophic and nondystrophic myotonias. Continuum 22:1889–1915

8.

Montagnese F, Schoser B (2018) Dystrophic and non-dystrophic myotonias. Fortschr Neurol Psychiatr 86(9):575–583. https://doi.org/10.1055/a-0635-8285

9.

Cannon SC (2015) Channelopathies of skeletal muscle excitability. Compr Physiol 5(2):761–790. https://doi.org/10.1002/cphy.c140062

10.

Trivedi JR, Cannon SC, Griggs RC (2014) Nondystrophic myotonia: challenges and future directions. Exp Neurol 253:28–30. https://doi.org/10.1016/j.expneurol.2013.12.005

11.

Matthews E, Fialho D, Tan SV, Venance SL, Cannon SC, Sternberg D, Fontaine B, Amato AA, Barohn RJ, Griggs RC, Hanna MG, CINCH Investigators (2010) The non-dystrophic myotonias: molecular pathogenesis, diagnosis and treatment. Brain 133(Pt 1):9–22. https://doi.org/10.1093/brain/awp294

12.

Statland JM, Bundy BN, Wang Y, Rayan DR, Trivedi JR, Sansone VA, Salajegheh MK, Venance SL, Ciafaloni E, Matthews E, Meola G, Herbelin L, Griggs RC, Barohn RJ, Hanna MG, Consortium for Clinical Investigation of Neurologic Channelopathies (2012) Mexiletine for symptoms and signs of myotonia in nondystrophic myotonia: a randomized controlled trial. JAMA 308(13):1357–1365. https://doi.org/10.1001/jama.2012.12607

13.

Stunnenberg BC, Raaphorst J, Groenewoud HM, Statland JM, Griggs RC, Woertman W, Stegeman DF, Timmermans J, Trivedi J, Matthews E, Saris CGJ, Schouwenberg BJ, Drost G, van Engelen BGM, van der Wilt GJ (2018) Effect of mexiletine on muscle stiffness in patients with nondystrophic myotonia evaluated using aggregated N-of-1 trials. JAMA 320(22):2344–2353. https://doi.org/10.1001/jama.2018.18020

14.

Lorusso S, Kline D, Bartlett A, Freimer M, Agriesti J, Hawash AA, Rich MM, Kissel JT, David AW (2019) Open-label trial of ranolazine for the treatment of paramyotonia congenita. Muscle Nerve 59(2):240–243. https://doi.org/10.1002/mus.26372

15.

Andersen G, Hedermann G, Witting N, Duno M, Andersen H, Vissing J (2017) The antimyotonic effect of lamotrigine in non-dystrophic myotonias: a double-blind randomized study. Brain 140(9):2295–2305. https://doi.org/10.1093/brain/awx192

16.

Schneider-Gold C, Weber F, Schoser B, Ellrichmann G, Quasthoff S, Lehmann-Horn F, Sinnreich M (2018) Myotone Dystrophien, nicht dystrophe Myotonien und periodische Paralysen. Aktuelle Neurologie 45(03):167–177. https://doi.org/10.1055/s-0043-125352

17.

Trivedi JR, Bundy B, Statland J, Salajegheh M, Rayan DR, Venance SL, Wang Y, Fialho D, Matthews E, Cleland J, Gorham N, Herbelin L, Cannon S, Amato A, Griggs RC, Hanna MG, Barohn RJ, CINCH Consortium (2013) Non-dystrophic myotonia: prospective study of objective and patient reported outcomes. Brain 136(Pt 7):2189–2200

18.

Montagnese F, White M, Klein A, Stahl K, Wenninger S, Schoser B (2019) Cannabis use in myotonic dystrophy patients in Germany and USA: a pilot survey. J Neurol 266(2):530–532. https://doi.org/10.1007/s00415-018-9159-2

19.

Stockings E, Campbell G, Hall WD et al (2018) Cannabis and cannabinoids for the treatment of people with chronic noncancer pain conditions: a systematic review and meta-analysis of controlled and observational studies. Pain 159:1932–1954. https://doi.org/10.1097/j.pain.000000000000129329847469

20.

Whiting PF, Wolff RF, Deshpande S, Di Nisio M, Duffy S, Hernandez AV et al (2015) Cannabinoids for medical use. JAMA 313:2456

21.

Bagüés A, Martín MI, Sánchez-Robles EM (2014) Involvement of central and peripheral cannabinoid receptors on antinociceptive effect of tetrahydrocannabinol in muscle pain. Eur J Pharmacol 745:69–75. https://doi.org/10.1016/j.ejphar.2014.10.016

22.

Cavuoto P, McAinch AJ, Hatzinikolas G, Janovská A, Game P, Wittert GA (2007) The expression of receptors for endocannabinoids in human and rodent skeletal muscle. Biochem Biophys Res Commun 364(1):105–110

23.

Hammarén E, Kjellby-Wendt G, Lindberg C (2005) Quantification of mobility impairment and self-assessment of stiffness in patients with myotonia congenita by the physiotherapist. Neuromuscul Disord 15(9–10):610–617

24.

Freeman TP, Hindocha C, Green SF, Bloomfield MAP (2019) Medicinal use of cannabis based products and cannabinoids. BMJ 4(365):l1141. https://doi.org/10.1136/bmj.l1141

25.

Mackie K (2008) Cannabinoid receptors: where they are and what they do. J Neuroendocrinol 20(Suppl 1):10–14. https://doi.org/10.1111/j.1365-2826.2008.01671.x

26.

Boggs DL, Nguyen JD, Morgenson D, Taffe MA, Ranganathan M (2018) Clinical and preclinical evidence for functional interactions of cannabidiol and Δ9-tetrahydrocannabinol. Neuropsychopharmacology 43(1):142–154. https://doi.org/10.1038/npp.2017.209

27.

Maccarrone M, Bab I, Bíró T, Cabral GA, Dey SK, Di Marzo V, Konje JC, Kunos G, Mechoulam R, Pacher P, Sharkey KA, Zimmer A (2015) Endocannabinoid signaling at the periphery: 50 years after THC. Trends Pharmacol Sci 36(5):277–296. https://doi.org/10.1016/j.tips.2015.02.008

28.

Pertwee RG (2008) The diverse CB1 and CB2 receptor pharmacology of three plant cannabinoids: delta9-tetrahydrocannabinol, cannabidiol and delta9-tetrahydrocannabivarin. Br J Pharmacol 153(2):199–215

29.

Friedman D, French JA, Maccarrone M (2019) Safety, efficacy, and mechanisms of action of cannabinoids in neurological disorders. Lancet Neurol 18(5):504–512. https://doi.org/10.1016/S1474-4422(19)30032-8

30.

Maccarrone M, Maldonado R, Casas M, Henze T, Centonze D (2017) Cannabinoids therapeutic use: what is our current understanding following the introduction of THC, THC:CBD oromucosal spray and others? Expert Rev Clin Pharmacol 10(4):443–455. https://doi.org/10.1080/17512433.2017.1292849

31.

Pisanti S, Malfitano AM, Ciaglia E, Lamberti A, Ranieri R, Cuomo G, Abate M, Faggiana G, Proto MC, Fiore D, Laezza C, Bifulco M (2017) Cannabidiol: State of the art and new challenges for therapeutic applications. Pharmacol Ther 175:133–150. https://doi.org/10.1016/j.pharmthera.2017.02.041

32.

Fijał K, Filip M (2016) Clinical/therapeutic approaches for cannabinoid ligands in central and peripheral nervous system diseases: mini review. Clin Neuropharmacol 39(2):94–101

33.

Oláh T, Bodnár D, Tóth A, Vincze J, Fodor J, Reischl B, Kovács A, Ruzsnavszky O, Dienes B, Szentesi P, Friedrich O, Csernoch L (2016) Cannabinoid signalling inhibits sarcoplasmic Ca2+ release and regulates excitation-contraction coupling in mammalian skeletal muscle. J Physiol 594(24):7381–7398

34.

Iannotti FA, Pagano E, Moriello AS, Alvino FG, Sorrentino NC, D'Orsi L, Gazzerro E, Capasso R, De Leonibus E, De Petrocellis L, Di Marzo V (2019) Effects of non-euphoric plant cannabinoids on muscle quality and performance of dystrophic mdx mice. Br J Pharmacol 176(10):1568–1584. https://doi.org/10.1111/bph.14460

35.

Nielsen S, Germanos R, Weier M, Pollard J, Degenhardt L, Hall W, Buckley N, Farrell M (2018) The Use of Cannabis and Cannabinoids in Treating Symptoms of Multiple Sclerosis: a Systematic Review of Reviews. Curr Neurol Neurosci Rep 18(2):8. https://doi.org/10.1007/s11910-018-0814-x

36.

Moshourab R, Palada V, Grunwald S, Grieben U, Lewin GR, Spuler S (2016) A molecular signature of myalgia in myotonic dystrophy 2. EBioMedicine 7:205–211. https://doi.org/10.1016/j.ebiom.2016.03.017Epub 2016 Mar 14

37.

Hilbert JE, Barohn RJ, Clemens PR, Luebbe EA, Martens WB, McDermott MP, Parkhill AL, Tawil R, Thornton CA, Moxley RT, National Registry Scientific Advisory Committee/Investigators (2017) High frequency of gastrointestinal manifestations in myotonic dystrophy type 1 and type 2. Neurology 89(13):1348–1354. https://doi.org/10.1212/WNL.0000000000004420

38.

Duncan M et al (2008) Cannabinoid CB2 receptors in the enteric nervous system modulate gastrointestinal contractility in lipopolysaccharide-treated rats. Am J Physiol Gastrointest Liver Physiol 295:G78–G87

39.

Sexton M, Cuttler C, Finnell JS, Mischley LK (2016) A crosssectional survey of medical cannabis users: patterns of use and perceived efficacy. Cannabis Cannabinoid Res 1(1):131–138. https://doi.org/10.1089/can.2016.0007
Acknowledgements
We like to thank all our six patients, the Diagnosegruppe Myotone Dystrophien, Deutsche Gesellschaft für Muskelkranke, Freiburg Germany for all the enthusiasm and ongoing support for all our projects, and the Myotonic dystrophy foundation MDF USA, here especially Molly White. We thank the team at the Hubertus Apotheke in Berlin, Germany for the cooperation in preparing the CBD/THC oil used.
Funding
Hubertus Apotheke Berlin was supported by an unrestricted grant of Nexien Biopharma, Inc., for the preparation of the CBD/THC oil.
Ethics declarations
Conflicts of interest
FM, KS, and SW have no conflicts of interest. BS is a scientific advisor of Nexien BioPharma, Inc.
Ethical standard
This study followed the principles of the Declaration of Helsinki. As open labelled compassionate use treatment, no formal IRB approval was submitted.
About this article
Cite this article
Montagnese, F., Stahl, K., Wenninger, S. et al. A role for cannabinoids in the treatment of myotonia? Report of compassionate use in a small cohort of patients. J Neurol 267, 415–421 (2020). https://doi.org/10.1007/s00415-019-09593-6
Received:

Revised:

Accepted:

Published:

Issue Date:
Keywords
Myotonia

Cannabis

Cannabidiol

Tetrahydrocannabinol

Myotonic dystrophy