Abstract
Background
Patient satisfaction is predictive of adherence, malpractice litigation and doctor-switching.
Objective
To investigate which factors of the first diagnostic consultation (FDC) influence patient satisfaction and which topics persons with multiple sclerosis (PwMS) thought were missing.
Methods
Using retrospective patient-reported data of the Swiss Multiple Sclerosis Registry from PwMS with relapsing disease onset, we fitted ordered logistic regression models on satisfaction with FDC, with socio-demographic and FDC features as explanatory factors.
Results
386 PwMS diagnosed after 1995 were included. Good satisfaction with the FDC was associated with a conversation more than 20 min [multivariable odds ratio, 95% confidence interval 3.9 (2.42; 6.27)], covering many topics [1.35 (1.19; 1.54) per additional topic], the presence of a significant others [1.74 (1.03; 2.94) ], and shared decision making [3.39 (1.74; 6.59)]. Not receiving a specific diagnosis was main driver for low satisfaction [0.29 (0.15; 0.55)]. Main missing topics concerned long-term consequences (reported by 6.7%), psychological aspects (6.2%) and how to obtain support and further information (5.2%).
Conclusions
A conversation of more than 20 min covering many MS relevant topics, a clear communication of the diagnosis, the presence of a close relative or significant other, as well as shared decision making enhanced patient satisfaction with the FDC. ClinicalTrials.gov Identifier: NCT02980640
Access options
Buy single article
Instant access to the full article PDF.
US$ 39.95
Tax calculation will be finalised during checkout.
Subscribe to journal
Immediate online access to all issues from 2019. Subscription will auto renew annually.
US$ 159
Tax calculation will be finalised during checkout.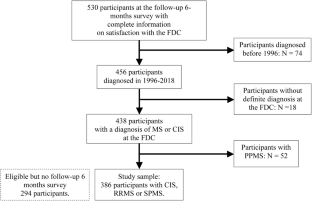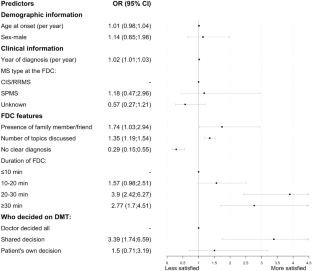 References
1.

Ware JE Jr, Davies AR (1983) Behavioral consequences of consumer dissatisfaction with medical care. Eval Progr Plan 6:291–297

2.

Becker MH, Malman LA (1980) Strategies for enhancing patient compliance. J Community Health 6:113–135

3.

Marquis MS, Davies AR, Ware JE Jr (1983) Patient satisfaction and change in medical care provider: a longitudinal study. Med Care 21:821–829

4.

Miller RH, Williams PC, Napolitana G, Schmied J (1990) Malpractice: a case–control study of claimants. J Gen Intern Med 5:244–248

5.

Barry MJ, Edgman-Levitan S (2012) Shared decision making—pinnacle of patient-centered care. N Engl J Med 366:780–781

6.

Charles C, Gafni A, Whelan T (1997) Shared decision-making in the medical encounter: what does it mean? (or it takes at least two to tango). Soc Sci Med 44:681–692

7.

Kamm CP, Uitdehaag BM, Polman CH (2014) Multiple sclerosis: current knowledge and future outlook. Eur Neurol 72:132–141

8.

Solari A, Acquarone N, Pucci E et al (2007) Communicating the diagnosis of multiple sclerosis—a qualitative study. Mult Scler 13:763–769

9.

Janssens AC, van Doorn PA, de Boer JB, van der Meché FG, Passchier J, Hintzen R (2003) Impact of recently diagnosed multiple sclerosis on quality of life, anxiety, depression and distress of patients and partners. Acta Neurol Scand 108:389–395

10.

Solari A (2014) Effective communication at the point of multiple sclerosis diagnosis. Mult Scler 20:397–402

11.

Giordano A, Lugaresi A, Confalonieri P et al (2014) Implementation of the 'Sapere Migliora' information aid for newly diagnosed people with multiple sclerosis in routine clinical practice: a late-phase controlled trial. Mult Scler 20:1234–1243

12.

Stacey D, Légaré F, Lewis K et al (2017) Decision aids for people facing health treatment or screening decisions. Cochrane Database Syst Rev 4:CD001431. https://doi.org/10.1002/14651858.CD001431.pub5.Review

13.

Papathanasopoulos PG, Nikolakopoulou A, Scolding NJ (2005) Disclosing the diagnosis of multiple sclerosis. J Neurol 252:1307–1309

14.

O'Connor P, Detsky AS, Tansey C, Kucharczyk W (1994) Effect of diagnostic testing for multiple sclerosis on patient health perceptions. Rochester-Toronto MRI Study Group. Arch Neurol 51:46–51

15.

Solari A, Martinelli V, Trojano M et al (2010) An information aid for newly diagnosed multiple sclerosis patients improves disease knowledge and satisfaction with care. Mult Scler 16:1393–1405

16.

Elwyn G, Laitner S, Coulter A, Walker E, Watson P, Thomson R (2010) Implementing shared decision making in the NHS. BMJ 341:c5146

17.

Puhan MA, Steinemann N, Kamm CP et al (2018) A digitally facilitated citizen-science driven approach accelerates participant recruitment and increases study population diversity. Swiss Med Wkly 148:w14623

18.

Steinemann N, Kuhle J, Calabrese P et al (2018) The Swiss Multiple Sclerosis Registry (SMSR): study protocol of a participatory, nationwide registry to promote epidemiological and patient-centered MS research. BMC Neurol 18:111

19.

Barin L, Salmen A, Disanto G et al (2018) The disease burden of Multiple Sclerosis from the individual and population perspective: which symptoms matter most? Mult Scler Relat Disord 25:112–121

20.

R Core Team L (2017) R: a language and environment for statistical computing. R Foundation for Statistical Computing, Vienna. https://www.r-project.org/

21.

Barin L, Kamm CP, Salmen A et al (2019) How do patients enter the healthcare system after the first onset of multiple sclerosis symptoms? The influence of setting and physician specialty on speed of diagnosis. Mult Scler. https://doi.org/10.1177/1352458518823955(published online)

22.

Kaufmann M, Kuhle J, Puhan MA et al (2018) Factors associated with time from first-symptoms to diagnosis and treatment initiation of Multiple Sclerosis in Switzerland. Mult Scler J Exp Transl Clin 4:2055217318814562. https://doi.org/10.1177/2055217318814562(eCollection 2018 Oct-Dec)

23.

Ben-Zacharia A, Adamson M, Boyd A et al (2018) Impact of shared decision making on disease-modifying drug adherence in multiple sclerosis. Int J MS Care 20:287–297

24.

Brown H, Gabriele S, White J (2018) Physician and patient treatment decision-making in relapsing-remitting multiple sclerosis in Europe and the USA. Neurodegener Dis Manag 8:371–376

25.

Kessels RP (2003) Patients' memory for medical information. J R Soc Med 96:219–222

26.

Sherlock A, Brownie S (2014) Patients' recollection and understanding of informed consent: a literature review. ANZ J Surg 84:207–210

27.

Hauser SL, Bar-Or A, Comi G et al (2017) Ocrelizumab versus interferon beta-1a in relapsing multiple sclerosis. N Engl J Med 376:221–234

28.

Montalban X, Hauser SL, Kappos L et al (2017) Ocrelizumab versus placebo in primary progressive multiple sclerosis. N Engl J Med 376:209–220

29.

Gold R, Kappos L, Arnold DL et al (2012) Placebo-controlled phase 3 study of oral BG-12 for relapsing multiple sclerosis. N Engl J Med 367:1098–1107 (Erratum in: N Engl J Med 367: 2362)
Acknowledgements
The authors wish to thank the Swiss Multiple Sclerosis Society for funding the Swiss MS Registry. Moreover, we thank the study participants who not only contributed data but also were absolutely instrumental in all aspects of study design and conduct of the Swiss Multiple Sclerosis Registry. We further thank the members of the SMSR Data Center at the Epidemiology, Biostatistics and Prevention Institute of the University of Zurich. Members of the Swiss Multiple Sclerosis Registry are Bernd Anderseck, Pasquale Calabrese, Andrew Chan, Giulio Disanto, Britta Engelhardt, Claudio Gobbi, Roger Haussler, Christian P. Kamm, Susanne Kagi, Jurg Kesselring (President), Jens Kuhle (Chair of Clinical and Laboratory Research Committee), Roland Kurmann, Christoph Lotter, Kurt Luyckx, Doron Merkler, Patricia Monin, Stephanie Muller, Krassen Nedeltchev, Caroline Pot, Milo A. Puhan, Irene Rapold, Anke Salmen, Sven Schippling, Claude Vaney (Chair of Patient- and Population Research Committee), and Viktor von Wyl (Chair of IT and Data Committee).
Funding
This work was supported by the Swiss Multiple Sclerosis Society.
Ethics declarations
Conflicts of interest
CPK has received honoraria for lectures as well as research support from Biogen, Novartis, Almirall, Bayer Schweiz AG, Teva, Merck, Sanofi Genzyme, Roche, Celgene and the Swiss MS Society (SMSG). CG: The Employer Department of Neurology, Regional Hospital Lugano (EOC), Lugano, Switzerland receives financial support from Teva, Merck Serono, Biogen Idec, Bayer Schering, Genzyme, Roche and Novartis. The submitted work is not related to these agreements. CP has received travel support and participated to advisory board for Biogen Idec, Genzyme, Novartis and Roche. PC has received honoraria for speaking at scientific meetings, serving at scientific advisory boards and consulting activities from: Abbvie, Actelion, Almirall, Bayer-Schering, Biogen Idec, EISAI, Genzyme, Lundbeck, Merck Serono, Novartis, Pfizer, Teva, and Sanofi-Aventis; his research is also supported by the Swiss Multiple Sclerosis Society, the Swiss National Research Foundation and the SOFIA Foundation. AS received speaker honoraria and/or travel compensation for activities with Almirall Hermal GmbH, Biogen, Merck, Novartis, Roche, and Sanofi Genzyme; none related to this work. LA served on scientific advisory boards for Novartis Pharmaceuticals, Merck, Biogen, Sanofi Genzyme, Roche and Bayer; received funding for travel and/or speaker honoraria from Biogen, Sanofi Genzyme, Novartis, Merck Serono, Roche, Teva and the Swiss MS Society. LB, MP, JK, and VvW have nothing to disclose.
Ethical standards
The SMSR was approved by the Cantonal Ethics Committee Zurich (Study number PB-2016-00894) and has been performed in accordance with the ethical standards laid down in the 1964 Declaration of Helsinki and its later amendments, and every patient has signed an informed consent prior to study entry.
Additional information
Them members of For the Swiss Multiple Sclerosis Registry (SMSR) are listed in Acknowledgements.
About this article
Cite this article
Kamm, C.P., Barin, L., Gobbi, C. et al. Factors influencing patient satisfaction with the first diagnostic consultation in multiple sclerosis: a Swiss Multiple Sclerosis Registry (SMSR) study. J Neurol 267, 153–161 (2020). https://doi.org/10.1007/s00415-019-09563-y
Received:

Revised:

Accepted:

Published:

Issue Date:
Keywords
First diagnostic consultation

Multiple sclerosis

Registries

Patient satisfaction

Diagnosis communication

Shared decision making