Abstract
Background
Disease burden in myasthenia gravis (MG) and in other autoimmune disorders is often determined by common accompanying symptoms such as fatigue, sleepiness and mood disturbances. Many MG patients have a second autoimmune disease, but it is unclear whether autoimmune comorbidities add to the severity of fatigue, sleepiness and mood disturbances.
Methods
We ascertained the presence of autoimmune comorbidities in 69 well-characterized MG patients. To assess fatigue, sleepiness and mood disturbances, we applied the Fatigue Severity Scale (FSS), the Fatigue Impact Scale (FIS), the Epworth Sleepiness Scale (ESS), as well as the Beck Depression Inventory (BDI) and State-Trait Anxiety Inventory (STAI) to all patients.
Results
Thirteen MG patients had concomitant autoimmune thyroid disease (AITD), including 1 patient with rheumatoid arthritis as third autoimmune disease. Fatigue (68.1%), excessive daytime sleepiness (14.5%), moderate-severe depression (20.3%) and anxiety (26.1%) were common, but MG patients with and without autoimmune comorbidities had similar FSS, FIS, ESS, BDI and STAI scores. The presence of autoimmune comorbidities was not associated with altered clinical and immunological MG characteristics, but MG patients with autoimmune comorbidities have more often been treated with corticosteroids than patients without autoimmune comorbidities (92.3% vs. 60.7%; p = 0.03).
Conclusions
While many MG patients were affected by fatigue, sleepiness, depression and anxiety, the present study does not suggest that coexisting autoimmune diseases substantially contribute to the magnitude of these cumbersome comorbid symptoms. However, the higher frequency of steroid treatment may have counterbalanced the effects of the autoimmune comorbidity.
Access options
Buy single article
Instant access to the full article PDF.
US$ 39.95
Tax calculation will be finalised during checkout.
Subscribe to journal
Immediate online access to all issues from 2019. Subscription will auto renew annually.
US$ 159
Tax calculation will be finalised during checkout.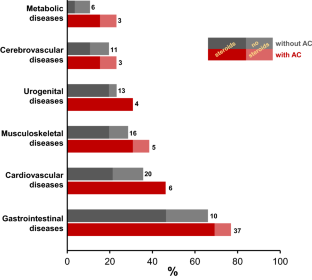 References
1.

Gilhus NE (2016) Myasthenia gravis. N Engl J Med 375:2570–2581

2.

Somers EC, Thomas SL, Smeeth L, Hall AJ (2009) Are individuals with an autoimmune disease at higher risk of a second autoimmune disorder? Am J Epidemiol 169:749–755

3.

Simpson JA (1960) Myasthenia gravis: a new hypothesis. Scott Med J 5:419–436

4.

Gilhus NE, Nacu A, Andersen JB, Owe JF (2015) Myasthenia gravis and risks for comorbidity. Eur J Neurol 22:17–23

5.

Mao ZF, Yang LX, Mo XA et al (2011) Frequency of autoimmune diseases in myasthenia gravis: a systematic review. Int J Neurosci 121:121–129

6.

Drachman DB (1994) Myasthenia gravis. N Engl J Med 330:1797–1810

7.

Nakata R, Motomura M, Masuda T et al (2013) Thymus histology and concomitant autoimmune diseases in Japanese patients with muscle-specific receptor tyrosine kinase-antibody-positive myasthenia gravis. Eur J Neurol 20:1272–1276

8.

Fang F, Sveinsson O, Thormar G et al (2014) The autoimmune spectrum of myasthenia gravis: a Swedish population-based study. J Intern Med 277:594–604

9.

Ratanakorn D, Vejjajiva A (2002) Long-term follow-up of myasthenia gravis patients with hyperthyroidism. Acta Neurol Scand 106:93–98

10.

Toth C, McDonald D, Oger J, Brownell K (2006) Acetylcholine receptor antibodies in myasthenia gravis are associated with greater risk of diabetes and thyroid disease. Acta Neurol Scand 114:124–132

11.

Marinó M, Ricciardi R, Pinchera A et al (1997) Mild clinical expression of myasthenia gravis associated with autoimmune thyroid diseases. J Clin Endocrinol Metab 82:438–443

12.

Chen YL, Yeh JH, Chiu HC (2013) Clinical features of myasthenia gravis patients with autoimmune thyroid disease in Taiwan. Acta Neurol Scand 127:170–174

13.

Kubiszewska J, Szyluk B, Szczudlik P et al (2016) Prevalence and impact of autoimmune thyroid disease on myasthenia gravis course. Brain Behav 6:e00537

14.

Téllez-Zenteno JF, Remes-Troche JM, Mimenza-Alvarado A, Garcia-Ramos G, Estanol B, Vega-Boada F (2003) The association of myasthenia gravis and connective tissue diseases. Effects of thymectomy in six cases with rheumatoid arthritis and one case with systemic lupus erythematosus. Neurologia 18:54–58

15.

Jallouli M, Saadoun D, Eymard B et al (2012) The association of systemic lupus erythematosus and myasthenia gravis: a series of 17 cases, with a special focus on hydroxychloroquine use and a review of the literature. J Neurol 259:1290–1297

16.

Yeh JH, Chen HJ, Lin CC, Chen YK, Chiu HC, Kao CH (2015) Risk of diabetes mellitus among patients with myasthenia gravis. Acta Neurol Scand 132:132–138

17.

Kanazawa M, Shimohata T, Tanaka K, Nishizawa M (2007) Clinical features of patients with myasthenia gravis associated with autoimmune diseases. Eur J Neurol 14:1403–1404

18.

Alekseeva TM, Gavrilov YV, Kreis OA et al (2018) Fatigue in patients with myasthenia gravis. J Neurol 265:2312–2321

19.

Dantzer R, Heijnen CJ, Kavelaars A, Laye S, Capuron L (2014) The neuroimmune basis of fatigue. Trends Neurosci 37:39–46

20.

Dantzer R, O'Connor JC, Freund GG, Johnson RW, Kelley KW (2008) From inflammation to sickness and depression: when the immune system subjugates the brain. Nat Rev Neurosci 9:46–56

21.

Imeri L, Opp MR (2009) How (and why) the immune system makes us sleep. Nat Rev Neurosci 10:199–210

22.

Pryce CR, Fontana A (2017) Depression in autoimmune diseases. Curr Top Behav Neurosci 31:139–154

23.

Yeh JH, Kuo HT, Chen HJ, Chen YK, Chiu HC, Kao CH (2015) Higher risk of myasthenia gravis in patients with thyroid and allergic diseases: a national population-based study. Medicine (Baltimore) 94:e835

24.

Meriggioli MN, Sanders DB (2012) Muscle autoantibodies in myasthenia gravis: beyond diagnosis? Expert Rev Clin Immunol 8:427–438

25.

Jaretzki A, Barohn RJ, Ernstoff RM et al (2000) Myasthenia gravis: recommendations for clinical research standards. Task Force of the Medical Scientific Advisory Board of the Myasthenia Gravis Foundation of America. Neurology 55:16–23

26.

Gavrilov YV, Shkilnyuk GG, Valko PO et al (2018) Validation of the Russian version of the Fatigue Impact Scale and Fatigue Severity Scale in multiple sclerosis patients. Acta Neurol Scand 138:408–416

27.

Krupp LB, LaRocca NG, Muir-Nash J, Steinberg AD (1989) The fatigue severity scale. Application to patients with multiple sclerosis and systemic lupus erythematosus. Arch Neurol 46:1121–1123

28.

Johns MW (1991) A new method for measuring daytime sleepiness: the Epworth sleepiness scale. Sleep 14:540–545

29.

Beck AT, Ward CH, Mendelson M, Mock J, Erbaugh J (1961) An inventory for measuring depression. Arch Gen Psychiatry 4:561–571

30.

Spielberger CD (1983) State-trait anxiety inventory. Consulting Psychologists Press, Palo Alto

31.

Nicolle MW, Rask S, Koopman WJ, George CF, Adams J, Wiebe S (2006) Sleep apnea in patients with myasthenia gravis. Neurology 67:140–142

32.

Siegmann EM, Müller HHO, Luecke C, Philipsen A, Kornhuber J, Grömer TW (2018) Association of depression and anxiety disorders with autoimmune thyroiditis: a systematic review and meta-analysis. JAMA Psychiatry 75:577–584

33.

Chaker L, Bianco AC, Jonklaas J, Peeters RP (2017) Hypothyroidism. Lancet 390:1550–1562

34.

De Leo S, Lee SY, Braverman LE (2016) Hyperthyroidism. Lancet 388:906–918

35.

Nacu A, Andersen JB, Lisnic V, Owe JF, Gilhus NE (2015) Complicating autoimmune diseases in myasthenia gravis: a review. Autoimmunity 48:362–368

36.

Kuz'mina VA, Serebryakova IP, Volkova EA, Kuznetzova AV, Kryuchkova ZV (2011) Structure of the thyroid gland diseases in young adults, residents of St. Petersburg [in Russian]. Rossiskij Semejnij Vrach 15:24–28

37.

McLeod DS, Cooper DS (2012) The incidence and prevalence of thyroid autoimmunity. Endocrine 42:252–265

38.

Dora SV, Krasilnikova EI, Volkova AR, Kravtzova VD, Gudiyeva MB, Grigoryeva EA (2012) Correlation between iodine supplementation indices and frequency of autoimmune thyroiditis [in Russian]. Sci Notes IP Pavlov St Petersburg State Med Univ 19:108–110

39.

Miranda DM, Massom JN, Catarino RM et al (2015) Impact of nutritional iodine optimization on rates of thyroid hypoechogenicity and autoimmune thyroiditis: a cross-sectional, comparative study. Thyroid 25:118–124

40.

Pacini F, Vorontsova T, Molinaro E et al (1998) Prevalence of thyroid autoantibodies in children and adolescents from Belarus exposed to the Chernobyl radioactive fallout. Lancet 352:763–766

41.

Marcus N, Amir AZ, Grunebaum E et al (2018) De novo allergy and immune-mediated disorders following solid-organ transplantation-prevalence, natural history, and risk factors. J Pediatr 196:154–160

42.

Daikeler T, Labopin M, Di Gioia M et al (2011) Secondary autoimmune diseases occurring after HSCT for an autoimmune disease: a retrospective study of the EBMT Autoimmune Disease Working Party. Blood 118:1693–1698

43.

Skversky AL, Kumar J, Abramowitz MK, Kaskel FJ, Melamed ML (2011) Association of glucocorticoid use and low 25-hydroxyvitamin D levels: results from the National Health and Nutrition Examination Survey (NHANES): 2001–2006. J Clin Endocrinol Metab 96:3838–3845

44.

Kong WM, Sheikh MH, Lumb PJ et al (2002) A 6-month randomized trial of thyroxine treatment in women with mild subclinical hypothyroidism. Am J Med 112:348–354
Ethics declarations
Conflicts of interest
The authors declare that they have no conflict of interest.
Ethical standard
The authors declare that the work documented in this manuscript has been carried out in accordance with ethical standards.
About this article
Cite this article
Alekseeva, T.M., Kreis, O.A., Gavrilov, Y.V. et al. Impact of autoimmune comorbidity on fatigue, sleepiness and mood in myasthenia gravis. J Neurol 266, 2027–2034 (2019). https://doi.org/10.1007/s00415-019-09374-1
Received:

Revised:

Accepted:

Published:

Issue Date:
Keywords
Myasthenia gravis

Autoimmune comorbidity

Steroids

Fatigue

Sleepiness

Depression