This is a preview of subscription content, log in to check access.
Access options
Buy single article
Instant access to the full article PDF.
US$ 39.95
Price includes VAT for USA
Subscribe to journal
Immediate online access to all issues from 2019. Subscription will auto renew annually.
US$ 199
This is the net price. Taxes to be calculated in checkout.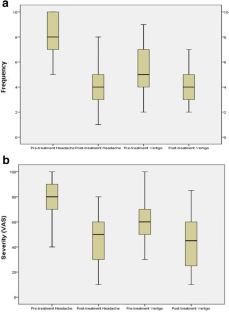 References
1.

Radtke A, Lempert T, Gresty MA, Brookes GB, Bronstein AM, Neuhauser H (2002) Migraine and Ménière's disease Is there a link? Neurology 59:1700–1704

2.

Cha YH, Kane MJ, Baloh RW (2008) Familial clustering of migraine, episodic vertigo, and Meniere's disease. Otol Neurotol 29:93–96

3.

Brantberg K, Baloh RW (2011) Similarity of vertigo attacks due to Meniere's disease and benign recurrent vertigo, both with and without migraine. Acta Otolaryngol 131:722–727

4.

Neff BA, Staab JP, Eggers SD, Carlson ML, Schmitt WR, Van Abel KM, Worthington DK, Beatty CW, Driscoll CL, Shepard NT (2012) Auditory and vestibular symptoms and chronic subjective dizziness in patients with Meniere's disease, vestibular migraine, and Meniere's disease with concomitant vestibular migraine. Otol Neurotol 33:1235–1244

5.

Lopez-Escamez JA, Dlugaiczyk J, Jacobs J, Lempert T, Teggi R, von Brevern M, Bisdorff A (2014) Accompanying symptoms overlap during attacks in Menière's Disease and vestibular migraine. Front Neurol 5:265

6.

Ghavami Y, Mahboubi H, Yau AY, Maducdoc M, Djalilian HR (2016) Migraine features in patients with Meniere's disease. Laryngoscope 126:163–168

7.

Murofushi T, Tsubota M, Kitao K, Yoshimura E (2018) Simultaneous presentation of definite vestibular migraine and definite Ménière's disease: overlapping syndrome of two diseases. Front Neurol 9:749

8.

Von Brevern M, Ta N, Shankar A, Wieste A, Siegel A, Radtke A, Sander T, Escayg A (2006) Migrainous vertigo: mutation analysis of the candidate genes CACNA1A, ATP1A2, SCN1A, and CACNB4. Headache 46:1136–1141

9.

Kim JS, Yue Q, Jen JC, Nelson SF, Baloh RW (1998) Familial migraine with vertigo: no mutations found in CACNA1A. Am J Med Gen 79:148–151

10.

Gates P (2005) Hypothesis: could Meniere's disease be a channelopathy? Intern Med J 35:488–489

11.

Ishiyama G, López IA, Ishiyama A (2006) Aquaporins and Meniere's disease. Curr Opin Otolaryngol Head Neck Surg 14:332–336

12.

International Headache Society Classification Subcommittee (2013) The international classification of headache disorders, 3rd edition (beta version). Cephalalgia 33:629–808

13.

Lopez-Escamez JA, Carey J et al (2015) Diagnostic criteria for Menière's disease. J Vest Res 25:1–7

14.

Tfelt-Hansen P, Tfelt-Hansen J (2009) Verapamil for cluster headache. Clinical pharmacology and possible mode of action. Headache 49:117–125

15.

Waterston J (2004) Chronic migrainous vertigo. J Clin Neurosci 11:384–388

16.

Haman SR, Blouin RA, McAllister RG Jr (1984) Clinical pharmacokinetics of verapamil. Clin Pharmacokinetics 9:26–41
Ethics declarations
Conflicts of interest
No conflict of interest.
Ethical standards
All procedures were performed in accordance with the ethical standards stated in the Declaration of Helsinki and its later amendments.
Additional information
This manuscript is part of a supplement sponsored by the German Federal Ministry of Education and Research within the funding initiative for integrated research and treatment centers.
About this article
Cite this article
Kaya, I., Eraslan, S., Tarhan, C. et al. Can verapamil be effective in controlling vertigo and headache attacks in vestibular migraine accompanied with Meniere's disease? A preliminary study. J Neurol 266, 62–64 (2019). https://doi.org/10.1007/s00415-019-09309-w
Received:

Revised:

Accepted:

Published:

Issue Date: