Abstract
Although motor speech disorders represent an early and prominent clinical feature of multiple system atrophy (MSA), the potential usefulness of speech assessment as a diagnostic tool has not yet been explored. This cross-sectional study aimed to provide a comprehensive, objective description of motor speech function in the parkinsonian (MSA-P) and cerebellar (MSA-C) variants of MSA. Speech samples were acquired from 80 participants including 18 MSA-P, 22 MSA-C, 20 Parkinson's disease (PD), and 20 healthy controls. The accurate differential diagnosis of dysarthria subtypes was based on quantitative acoustic analysis of 14 speech dimensions. A mixed type of dysarthria involving hypokinetic, ataxic and spastic components was found in the majority of MSA patients independent of phenotype. MSA-P showed significantly greater speech impairment than PD, and predominantly exhibited harsh voice, imprecise consonants, articulatory decay, monopitch, excess pitch fluctuation and pitch breaks. MSA-C was dominated by prolonged phonemes, audible inspirations and voice stoppages. Inappropriate silences, irregular motion rates and overall slowness of speech were present in both MSA phenotypes. Speech features allowed discrimination between MSA-P and PD as well as between both MSA phenotypes with an area under curve up to 0.86. Hypokinetic, ataxic and spastic dysarthria components in MSA were correlated to the clinical evaluation of rigidity, cerebellar and bulbar/pseudobulbar manifestations, respectively. Distinctive speech alterations reflect underlying pathophysiology in MSA. Objective speech assessment may provide an inexpensive and widely applicable screening instrument for differentiation of MSA and PD from controls and among subtypes of MSA.
Access options
Buy single article
Instant access to the full article PDF.
USD 39.95
Price excludes VAT (USA)
Tax calculation will be finalised during checkout.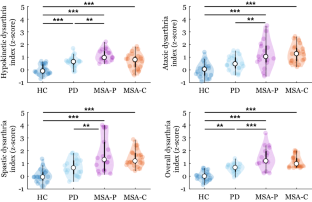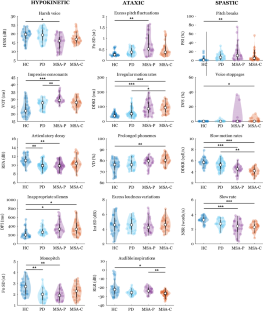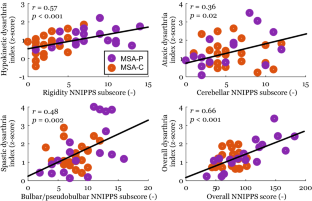 References
Fanciulli A, Wenning GK (2015) Multiple-system atrophy. N Engl J Med 372:249–263

Gilman S, Wenning GK, Low PA et al (2008) Second consensus statement on the diagnosis of multiple system atrophy. Neurology 71:670–676

Kent RD, Kent JF, Weismer G, Duffy JR (2000) What dysarthrias can tell us about the neural control of speech. J Phon 28:273–302

Ho AK, Iansek R, Marigliani C, Bradshaw J, Gates S (1998) Speech impairment in large sample of patients with Parkinson's disease. Behav Neurol 11:131–137

Kluin KJ, Gilman S, Lohman M, Junck L (1996) Characteristics of the dysarthria in multiple system atrophy. Arch Neurol 53:545–548

Postuma RB, Lang AE, Gagnon JF, Pelletier A, Montplaisir JY (2012) How does parkinsonism start? Prodromal parkinsonism motor changes in idiopathic REM sleep behaviour disorder. Brain 135:1860–1870

Hlavnicka J, Cmejla R, Tykalova T, Sonka K, Ruzicka E, Rusz J (2017) Automated analysis of connected speech reveals early biomarkers of Parkinson's disease in patients with rapid eye movement sleep behaviour disorder. Sci Rep 7:12

Hartelius L, Gustavsson H, Astrand M, Holmberg B (2006) Perceptual analysis of speech in multiple system atrophy and progressive supranuclear palsy. J Med Speech Lang Pathol 14:241–247

Kim Y, Kent RD, Kent J, Duffy JR (2010) Perceptual and acoustic features of dysarthria associated with multiple system atrophy. J Med Speech Lang Pathol 18:66–70

Sachin S, Shukla G, Goyal V et al (2008) Clinical speech impairment in Parkinson's disease, progressive supranuclear palsy, and multiple system atrophy. Neurol India 56:122–126

Saxena M, Behari M, Kumaran SS, Goyal V, Narang V (2014) Assessing speech dysfunction using BOLD and acoustic analysis in parkinsonism. Parkinsonism Relat Disord 20:855–861

Huh YE, Park J, Suh MK et al (2015) Differences in early speech patterns between Parkinson variant of multiple system atrophy and Parkinson's disease. Brain Lang 147:14–20

Rusz J, Bonnet C, Klempir J, Tykalova T, Baborova E, Novotny M, Rulseh A, Ruzicka E (2015) Speech disorders reflect differing pathophysiology in Parkinson's disease, progressive supranuclear palsy and multiple system atrophy. J Neurol 262:992–1001

Tykalova T, Rusz J, Klempir J, Cmejla R, Ruzicka E (2017) Distinct patterns of consonant articulation among Parkinson's disease, progressive supranuclear palsy and multiple system atrophy. Brain Lang 165:1–9

Duffy JR (2013) Motor speech disorders: substrates, differential diagnosis and management, 3rd edn. Mosby, St. Louis

Weismer G (1997) Motor speech disorders. In: Hardcastle WJ, Laver J (eds) The handbook of phonetic sciences. Blackwell, Cambridge, pp 191–219

Hughes AJ, Daniel SE, Kilford L, Lees AJ (1992) Accuracy of clinical diagnosis of idiopathic Parkinson's disease: a clinico-pathological study of 100 cases. J Neurol Neurosurg Psychiatry 55:181–184

Payan CA, Viallet F, Landwerhrmeyer BG et al (2011) Disease severity and progression in progressive supranuclear palsy and multiple system atrophy: validation of the NNIPPS-Parkinson plus scale. PLoS One 6:e22293

Darley FL, Aronson AR, Brown JR (1969) Differential diagnostic patterns of dysarthria. J Speech Hear Res 12:246–269

Darley FL, Aronson AR, Brown JR (1969) Cluster of deviant speech dimensions in the dysarthrias. J Speech Hear Res 12:462–496

Rusz J, Cmejla R, Ruzickova H, Ruzicka E (2011) Quantitative acoustic measurements for characterization of speech and voice disorders in early untreated Parkinson's disease. J Acoust Soc Am 129:350–367

Rusz J, Megrelishvili M, Bonnet C, Okujava M, Brozova H, Khatiashvili M, Sekhniashvili M, Janelidze M, Tolosa E, Ruzicka E (2014) A distinct variant of mixed dysarthria reflects parkinsonism and dystonia due to ephedrone abuse. J Neural Transm 121:655–664

Hlavnicka J (2018) Automated analysis of speech disorders in neurodegenerative diseases. Ph.D. Thesis, Faculty of Electrical Engineering, Czech Technical University, Prague, Czechia

Vogel AP, Fletcher J, Snyder PJ, Fredrickson A, Maruff P (2011) Reliability, stability, and sensitivity to change and impairment in acoustic measures of timing and frequency. J Voice 25:137–149

Faul F, Erdfelder E, Lang AG, Buchner A (2007) G*Power 3: a flexible statistical power analysis program for the social, behavioral, and biomedical sciences. Behav Res Methods 39:175–191

Wenning GK, Shlomo YB, Magalhaes M, Daniel SE, Quinn NP (1994) Clinical features and natural history of multiple system atrophy: an analysis of 100 cases. Brain 117:835–845

Barbosa R, Lampreia T, Bugalho P (2016) The aetiology of idiopathic late onset cerebellar ataxia (ILOCA): clinical and imaging clues for a definitive diagnosis. J Neurol Sci 365:156–157  

Kluin KJ, Gilman S, Markel DS, Koeppe RA, Rosenthal G, Junck L (1998) Speech disorders in olivopontocerebellar atrophy correlate with positron emission tomography findings. Ann Neurol 23:547–554

Kollensperger M, Geser F, Seppi K et al (2008) Red flags for multiple system atrophy. Mov Disord 23:1093–1099

Ozawa T, Sekiya K, Aizawa N, Terajima K, Nishizawa M (2016) Laryngeal stridor in multiple system atrophy: clinicopathological features and causal hypotheses. J Neurol Sci 361:243–249

Koo DL, Lee JY, Joo EY, Hong SB, Nam H (2016) Acoustic characteristics of stridor in multiple system atrophy. PLoS One 11:e0153935

Hunker C, Abbs J, Barlow S (1982) The relationship between parkinsonian rigidity and hypokinesia in the orofacial system: a quantitative analysis. Neurology 32:749–754

Kim Y, Kent RD, Weismer G (2011) An acoustic study of the relationships among neurologic disease, dysarthria type, and severity of dysarthria. J Speech Lang Hear Res 54:417–429

Miller N, Nath U, Noble E, Burn D (2017) Utility and accuracy of perceptual voice and speech distinctions in the diagnosis of Parkinson's disease, PSP and MSA-P. Neurodegener Dis Manag 7:191–203

Rusz J, Hlavnicka J, Tykalova T, Novotny M, Dusek P, Sonka K, Ruzicka E (2018) Smartphone allows capture of speech abnormalities associated with high risk of developing Parkinson's disease. IEEE Trans Neural Syst Rehabil Eng 26:1495–1507

Tang CC, Poston KL, Eckert T et al (2010) Differential diagnosis of parkinsonism: a metabolic imaging study using pattern analysis. Lancet Neurol 9:149–158
Acknowledgements
The authors thank the participants for their time and interest in the study. We are obliged to Hana Ruzickova for the perceptual evaluation of dysarthria. This study was supported by the OP VVV MEYS project "Research Center for Informatics" (Grant no. CZ.02.1.01/0.0/0.0/16_019/0000765), and by the Czech Ministry of Education (PROGRES-Q27/LF1).
Ethics declarations
Conflicts of interest
The authors report no conflicts of interest.
Ethical standards
Each participant provided written, informed consent. The study received approval from an ethical standards committee on human experimentation, and has, therefore, been performed in accordance with the ethical standards established in the 1964 Declaration of Helsinki.
About this article
Cite this article
Rusz, J., Tykalová, T., Salerno, G. et al. Distinctive speech signature in cerebellar and parkinsonian subtypes of multiple system atrophy. J Neurol 266, 1394–1404 (2019). https://doi.org/10.1007/s00415-019-09271-7
Received:

Revised:

Accepted:

Published:

Issue Date:

DOI: https://doi.org/10.1007/s00415-019-09271-7
Keywords
Multiple system atrophy

Parkinson's disease

Atypical parkinsonism

Dysarthria

Speech disorder

Acoustic analyses