Abstract
We aimed to provide proof-of-principle evidence that intensive home-based speech treatment can improve dysarthria in complex multisystemic degenerative ataxias, exemplified by autosomal recessive spastic ataxia Charlevoix-Saguenay (ARSACS). Feasibility and piloting efficacy of speech training specifically tailored to cerebellar dysarthria was examined through a 4-week program in seven patients with rater-blinded assessment of intelligibility (primary outcome) and naturalness and acoustic measures of speech (secondary outcomes) performed 4 weeks before, immediately prior to, and directly after training (intraindividual control design). Speech intelligibility and naturalness improved post treatment. This provides piloting evidence that ataxia-tailored speech treatment might be effective in degenerative cerebellar disease.
Access options
Buy single article
Instant access to the full article PDF.
USD 39.95
Price excludes VAT (USA)
Tax calculation will be finalised during checkout.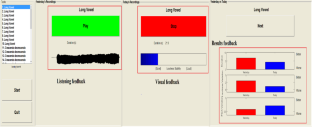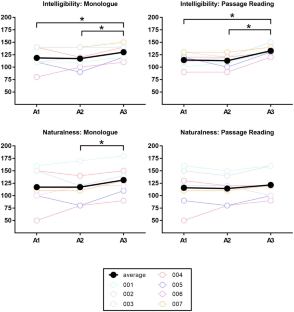 References
Ballard KJ, Robin DD, McCabe P, McDonald J (2010) A Treatment for dysprosody in childhood apraxia of speech. J Speech

Constantinescu G, Theodoros D, Russell T, Ward EC, Wilson SM, Wootton R (2011) Treating disordered speech and voice in Parkinson's disease online: a randomized controlled non-inferiority trial. Int J Lang Commun Disorders 46:1–16

Hargrove PM (2013) Pursuing prosody interventions. Clin Linguist Phonet 27:647–660

Katz S (1983) Assessing self-maintenance: activities of daily living, mobility, and instrumental activities of daily living. J Am Geriatr Soc 31:721–727

Nasreddine ZS, Phillips NA, Bédirian V, Charbonneau S, Whitehead V, Collin I, Cummings JL, Chertkow H (2005) The montreal cognitive assessment, MoCA: a brief screening tool for mild cognitive impairment. J Am Geriatr Soc 53:695–699

Park S, Theodoros DG, Finch E, Cardell E (2016) Be clear: a new intensive speech treatment for adults with nonprogressive dysarthria. Am J Speech-Lang Pathol 25:97–110

Schiavetti N, Metz DE, Sitler RW (1981) Construct validity of direct magnitude estimation and interval scaling of speech intelligibilityevidence from a study of the hearing impaired. J Speech LangHear Res 24:441–445

Schmitz-Hubsch T, Du Montcel ST, Baliko L, Berciano J, Boesch S, Depondt C, Giunti P, Globas C, Infante J, Kang J-S, Kremer B, Mariotti C, Melegh B, Pandolfo M, Rakowicz M, Ribai P, Rola R, Schols L, Szymanski S, Van De Warrenburg BP, Durr A, Klockgether T (2006) Scale for the assessment and rating of ataxia: Development of a new clinical scale. Neurology 66:1717–1720

Synofzik M, Soehn AS, Gburek-Augustat J, Schicks J, Karle KN, Schüle R, Haack TB, Schöning M, Biskup S, Rudnik-Schöneborn S, Senderek J, Hoffmann KT, MacLeod P, Schwarz J, Bender B, Krüger S, Kreuz F, Bauer P, Schöls L (2013) Autosomal recessive spastic ataxia of Charlevoix Saguenay (ARSACS): expanding the genetic, clinical and imaging spectrum. Orphanet J Rare Diseases 8:41

Tamplin J (2008) A pilot study into the effect of vocal exercises and singing on dysarthric speech. Neuro Rehabil 23:207–216

Tjaden K, Sussman JE, Wilding GE (2014) Impact of clear, loud, and slow speech on scaled intelligibility and speech severity in parkinson's disease and multiple sclerosis. J Speech Lang Hear Res 57:779–792

Vogel AP, Fletcher J, Snyder PJ, Fredrickson A, Maruff P (2011) Reliability, stability, and sensitivity to change and impairment in acoustic measures of timing and frequency. J Voice 25:137–149

Vogel AP, Folker JE, Poole ML (2014) Treatment for speech disorder in Friedreich ataxia and other hereditary ataxia syndromes. Cochrane Database Syst Rev 10

Vogel AP, Rommel N, Oettinger A, Horger M, Krumm P, Kraus E-M, Schöls L, Synofzik M (2017) Speech and swallowing abnormalities in adults with POLG associated ataxia (POLG-A). Mitochondrion 37:1–7

Vogel AP, Rommel N, Oettinger A, Stoll LH, Kraus E-M, Gagnon C, Horger M, Krumm P, Timmann D, Storey E, Schöls L, Synofzik M (2018) Coordination and timing deficits in speech and swallowing in autosomal recessive spastic ataxia of Charlevoix–Saguenay (ARSACS). J Neurol 265:2060–2070

Weismer G, Laures JS (2002) Direct magnitude estimates of speech intelligibility in dysarthria: effects of a chosen standard. J Speech Lang Hear Res 45:421–433
Acknowledgements
This study was supported by the Ataxia Charlevoix-Saguenay Foundation and from the European Union's Horizon 2020 research and innovation program under the ERA-NET Cofund action N° 643578. It was supported by the BMBF (01GM1607 to M.S.), under the frame of the E-Rare-3 network PREPARE (to M.S.). A.P.V. received salaried support from the National Health and Medical Research Council, Australia (Career Development Fellowship ID 1082910), and received funding from the Alexander von Humboldt Foundation. This study was supported by the IZKF Promotionskolleg Tübingen (IZKF 2016-1-07) to M.S. and E.K.
Ethics declarations
Conflicts of interest
All authors declare that they have no conflict of interest.
Ethical standards
The study received institutional ethical approval (The University of Melbourne 1339394.2, University Hospital Tübingen, Germany Az. 003/2015BO2). The trial was registered with ID ACTRN12616001583437 (anzctr.org.au).
Electronic supplementary material
Below is the link to the electronic supplementary material.
Supplementary material 2 (MOV 150740 KB)
About this article
Cite this article
Vogel, A.P., Stoll, L.H., Oettinger, A. et al. Speech treatment improves dysarthria in multisystemic ataxia: a rater-blinded, controlled pilot-study in ARSACS. J Neurol 266, 1260–1266 (2019). https://doi.org/10.1007/s00415-019-09258-4
Received:

Revised:

Accepted:

Published:

Issue Date:

DOI: https://doi.org/10.1007/s00415-019-09258-4
Keywords
Speech

Dysarthria

Rehabilitation

Acoustics

Ataxic neuropathy

Voice