Abstract
Background
Detection of a relative afferent pupillary defect (RAPD) by the swinging-light test can be challenging in clinical practice (dark eyes, anisocoria, dark environment). We developed a new method of RAPD quantification based on the recording of the infrared pupillary asymmetry (IPA) with a standard optical coherence tomography (OCT) device.
Methods
The diagnostic value of the IPA for detection of the RAPD was determined by receiver-operating characteristic (ROC) curves and area under the curve (AUC).
Results
Twenty-nine subjects were included in this study (17 controls and 12 unilateral optic neuropathies). The IPA was significantly greater in unilateral optic neuropathies (0.39) compared to controls (0.18, p = 0.001). The diagnostic value was good with a ROC–AUC of 0.843. Importantly, the IPA correlated significantly with the inter-eye percentage difference of the macular ganglion cell-inner plexiform layer (mGCIPL) thickness (R = 0.53, p = 0.01). Assessment of the IPA took less than 30 s.
Conclusion
The present data show that the IPA is a practical and rapid test that can be applied in a clinical setting. The IPA may be a valuable functional outcome measure for clinical trials, complementing structural retinal OCT data in a biological meaningful way. The IPA should be further investigated for suitability for optic neuritis treatment trials.
This is a preview of subscription content, log in to check access.
Access options
Buy single article
Instant access to the full article PDF.
US$ 39.95
Price includes VAT for USA
Subscribe to journal
Immediate online access to all issues from 2019. Subscription will auto renew annually.
US$ 199
This is the net price. Taxes to be calculated in checkout.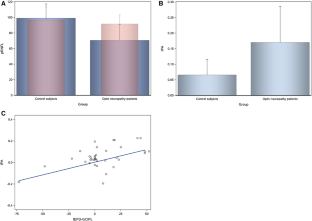 References
1.

Petzold A, Wattjes MP, Costello F et al (2014) The investigation of acute optic neuritis: a review and proposed protocol. Nat Rev Neurol 10(8):447–458

2.

Besada E, Frauens BJ, Makhlouf R et al (2018) More sensitive correlation of afferent pupillary defect with ganglion cell complex. J Optom 11(2):75–85

3.

Blazek P, Davis SL, Greenberg BM et al (2012) Objective characterization of the relative afferent pupillary defect in MS. J Neurol Sci 323(1–2):193–200

4.

Chilińska A, Ejma M, Turno-Kręcicka A et al (2016) Analysis of retinal nerve fibre layer, visual evoked potentials and relative afferent pupillary defect in multiple sclerosis patients. Clin Neurophysiol 127(1):821–826

5.

Nakanishi Y, Nakamura M, Tatsumi Y et al (2006) Quantification of retinal nerve fiber layer thickness reduction associated with a relative afferent pupillary defect. Graefes Arch Clin Exp Ophthalmol 244(11):1480–1484

6.

Takizawa G, Miki A, Maeda F et al (2015) Association between a relative afferent pupillary defect using pupillography and inner retinal atrophy in optic nerve disease. Clin Ophthalmol 9:1895–1903

7.

Kardon RH, Hong S, Kawasaki A (2013) Entrance pupil size predicts retinal illumination in darkly pigmented eyes, but not lightly pigmented eyes. Invest Ophthalmol Vis Sci 54(8):5559–5567

8.

Kawasaki A, Moore P, Kardon RH (1995) Variability of the relative afferent pupillary defect. Am J Ophthalmol 120(5):622–633

9.

Sharma S, Baskaran M, Dhara R et al (2016) Factors influencing the pupillary light reflex in healthy individuals. Graefes Arch Clin Exp Ophthalmol 254(7):1353–1359

10.

Pellegrini F, Capello G, Napoleone R (2018) Dilation lag in Horner syndrome can be measured with a diagnostic imaging system. Neurology 90(13):618

11.

Tewarie P, Balk L, Costello F et al (2012) The OSCAR-IB consensus criteria for retinal OCT quality assessment. PLoS One 7(4):e34823

12.

Coric D, Balk LJ, Uitdehaag BMJ et al (2017) Diagnostic accuracy of optical coherence tomography inter-eye percentage difference (IEPD) for optic neuritis in multiple sclerosis. Eur J Neurol 24(12):1479–1484

13.

Nolan RC, Galetta SL, Frohman TC, Frohman EM, Calabresi PA, Castrillo-Viguera C et al (2018) Optimal intereye difference thresholds in retinal nerve fiber layer thickness for predicting a unilateral optic nerve lesion in multiple sclerosis. J Neuroophthalmol 38:451–458

14.

Shwe-Tin A, Smith GT, Checketts D et al (2012) Evaluation and calibration of a binocular infrared pupillometer for measuring relative afferent pupillary defect. J Neuroophthalmol 32(2):111–115

15.

Schmidt FA, Connolly F, Maas MB et al (2018) Objective assessment of a relative afferent pupillary defect by B-mode ultrasound. PLoS One 13(8):e0202774
Funding
Nathalie Stéphanie Meneguette was sponsored by a Du Pré Grant from the MS International Federation.
Ethics declarations
Conflicts of interest
Axel Petzod is supported by the National Institute for Health Research (NIHR) Biomedical Research Centre based at Moorfields Eye Hospital NHS Foundation Trust and UCL Institute of Ophthalmology. The views expressed are those of the author(s) and not necessarily those of the NHS, the NIHR, or the Department of Health. He is member of the steering committee for the OCTiMS study (Novartis) and performed OCT QC for the PASSOS study (Novartis) and received consulting fees. J. Emanuel Ramos de Carvalho and Nathalie Stéphanie Meneguette declare that they have no conflict of interest.
Electronic supplementary material
Below is the link to the electronic supplementary material.
About this article
Cite this article
Meneguette, N.S., de Carvalho, J.E.R. & Petzold, A. A 30 s test for quantitative assessment of a relative afferent pupillary defect (RAPD): the infrared pupillary asymmetry (IPA). J Neurol 266, 969–974 (2019). https://doi.org/10.1007/s00415-019-09223-1
Received:

Revised:

Accepted:

Published:

Issue Date:
Keywords
Optical coherence tomography

Infrared pupillary asymmetry

IPA

Relative afferent pupillary defect

RAPD