Abstract
Background
Neuromyelitis optica spectrum disorder (NMOSD) is a B-cell-mediated disease with autoimmunity towards the astrocyte water channel aquaporin-4 (AQP-4) in the central nervous system.
Objective
To assess the long-term safety and efficacy in NMOSD patients receiving maintenance therapy with B-cell-depleting agent rituximab for more than 2 years.
Method
NMOSD patients were included prospectively from 2014 to 2018 and received continuous cycles of rituximab infusions biannually. Incidence of adverse events (AE), serious AEs (SAE), and infusion-related AEs were evaluated through monthly phone calls and neurological examination every 4 months.
Results
A total of 44 NMOSD patients were included, of those 30 were treatment naive (68%). The mean age was 37.2 years with 79.5% females. With overall observation period of 31.6 ± 7.3 months (24–48 months), tolerability was assessed as satisfactory in most cases. We observed infusion reactions (mostly mild) in 31.8% of patients and 31.8% never experienced any AEs after a mean 5.1 cycles of rituximab therapy. Rituximab was also beneficial in terms of improvement in relapse rate (from 0.26 ± 0.54 to 0, P = 0.003) and Expanded Disability Status Scale (from 4.1 ± 1.8 to 3.1 ± 1.8, P < 0.001). Stratification according to AQP4-IgG serostatus showed no difference between groups.
Conclusion
Rituximab treatment is well tolerated, safe, and efficacious with a minor risk of mild infusion reactions for NMOSD patients.
This is a preview of subscription content, log in to check access.
Access options
Buy single article
Instant access to the full article PDF.
US$ 39.95
Price includes VAT for USA
Subscribe to journal
Immediate online access to all issues from 2019. Subscription will auto renew annually.
US$ 199
This is the net price. Taxes to be calculated in checkout.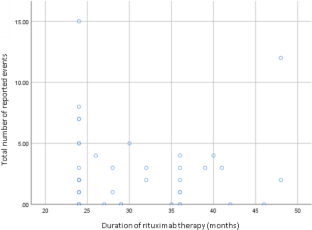 References
1.

Hinson S, Pittock SJ, Lucchinetti CF, Roemer S, Fryer J, Kryzer T, Lennon VA (2007) Pathogenic potential of IgG binding to water channel extracellular domain in neuromyelitis optica. Neurology 69:2221–2231

2.

Kim S-H, Mealy MA, Levy M, Schmidt F, Ruprecht K, Paul F, Ringelstein M, Aktas O, Hartung H-P, Asgari N (2018) Racial differences in neuromyelitis optica spectrum disorder. Neurology. https://doi.org/10.1212/WNL.0000000000006574

3.

Melamed E, Levy M, Waters PJ, Sato DK, Bennett JL, John GR, Hooper DC, Saiz A, Bar-Or A, Kim HJ (2015) Update on biomarkers in neuromyelitis optica. Neurol Neuroimmunol Neuroinflamm 2:e134

4.

Sand IK (2016) Neuromyelitis optica spectrum disorders. Continuum 22:864–896

5.

Lucchinetti CF, Mandler RN, McGavern D, Bruck W, Gleich G, Ransohoff RM, Trebst C, Weinshenker B, Wingerchuk D, Parisi JE (2002) A role for humoral mechanisms in the pathogenesis of Devic's neuromyelitis optica. Brain 125:1450–1461

6.

Collongues N, de Seze J (2016) An update on the evidence for the efficacy and safety of rituximab in the management of neuromyelitis optica. Ther Adv Neurol Disord 9:180–188

7.

Hauser SL, Bar-Or A, Comi G, Giovannoni G, Hartung HP, Hemmer B, Lublin F, Montalban X, Rammohan KW, Selmaj K, Traboulsee A, Wolinsky JS, Arnold DL, Klingelschmitt G, Masterman D, Fontoura P, Belachew S, Chin P, Mairon N, Garren H, Kappos L, Opera I, Investigators OIC (2017) Ocrelizumab versus interferon beta-1a in relapsing multiple sclerosis. N Engl J Med 376:221–234

8.

Vale AM, Schroeder HW Jr (2010) Clinical consequences of defects in B-cell development. J Allergy Clin Immunol 125:778–787

9.

Edwards JC, Szczepański L, Szechiński J, Filipowicz-Sosnowska A, Emery P, Close DR, Stevens RM, Shaw T (2004) Efficacy of B-cell—targeted therapy with rituximab in patients with rheumatoid arthritis. N Engl J Med 350:2572–2581

10.

Wang Q, Racine JJ, Ratiu JJ, Wang S, Ettinger R, Wasserfall C, Atkinson MA, Serreze DV (2017) Transient BAFF blockade inhibits type 1 diabetes development in nonobese diabetic mice by enriching immunoregulatory B lymphocytes sensitive to deletion by anti-CD20 cotherapy. J Immunol 199:3757–3770

11.

Etemadifar M, Salari M, Mirmosayyeb O, Serati M, Nikkhah R, Askari M, Fayyazi E (2017) Efficacy and safety of rituximab in neuromyelitis optica: review of evidence. J Res Med Sci 22:18

12.

Maloney DG, Grillo-López AJ, White CA, Bodkin D, Schilder RJ, Neidhart JA, Janakiraman N, Foon KA, Liles T-M, Dallaire BK (1997) IDEC-C2B8 (rituximab) anti-CD20 monoclonal antibody therapy in patients with relapsed low-grade non-Hodgkin's lymphoma. Blood 90:2188–2195

13.

Wingerchuk DM, Banwell B, Bennett JL, Cabre P, Carroll W, Chitnis T, de Seze J, Fujihara K, Greenberg B, Jacob A, Jarius S, Lana-Peixoto M, Levy M, Simon JH, Tenembaum S, Traboulsee AL, Waters P, Wellik KE, Weinshenker BG, International Panel for NMOD (2015) International consensus diagnostic criteria for neuromyelitis optica spectrum disorders. Neurology 85:177–189

14.

Waters P, Jarius S, Littleton E, Leite MI, Jacob S, Gray B, Geraldes R, Vale T, Jacob A, Palace J, Maxwell S (2008) Aquaporin-4 antibodies in neuromyelitis optica and longitudinally extensive transverse myelitis. Arch Neurol 65(7):913–919

15.

Annovazzi P, Capobianco M, Moiola L, Patti F, Frau J, Uccelli A, Centonze D, Perini P, Tortorella C, Prosperini L, Lus G, Fuiani A, Falcini M, Martinelli V, Comi G, Ghezzi A (2016) Rituximab in the treatment of neuromyelitis optica: a multicentre Italian observational study. J Neurol 263:1727–1735

16.

Pellkofer HL, Krumbholz M, Berthele A, Hemmer B, Gerdes LA, Havla J, Bittner R, Canis M, Meinl E, Hohlfeld R, Kuempfel T (2011) Long-term follow-up of patients with neuromyelitis optica after repeated therapy with rituximab. Neurology 76:1310–1315

17.

Damato V, Evoli A, Iorio R (2016) Efficacy and safety of rituximab therapy in neuromyelitis optica spectrum disorders: a systematic review and meta-analysis. JAMA Neurol 73:1342–1348

18.

Fernandez-Megia MJ, Casanova-Estruch B, Perez-Miralles F, Ruiz-Ramos J, Alcala-Vicente C, Poveda-Andres JL (2015) Clinical evaluation of rituximab treatment for neuromyelitis optica. Neurologia 30:461–464

19.

Ip VH, Lau AY, Au LW, Fan FS, Chan AY, Mok VC, Wong KS (2013) Rituximab reduces attacks in Chinese patients with neuromyelitis optica spectrum disorders. J Neurol Sci 324:38–39

20.

Kim SH, Kim W, Li XF, Jung IJ, Kim HJ (2011) Repeated treatment with rituximab based on the assessment of peripheral circulating memory B cells in patients with relapsing neuromyelitis optica over 2 years. Arch Neurol 68:1412–1420

21.

Kim SH, Huh SY, Lee SJ, Joung A, Kim HJ (2013) A 5-year follow-up of rituximab treatment in patients with neuromyelitis optica spectrum disorder. JAMA Neurol 70:1110–1117

22.

Bedi GS, Brown AD, Delgado SR, Usmani N, Lam BL, Sheremata WA (2011) Impact of rituximab on relapse rate and disability in neuromyelitis optica. Mult Scler 17:1225–1230

23.

Radaelli M, Moiola L, Sangalli F, Esposito F, Barcella V, Ferre L, Rodegher M, Colombo B, Fazio R, Martinelli V, Comi G (2016) Neuromyelitis optica spectrum disorders: long-term safety and efficacy of rituximab in Caucasian patients. Mult Scler 22:511–519

24.

Kosmidis ML, Dalakas MC (2010) Practical considerations on the use of rituximab in autoimmune neurological disorders. Ther Adv Neurol Disord 3:93–105

25.

Memon AB, Javed A, Caon C, Srivastawa S, Bao F, Bernitsas E, Chorostecki J, Tselis A, Seraji-Bozorgzad N, Khan O (2018) Long-term safety of rituximab induced peripheral B-cell depletion in autoimmune neurological diseases. PLoS One 13:e0190425

26.

Kantele A, Mottonen T, Ala-Kaila K, Arvilommi HS (2003) P Fimbria-specific B cell responses in patients with urinary tract infection. J Infect Dis 188:1885–1891

27.

Marcinnò A, Marnetto F, Valentino P, Martire S, Balbo A, Drago A, Leto M, Capobianco M, Panzica G, Bertolotto A (2018) Rituximab-induced hypogammaglobulinemia in patients with neuromyelitis optica spectrum disorders. Neurol Neuroimmunol Neuroinflamm 5:e498

28.

Clifford DB, Ances B, Costello C, Rosen-Schmidt S, Andersson M, Parks D, Perry A, Yerra R, Schmidt R, Alvarez E, Tyler KL (2011) Rituximab-associated progressive multifocal leukoencephalopathy in rheumatoid arthritis. Arch Neurol 68:1156–1164

29.

Al-Tawfiq JA, Banda RW, Daabil RA, Dawamneh MF (2015) Progressive multifocal leukoencephalopathy (PML) in a patient with lymphoma treated with rituximab: a case report and literature review. J Infect Public Health 8:493–497

30.

Molloy ES, Calabrese LH (2008) Progressive multifocal leukoencephalopathy in patients with rheumatic diseases: are patients with systemic lupus erythematosus at particular risk? Autoimmun Rev 8:144–146

31.

van Vollenhoven RF, Emery P, Bingham CO 3rd, Keystone EC, Fleischmann RM, Furst DE, Tyson N, Collinson N, Lehane PB (2013) Long-term safety of rituximab in rheumatoid arthritis: 9.5-year follow-up of the global clinical trial programme with a focus on adverse events of interest in RA patients. Ann Rheum Dis 72:1496–1502

32.

Mealy MA, Wingerchuk DM, Palace J, Greenberg BM, Levy M (2014) Comparison of relapse and treatment failure rates among patients with neuromyelitis optica: multicenter study of treatment efficacy. JAMA Neurol 71:324–330

33.

Nikoo Z, Badihian S, Shaygannejad V, Asgari N, Ashtari F (2017) Comparison of the efficacy of azathioprine and rituximab in neuromyelitis optica spectrum disorder: a randomized clinical trial. J Neurol 264:2003–2009
Acknowledgements
The authors wish to thank the patients for their cooperation throughout the follow-up process.
Ethics declarations
Conflicts of interest
The authors declare that they have no conflict of interest.
Ethical standard
The study was approved by research ethics committee of Isfahan University of Medical Sciences (Approval Code: IR.MUI.RSEARCH.REC.1397.171) and it was performed in accordance with the ethical standards laid down in the 1964 Declaration of Helsinki and its later amendments.
Informed consent
Written informed consents were obtained from all patients upon enrollment.
Electronic supplementary material
Below is the link to the electronic supplementary material.
About this article
Cite this article
Shaygannejad, V., Fayyazi, E., Badihian, S. et al. Long-term tolerability, safety and efficacy of rituximab in neuromyelitis optica spectrum disorder: a prospective study. J Neurol 266, 642–650 (2019). https://doi.org/10.1007/s00415-019-09180-9
Received:

Revised:

Accepted:

Published:

Issue Date:
Keywords
Neuromyelitis optica spectrum disease

Rituximab

Tolerability

Safety

Efficacy

Adverse drug reactions