This is a preview of subscription content, log in to check access.
Access options
Buy single article
Instant access to the full article PDF.
US$ 39.95
Price includes VAT for USA
Subscribe to journal
Immediate online access to all issues from 2019. Subscription will auto renew annually.
US$ 199
This is the net price. Taxes to be calculated in checkout.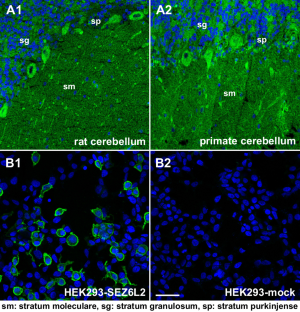 References
1.

Escudero D, Guasp M, Arino H, Gaig C, Martinez-Hernandez E, Dalmau J, Graus F (2017) Antibody-associated CNS syndromes without signs of inflammation in the elderly. Neurology 89:1471–1475

2.

Gaig C, Graus F, Compta Y, Hogl B, Bataller L, Bruggemann N, Giordana C, Heidbreder A, Kotschet K, Lewerenz J, Macher S, Marti MJ, Montojo T, Perez-Perez J, Puertas I, Seitz C, Simabukuro M, Tellez N, Wandinger KP, Iranzo A, Ercilla G, Sabater L, Santamaria J, Dalmau J (2017) Clinical manifestations of the anti-IgLON5 disease. Neurology 88:1736–1743

3.

Gelpi E, Hoftberger R, Graus F, Ling H, Holton JL, Dawson T, Popovic M, Pretnar-Oblak J, Hogl B, Schmutzhard E, Poewe W, Ricken G, Santamaria J, Dalmau J, Budka H, Revesz T, Kovacs GG (2016) Neuropathological criteria of anti-IgLON5-related tauopathy. Acta Neuropathol 132:531–543

4.

Miyazaki T, Hashimoto K, Uda A, Sakagami H, Nakamura Y, Saito SY, Nishi M, Kume H, Tohgo A, Kaneko I, Kondo H, Fukunaga K, Kano M, Watanabe M, Takeshima H (2006) Disturbance of cerebellar synaptic maturation in mutant mice lacking BSRPs, a novel brain-specific receptor-like protein family. FEBS Lett 580:4057–4064

5.

Sabater L, Gaig C, Gelpi E, Bataller L, Lewerenz J, Torres-Vega E, Contreras A, Giometto B, Compta Y, Embid C, Vilaseca I, Iranzo A, Santamaria J, Dalmau J, Graus F (2014) A novel non-rapid-eye movement and rapid-eye-movement parasomnia with sleep breathing disorder associated with antibodies to IgLON5: a case series, characterisation of the antigen, and post-mortem study. Lancet Neurol 13:575–586

6.

Yaguchi H, Yabe I, Takahashi H, Okumura F, Takeuchi A, Horiuchi K, Kano T, Kanda A, Saito W, Matsumoto M, Nakayama KI, Hatakeyama S, Sasaki H (2014) Identification of anti-Sez6l2 antibody in a patient with cerebellar ataxia and retinopathy. J Neurol 261:224–226

7.

Yaguchi H, Yabe I, Takahashi H, Watanabe M, Nomura T, Kano T, Matsumoto M, Nakayama KI, Watanabe M, Hatakeyama S (2017) Sez6l2 regulates phosphorylation of ADD and neuritogenesis. Biochem Biophys Res Commun 494:234–241
Ethics declarations
Conflicts of interest
The authors declare that they have no competing interests.
Electronic supplementary material
Below is the link to the electronic supplementary material.
Supplementary material 1 (MOV 12880 KB)
Supplementary material 2 (MOV 16607 KB)
Supplementary material 3 (MOV 23917 KB)
About this article
Cite this article
Borsche, M., Hahn, S., Hanssen, H. et al. Sez6l2-antibody-associated progressive cerebellar ataxia: a differential diagnosis of atypical parkinsonism. J Neurol 266, 522–524 (2019). https://doi.org/10.1007/s00415-018-9115-1
Received:

Revised:

Accepted:

Published:

Issue Date: