Abstract
Background
Falls represent one of the main complications of Parkinson's disease (PD), significantly lowering quality of life. Cardiovascular autonomic neuropathy (cAN) is one of the key contributing factors to PD-associated falls. However, a direct quantification of its impact on the risk of falling in PD is still lacking. In this 12-month prospective study, we sought to evaluate the association between cAN and falls.
Methods
Fifty consecutive patients were evaluated with a standardized battery of autonomic testing, Unified Parkinson's Disease Rating Scale, push and release (P&R) test, timed up and go test, freezing of gait (FOG) questionnaire, Montreal cognitive assessment (MoCA). Dyskinesia severity and presence of REM sleep behavioral disorder (RBD) were additionally considered. Patients were followed-up for 12 months.
Results
We observed a 38% prevalence of cAN. At baseline, 36% of patients reported at least one fall in the previous 6 months. This figure increased to 56% over the follow-up. After adjusting for age, disease duration, axial symptoms, MoCA and dopaminergic treatment, cAN was significantly associated with a 15-fold (OR 15.194) higher probability of falls; orthostatic hypotension (OH), the most common expression of cAN, with a 10-fold probability (OR 10.702). In addition P&R test (OR 14.021), RBD (OR 5.470) and FOG (OR 1.450) were independently associated with greater probability of falls.
Conclusions
cAN, including but not limited to OH, is a strong independent predictor of falls in PD. Future research endeavors clarifying to what extent pharmacological and non-pharmacological treatments targeting autonomic dysfunctions might reduce the risk of falls are warranted.
Access options
Buy single article
Instant access to the full article PDF.
USD 39.95
Price includes VAT (USA)
Tax calculation will be finalised during checkout.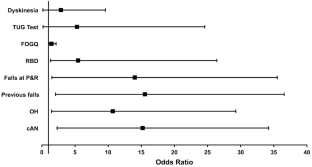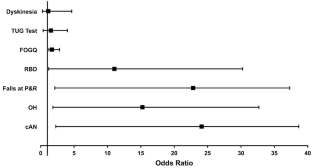 References
1.

Fasano A, Canning CG, Hausdorff JM, Lord S, Rochester L (2017) Falls in Parkinson's disease: a complex and evolving picture. Mov Disord 32:1524–1536

2.

Thurman DJ, Stevens JA, Rao JK, Quality Standards Subcommittee of the American Academy of N (2008) Practice parameter: assessing patients in a neurology practice for risk of falls (an evidence-based review): report of the quality standards subcommittee of the american academy of neurology. Neurology 70:473–479

3.

Bloem BR, Bhatia KP (2004) Basal ganglia disorders. In: Bronstein AM, Woollacott MH, Nutt JG (eds) Clinical disorders of balance, posture and gait, 2nd edn. Arnold, London, pp 173–206

4.

Espay AJ, LeWitt PA, Hauser RA, Merola A, Masellis M, Lang AE (2016) Neurogenic orthostatic hypotension and supine hypertension in Parkinson's disease and related synucleinopathies: prioritisation of treatment targets. Lancet Neurol 15:954–966

5.

van der Marck MA, Klok MP, Okun MS, Giladi N, Munneke M, Bloem BR, NPF Falls Task Force (2014) Consensus-based clinical practice recommendations for the examination and management of falls in patients with Parkinson's disease. Parkinsonism Relat Disord 20:360–369

6.

Pickering RM, Grimbergen YA, Rigney U et al (2007) A meta-analysis of six prospective studies of falling in Parkinson's disease. Mov Disord 22:1892–1900

7.

Chou KL, Elm JJ, Wielinski CL et al (2017) Factors associated with falling in early, treated Parkinson's disease: The NET-PD LS1 cohort. J Neurol Sci 377:137–143

8.

Gibb WRG, Lees AJ (1988) The relevance of the Lewy body to the pathogenesis of idiopathic Parkinson's disease. J Neurol Neurosurg Psychiatry 51:745–752

9.

Dineen J, Freeman R (2015) Autonomic neuropathy. Semin Neurol 35:458–468

10.

Movement Disorder Society Task Force on Rating Scales for Parkinson's Disease (2003) The Unified Parkinson's Disease Rating Scale (UPDRS): status and recommendations. Mov Disord 18:738–750

11.

Levy G, Louis ED, Cote L et al (2005) Contribution of aging to the severity of different motor signs in Parkinson disease. Arch Neurol 62:467–472

12.

Valkovic P, Brozova H, Botzel K, Ruzicka E, Benetin J (2008) Push-and-release test predicts Parkinson fallers and nonfallers better than the pull test: comparison in OFF and ON medication states. Mov Disord 23:1453–1457

13.

Viccaro LJ, Perera S, Studenski SA (2011) Is timed up and go better than gait speed in predicting health, function, and falls in older adults? J Am Geriatr Soc 59:887–892

14.

Giladi N, Shabtai H, Simon ES, Biran S, Tal J, Korczyn AD (2000) Construction of freezing of gait questionnaire for patients with Parkinsonism. Parkinsonism Relat Disord 6:165–170

15.

Nasreddine ZS, Phillips NA, Bédirian V et al (2005) The Montreal Cognitive Assessment, MoCA: a brief screening tool for mild cognitive impairment. J Am Geriatr Soc 53:695–699

16.

Postuma RB, Arnulf I, Hogl B et al (2012) A single-question screen for rapid eye movement sleep behavior disorder: a multicenter validation study. Mov Disord 27:913–916

17.

Tomlinson CL, Stowe R, Patel S, Rick C, Gray R, Clarke CE (2010) Systematic review of levodopa dose equivalency reporting in Parkinson's disease. Mov Disord 25:2649–2653

18.

Low PA, Tomalia VA, Park KJ (2013) Autonomic function tests: some clinical applications. J Clin Neurol 9:1–8

19.

Lahrmann H, Cortelli P, Hilz M, Mathias CJ, Struhal W, Tassinari M (2006) EFNS guidelines on the diagnosis and management of orthostatic hypotension. Eur J Neurol 13:930–936

20.

Fleiss JL, Tytun A, Ury HK (1980) A simple approximation for calculating sample sizes for comparing independent proportions. Biometrics 36:343–346

21.

De Luka SR, Svetel M, Pekmezović T, Milovanović B, Kostić VS (2014) When do the symptoms of autonomic nervous system malfunction appear in patients with Parkinson's disease? Vojnosanit Pregl 71:346–351

22.

Fereshtehnejad SM, Romenets SR, Anang JB, Latreille V, Gagnon JF, Postuma RB (2015) New clinical subtypes of Parkinson disease and their longitudinal progression: a prospective cohort comparison with other phenotypes. JAMA Neurol 72:863–873

23.

Goldstein DS, Holmes C, Sharabi Y, Wu T (2015) Survival in synucleinopathies: a prospective cohort study. Neurology 85:1554–1561

24.

Merola A, Romagnolo A, Comi C et al (2017) Prevalence and burden of dysautonomia in advanced Parkinson's disease. Mov Disord 32:796–797

25.

Merola A, Romagnolo A, Rosso M et al (2016) Orthostatic hypotension in Parkinson's disease: does it matter if asymptomatic? Parkinsonism Relat Disord 33:65–71

26.

Merola A, Sawyer RP, Artusi CA et al (2018) Orthostatic hypotension in Parkinson disease: impact on health care utilization. Parkinsonism Relat Disord 47:45–49

27.

Balaban CD, Porter JD (1998) Neuroanatomic substrates for vestibuloautonomicinteractions. J Vestib Res 8:7–16

28.

Martignoni E, Tassorelli C, Nappi G (2006) Cardiovascular dysautonomia as a cause of falls in Parkinson's disease. Parkinsonism Relat Disord 12:195–204

29.

Jacobs JV, Earhart GM, McNeely ME (2016) Can postural instability tests improve the prediction of future falls in people with Parkinson's disease beyond knowing existing fall history? J Neurol 263:133–139

30.

Romenets SR, Gagnon JF, Latreille V, Panniset M, Chouinard S, Montplaisir J, Postuma RB (2012) Rapid eye movement sleep behavior disorder and subtypes of Parkinson's disease. Mov Disord 27:996–1003

31.

Sixel-Doring F, Trautmann E, Mollenhauer B, Trenkwalder C (2011) Associated factors for REM sleep behavior disorder in Parkinson disease. Neurology 77:1048–1054

32.

Suzuki K, Okuma Y, Uchiyama T et al (2017) Impact of sleep-related symptoms on clinical motor subtypes and disability in Parkinson's disease: A multicentre cross-sectional study. J Neurol Neurosurg Psychiatry 88:953–959

33.

Lavault S, Leu-Semenescu S, Tezenas Du Montcel S, Cochen De Cock V, Vidailhet M, Arnulf I (2010) Does clinical rapid eye movement behavior disorder predict worse outcomes in Parkinson's disease? J Neurol 257:1154–1159

34.

Kim JS, Oh YS, Lee KS, Kim YI, Yang DW, Goldstein DS (2012) Association of cognitive dysfunction with neurocirculatory abnormalities in early Parkinson disease. Neurology 79:1323–1331

35.

Kotagal V, Albin RL, Muller ML, Koeppe RA, Chervin RD, Frey KA, Bohnen NI (2013) Symptoms of rapid eye movement sleep behavior disorder are associated with cholinergic denervation in Parkinson disease. Ann Neurol 71:560–568

36.

Bohnen NI, Muller ML, Koeppe RA, Studenski SA, Kilbourn MA, Frey KA, Albin RL (2009) History of falls in Parkinson disease is associated with reduced cholinergic activity. Neurology 73:1670–1676

37.

Muller ML, Bohnen NI, Kotagal V, Scott PJ, Koeppe RA, Frey KA, Albin RL (2015) Clinical markers for identifying cholinergic deficits in Parkinson's disease. Mov Disord 30:269–273

38.

Palma JA, Gomez-Esteban JC, Norcliffe-Kaufmann L, Martinez J, Tijero B, Berganzo K, Kaufmann H (2015) Orthostatic hypotension in Parkinson disease: how much you fall or how low you go? Mov Disord 30:639–645
Ethics declarations
Conflicts of interest
Dr Romagnolo has received grant support and speaker honoraria from AbbVie, speaker honoraria from Chiesi Farmaceutici and travel grants from Medtronic, Lusofarmaco and UCB Pharma. Dr Zibetti has received speaker's honoraria from Medtronic, Chiesi Farmaceutici, UCB Pharma, and AbbVie. Dr Merola is supported by NIH (KL2 TR001426) and has received speaker honoraria from CSL Behring, Abbvie, and Cynapsus Therapeutics. He has received grant support from Lundbeck. Dr Canova reports no disclosures. Dr Sarchioto reports no disclosures Dr Montanaro reports no disclosures. Dr Artusi reports no disclosures. Dr Vallelonga reports no disclosures. Dr Maule reports no disclosures. Dr Lopiano has received honoraria for lecturing and travel grants from Medtronic, UCB Pharma and AbbVie.
Data access and responsibility statement
A. Romagnolo had full access to all the data in the study and takes responsibility for the integrity of the data and the accuracy of the data analysis.
Ethical standard
The authors declare that they acted in accordance with the ethical standards laid down in the 1964 Declaration of Helsinki. The local institutional review board (Comitato Etico Interaziendale Città della Salute e della Scienza di Torino; Protocol n° 0050175/CEI-715) approved the study and all participants provided written informed consent.
Additional information
Dr Romagnolo and Dr Zibetti contributed equally to this manuscript
About this article
Cite this article
Romagnolo, A., Zibetti, M., Merola, A. et al. Cardiovascular autonomic neuropathy and falls in Parkinson disease: a prospective cohort study. J Neurol 266, 85–91 (2019). https://doi.org/10.1007/s00415-018-9104-4
Received:

Revised:

Accepted:

Published:

Issue Date:
Keywords
Parkinson disease

Autonomic neuropathy

Falls

Orthostatic hypotension

RBD