Abstract
Traumatic brain injury (TBI) as a major public health problem may lead to olfactory dysfunction. However, little is known about brain responses to odors in TBI olfactory loss patients. Nineteen healthy controls and forty TBI olfactory dysfunctional patients (19 with hyposmia and 21 with anosmia) underwent a functional magnetic resonance imaging scan when two odors (peach and coffee) were presented intranasally using a computerized olfactometer. Olfactory performance was measured using the "Sniffin' Sticks" test. TBI patients with hyposmia or anosmia showed decreased odor-induced brain activations in the primary olfactory area and insular cortex as compared to healthy controls (FWE-corrected peak p < 0.05). In addition, negative correlations were found between the time since injury (in month) and odor-induced brain responses in the right primary olfactory area for patients with hyposmia. Similar correlations were seen in the insula and orbitofrontal cortex for patients with anosmia. In conclusion, results from the current study are evidences for the impairment of central nervous processing of odor perception at all levels of the olfactory system among TBI patients with olfactory loss. In addition, the duration after the initial injury may have an impact on the severity of olfactory dysfunction.
This is a preview of subscription content, log in to check access.
Access options
Buy single article
Instant access to the full article PDF.
US$ 39.95
Price includes VAT for USA
Subscribe to journal
Immediate online access to all issues from 2019. Subscription will auto renew annually.
US$ 199
This is the net price. Taxes to be calculated in checkout.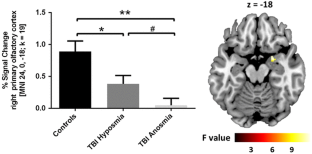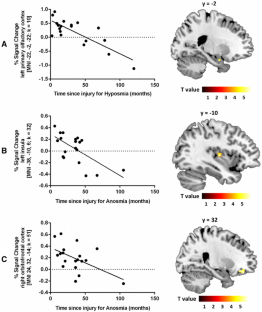 References
1.

Alosco ML, Jarnagin J, Tripodis Y, Platt M, Martin B, Chaisson CE, Baugh CM, Fritts NG, Cantu RC, Stern RA (2017) Olfactory function and associated clinical correlates in former national football league players. J Neurotrauma 34:772–780

2.

Bengtsson S, Berglund H, Gulyas B, Cohen E, Savic I (2001) Brain activation during odor perception in males and females. Neuroreport 12:2027–2033

3.

Boyle JA, Frasnelli J, Gerber J, Heinke M, Hummel T (2007) Cross-modal integration of intranasal stimuli: a functional magnetic resonance imaging study. Neuroscience 149:223–231

4.

Bratt M, Skandsen T, Hummel T, Moen KG, Vik A, Nordgård S, Helvik AS (2018) Frequency and prognostic factors of olfactory dysfunction after traumatic brain injury. Brain Inj 32(8):1021–1027. https://doi.org/10.1080/02699052.2018.1469043

5.

Cerf-Ducastel B, Murphy C (2001) fMRI activation in response to odorants orally delivered in aqueous solutions. Chem Senses 26:625–637

6.

Charland-Verville V, Lassonde M, Frasnelli J (2012) Olfaction in athletes with concussion. Am J Rhinol Allergy 26:222–226

7.

Costanzo R, Zasler N (1991) Head trauma. In: Getchell TV, Bartoshuk LM, Doty RL, Snow JB (eds) Smell and taste in health and disease. Raven Press, New York, pp 711–730

8.

Damm M, Temmel A, Welge-Lussen A, Eckel HE, Kreft MP, Klussmann JP, Gudziol H, Huttenbrink KB, Hummel T (2004) Olfactory dysfunctions. Epidemiology and therapy in Germany, Austria and Switzerland. HNO 52:112–120

9.

de Guise E, Alturki AY, Lague-Beauvais M, LeBlanc J, Champoux MC, Couturier C, Anderson K, Lamoureux J, Marcoux J, Maleki M, Feyz M, Frasnelli J (2015) Olfactory and executive dysfunctions following orbito-basal lesions in traumatic brain injury. Brain Inj 29:730–738

10.

de Kruijk JR, Leffers P, Menheere PP, Meerhoff S, Rutten J, Twijnstra A (2003) Olfactory function after mild traumatic brain injury. Brain Inj 17:73–78

11.

Deems DA, Doty RL, Settle RG, Moore-Gillon V, Shaman P, Mester AF, Kimmelman CP, Brightman VJ, Snow JB Jr (1991) Smell and taste disorders, a study of 750 patients from the University of Pennsylvania Smell and Taste Center. Arch Otolaryngol Head Neck Surg 117:519–528

12.

Dixon KJ (2017) Pathophysiology of traumatic brain injury. Phys Med Rehabil Clin N Am 28:215–225

13.

Doty RL, Yousem DM, Pham LT, Kreshak AA, Geckle R, Lee WW (1997) Olfactory dysfunction in patients with head trauma. Arch Neurol 54:1131–1140

14.

Draper K, Ponsford J (2008) Cognitive functioning ten years following traumatic brain injury and rehabilitation. Neuropsychology 22:618–625

15.

Fjaeldstad A, Fernandes HM, Van Hartevelt TJ, Gleesborg C, Moller A, Ovesen T, Kringelbach ML (2017) Brain fingerprints of olfaction: a novel structural method for assessing olfactory cortical networks in health and disease. Sci Rep 7:42534

16.

Frasnelli J, Hummel T (2007) Interactions between the chemical senses: trigeminal function in patients with olfactory loss. Int J Psychophysiol 65:177–181

17.

Frasnelli J, Lague-Beauvais M, LeBlanc J, Alturki AY, Champoux MC, Couturier C, Anderson K, Lamoureux J, Marcoux J, Tinawi S, Dagher J, Maleki M, Feyz M, de Guise E (2016) Olfactory function in acute traumatic brain injury. Clin Neurol Neurosurg 140:68–72

18.

Frasnelli J, Schuster B, Hummel T (2007) Interactions between olfaction and the trigeminal system: what can be learned from olfactory loss. Cereb Cortex 17:2268–2275

19.

Gardner AJ, Shih SL, Adamov EV, Zafonte RD (2017) Research frontiers in traumatic brain injury: defining the injury. Phys Med Rehabil Clin N Am 28:413–431

20.

Gottfried JA (2006) Smell: central nervous processing. In: Hummel T, Welge-Luessen A (eds), Taste and smell an update. Karger, Basel, p. 44–69

21.

Green P, Rohling ML, Iverson GL, Gervais RO (2003) Relationships between olfactory discrimination and head injury severity. Brain Inj 17:479–496

22.

Gudziol H, Rahneberg K, Burkert S (2007) Anosmics are more poorly able to taste than normal persons. Laryngorhinootologie 86:640–643

23.

Hedner M, Larsson M, Arnold N, Zucco GM, Hummel T (2010) Cognitive factors in odor detection, odor discrimination, and odor identification tasks. J Clin Exp Neuropsychol 32:1062–1067

24.

Hummel T, Barz S, Lotsch J, Roscher S, Kettenmann B, Kobal G (1996) Loss of olfactory function leads to a decrease of trigeminal sensitivity. Chem Senses 21:75–79

25.

Hummel T, Fliessbach K, Abele M, Okulla T, Reden J, Reichmann H, Wullner U, Haehner A (2010) Olfactory FMRI in patients with Parkinson's disease. Front Integr Neurosci 4:125

26.

Hummel T, Kobal G, Gudziol H, Mackay-Sim A (2007) Normative data for the "Sniffin' Sticks" including tests of odor identification, odor discrimination, and olfactory thresholds: an upgrade based on a group of more than 3000 subjects. Eur Arch Otorhinolaryngol 264:237–243

27.

Hummel T, Lötsch J (2010) Prognostic factors of olfactory dysfunction. Arch Otolaryngol Head Neck Surg 136:347–351

28.

Hummel T, Sekinger B, Wolf SR, Pauli E, Kobal G (1997) 'Sniffin' Sticks': olfactory performance assessed by the combined testing of odor identification, odor discrimination and olfactory threshold. Chem Senses 22:39–52

29.

Hummel T, Urbig A, Huart C, Duprez T, Rombaux P (2015) Volume of olfactory bulb and depth of olfactory sulcus in 378 consecutive patients with olfactory loss. J Neurol 262:1046–1051

30.

Hummel T, Whitcroft KL, Andrews P, Altundag A, Cinghi C, Costanzo RM, Damm M, Frasnelli J, Gudziol H, Gupta N, Haehner A, Holbrook E, Hong SC, Hornung D, Huttenbrink KB, Kamel R, Kobayashi M, Konstantinidis I, Landis BN, Leopold DA, Macchi A, Miwa T, Moesges R, Mullol J, Mueller CA, Ottaviano G, Passali GC, Philpott C, Pinto JM, Ramakrishnan VJ, Rombaux P, Roth Y, Schlosser RA, Shu B, Soler G, Stjarne P, Stuck BA, Vodicka J, Welge-Luessen A (2017) Position paper on olfactory dysfunction. Rhinology https://doi.org/10.4193/Rhin16.248

31.

Iannilli E, Gerber J, Frasnelli J, Hummel T (2007) Intranasal trigeminal function in subjects with and without an intact sense of smell. Brain Res 1139:235–244

32.

Kobal G (1981) Elektrophysiologische untersuchungen des menschlichen geruchssinns. Thieme Verlag, Stuttgart

33.

Kobal G, Klimek L, Wolfensberger M, Gudziol H, Temmel A, Owen CM, Seeber H, Pauli E, Hummel T (2000) Multicenter investigation of 1036 subjects using a standardized method for the assessment of olfactory function combining tests of odor identification, odor discrimination, and olfactory thresholds. Eur Arch Otorhinolaryngol 257:205–211

34.

Konstantinidis I, Tsakiropoulou E, Bekiaridou P, Kazantzidou C, Constantinidis J (2013) Use of olfactory training in post-traumatic and postinfectious olfactory dysfunction. Laryngoscope 123:E85–E90

35.

Kurth F, Zilles K, Fox PT, Laird AR, Eickhoff SB (2010) A link between the systems: functional differentiation and integration within the human insula revealed by meta-analysis. Brain Struct Funct 214:519–534

36.

Lübke K, Gottschlich M, Gerber J, Pause BM, Hummel T (2012) No effects of handedness on passive processing of olfactory stimuli: an fMRI study. Chemosens Percept 5:22–26

37.

Landis BN, Scheibe M, Weber C, Berger R, Bramerson A, Bende M, Nordin S, Hummel T (2010) Chemosensory interaction: acquired olfactory impairment is associated with decreased taste function. J Neurol 257:1303–1308

38.

Lee VK, Nardone R, Wasco F, Panigrahy A, Zuccoli G (2016) Delayed activation of the primary orbitofrontal cortex in post-traumatic anosmia. Brain Inj 30:1737–1741

39.

Levin HS, High WM, Eisenberg HM (1985) Impairment of olfactory recognition after closed head injury. Brain 108(Pt 3):579–591

40.

Lieberman MD, Cunningham WA (2009) Type I and Type II error concerns in fMRI research: re-balancing the scale. Soc Cogn Affect Neurosci 4:423–428

41.

Logothetis NK (2008) What we can do and what we cannot do with fMRI. Nature 453:869–878

42.

Lotsch J, Reither N, Bogdanov V, Hahner A, Ultsch A, Hill K, Hummel T (2015) A brain-lesion pattern based algorithm for the diagnosis of posttraumatic olfactory loss. Rhinology 53:365–370

43.

Lotsch J, Ultsch A, Eckhardt M, Huart C, Rombaux P, Hummel T (2016) Brain lesion-pattern analysis in patients with olfactory dysfunctions following head trauma. Neuroimage Clin 11:99–105

44.

Maldjian JA, Laurienti PJ, Kraft RA, Burdette JH (2003) An automated method for neuroanatomic and cytoarchitectonic atlas-based interrogation of fMRI data sets. Neuroimage 19:1233–1239

45.

Martini DN, Sabin MJ, DePesa SA, Leal EW, Negrete TN, Sosnoff JJ, Broglio SP (2011) The chronic effects of concussion on gait. Arch Phys Med Rehabil 92:585–589

46.

McKee AC, Daneshvar DH (2015) The neuropathology of traumatic brain injury. Handb Clin Neurol 127:45–66

47.

Pellegrino R, Hahner A, Bojanowski V, Hummel C, Gerber J, Hummel T (2016) Olfactory function in patients with hyposmia compared to healthy subjects—an fMRI study. Rhinology 54:374–381

48.

Plailly J, Radnovich AJ, Sabri M, Royet JP, Kareken DA (2007) Involvement of the left anterior insula and frontopolar gyrus in odor discrimination. Hum Brain Mapp 28:363–372

49.

Proskynitopoulos PJ, Stippler M, Kasper EM (2016) Post-traumatic anosmia in patients with mild traumatic brain injury (mTBI): a systematic and illustrated review. Surg Neurol Int 7:S263–S275

50.

Reden J, Mueller A, Mueller C, Konstantinidis I, Frasnelli J, Landis BN, Hummel T (2006) Recovery of olfactory function following closed head injury or infections of the upper respiratory tract. Arch Otolaryngol Head Neck Surg 132:265–269

51.

Reichert JL, Schopf V (2017) Olfactory loss and regain: lessons for neuroplasticity. Neuroscientist 24:22–35

52.

Reiter ER, DiNardo LJ, Costanzo RM (2004) Effects of head injury on olfaction and taste. Otolaryngol Clin North Am 37:1167–1184

53.

Roberts RJ, Sheehan W, Thurber S, Roberts MA (2010) Functional neuro-imaging and post-traumatic olfactory impairment. Indian J Psychol Med 32:93–98

54.

Roessler EB, Pangborn RM, Sidel JL, Stone H (1978) Expanded statistical tables for estimating significance in paired—preference, paired–difference, duo–trio and triangle tests. J Food Sci 43:940–943

55.

Ruttan L, Martin K, Liu A, Colella B, Green RE (2008) Long-term cognitive outcome in moderate to severe traumatic brain injury: a meta-analysis examining timed and untimed tests at 1 and 4.5 or more years after injury. Arch Phys Med Rehabil 89:S69–S76

56.

Savic I, Gulyas B, Larsson M, Roland P (2000) Olfactory functions are mediated by parallel and hierarchical processing. Neuron 26:735–745

57.

Schofield PW, Moore TM, Gardner A (2014) Traumatic brain injury and olfaction: a systematic review. Front Neurol 5:5

58.

Schriever VA, Studt F, Smitka M, Grosser K, Hummel T (2014) Olfactory function after mild head injury in children. Chem Senses 39:343–347

59.

Seubert J, Freiherr J, Djordjevic J, Lundstrom JN (2013) Statistical localization of human olfactory cortex. Neuroimage 66:333–342

60.

Seubert J, Ohla K, Yokomukai Y, Kellermann T, Lundstrom JN (2015) Superadditive opercular activation to food flavor is mediated by enhanced temporal and limbic coupling. Hum Brain Mapp 36:1662–1676

61.

Shin SS, Bales JW, Dixon CE, Hwang M (2017) Structural imaging of mild traumatic brain injury may not be enough: overview of functional and metabolic imaging of mild traumatic brain injury. Brain Imaging Behav 11:591–610

62.

Sidaros A, Skimminge A, Liptrot MG, Sidaros K, Engberg AW, Herning M, Paulson OB, Jernigan TL, Rostrup E (2009) Long-term global and regional brain volume changes following severe traumatic brain injury: a longitudinal study with clinical correlates. Neuroimage 44:1–8

63.

Sigurdardottir S, Jerstad T, Andelic N, Roe C, Schanke AK (2010) Olfactory dysfunction, gambling task performance and intracranial lesions after traumatic brain injury. Neuropsychology 24:504–513

64.

Small DM, Prescott J (2005) Odor/taste integration and the perception of flavor. Exp Brain Res 166:345–357

65.

Sommer JU, Maboshe W, Griebe M, Heiser C, Hormann K, Stuck BA, Hummel T (2012) A mobile olfactometer for fMRI-studies. J Neurosci Methods 209:189–194

66.

Sorokowska A, Negoias S, Hartwig S, Gerber J, Iannilli E, Warr J, Hummel T (2016) Differences in the central-nervous processing of olfactory stimuli according to their hedonic and arousal characteristics. Neuroscience 324:62–68

67.

Sumner D (1964) Post-traumatic anosmia. Brain 87:107–120

68.

Takeda A, Saito N, Baba T, Kikuchi A, Sugeno N, Kobayashi M, Hasegawa T, Itoyama Y (2010) Functional imaging studies of hyposmia in Parkinson's disease. J Neurol Sci 289:36–39

69.

Temmel AF, Quint C, Schickinger-Fischer B, Klimek L, Stoller E, Hummel T (2002) Characteristics of olfactory disorders in relation to major causes of olfactory loss. Arch Otolaryngol Head Neck Surg 128:635–641

70.

Trivedi MA, Ward MA, Hess TM, Gale SD, Dempsey RJ, Rowley HA, Johnson SC (2007) Longitudinal changes in global brain volume between 79 and 409 days after traumatic brain injury: relationship with duration of coma. J Neurotrauma 24:766–771

71.

Tzourio-Mazoyer N, Landeau B, Papathanassiou D, Crivello F, Etard O, Delcroix N, Mazoyer B, Joliot M (2002) Automated anatomical labeling of activations in SPM using a macroscopic anatomical parcellation of the MNI MRI single-subject brain. Neuroimage 15:273–289

72.

Vent J, Koenig J, Hellmich M, Huettenbrink KB, Damm M (2010) Impact of recurrent head trauma on olfactory function in boxers: a matched pairs analysis. Brain Res 1320:1–6

73.

Wang J, Eslinger PJ, Doty RL, Zimmerman EK, Grunfeld R, Sun X, Meadowcroft MD, Connor JR, Price JL, Smith MB, Yang QX (2010) Olfactory deficit detected by fMRI in early Alzheimer's disease. Brain Res 1357:184–194

74.

Welge-Lüssen A, Hilgenfeld A, Meusel T, Hummel T (2012) Long-term follow-up of posttraumatic olfactory disorders. Rhinology 50:67–72

75.

Wu KN, Tan BK, Howard JD, Conley DB, Gottfried JA (2012) Olfactory input is critical for sustaining odor quality codes in human orbitofrontal cortex. Nat Neurosci 15:1313–1319

76.

Zhou Y, Kierans A, Kenul D, Ge Y, Rath J, Reaume J, Grossman RI, Lui YW (2013) Mild traumatic brain injury: longitudinal regional brain volume changes. Radiology 267:880–890
Acknowledgements
We would like to thank Claudia Valder, Frey und Lau, Henstedt-Ulzburg, Germany, for an excellent collaboration and donation of the odors. This research as supported by a Grant from the Deutsche Forschungsgemeinschaft to TH (DFG HU 411/18 − 1).
Ethics declarations
Conflicts of interest
None of the authors has a potential conflict of interest.
Ethical standard
The study design was approved by the local Ethics Committee.
Electronic supplementary material
Below is the link to the electronic supplementary material.
About this article
Cite this article
Han, P., Winkler, N., Hummel, C. et al. Impaired brain response to odors in patients with varied severity of olfactory loss after traumatic brain injury. J Neurol 265, 2322–2332 (2018). https://doi.org/10.1007/s00415-018-9003-8
Received:

Revised:

Accepted:

Published:

Issue Date:
Keywords
Traumatic brain injury

Olfaction dysfunction

Odor

Functional magnetic resonance imaging

Time since injury