This is a preview of subscription content, log in to check access.
Access options
Buy single article
Instant access to the full article PDF.
US$ 39.95
Price includes VAT for USA
Subscribe to journal
Immediate online access to all issues from 2019. Subscription will auto renew annually.
US$ 199
This is the net price. Taxes to be calculated in checkout.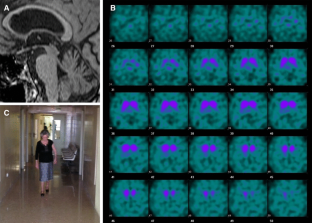 References
1.

Fasano A, Bloem BR (2013) Gait disorders. Continuum (Minneap Minn) 19:1344–1482

2.

Jankovic J (2015) Gait disorders. Neurol Clin 33:249–268

3.

Rohani M, Kalsi-Ryan S, Lozano AM, Fasano A (2017) Spinal cord stimulation in primary progressive freezing of gait. Mov Disord 32:1336–1337

4.

Factor SA (2008) The clinical spectrum of freezing of gait in atypical parkinsonism. Mov Disord 23:S431–S438

5.

Fasano A, Baldari S, Di Giuda D et al (2012) Nigro-striatal involvement in primary progressive freezing gait: insights into a heterogeneous pathogenesis. Parkinsonism Relat Disord 18:578–584

6.

Factor SA, Higgins DS, Qian J (2006) Primary progressive freezing gait: a syndrome with many causes. Neurology 66:411–414

7.

Bloem BR, Hausdorff JM, Visser JE, Giladi N (2004) Falls and freezing of gait in Parkinson's disease: a review of two interconnected, episodic phenomena. Mov Disord 19:871–884

8.

Kovacs GG (2017) Tauopathies. Handb Clin Neurol 145:355–368

9.

Jankovic J (2016) Neurological diseases and their treatment. Neurological disorders. Parkinson disease and other movement disorders. Progressive supranuclear palsy. In: Daroff RB, Jankovic J, Mazziotta JC, Pomeroy SL (eds) Bradley's neurology in clinical practice, vol 2, 7th edn. Elsevier Saunders, Philadelphia, pp 1439–1440

10.

Höglinger GU, Respondek G, Stamelou M et al (2017) Clinical diagnosis of progressive supranuclear palsy: the movement disorder society criteria. Mov Disord 32:853–864

11.

Respondek G, Kurz C, Arzberger T et al (2017) Which ante mortem clinical features predict progressive supranuclear palsy pathology? Mov Disord 32:995–1005

12.

Williams DR, Lees AJ (2009) Progressive supranuclear palsy: clinicopathological concepts and diagnostic challenges. Lancet Neurol 8:270–279

13.

Donovan S, Lim C, Diaz N et al (2011) Laserlight cues for gait freezing in Parkinson's disease: an open-label study. Parkinsonism Relat Disord 17:240–245

14.

Velik R, Hoffmann U, Zabaleta H, Marti Masso JF, Keller T (2012) The effect of visual cues on the number and duration of freezing episodes in Parkinson's patients. Conf Proc IEEE Eng Med Biol Soc 2012:4656–4659

15.

Marsden CD, Obeso JA (1994) The functions of the basal ganglia and the paradox of stereotaxic surgery in Parkinson's disease. Brain 117:877–897
Acknowledgements
We wish to thank the patient and her family for their cooperation regarding this report. We obtained written informed consent from the patient's son for this publication.
Ethics declarations
Conflicts of interest
The authors declare that they have no competing interests.
Ethical standard
This single case study has been approved by our Institution's Ethics Committee and have, therefore, been performed in accordance with the ethical standards laid down in the 1964 Declaration of Helsinki.
Electronic supplementary material
Below is the link to the electronic supplementary material.
Video 1: Patient's gait before using the laserlight visual cueing device in 2016: It shows FOG. (MP4 15109 KB)
Video 2: Patient's gait using the laserlight visual cueing device in 2016: It demonstrates a significant improvement of FOG. (MP4 18601 KB)
About this article
Cite this article
León Ruiz, M., García-Soldevilla, M.Á. & García-Albea Ristol, E. Primary progressive freezing gait with impressive response to laser light visual cueing: a video case report. J Neurol 265, 2146–2148 (2018). https://doi.org/10.1007/s00415-018-8966-9
Received:

Accepted:

Published:

Issue Date: