Abstract
Objective
Quantitative analysis of decision-making on therapeutic options in different sociocultural context in amyotrophic lateral sclerosis (ALS).
Methods
ALS patients (n = 244) were consecutively recruited in Germany (n = 83), Poland (n = 83), and Sweden (n = 78) in a prospective cross-cultural study (www.NEEDSinALS.com). They were interviewed on preferences for therapeutic techniques including invasive (IV) and non-invasive ventilation (NIV), as well as percutaneous endoscopic gastrostomy (PEG) and on hypothetical termination of these using quantitative questions. Using standardized questionnaires, religiousness, personal values, quality of life, and depressiveness were assessed.
Results
NIV was most frequently used in Germany and PEG in Sweden. Swedish patients were most liberal on initiation and termination of PEG, NIV and IV. Polish patients were mostly undecided and were least likely to consider discontinuing supportive management. Current use was partly associated with age, gender and state of physical function; also, financial support explained some variance. Future preferences on therapeutic options from the patient's perspective were also closely associated with cultural factors. The more oriented towards traditional and conservative values, the less likely patients were to decide for invasive therapeutic devices (IV, PEG), the least likely to have ideations to discontinue any device and the more likely to have an undecided attitude.
Conclusions
Current use of therapeutic options is determined by medical condition in analogy to clinical guidelines. For future considerations, other factors such as cultural background are crucial, yielding hurdles to be regarded in the implementation of advanced directives in a multicultural environment.
Access options
Buy single article
Instant access to the full article PDF.
US$ 39.95
Tax calculation will be finalised during checkout.
Subscribe to journal
Immediate online access to all issues from 2019. Subscription will auto renew annually.
US$ 159
Tax calculation will be finalised during checkout.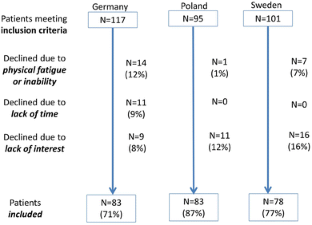 References
1.

Kiernan MC, Vucic S, Cheah BC et al (2011) Amyotrophic lateral sclerosis. Lancet 377:942–955

2.

Bourke SC, Tomlinson M, Williams TL, Bullock RE, Shaw PJ, Gibson GJ (2006) Effects of non-invasive ventilation on survival and quality of life in patients with amyotrophic lateral sclerosis: a randomised controlled trial. Lancet Neurol 5:140–147

3.

Kimura F (2016) Tracheostomy and invasive mechanical ventilation in amyotrophic lateral sclerosis: decision-making factors and survival analysis. Rinsho Shinkeigaku 56:241–247

4.

Desport JC, Preux PM, Truong TC, Vallat JM, Sautereau D, Couratier P (1999) Nutritional status is a prognostic factor for survival in ALS patients. Neurology 53:1059–1063

5.

Kaub-Wittemer D, Nv Steinbuchel, Wasner M, Laier-Groeneveld G, Borasio GD (2003) Quality of life and psychosocial issues in ventilated patients with amyotrophic lateral sclerosis and their caregivers. J Pain Symptom Manag 26:890–896

6.

Smyth A, Riedl M, Kimura R, Olick R, Siegler M (1997) End of life decisions in amyotrophic lateral sclerosis: a cross-cultural perspective. J Neurol Sci 152:93–96

7.

Andersen PM, Abrahams S, Borasio GD et al (2012) EFNS guidelines on the clinical management of amyotrophic lateral sclerosis (MALS)—revised report of an EFNS task force. Eur J Neurol 19:360–375

8.

Connolly S, Galvin M, Hardiman O (2015) End-of-life management in patients with amyotrophic lateral sclerosis. Lancet Neurol 14:435–442

9.

Leigh PN, Abrahams S, Al-Chalabi A et al (2003) The management of motor neurone disease. J Neurol Neurosurg Psychiatry 74:32–47

10.

Borasio GD, Shaw PJ, Hardiman O, Ludolph AC, Sales Luis ML, Silani V (2001) Standards of palliative care for patients with amyotrophic lateral sclerosis: results of a European survey. Amyotroph Lateral Scler Other Motor Neuron Disord 2:159–164

11.

Stutzki R, Schneider U, Reiter-Theil S, Weber M (2012) Attitudes toward assisted suicide and life-prolonging measures in Swiss ALS patients and their caregivers. Front Psychol 3:443

12.

Hogden A, Foley G, Henderson RD, James N, Aoun SM (2017) Amyotrophic lateral sclerosis: improving care with a multidisciplinary approach. J Multidiscip Healthc 10:205–215

13.

Martin NH, Lawrence V, Murray J et al (2016) Decision making about gastrostomy and noninvasive ventilation in amyotrophic lateral sclerosis. Qual Health Res 26:1366–1381

14.

Lule D, Nonnenmacher S, Sorg S et al (2014) Live and let die: existential decision processes in a fatal disease. J Neurol 261:518–525

15.

Ludolph A, Drory V, Hardiman O et al (2015) A revision of the El Escorial criteria: 2015. Amyotroph Lateral Scler Frontotemporal Degener 16:291–292

16.

Lulé D, Burkhardt C, Abdulla S, Böhm S, Kollewe K, Uttner I, Abrahams S, Bak TH, Petri S, Weber M, Ludolph AC (2016) The Edinburgh cognitive and behavioural amyotrophic lateral sclerosis screen: a cross-sectional comparison of established screening tools in a German-Swiss population. Amyotroph Lateral Scler Frontotemporal Degener 16:16–23

17.

Böhm S, Aho-Özhan HE, Keller J, Dorst J, Uttner I, Ludolph AC, Lulé D (2016) Medical decisions are independent of cognitive impairment in amyotrophic lateral sclerosis. Neurology 87:1737–1738

18.

Cedarbaum JM, Stambler N, Malta E et al (1999) The ALSFRS-R: a revised ALS functional rating scale that incorporates assessments of respiratory function. BDNF ALS Study Group (Phase III). J Neurol Sci 169:13–21

19.

Keller J, Krimly A, Bauer L, Schulenburg S, Böhm S, Aho-Özhan HEA, Uttner I, Gorges M, Kassubek J, Pinkhardt EH, Abrahams S, Ludolph AC, Lulé D (2017) A first approach to a neuropsychological screening tool using eye-tracking for bedside cognitive testing based on the Edinburgh Cognitive and Behavioural ALS Screen. Amyotroph Lateral Scler Frontotemporal Degener. 18(5–6):443–450

20.

Schwartz S (2012) An overview of the Schwartz theory of basic values. Online Read Psychol Cult. https://doi.org/10.9707/2307-0919.1116

21.

Idler EL (1987) Religious involvement and the health of the elderly: some hypotheses and an initial test. Soc Forces 66:226

22.

Bernheim JL (1999) How to get serious answers to the serious question: "How have you been?": subjective quality of life (QOL) as an individual experiential emergent construct. Bioethics 13:272–287

23.

O'Boyle C, McGee H, Hickey A, et al (1993) The schedule for the evaluation of individual Quality of Life (SEIQoL). Administration Manual. Psychol Rep. http://epubs.rcsi.ie/psycholrep/39

24.

Hammer EM, Hacker S, Hautzinger M, Meyer TD, Kubler A (2008) Validity of the ALS-Depression-Inventory (ADI-12)–a new screening instrument for depressive disorders in patients with amyotrophic lateral sclerosis. J Affect Disord 109:213–219

25.

Andersen PM, Forsgren L, Binzer M, Nilsson P, Ala-Hurula V, Keränen ML, Bergmark L, Saarinen A, Haltia T, Tarvainen I, Kinnunen E, Udd B, Marklund SL (1996) Autosomal recessive adult-onset amyotrophic lateral sclerosis associated with homozygosity for Asp90Ala CuZn-superoxide dismutase mutation. A clinical and genealogical study of 36 patients. Brain 119:1153–1172

26.

Greenaway LP, Martin NH, Lawrence V et al (2015) Accepting or declining non-invasive ventilation or gastrostomy in amyotrophic lateral sclerosis: patients' perspectives. J Neurol 262:1002–1013

27.

Maessen M, Veldink JH, Onwuteaka-Philipsen BD et al (2009) Trends and determinants of end-of-life practices in ALS in the Netherlands. Neurology 73:954–961

28.

Albert SM, Rabkin JG, Del Bene ML et al (2005) Wish to die in end-stage ALS. Neurology 65:68–74

29.

Hogden A, Greenfield D, Nugus P, Kiernan MC (2012) What influences patient decision-making in amyotrophic lateral sclerosis multidisciplinary care? A study of patient perspectives. Patient Prefer Adher 6:829–838

30.

Hogden A, Greenfield D, Nugus P, Kiernan MC (2015) Development of a model to guide decision making in amyotrophic lateral sclerosis multidisciplinary care. Health Expect 18:1769–1782
Acknowledgements
This is an EU Joint Programme—Neurodegenerative Disease Research (JPND; 01ED1405) project. The project is supported through the following organizations under the aegis of JPND—www.jpnd.eu, e.g., Germany, Bundesministerium für Bildung und Forschung (BMBF, FKZ), Sweden, Vetenskapr å det Sverige, and Poland, Narodowe Centrum Badan i Rozwoju (NCBR). This work was additionally supported by the Deutsche Forschungsgemeinschaft (LU 336/13-2 BI 195/54-2) and the BMBF (#01GM1103A). The authors thank all patients for participating in this study.
Ethics declarations
Conflicts of interest
None.
Ethical standards
The study was approved by the medical ethical review boards of the participating medical clinics in Ulm, Warsaw and Umea in accordance with the ethical standards of the 1964 Declaration of Helsinki and its later amendments.
Informed consent
All subjects gave their written informed consent.
About this article
Cite this article
Andersen, P.M., Kuzma-Kozakiewicz, M., Keller, J. et al. Therapeutic decisions in ALS patients: cross-cultural differences and clinical implications. J Neurol 265, 1600–1606 (2018). https://doi.org/10.1007/s00415-018-8861-4
Received:

Revised:

Accepted:

Published:

Issue Date:
Keywords
Decision

Amyotrophic lateral sclerosis

Palliative care

Quality of life

Medical care

Culture