Abstract
Since 1800s there are reports of post-traumatic anosmia, but few studies investigated post-traumatic gustatory deficit and adopted validated evaluation tests. Peripheral and/or central mechanisms may be involved in the genesis of post-traumatic gustatory dysfunction. Beyond a reduction/loss (hypogeusia/ageusia) of gustatory function following a trauma, qualitative taste changes (dysgeusia) may occur. Especially when persistent, taste deficits might be particularly relevant for patient's quality of life and activities of daily life, but knowledge on this topic is limited. Fifty-three consecutive patients with previous head trauma were recruited. Every patient underwent a careful history taking and thorough olfactory and gustatory chemosensory testing by Sniffin'Sticks Extended test, Whole Mouth Test and Taste Strips Test. All patients had olfactory abnormalities (hyposmia: n = 10, functional anosmia: n = 43), while 10 of them (19%) showed taste deficits (dysgeusia: n = 3, dysgeusia with hypogeusia: n = 1, hypogeusia: n = 5, ageusia: n = 1). Here, we report clinical and neuroimaging data and detailed description of four meaningful cases representing central and peripheral injury patterns. Chemosensory evaluation might be useful to explore taste disorder, a still neglected and underestimated sequela of head trauma.
This is a preview of subscription content, log in to check access.
Access options
Buy single article
Instant access to the full article PDF.
US$ 39.95
Price includes VAT for USA
Subscribe to journal
Immediate online access to all issues from 2019. Subscription will auto renew annually.
US$ 199
This is the net price. Taxes to be calculated in checkout.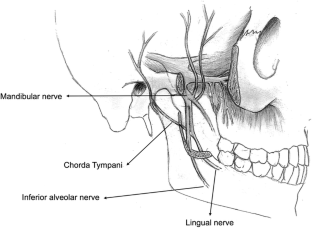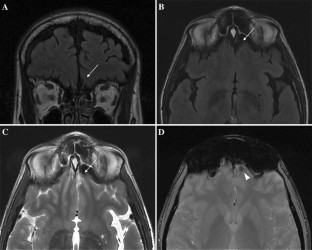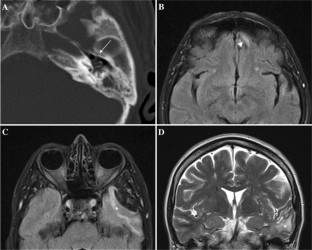 References
1.

Ogle WO (1870) Anosmia, or cases illustrating the physiology and pathology of the sense of smell. Med Chir Trans 53:263–290

2.

Coelho DH, Costanzo RM (2016) Posttraumatic olfactory dysfunction. Auris Nasus Larynx 43:137–143

3.

Proskynitopoulos PJ, Stippler M, Kasper EM (2016) Post-traumatic anosmia in patients with mild traumatic brain injury (mTBI): a systematic and illustrated review. Surg Neurol Int 7:S263–S275

4.

Sumner D (1967) Post-traumatic ageusia. Brain 90:187

5.

Schechter PJ, Henkin RI (1974) Abnormalities of taste and smell after head trauma. J Neurol Neurosurg Psychiatry 37:802–810

6.

Reiter ER, DiNardo LJ, Costanzo RM (2004) Effects of head injury on olfaction and taste. Otolaryngol Clin N Am 37:1167–1184

7.

Landis BN, Lacroix JS (2006) Postoperative/posttraumatic gustatory dysfunctions. In: Hummel T, Welge-Lüssen A (eds) Taste and smell. Un update, Adv Otorhinolaryngol Basel, Karger, vol 63, pp 242–254

8.

Rahban C, Ailianou A, Jacot E, Landis BN (2015) Anosmie et agueusie: à propos d'un cas. Rev Med Suisse 11:1787–1790

9.

Bonardi JP, Herrera da Costa F, Vitti Stabile GA, Pereira-Stabile CL (2016) Traumatic dysgeusia, an unusual complication of facial trauma: a case report. J Oral Maxillofac Surg 74:1416–1419

10.

Bartoshuk LM (1989) Taste: robust across the age span? Ann NY Acad Sci 561:65–75

11.

Cecchini MP, Fasano A, Boschi F, Osculati F, Tinazzi M (2015) Taste in Parkinson's disease. J Neurol 262:806–813

12.

Regard M, Landis T (1997) "Gourmand syndrome":eating passion associated with right anterior lesions. Neurology 48:1185–1190

13.

Fujii M, Fujita K, Hiramatsu H, Myamoto T (1998) Cases of two patients whose food aversions disappeared following severe traumatic brain injury. Brain Inj 12:709–713

14.

Breslin P, Huang L (2006) Human taste: peripheral anatomy, taste transduction, and coding. In: Hummel T, Welge-Lüssen A (eds) Taste and smell. Un update, Adv Otorhinolaryngol Basel, Karger, vol 63, pp 152–190

15.

McManus LJ, Dawes PJD, Stringer MD (2011) Clinical anatomy of the chorda tympani: a systematic review. J Laryngol Otol 125:1101–1108

16.

Small DM (2006) Central gustatory processing in humans. In: Hummel T, Welge-Lüssen A (eds) Taste and smell. Un update, Adv Otorhinolaryngol Basel, Karger, vol 63, pp 191–220

17.

Cerf-Ducastel B, Van der Moortele PF, MacLeold P, Le Bihan D, Faurion A (2001) Intaraction of gustatory and lingual somatosensory perceptions at the cortical level in the human: a functional magnetic resonance imaging study. Chem Senses 26:371–383

18.

Boucher Y, Simons CT, Faurion A, Azerad J, Carstens E (2003) Trigeminal modulation of gustatory neurons in the nucleus of the solitary tract. Brain Res 973:265–274

19.

Faurion A (2006) Sensory interactions through neural pathways. Physiol Behav 89:44–46

20.

Fark T, Hummel C, Hähner A, Nin T, Hummel T (2013) Characteristics of taste disorders. Eur Arch Otorhinolaryngol 270:1855–1860

21.

Welge-Lüssen A, Hummel T (2014) Management of smell and taste disorders: a practical guide for clinicians. Georg Thieme Verlag KG, Stuttgart-Thieme Medical Publisher Inc., New York

22.

Kobal G, Klimek L, Wolfensberger M, Gudziol H, Temmel A, Owen CM, Seeber H, Pauli E, Hummel T (2000) Multicenter investigation of 1,036 subjects using a standardized method for the assessment of olfactory function combining tests of odor identification, odor discrimination, and olfactory thresholds. Eur Arch Otorhinolaryngol 257(4):205–211

23.

Hummel T, Kobal G, Gudziol H, Mackay-Sim A (2007) Normative data for the "Sniffin' Sticks" including tests of odor identification, odor discrimination, and olfactory thresholds: an upgrade based on a group of more than 3000 subjects. Eur Arch Otorhinolaryngol 264(3):237–243

24.

Mueller C, Kallert S, Renner B, Stiassny K, Temmel AFP, Hummel T, Kobal G (2003) Quantitative assessment of gustatory function in a clinical context using impregnated ''taste strips''. Rhinology 41:2–6

25.

Landis BN, Welge-Lüssen A, Brämerson A, Bende M, Mueller CA, Nordin S et al (2009) ''Taste strips'' A rapid, lateralized, gustatory bedside identification test based on impregnated filter papers. J Neurol 256:242–248

26.

Satoh-Kuriwada S, Kawai M, Noriakishoji Sekine Y, Uneyama H, Sasano T (2012) Assessment of umami taste sensitivity. J Nutr Food Sci 10:003

27.

Satoh-Kuriwada S, Kawai M, Iikubo M, Sekine-Hayakawa Y, Shoji N, Uneyama H, Sasano T (2014) Development of an umami taste sensitivity test and its clinical use. PLOS One 9:e95177

28.

Agoston DV, Elsayed M (2012) Serum-based protein biomarkers in blast-induced traumatic brain injury spectrum disorder. Front Neurol 3:107

29.

Henkin RI, Shallenberger RS (1970) Aglycogeusia: the inability to recognize sweetness and its possible molecular basis. Nature 227(5261):965–966

30.

Lugaz O, Pilias AM, Faurion A (2002) A new specific ageusia: some humans cannot taste l-glutamate. Chem Senses 27(2):105–115

31.

Landis BN, Scheibe M, Weber C, Berger R, Bramerson A, Bende M et al (2010) Chemosensory interaction: acquired olfactory impairment is associated with decreased taste function. J Neurol 257:1303–1308

32.

Schiffman SS, Graham BG (2000) Taste and smell perception affect appetite and immunity in the elderly. Er J Clin Nutr 54:S54–S63

33.

Hummel T, Nordin S (2005) Olfactory disorders and their consequences for quality of life. Acta Otolaryngol 125:116–121

34.

Sanchez-Lara K, Sanchez-Sosa R, Green-Renner D, Rodriguez C, Laviano A, Motola-Kuba D, Arrieta O (2010) Influence of taste disorders on dietary behaviors in cancer patients under chemiotherapy. Nutr J 9:15
Acknowledgements
The authors would like to thank Dr Trotier and Dr Faurion for the helpful comments on the MRI findings of one patient. The authors would like to thank also Mr Giovanni Caloi for the anatomical drawing.
Ethics declarations
Conflicts of interest
The authors declare no conflicts of interest and no disclosures relevant to the manuscript.
Ethical standards
This study was performed in compliance with the Helsinki Declaration and its later amendments.
Informed consent
All patients gave consent prior to participation to the study.
Funding
This work was not supported by any funding.
About this article
Cite this article
Cecchini, M.P., Cardobi, N., Sbarbati, A. et al. Post-traumatic taste disorders: a case series. J Neurol 265, 836–844 (2018). https://doi.org/10.1007/s00415-018-8776-0
Received:

Revised:

Accepted:

Published:

Issue Date:
Keywords
Anatomical correlation

Anosmia

Head trauma

Olfaction

Taste