Abstract
Cerebrotendinous xanthomatosis (CTX, MIM 213700) is a rare autosomal recessive lipid storage disorder caused by CYP27A1 mutations. Treatment with chenodeoxycholic acid (CDCA) may slow the progression of the disease and reverse some symptoms in a proportion of patients. In a non-consanguineous Caucasian family, two siblings with CTX were evaluated before treatment and prospectively followed-up every 6 months after starting CDCA therapy, using systematic clinical examination, neuropsychological tests, laboratory tests, electroencephalography (EEG) and brain MRI, diffusion tensor imaging (DTI) and tractography. A 30-year-old patient and her 27-year-old brother were referred for progressive spastic paraparesis. Both had epilepsy, learning difficulties, chronic diarrhoea and juvenile-onset cataracts. CTX was diagnosed by increased cholestanol levels and compound heterozygosity for CYP27A1 mutations. Therapy with CDCA led to resolution of chronic diarrhoea, normalisation of serum cholestanol and EEG, and a progressive improvement in gait, cognition and seizure control. Before treatment, conventional brain MRI showed no CTX-related abnormalities for the proband and no cerebellar abnormalities for the brother, while DTI showed reduced fractional anisotropy (FA) and tract-density in the cerebellum and widespread cerebral reductions of FA in both patients, compared to a group of 35 healthy controls. Repeated DTI after starting therapy showed progressive increases of cerebellar tract density and of cerebral FA. In patients with CTX, therapy with CDCA may lead to significant clinical improvement, with normalisation of biochemical and electrophysiological biomarkers. DTI and tractography may detect changes when the conventional MRI is unremarkable and may provide potential neuroimaging biomarkers for monitoring treatment response in CTX, while the conventional MRI remains unchanged.
This is a preview of subscription content, log in to check access.
Access options
Buy single article
Instant access to the full article PDF.
US$ 39.95
Tax calculation will be finalised during checkout.
Subscribe to journal
Immediate online access to all issues from 2019. Subscription will auto renew annually.
US$ 199
Tax calculation will be finalised during checkout.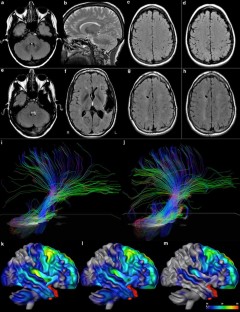 References
1.

McKusick VA(1966–2017) Cerebrotendinous xanthomatosis. Online Mendelian Inheritance of Man (OMIM). http://www.omim.org/entry/213700?search=ctx&highlight=ctx. Accessed 01 Sept 2017

2.

Mignarri A, Magni A, Del Puppo M, Gallus GN, Björkhem I, Federico A et al (2016) Evaluation of cholesterol metabolism in cerebrotendinous xanthomatosis. J Inherit Metab Dis 39:75–83

3.

Salen G, Meriwether TW, Nicolau G (1975) Chenodeoxycholic acid inhibits increased cholesterol and cholestanol synthesis in patients with cerebrotendinous xanthomatosis. Biochem Med 14:57–74

4.

Yahalom G, Tsabari R, Molshatzki N, Ephraty L, Cohen H, Hassin-Baer S (2013) Neurological outcome in cerebrotendinous xanthomatosis treated with chenodeoxycholic acid: early versus late diagnosis. Clin Neuropharmacol 36:78–83

5.

Jenkinson M, Beckmann CF, Behrens TE, Woolrich MW, Smith SM (2012) FSL. NeuroImage 62:782–790

6.

Analysis Group, FMRIB, Oxford, UK (2017). FMRIB Software Library v5.0. http://fsl.fmrib.ox.ac.uk/. Accessed 01 Sept 2017

7.

Wang R, Wedeen Van J, Athinoula A (2015) Martinos Center for Biomedical Imaging, Department of Radiology, Massachusetts General Hospital. Trackvis 0.6 software. http://trackvis.org/blog/tag/diffusion-toolkit/. Accessed 01 Sept 2017

8.

FIL Methods group SPM (1991, 1994–2017). http://www.fil.ion.ucl.ac.uk/spm/doc/. Accessed 01 Sept 2017

9.

Henson R (2006) Comparing a single patient versus a group of controls (and SPM). http://www.mrc-cbu.cam.ac.uk//personal/rik.henson/personal/Henson_Singlecase_06.pdf. Accessed 01 Sept 2017

10.

Berginer VM, Salen G, Shefer S (1984) Long-term treatment of cerebrotendinous xanthomatosis with chenodeoxycholic acid. N Engl J Med 311:1649–1652

11.

De Stefano N, Dotti MT, Mortilla M, Federico A (2001) Magnetic resonance imaging and spectroscopic changes in brains of patients with cerebrotendinous xanthomatosis. Brain 124:121–131

12.

Mignarri A, Dotti MT, Federico A, De Stefano N, Battaglini M, Grazzini I, Galluzzi P, Monti L (2017) The spectrum of magnetic resonance findings in cerebrotendinous xanthomatosis: redefinition and evidence of new markers of disease progression. J Neurol 264(5):862–874

13.

Caroppo P, D'Agata F, Mignarri A, Stromillo ML, Dotti MT, Mongini T (2013) Brain metabolism changes after therapy with chenodeoxycholic acid in a case of cerebrotendinous xanthomatosis. Neurol Sci 34:1693–1696

14.

Seidel S, Kasprian G, Prayer D, Krssák M, Sycha T, Auff E (2011) Visualisation of treatment response in a case of cerebrotendinous xanthomatosis. J Neurol Neurosurg Psychiatry 82:703–704

15.

Chang CC, Lui CC, Wang JJ, Huang SH, Lu CH, Chen C, Chen CF, Tu MC, Huang CW, Chang WN (2010) Multi-parametric neuroimaging evaluation of cerebrotendinous xanthomatosis and its correlation with neuropsychological presentations. BMC Neurol 6(10):59

16.

Barkhof F, Verrips A, Wesseling P, van Der Knaap MS, van Engelen BG, Gabreëls FJ et al (2000) Cerebrotendinous xanthomatosis: the spectrum of imaging findings and the correlation with neuropathologic findings. Radiology 217:869–873
Acknowledgements
We are grateful to the patients and their relatives.
Ethics declarations
Conflicts of interest
The authors declare that they have no conflicts of interest.
Ethical standard
This study has been approved by the appropriate ethics committee and has, therefore, been performed in accordance with the ethical standards laid down in the 1964 Declaration of Helsinki.
Electronic supplementary material
Below is the link to the electronic supplementary material.
About this article
Cite this article
Catarino, C.B., Vollmar, C., Küpper, C. et al. Brain diffusion tensor imaging changes in cerebrotendinous xanthomatosis reversed with treatment. J Neurol 265, 388–393 (2018). https://doi.org/10.1007/s00415-017-8711-9
Received:

Revised:

Accepted:

Published:

Issue Date:
Keywords
Cerebrotendinous xanthomatosis

Chenodeoxycholic acid

DTI

Tractography

Spastic paraplegia