Abstract
Discontinuation of natalizumab can lead to severe rebound of disease activity in patients with relapsing–remitting multiple sclerosis (RRMS); nevertheless, the treatment regimen in this clinical situation remains controversial. We report the case of a 25-year-old male patient with RRMS who was clinically stable under 3 years of natalizumab before treatment was stopped due to progressive multifocal leucencephalopathy (PML) safety concerns. After initiation of daclizumab, the patient suffered from disease reactivation, which was ultimately controlled by intravenous methylprednisolone and alemtuzumab treatment. Therefore, in some patients, daclizumab might not be sufficient to control disease activity after discontinuing natalizumab treatment.
Access options
Buy single article
Instant access to the full article PDF.
USD 39.95
Price excludes VAT (USA)
Tax calculation will be finalised during checkout.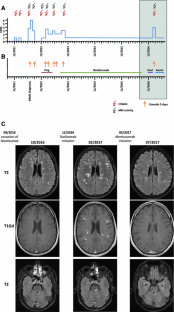 References
Schwab N, Schneider-Hohendorf T, Pignolet B et al (2016) Therapy with natalizumab is associated with high JCV seroconversion and rising JCV index values. Neurol Neuroimmunol Neuroinflamm 3:e195

Sorensen PS, Koch-Henriksen N, Petersen T, Ravnborg M, Oturai A, Sellebjerg F (2014) Recurrence or rebound of clinical relapses after discontinuation of natalizumab therapy in highly active MS patients. J Neurol 261:1170–1177

Faissner S, Hoepner R, Lukas C, Chan A, Gold R, Ellrichmann G (2015) Tumefactive multiple sclerosis lesions in two patients after cessation of fingolimod treatment. Ther Adv Neurol Disord 8:233–238

Berger B, Baumgartner A, Rauer S et al (2015) Severe disease reactivation in four patients with relapsing-remitting multiple sclerosis after fingolimod cessation. J Neuroimmunol 282:118–122

Alping P, Frisell T, Novakova L et al (2016) Rituximab versus fingolimod after natalizumab in multiple sclerosis patients. Ann Neurol 79:950–958

Rasenack M, Derfuss T (2016) Disease activity return after natalizumab cessation in multiple sclerosis. Expert Rev Neurother 16:587–594

Cohen M, Maillart E, Tourbah A et al (2014) Club Francophone de la Sclerose en Plaques, Switching from natalizumab to fingolimod in multiple sclerosis: a French prospective study. JAMA Neurol 71:436–441

Fox RJ, Cree BA, De Seze J et al (2014) Restore, MS disease activity in RESTORE: a randomized 24-week natalizumab treatment interruption study. Neurology 82:1491–1498

Iaffaldano P, Lucisano G, Pozzilli C et al (2015) Italian iMed-Web, Fingolimod versus interferon beta/glatiramer acetate after natalizumab suspension in multiple sclerosis. Brain: J Neurol 138:3275–3286

Kappos L, Radue EW, Comi G, T.s. group et al (2015) Switching from natalizumab to fingolimod: a randomized, placebo-controlled study in RRMS. Neurology 85:29–39

Jokubaitis VG, Li V, Kalincik T, M.S.S. Group et al (2014) Fingolimod after natalizumab and the risk of short-term relapse. Neurology 82:1204–1211

Bielekova B, Richert N, Howard T et al (2004) Humanized anti-CD25 (daclizumab) inhibits disease activity in multiple sclerosis patients failing to respond to interferon beta. Proc Natl Acad Sci USA 101:8705–8708
Acknowledgements
The authors thank Cheryl Ernest for proofreading and editing the manuscript.
Ethics declarations
Conflicts of interest
FZ has received research grants from Teva, Merck Serono, Novartis and Bayer as well as consultation funds from Teva, Merck Serono, Novartis, Bayer Healthcare, Biogen Idec Germany, ONO, Genzyme, Sanofi-Aventis and Octapharma. Her travel compensation has been provided for by the aforementioned companies. S. B. has received consultation funds and travel compensation from Biogen Idec, Sanofi-Genzyme, Roche and Merck Serono. C.O. has received travel compensation from Genzyme. T.U. and S.G. declared no potential conflicts of interest with respect to the research, authorship, and/or publication of this article.
Funding
The author(s) disclosed receipt of the following financial support for the research, authorship, and/or publication of this article: This work was supported by the German Research Council (DFG, CRC-TR-128).
Ethical standards
All procedures performed in studies involving humans participants were in accordance with the ethical standard of the institutional and/or national research committee and with the 1964 Helsinki declaration and its later amendment or comparable ethical standards.
Informed consent
The patient was informed on the intention to publish the case report and gave their consent.
About this article
Cite this article
Uphaus, T., Oberwittler, C., Groppa, S. et al. Disease reactivation after switching from natalizumab to daclizumab. J Neurol 264, 2491–2494 (2017). https://doi.org/10.1007/s00415-017-8622-9
Received:

Revised:

Accepted:

Published:

Issue Date:

DOI: https://doi.org/10.1007/s00415-017-8622-9
Keywords
Multiple Sclerosis

Daclizumab

Natalizumab

Rebound

Disease reactivation

Relapse