Abstract
Glucocorticoids are the standard of care for multiple sclerosis (MS) relapses, but the most desirable route of administration is still matter of debate. The aim of the study was to compare the efficacy and safety of oral versus intravenous steroids for treatment of acute relapses in patients with MS. Randomized or quasi-randomized, parallel group trials with direct comparison between oral and intravenous steroid treatment in MS patients with acute relapse were identified through a systematic literature search. Six trials were included involving 419 participants, 210 for oral, and 209 for intravenous groups, respectively. The weighted mean differences (WMDs) in the Kurtzke's Expanded Disability Status Scale (EDSS) score reduction between the oral and intravenous groups were 0.32 [(−0.09 to 0.73); p = 0.129] and 0.11 [(−0.12 to 0.33); p = 0.355] at 1 and 4 weeks after treatment, respectively. The risk ratios (RRs) for improvement by at least one EDSS point were 0.79 [(0.37–1.68); p = 0.539] at week 1 and 0.92 (0.76–1.12); p = 0.400] at week 4. There were no differences in the relapse rate and relapse freedom at 6 months between groups. The WMDs in the mean percentage reduction of Gadolinium-enhancing lesions between oral and intravenous arms were 0.14 (−0.02, 0.29); p = 0.083] and 0.04 (−0.19, 0.28); p = 0.705] at 1 and 4 weeks from treatment. Among the adverse events, insomnia was significantly associated with the oral route of steroid administration [RR 1.25 (1.07–1.46); p = 0.005]. In adult patients with acute MS relapse, there were no clear-cut differences in the efficacy and overall tolerability between oral and intravenous steroids.
Access options
Buy single article
Instant access to the full article PDF.
USD 39.95
Price excludes VAT (USA)
Tax calculation will be finalised during checkout.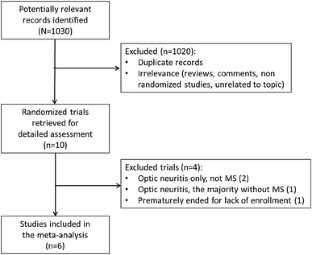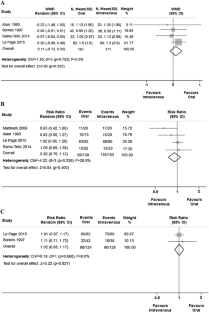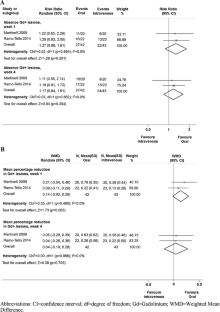 References
Leray E, Moreau T, Fromont A, Edan G (2016) Epidemiology of multiple sclerosis. Rev Neurol (Paris) 172:3–13

Berkovich Regina (2013) Treatment of acute relapses in multiple sclerosis. Neurotherapeutics 10:97–105

Chataway J (2014) Oral versus intravenous steroid in multiple sclerosis relapse—a perennial question? Mult Scler 20:643–645

Moher D, Liberati A, Tetzlaff J, Altman DGH, PRISMA Group (2009) Preferred reporting items for systematic reviews and meta-analyses: the PRISMA statement. PLoS Med 6:e1000097

Kurtzke JF (1983) Rating neurological impairment in multiple sclerosis: an expanded disability status scale (EDSS). Neurology 33:1444–1452

Higgins JP, Thompson SG, Deeks JJ, Altman DG (2003) Measuring inconsistency in meta-analyses. BMJ 327:557–560

Higgins JP, Thompson SG (2002) Quantifying heterogeneity in a meta-analysis. Stat Med 21:1539–1558

Deeks JJ, Higgins JPT, Altman DG (2011) Chapter 9: Analysing data and undertaking meta-analyses. In: Higgins JPT, Green S (eds) Cochrane Handbook for Systematic Reviews of Interventions version 5.1.0 [updated March 2011]. The Cochrane Collaboration. http://www.cochrane-handbook.org

Deeks JJ, Higgins JPT, Altman DG (2011) Chapter 7: Selecting studies and collecting data. In: Higgins JPT, Green S (eds) Cochrane Handbook for Systematic Reviews of Interventions version 5.1.0 [updated March 2011]. The Cochrane Collaboration. http://www.cochrane-handbook.org

Hozo SP, Djulbegovic B, Hozo I (2005) Estimating the mean and variance from the median, range, and the size of a sample. BMC Med Res Methodol 5:13

Alam SM, Kyriakides T, Lawden M, Newman PK (1993) Methylprednisolone in multiple sclerosis: a comparison of oral with intravenous therapy at equivalent high dose. J Neurol Neurosurg Psychiatry 56:1219–1220

Barnes D, Hughes RA, Morris RW et al (1997) Randomised trial of oral and intravenous methylprednisolone in acute relapses of multiple sclerosis. Lancet 349:902–906

Morrow SA, Stoian CA, Dmitrovic J, Chan SC, Metz LM (2004) The bioavailability of IV methylprednisolone and oral prednisone in multiple sclerosis. Neurology 63:1079–1080

Martinelli V, Rocca MA, Annovazzi P et al (2009) A short-term randomized MRI study of high-dose oral vs intravenous methylprednisolone in MS. Neurology 73:1842–1848

Ramo-Tello C, Grau-López L, Tintoré M et al (2014) A randomized clinical trial of oral versus intravenous methylprednisolone for relapse of MS. Mult Scler 20:717–725

Le Page E, Veillard D, Laplaud DA, COPOUSEP investigators et al (2015) West Network for excellence in neuroscience. Oral versus intravenous high-dose methylprednisolone for treatment of relapses in patients with multiple sclerosis (COPOUSEP): a randomised, controlled, double-blind, non-inferiority trial. Lancet 386:974–981

Sharrack B, Hughes RA, Morris RW et al (2000) The effect of oral and intravenous methylprednisolone treatment on subsequent relapse rate in multiple sclerosis. J Neurol Sci 173:73–77

Kappos L, Moeri D, Radue EW et al (1999) Predictive value of gadolinium-enhanced magnetic resonance imaging for relapse rate and changes in disability or impairment in multiple sclerosis: a meta-analysis. Gadolinium MRI Meta-analysis Group. Lancet 353:964–969

Smith ME, Stone LA, Albert PS et al (1993) Clinical worsening in multiple sclerosis is associated with increased frequency and area of gadopentetate dimeglumine-enhancing magnetic resonance imaging lesions. Ann Neurol 33:480–489

Tischner D, Reichardt HM (2007) Glucocorticoids in the control of neuroinflammation. Mol Cell Endocrinol 275:62–70

Martínez-Cáceres EM, Barrau MA, Brieva L, Espejo C, Barberà N, Montalban X (2002) Treatment with methylprednisolone in relapses of multiple sclerosis: immunological evidence of immediate and shot-term, but not long-lasting effects. Clin Exp Immunol 127:165–171

Grau-López L, Teniente-Serra A, Tintoré M et al (2015) Similar biological effect of high-dose oral versus intravenous methylprednisolone in multiple sclerosis relapses. Mult Scler 21:646–650

Burton JM, O'Connor PW, Hohol M, Beyene J (2012) Oral versus intravenous steroids for treatment of relapses in multiple sclerosis. Cochrane Database Syst Rev 12:CD006921

Groenewoud G, Hundt HK, Luus HG, Müller FO, Schall R (1994) Absolute bioavailability of a new high dose methylprednisolone tablet formulation. Int J Clin Pharmacol Ther 32:652–654

Richert ND, Ostuni JL, Bash CN, Leist TP, McFarland HF, Frank JA (2001) Interferon beta-1b and intravenous methylprednisolone promote lesion recovery in multiple sclerosis. Mult Scler 7:49–58

Zivadinov R, Rudick RA, De Masi R et al (2001) Effects of IV methylprednisolone on brain atrophy in relapsing-remitting MS. Neurology 57:1239–1247

Smith MD, Ahern MJ, Roberts-Thomson PJ (1988) Pulse steroid therapy in rheumatoid arthritis: can equivalent doses of oral prednisolone give similar clinical results to intravenous methylprednisolone? Ann Rheumatic Dis 47:28–33

Ozsoylu S, Erturk B (1991) Oral megadose methylprednisolone for childhood acute idiopathic thrombocytopenic purpura. Blood 77:1856–1857

Kister I, Corboy JR (2016) Reducing costs while enhancing quality of care in MS. Neurology 87:1617–1622

Lattanzi S, Danni M, Cerqua R, Taffi R, Provinciali L, Silvestrini M (2015) Prediction of disability progression in fingolimod-treated patients. J Neurol Sci 358:432–434

O'Brien JA, Ward AJ, Patrick AR, Caro J (2003) Cost of managing an episode of relapse in multiple sclerosis in the United States. BMC Health Serv Res 3:17

Lattanzi S, Logullo F, Di Bella P, Silvestrini M, Provinciali L (2014) Multiple sclerosis, solitary sclerosis or something else? Mult Scler 20:1819–1824
Ethics declarations
Conflicts of interest
The authors declare that they have no conflict of interest.
Electronic supplementary material
Below is the link to the electronic supplementary material.
About this article
Cite this article
Lattanzi, S., Cagnetti, C., Danni, M. et al. Oral and intravenous steroids for multiple sclerosis relapse: a systematic review and meta-analysis. J Neurol 264, 1697–1704 (2017). https://doi.org/10.1007/s00415-017-8505-0
Received:

Accepted:

Published:

Issue Date:

DOI: https://doi.org/10.1007/s00415-017-8505-0
Keywords