Abstract
Benign multiple sclerosis (MS) is a discussed clinical entity, with variable reported prevalence (6–64%) requiring at least 5–10 years of clinical observation. Moreover, many benign patients progress with time becoming no longer benign (NLB). The objective of this study is to compare benign MS patients (EDSS ≤3, 10 years from disease onset) who still fulfilled the definition at 20 years to those NLB. In our retrospective study based on Ottawa Hospital MS Clinic database, 175 benign patients fulfilled the inclusion criteria (clinically definite MS, EDSS ≤3 at 10 years, disease onset from 1983 to 1993, and clinical assessments performed at 10 ± 1 and 20 ± 1 years from onset). Out of the identified patients, 66.3% remained benign at 20 years; however, by changing the definition for benign to EDSS ≤2 or ≤1 at 10 years, they increased to 71.9 and 81.6%, respectively. Female sex, EDSS ≤1 at 10 years, and a pure sensory onset were associated with a benign course, while a pure motor onset with an NLB condition. According to multivariate analysis, an EDSS ≤2 at 10 years predicted a long-term benign course. Our study questions the current definition of "benign" MS, suggesting a more stringent EDSS cutoff at 10 years to predict long-term benign prognosis.
This is a preview of subscription content, log in to check access.
Access options
Buy single article
Instant access to the full article PDF.
US$ 39.95
Price includes VAT for USA
Subscribe to journal
Immediate online access to all issues from 2019. Subscription will auto renew annually.
US$ 199
This is the net price. Taxes to be calculated in checkout.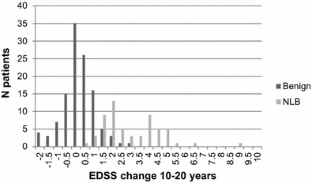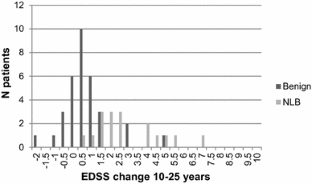 References
1.

McAlpine D (1961) The benign form of multiple sclerosis. A study based on 241 cases seen within 3 years of onset and followed up until the tenth year or more of the disease. Brain 84:186–203

2.

Kurtzke JF, Beebe GW, Nagler B et al (1977) Studies on the natural history of multiple sclerosis VIII. Early prognostic features of the later course of the illness. J Chron Dis 30:819–830

3.

Poser S, Wikström J, Bauer HJ (1979) Clinical data and the identification of special forms of multiple sclerosis in 1271 cases studied with a standardized documentation system. J Neurol Sci 40:159–168

4.

Thompson AJ, Hutchinson M, Brazil J et al (1986) A clinical and laboratory study of benign multiple sclerosis. QJM 225:69–80

5.

Lublin FD, Reingold SC (1996) Defining the clinical course of multiple sclerosis: results of an international survey. National Multiple Sclerosis Society (USA) Advisory Committee on Clinical Trials of New Agents in Multiple Sclerosis. Neurology 46:907–911

6.

Ramsaransing GS, De Keyser J (2006) Benign course in multiple sclerosis: a review. Acta Neurol Scand 113:359–369

7.

Ramsaransing GSM, De Keyser J (2007) Predictive value of clinical characteristics for benign multiple sclerosis. Eur J Neurol 14:885–889

8.

Sayao AL, Devonshire V, Tremlett H (2007) Longitudinal follow-up of "benign" multiple sclerosis at 20 years. Neurology 68:496–500

9.

Costelloe L, Thompson A, Walsh C et al (2008) Long-term clinical relevance of criteria designating multiple sclerosis as benign after 10 years of disease. J Neurol Neurosurg Psychiatry 79:1245–1248

10.

Glad SB, Nyland HI, Aarseth JH et al (2009) Long-term follow-up of benign multiple sclerosis in Hordaland County, Western Norway. Mult Scler 15:942–950

11.

Leray E, Coustans M, Le Page E et al (2013) 'Clinically definite benign multiple sclerosis', an unwarranted conceptual hodgepodge: evidence from a 30-year observational study. Mult Scler 19:458–465

12.

Pittock SJ, McClelland RL, Mayr WT et al (2004) Clinical implications of benign multiple sclerosis: a 20-year population-based follow-up study. Ann Neurol 56:303–306

13.

Hirst C, Ingram G, Swingler R et al (2008) Change in disability in patients with multiple sclerosis: a 20-year prospective population-based analysis. J Neurol Neurosurg Psychiatry 79:1137–1143

14.

Jacobs LD, Beck RW, Simon JH et al (2000) Intramuscular interferon beta-1a therapy initiated during a first demyelinating event in multiple sclerosis. CHAMPS Study Group. N Engl J Med 343:898–904

15.

Comi G, Filippi M, Barkhof F et al (2001) Effect of early interferon treatment on conversion to definite multiple sclerosis: a randomized study. Lancet 357:1576–1582

16.

Kappos L, Polman CH, Freedman MS et al (2006) Treatment with interferon beta-1b delays conversion to clinically definite and McDonald MS in patients with clinically isolated syndrome. Neurology 67:1242–1249

17.

Comi G, Martinelli V, Rodegher M et al (2009) Effect of glatiramer acetate on conversion to clinically definite multiple sclerosis in patients with clinically isolated syndrome (PreCISe study): a randomised, double-blind, placebo-controlled trial. Lancet 374:1503–1511

18.

Freedman MS, Comi G, De Stefano N et al (2014) Moving toward earlier treatment of multiple sclerosis: findings from a decade of clinical trials and implications for clinical practice. Mult Scler Relat Disord 3:147–155

19.

Freedman MS (2013) Present and Emerging Therapies for Multiple Sclerosis. Continuum (Minneap Minn) 19:968–991

20.

Oh J, O'Connor PW (2015) Novel and imminently emerging treatments in relapsing-remitting multiple sclerosis. Curr Opin Neurol 28:230–236

21.

Poser CM, Paty DW, Scheinberg L et al (1983) New diagnostic criteria for multiple sclerosis: guidelines for research protocols. Ann Neurol 13:227–231

22.

Polman CH, Reingold SC, Edan G et al (2005) Diagnostic criteria for multiple sclerosis: 2005 revisions to the "McDonald Criteria". Ann Neurol 58:840–846

23.

Polman CH, Reingold SC, Banwell B et al (2011) Diagnostic criteria for multiple sclerosis: 2010 revisions to the McDonald criteria. Ann Neurol 69:292–302

24.

Joseph FG, Hirst CL, Pickersgill TP et al (2009) CSF oligoclonal band status informs prognosis in multiple sclerosis: a case control study of 100 patients. J Neurol Neurosurg Psychiatry 80:292–296

25.

Portaccio E, Stromillo ML, Goretti B et al (2009) Neuropsychological and MRI measures predict short-term evolution in benign multiple sclerosis. Neurology 73:498–503

26.

Perini P, Tagliaferri C, Belloni M et al (2001) The HLA-DR13 haplotype is associated with benign multiple sclerosis in northeast Italy. Neurology 57:158–159

27.

Amato MP, Zipoli V, Goretti B et al (2006) Benign multiple sclerosis: cognitive, psychological and social aspects in a clinical cohort. J Neurol 253:1054–1059

28.

Calabrese M, Favaretto A, Poretto V et al (2013) Low degree of cortical pathology is associated with benign course of multiple sclerosis. Mult Scler 19:904–911
Ethics declarations
Conflicts of interest
On behalf of all authors, the corresponding author states that there is no conflict of interest.
Ethical standards
This study has been performed in accordance with the Declaration of Helsinki and with the ethical standards of the institution.
About this article
Cite this article
Sartori, A., Abdoli, M. & Freedman, M.S. Can we predict benign multiple sclerosis? Results of a 20-year long-term follow-up study. J Neurol 264, 1068–1075 (2017). https://doi.org/10.1007/s00415-017-8487-y
Received:

Accepted:

Published:

Issue Date:
Keywords
Multiple sclerosis

Benign course

Prognosis

Long-term follow-up

Natural history

Disease modifying drugs