Abstract
The King–Devick (K–D) test of rapid number naming is a visual performance measure that captures saccadic eye movements. Patients with multiple sclerosis (MS) have slowed K–D test times associated with neurologic disability and reduced quality of life. We assessed eye movements during the K–D test to identify characteristics associated with slowed times. Participants performed a computerized K–D test with video-oculography. The 25-Item National Eye Institute Visual Functioning Questionnaire (NEI-VFQ-25) and its 10-Item Neuro-Ophthalmic Supplement measured vision-specific quality of life (VSQOL). Among 25 participants with MS (age 37 ± 10 years, range 20–59) and 42 controls (age 33 ± 9 years, range 19–54), MS was associated with significantly longer (worse) K–D times (58.2 ± 19.8 vs. 43.8 ± 8.6 s, P = 0.001, linear regression models, accounting for age). In MS, test times were slower among patients with higher (worse) Expanded Disability Status Scale scores (P = 0.01). Average inter-saccadic intervals (ISI) were significantly longer in MS participants compared to controls (362 ± 103 vs. 286 ± 50 ms, P = 0.001), and were highly associated with prolonged K–D times in MS (P = 0.006). MS participants generated greater numbers of saccades (P = 0.007). VSQOL scores were reduced in MS patients with longer (worse) K–D times (P = 0.04–0.001) and longer ISI (P = 0.002–0.001). Patients with MS have slowed K–D times that may be attributable to prolonged ISI and greater numbers of saccades. The K–D test and its requisite eye movements capture VSQOL and make rapid number naming a strong candidate efferent visual performance measure in MS.
Access options
Buy single article
Instant access to the full article PDF.
US$ 39.95
Tax calculation will be finalised during checkout.
Subscribe to journal
Immediate online access to all issues from 2019. Subscription will auto renew annually.
US$ 159
Tax calculation will be finalised during checkout.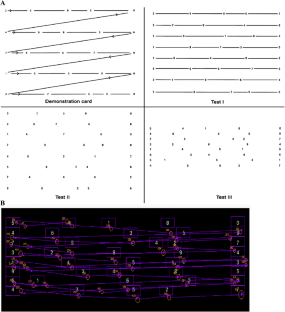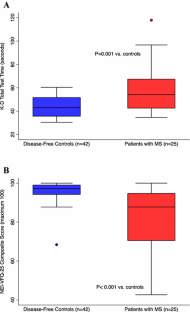 References
1.

Frohman EM, Frohman TC, Zee DS, McColl R, Galetta S (2005) The neuro-ophthalmology of multiple sclerosis. Lancet Neurol 4:111–121. doi:10.1016/s1474-4422(05)00992-0

2.

Foroozan R, Buono LM, Savino PJ, Sergott RC (2002) Acute demyelinating optic neuritis. Curr Opin Ophthalmol 13:375–380

3.

Jacobs DA, Galetta SL (2004) Multiple sclerosis and the visual system. Ophthalmol Clin North Am 17:265–273. doi:10.1016/j.ohc.2004.05.011

4.

Kaur P, Bennett JL (2007) Optic neuritis and the neuro-ophthalmology of multiple sclerosis. Int Rev Neurobiol 79:633–663. doi:10.1016/s0074-7742(07)79028-1

5.

Miller D, Barkhof F, Montalban X, Thompson A, Filippi M (2005) Clinically isolated syndromes suggestive of multiple sclerosis, part I: natural history, pathogenesis, diagnosis, and prognosis. Lancet Neurol 4:281–288

6.

Beck RW, Cleary PA (1993) Optic neuritis treatment trial. One-year follow-up results. Arch Ophthalmol 111:773–775

7.

Sabadia SB, Nolan RC, Galetta KM, Narayana KM, Wilson JA, Calabresi PA, Frohman EM, Galetta SL, Balcer LJ (2016) 20/40 or better visual acuity after optic neuritis: not as good as we once thought? J Neuroophthalmol 36:369–376. doi:10.1097/wno.0000000000000421

8.

Walter SD, Ishikawa H, Galetta KM, Sakai RE, Feller DJ, Henderson SB, Wilson JA, Maguire MG, Galetta SL, Frohman E, Calabresi PA, Schuman JS, Balcer LJ (2012) Ganglion cell loss in relation to visual disability in multiple sclerosis. Ophthalmology 119:1250–1257. doi:10.1016/j.ophtha.2011.11.032

9.

Talman LS, Bisker ER, Sackel DJ, Long DA Jr, Galetta KM, Ratchford JN, Lile DJ, Farrell SK, Loguidice MJ, Remington G, Conger A, Frohman TC, Jacobs DA, Markowitz CE, Cutter GR, Ying GS, Dai Y, Maguire MG, Galetta SL, Frohman EM, Calabresi PA, Balcer LJ (2010) Longitudinal study of vision and retinal nerve fiber layer thickness in multiple sclerosis. Ann Neurol 67:749–760. doi:10.1002/ana.22005

10.

Downey DL, Stahl JS, Bhidayasiri R, Derwenskus J, Adams NL, Ruff RL, Leigh RJ (2002) Saccadic and vestibular abnormalities in multiple sclerosis: sensitive clinical signs of brainstem and cerebellar involvement. Ann N Y Acad Sci 956:438–440

11.

Jasse L, Vukusic S, Durand-Dubief F, Vartin C, Piras C, Bernard M, Pelisson D, Confavreux C, Vighetto A, Tilikete C (2013) Persistent visual impairment in multiple sclerosis: prevalence, mechanisms and resulting disability. Mult Scler 19:1618–1626. doi:10.1177/1352458513479840

12.

Tilikete C, Jasse L, Vukusic S, Durand-Dubief F, Vardanian C, Pelisson D, Vighetto A (2011) Persistent ocular motor manifestations and related visual consequences in multiple sclerosis. Ann N Y Acad Sci 1233:327–334. doi:10.1111/j.1749-6632.2011.06116.x

13.

Derwenskus J, Rucker JC, Serra A, Stahl JS, Downey DL, Adams NL, Leigh RJ (2005) Abnormal eye movements predict disability in MS: two-year follow-up. Ann N Y Acad Sci 1039:521–523. doi:10.1196/annals.1325.058

14.

Serra A, Derwenskus J, Downey DL, Leigh RJ (2003) Role of eye movement examination and subjective visual vertical in clinical evaluation of multiple sclerosis. J Neurol 250:569–575. doi:10.1007/s00415-003-1038-8

15.

Galetta KM, Brandes LE, Maki K, Dziemianowicz MS, Laudano E, Allen M, Lawler K, Sennett B, Wiebe D, Devick S, Messner LV, Galetta SL, Balcer LJ (2011) The King–Devick test and sports-related concussion: study of a rapid visual screening tool in a collegiate cohort. J Neurol Sci 309:34–39. doi:10.1016/j.jns.2011.07.039

16.

Galetta KM, Morganroth J, Moehringer N, Mueller B, Hasanaj L, Webb N, Civitano C, Cardone DA, Silverio A, Galetta SL, Balcer LJ (2015) Adding vision to concussion testing: a prospective study of sideline testing in youth and collegiate athletes. J Neuroophthalmol 35:235–241. doi:10.1097/wno.0000000000000226

17.

Galetta MS, Galetta KM, McCrossin J, Wilson JA, Moster S, Galetta SL, Balcer LJ, Dorshimer GW, Master CL (2013) Saccades and memory: baseline associations of the King–Devick and SCAT2 SAC tests in professional ice hockey players. J Neurol Sci 328:28–31. doi:10.1016/j.jns.2013.02.008

18.

King D, Brughelli M, Hume P, Gissane C (2013) Concussions in amateur rugby union identified with the use of a rapid visual screening tool. J Neurol Sci 326:59–63. doi:10.1016/j.jns.2013.01.012

19.

Moster S, Wilson JA, Galetta SL, Balcer LJ (2014) The King–Devick (K–D) test of rapid eye movements: a bedside correlate of disability and quality of life in MS. J Neurol Sci 343:105–109. doi:10.1016/j.jns.2014.05.047

20.

Polman CH, Reingold SC, Banwell B, Clanet M, Cohen JA, Filippi M, Fujihara K, Havrdova E, Hutchinson M, Kappos L, Lublin FD, Montalban X, O'Connor P, Sandberg-Wollheim M, Thompson AJ, Waubant E, Weinshenker B, Wolinsky JS (2011) Diagnostic criteria for multiple sclerosis: 2010 revisions to the McDonald criteria. Ann Neurol 69:292–302. doi:10.1002/ana.22366

21.

Mangione CM, Lee PP, Gutierrez PR, Spritzer K, Berry S, Hays RD (2001) Development of the 25-item National Eye Institute Visual Function Questionnaire. Arch Ophthalmol 119:1050–1058

22.

Mowry EM, Loguidice MJ, Daniels AB, Jacobs DA, Markowitz CE, Galetta SL, Nano-Schiavi ML, Cutter GR, Maguire MG, Balcer LJ (2009) Vision related quality of life in multiple sclerosis: correlation with new measures of low and high contrast letter acuity. J Neurol Neurosurg Psychiatry 80:767–772. doi:10.1136/jnnp.2008.165449

23.

Raphael BA, Galetta KM, Jacobs DA, Markowitz CE, Liu GT, Nano-Schiavi ML, Galetta SL, Maguire MG, Mangione CM, Globe DR, Balcer LJ (2006) Validation and test characteristics of a 10-item neuro-ophthalmic supplement to the NEI-VFQ-25. Am J Ophthalmol 142:1026–1035

24.

Rizzo JR, Hudson TE, Dai W, Desai N, Yousefi A, Palsana D, Seelesnick I, Balcer LJ, Galetta SL, Rucker JC (2016) Objectifying eye movements during rapid number naming: methodology for assessment of normative data for the King–Devick test. J Neurol Sci 362:232–239

25.

Frohman EM, Zhang H, Kramer PD, Fleckenstein J, Hawker K, Racke MK, Frohman TC (2001) MRI characteristics of the MLF in MS patients with chronic internuclear ophthalmoparesis. Neurology 57:762–768

26.

Muri RM, Meienberg O (1985) The clinical spectrum of internuclear ophthalmoplegia in multiple sclerosis. Arch Neurol 42:851–855

27.

Pula JH, Brock K, Kattah JC (2011) Clinical course of patients with ophthalmoplegia caused by radiographically detectable brainstem demyelination occurring as a clinically isolated demyelinating syndrome. J Neuroophthalmol 31:234–238. doi:10.1097/WNO.0b013e31821a4851

28.

Leigh RJ, Kennard C (2004) Using saccades as a research tool in the clinical neurosciences. Brain 127:460–477. doi:10.1093/brain/awh035

29.

Roos JC, Calandrini DM, Carpenter RH (2008) A single mechanism for the timing of spontaneous and evoked saccades. Exp Brain Res 187:283–293. doi:10.1007/s00221-008-1304-1

30.

Clough M, Mitchell L, Millist L, Lizak N, Beh S, Frohman TC, Frohman EM, White OB, Fielding J (2015) Ocular motor measures of cognitive dysfunction in multiple sclerosis II: working memory. J Neurol 262:1138–1147. doi:10.1007/s00415-015-7644-4

31.

Pierrot-Deseilligny C, Muri RM, Nyffeler T, Milea D (2005) The role of the human dorsolateral prefrontal cortex in ocular motor behavior. Ann N Y Acad Sci 1039:239–251. doi:10.1196/annals.1325.023

32.

Rao SM, Leo GJ, Bernardin L, Unverzagt F (1991) Cognitive dysfunction in multiple sclerosis. I. Frequency, patterns, and prediction. Neurology 41:685–691

33.

Simioni S, Ruffieux C, Bruggimann L, Annoni JM, Schluep M (2007) Cognition, mood and fatigue in patients in the early stage of multiple sclerosis. Swiss Med Wkly 137:496–501 doi:2007/35/smw-11874

34.

Archibald CJ, Fisk JD (2000) Information processing efficiency in patients with multiple sclerosis. J Clin Exp Neuropsychol 22:686–701. doi:10.1076/1380-3395(200010)22:5;1-9;ft686

35.

Julian L, Serafin D, Charvet L, Ackerson J, Benedict R, Braaten E, Brown T, O'Donnell E, Parrish J, Preston T, Zaccariello M, Belman A, Chitnis T, Gorman M, Ness J, Patterson M, Rodriguez M, Waubant E, Weinstock-Guttman B, Yeh A, Krupp LB (2013) Cognitive impairment occurs in children and adolescents with multiple sclerosis: results from a United States network. J Child Neurol 28:102–107. doi:10.1177/0883073812464816

36.

Kail R (1998) Speed of information processing in patients with multiple sclerosis. J Clin Exp Neuropsychol 20:98–106. doi:10.1076/jcen.20.1.98.1483

37.

Prakash RS, Snook EM, Lewis JM, Motl RW, Kramer AF (2008) Cognitive impairments in relapsing-remitting multiple sclerosis: a meta-analysis. Mult Scler 14:1250–1261. doi:10.1177/1352458508095004

38.

Fisk JD, Pontefract A, Ritvo PG, Archibald CJ, Murray TJ (1994) The impact of fatigue on patients with multiple sclerosis. Can J Neurol Sci 21:9–14

39.

Kos D, Kerckhofs E, Nagels G, D'Hooghe MB, Ilsbroukx S (2008) Origin of fatigue in multiple sclerosis: review of the literature. Neurorehabil Neural Repair 22:91–100. doi:10.1177/1545968306298934

40.

Krupp L (1997) Mechanisms, measurement, and management of fatigue in multiple sclerosis. Martin Dunitz, London

41.

Lobentanz IS, Asenbaum S, Vass K, Sauter C, Klosch G, Kollegger H, Kristoferitsch W, Zeitlhofer J (2004) Factors influencing quality of life in multiple sclerosis patients: disability, depressive mood, fatigue and sleep quality. Acta Neurol Scand 110:6–13. doi:10.1111/j.1600-0404.2004.00257.x

42.

Flachenecker P, Kumpfel T, Kallmann B, Gottschalk M, Grauer O, Rieckmann P, Trenkwalder C, Toyka KV (2002) Fatigue in multiple sclerosis: a comparison of different rating scales and correlation to clinical parameters. Mult Scler 8:523–526

43.

Krupp LB, Elkins LE (2000) Fatigue and declines in cognitive functioning in multiple sclerosis. Neurology 55:934–939

44.

Finke C, Pech LM, Sommer C, Schlichting J, Stricker S, Endres M, Ostendorf F, Ploner CJ, Brandt AU, Paul F (2012) Dynamics of saccade parameters in multiple sclerosis patients with fatigue. J Neurol 259:2656–2663. doi:10.1007/s00415-012-6565-8

45.

Minneboo A, Barkhof F, Polman CH, Uitdehaag BM, Knol DL, Castelijns JA (2004) Infratentorial lesions predict long-term disability in patients with initial findings suggestive of multiple sclerosis. Arch Neurol 61:217–221. doi:10.1001/archneur.61.2.217

46.

Cobbs L, Hasanaj L, Amorapanth P, Rizzo JR, Nolan R, Serrano L, Raynowska J, Rucker JC, Jordan BD, Galetta SL, Balcer LJ (2017) Mobile universal lexicon evaluation system (MULES) test: a new measure of rapid picture naming for concussion. J Neurol Sci 372:393–398. doi:10.1016/j.jns.2016.10.044

47.

Galetta KM, Barrett J, Allen M, Madda F, Delicata D, Tennant AT, Branas CC, Maguire MG, Messner LV, Devick S, Galetta SL, Balcer LJ (2011) The King–Devick test as a determinant of head trauma and concussion in boxers and MMA fighters. Neurology 76:1456–1462. doi:10.1212/WNL.0b013e31821184c9
Acknowledgements
Sources of funding: 5K12HDOO1097 NICHD and NCMRR, National Institutes of Health Rehabilitation Medicine Scientist Training Program (JRR). We would like to thank Ilya Kister, MD for referring study participants.
Author contributions
Conception and design of the study: CH, JRR, TEH, EMF, LJB, IS, SLG, JCR. Acquisition and analysis of data: CH, JRR, TEH, WD, JB, JR, RN, LH, IS, LJB, JCR. Substantial manuscript drafting: CH, JRR, TEH, WD, TCF, EMF, LJB, SLG, JCR.
Ethics declarations
Conflicts of interest
No author has received any financial compensation or consultant fees from King Devick Test, Inc. No author has other disclosures pertinent to this study.
Ethical standards
This human study has been approved by the appropriate ethics committee and has, therefore, been performed in accordance with the ethical standards laid down in the 1964 Declaration of Helskinki and its later amendments.
Electronic supplementary material
Below is the link to the electronic supplementary material.
Figure C. Main sequence plots of MS patients and controls for all saccades during the K–D test. Dots represent individual saccades (MS participants in green, controls in black). Dashed lines represent 5th and 95th percentiles for controls. C1. Plot of peak velocity versus amplitude showing that as saccade amplitude increases, the peak velocity increases in an asymptotic distribution. C2. Plot of duration versus amplitude. No major differences are seen in these relationships between MS patients and control subjects in C1 or C2 (PDF 521 kb)
About this article
Cite this article
Hainline, C., Rizzo, JR., Hudson, T.E. et al. Capturing saccades in multiple sclerosis with a digitized test of rapid number naming. J Neurol 264, 989–998 (2017). https://doi.org/10.1007/s00415-017-8484-1
Received:

Revised:

Accepted:

Published:

Issue Date:
Keywords
Multiple sclerosis

King–Devick Test

Rapid number naming

Saccades

Inter-saccadic Interval