Abstract
Despite the fatal outcome and progressive loss of physical functioning in amyotrophic lateral sclerosis (ALS), many patients maintain contentment in life. It has been shown that non-professionals tend to underestimate the well-being of patients with ALS, but professionals' perspective is yet to be studied. In total, 105 neurologists with varying degrees of experience with ALS were included in an anonymous survey. They were asked to estimate the quality of life and depressiveness of ALS patients with artificial ventilation and nutrition. Physicians' estimations were compared with previously reported subjective ratings of ALS patients with life-prolonging measures. Neurologists with significant experience on ALS and palliative care were able to accurately estimate depressiveness and quality of life of ALS patients with life-prolonging measures. Less experienced neurologists' estimation differed more from patients' reports. Of all life-prolonging measures neurologists regarded invasive ventilation as the measure associated with lowest quality of life and highest depressiveness of the patients. Experienced neurologists as well as neurologists with experience in palliative care are able to better empathize with patients with a fatal illness such as ALS and support important decision processes.
Access options
Buy single article
Instant access to the full article PDF.
USD 39.95
Price includes VAT (USA)
Tax calculation will be finalised during checkout.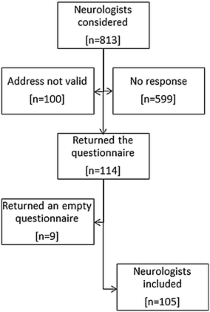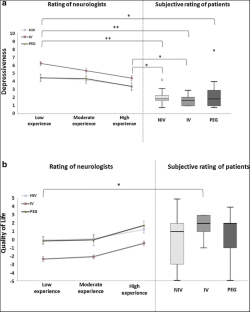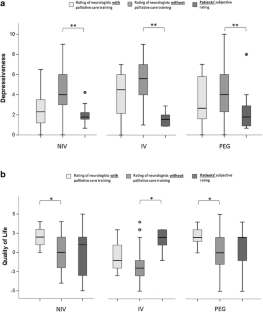 References
1.

Connolly S, Galvin M, Hardiman O (2015) End-of-life management in patients with amyotrophic lateral sclerosis. Lancet Neurol 14(4):435–442. doi:10.1016/S1474-4422(14)70221-2

2.

McDonald ER, Hillel A, Wiedenfeld SA (1996) Evaluation of the psychological status of ventilatory-supported patients with ALS/MND. Palliat Med 10(1):35–41

3.

Dorst J, Dupuis L, Petri S et al (2015) Percutaneous endoscopic gastrostomy in amyotrophic lateral sclerosis: a prospective observational study. J Neurol 262(4):849–858. doi:10.1007/s00415-015-7646-2

4.

Ruffell TO, Martin NH, Janssen A et al (2013) Healthcare professionals' views on the provision of gastrostomy and noninvasive ventilation to amyotrophic lateral sclerosis patients in England, Wales, and Northern Ireland. J Palliat Care 29(4):225–231

5.

Wilson F, Gott M, Ingleton C (2013) Perceived risks around choice and decision making at end-of-life: a literature review. Palliat Med 27(1):38–53. doi:10.1177/0269216311424632

6.

Sullivan KE, Hébert PC, Logan J et al (1996) What do physicians tell patients with end-stage COPD about intubation and mechanical ventilation? Chest 109(1):258–264. doi:10.1378/chest.109.1.258

7.

Sulmasy DP, Hughes MT, Thompson RE et al (2007) How would terminally ill patients have others make decisions for them in the event of decisional incapacity? A longitudinal study. J Am Geriatr Soc 55(12):1981–1988. doi:10.1111/j.1532-5415.2007.01473.x

8.

Martin NH, Lawrence V, Murray J et al (2016) Decision making about gastrostomy and noninvasive ventilation in amyotrophic lateral sclerosis. Qual Health Res 26(10):1366–1381. doi:10.1177/1049732315583661

9.

Uhlmann RF, Pearlman RA (1991) Perceived quality of life and preferences for life-sustaining treatment in older adults. Arch Intern Med 151(3):495–497

10.

Junod Perron N, Morabia A, de Torrente A (2002) Quality of life of Do-Not-Resuscitate (DNR) patients: how good are physicians in assessing DNR patients' quality of life? Swiss Med Wkly 132(39–40):562–565

11.

Greenaway LP, Martin NH, Lawrence V et al (2015) Accepting or declining non-invasive ventilation or gastrostomy in amyotrophic lateral sclerosis: patients' perspectives. J Neurol 262(4):1002–1013. doi:10.1007/s00415-015-7665-z

12.

Kiernan MC, Vucic S, Cheah BC et al (2011) Amyotrophic lateral sclerosis. Lancet 377(9769):942–955. doi:10.1016/S0140-6736(10)61156-7

13.

Neudert C, Wasner M, Borasio GD (2004) Individual quality of life is not correlated with health-related quality of life or physical function in patients with amyotrophic lateral sclerosis. J Palliat Med 7(4):551–557. doi:10.1089/jpm.2004.7.551

14.

Simmons Z (2015) Patient-perceived outcomes and quality of life in ALS. Neurotherapeutics 12(2):394–402. doi:10.1007/s13311-014-0322-x

15.

Hoppe S (2013) Chronic illness as a source of happiness: paradox or perfectly normal? hcs 5(1). doi:10.5195/hcs.2013.138

16.

Grehl T, Rupp M, Budde P et al (2011) Depression and QOL in patients with ALS: how do self-ratings and ratings by relatives differ? Qual Life Res 20(4):569–574. doi:10.1007/s11136-010-9781-7

17.

Lule D, Ehlich B, Lang D et al (2013) Quality of life in fatal disease: the flawed judgement of the social environment. J Neurol 260(11):2836–2843. doi:10.1007/s00415-013-7068-y

18.

Hogden A, Greenfield D, Nugus P et al (2012) Engaging in patient decision-making in multidisciplinary care for amyotrophic lateral sclerosis: the views of health professionals. Patient Prefer Adherence 6:691–701. doi:10.2147/PPA.S36759

19.

Bernheim JL (1999) How to get serious answers to the serious question: "How have you been?": subjective quality of life (QOL) as an individual experiential emergent construct. Bioethics 13(3–4):272–287

20.

Ludolph A, Drory V, Hardiman O et al (2015) A revision of the El escorial criteria—2015. Amyotroph Lateral Scler Frontotemporal Degener 16(5–6):291–292. doi:10.3109/21678421.2015.1049183

21.

Lule D, Nonnenmacher S, Sorg S et al (2014) Live and let die: existential decision processes in a fatal disease. J Neurol 261(3):518–525. doi:10.1007/s00415-013-7229-z

22.

Hautzinger M, Bailer M, Hofmeister D et al (2012) ADS—allgemeine depressionsskala. Tests infoHogrefe, Göttingen

23.

Cedarbaum JM, Stambler N, Malta E et al (1999) The ALSFRS-R: a revised ALS functional rating scale that incorporates assessments of respiratory function. BDNF ALS Study Group (Phase III). J Neurol Sci 169(1–2):13–21

24.

Pelayo M, Cebrian D, Areosa A et al (2011) Effects of online palliative care training on knowledge, attitude and satisfaction of primary care physicians. BMC Fam Pract 12:37. doi:10.1186/1471-2296-12-37

25.

Anderson WG, Williams JE, Bost JE et al (2008) Exposure to death is associated with positive attitudes and higher knowledge about end-of-life care in graduating medical students. J Palliat Med 11(9):1227–1233. doi:10.1089/jpm.2008.0058

26.

Fischer SM, Gozansky WS, Kutner JS et al (2003) Palliative care education: an intervention to improve medical residents' knowledge and attitudes. J Palliat Med 6(3):391–399. doi:10.1089/109662103322144709

27.

Long AC, Downey L, Engelberg RA et al (2016) Physicians' and nurse practitioners' level of pessimism about end-of-life care during training: does it change over time? J Pain Symptom Manag 51(5):890.e1–897.e1. doi:10.1016/j.jpainsymman.2015.11.024

28.

Moss AH, Casey P, Stocking CB et al (1993) Home ventilation for amyotrophic lateral sclerosis patients: outcomes, costs, and patient, family, and physician attitudes. Neurology 43(2):438–443

29.

Heritier Barras A, Adler D, Iancu Ferfoglia R et al (2013) Is tracheostomy still an option in amyotrophic lateral sclerosis? Reflections of a multidisciplinary work group. Swiss Med Wkly 143:w13830. doi:10.4414/smw.2013.13830

30.

Trail M, Nelson ND, Van JN et al (2003) A study comparing patients with amyotrophic lateral sclerosis and their caregivers on measures of quality of life, depression, and their attitudes toward treatment options. J Neurol Sci 209(1–2):79–85. doi:10.1016/S0022-510X(03)00003-0

31.

Lemoignan J, Ells C (2010) Amyotrophic lateral sclerosis and assisted ventilation: how patients decide. Palliat Support Care 8(2):207–213. doi:10.1017/S1478951510000027

32.

Rabkin JG, Wagner GJ, Del Bene M (2000) Resilience and distress among amyotrophic lateral sclerosis patients and caregivers. Psychosom Med 62(2):271–279

33.

Kaub-Wittemer D, Nv Steinbuchel, Wasner M et al (2003) Quality of life and psychosocial issues in ventilated patients with amyotrophic lateral sclerosis and their caregivers. J Pain Symptom Manag 26(4):890–896

34.

Oliver DJ, Turner MR (2010) Some difficult decisions in ALS/MND. Amyotroph Lateral Scler 11(4):339–343. doi:10.3109/17482968.2010.487532

35.

Albert SM, Murphy PL, Del Bene ML et al (1999) A prospective study of preferences and actual treatment choices in ALS. Neurology 53(2):278–283

36.

Chio A, Calvo A, Ghiglione P et al (2010) Tracheostomy in amyotrophic lateral sclerosis: a 10-year population-based study in Italy. J Neurol Neurosurg Psychiatry 81(10):1141–1143. doi:10.1136/jnnp.2009.175984

37.

Vianello A, Arcaro G, Palmieri A et al (2011) Survival and quality of life after tracheostomy for acute respiratory failure in patients with amyotrophic lateral sclerosis. J Crit Care 26(3):329.e7-14. doi:10.1016/j.jcrc.2010.06.003

38.

Matuz T, Birbaumer N, Hautzinger M et al (2010) Coping with amyotrophic lateral sclerosis: an integrative view. J Neurol Neurosurg Psychiatry 81(8):893–898. doi:10.1136/jnnp.2009.201285

39.

Viera AJ, Edwards T (2012) Does an offer for a free on-line continuing medical education (CME) activity increase physician survey response rate? A randomized trial. BMC Res Notes 5:129. doi:10.1186/1756-0500-5-129

40.

Ho A (2008) Relational autonomy or undue pressure? Family's role in medical decision-making. Scand J Caring Sci 22(1):128–135. doi:10.1111/j.1471-6712.2007.00561.x

41.

Ruhnke GW, Wilson SR, Akamatsu T et al (2000) Ethical decision making and patient autonomy: a comparison of physicians and patients in Japan and the United States. Chest 118(4):1172–1182
Acknowledgements
This is an EU Joint Programme—Neurodegenerative Disease Research (JPND) project (01ED1405). The project is supported through the following organizations under the aegis of JPND—http://www.jpnd.eu, e.g., Germany, Bundesministerium für Bildung und Forschung (BMBF, FKZ), Sweden, Vetenskaprådet Sverige, Poland, Narodowe Centrum Badan´ i Rozwoju (NCBR). This work was additionally funded by the Deutsche Forschungsgemeinschaft (DFG, LU 336/13-2) and the Bundesministerium für Bildung und Forschung (BMBF, #01GM1103A).
Ethics declarations
Conflicts of interest
The authors declare that they have no conflict of interest.
Ethical standard
The study was approved by the ethics committees of the University of Ulm and the University of Berlin and has, therefore, been performed in accordance with the ethical standards laid down in the 1964 Declaration of Helsinki and its later amendments. All participants gave informed consent prior to their inclusion in the study.
Electronic supplementary material
Below is the link to the electronic supplementary material.
About this article
Cite this article
Aho-Özhan, H.E.A., Böhm, S., Keller, J. et al. Experience matters: neurologists' perspectives on ALS patients' well-being. J Neurol 264, 639–646 (2017). https://doi.org/10.1007/s00415-016-8382-y
Received:

Revised:

Accepted:

Published:

Issue Date:
Keywords
Amyotrophic lateral sclerosis (ALS)

Depression

Quality of life

Life-prolonging measures

Physician