Abstract
New advances in understanding the pathophysiology of vestibular migraine (VM) have suggested a large overlap between migraine and vestibular pathways. We explored the regional distribution of gray (GM) and white matter (WM) abnormalities in VM patients in comparison to migraine patients with (MWA) and without aura (MWoA) and their correlations with patients' clinical manifestations. Using a 3.0 Tesla scanner, brain T2-weighted and 3D T1-weighted MRI scans were acquired from 19 VM, 19 MWA, 19 MWoA and 20 age-matched controls. GM and WM volumetric abnormalities were estimated using voxel-based morphometry (SPM12). Compared to controls, migraine patients had decreased GM volume of the left cerebellum and an increased GM volume of the left temporal lobe. VM patients had a selective GM volume increase of frontal and occipital regions compared to controls and the other two groups of migraineurs and no regions with decreased GM volume. Compared to MWoA and MWA, VM had increased GM volume of the left thalamus. Regional GM abnormalities did not correlate with disease duration and attack frequency. No WM volumetric differences were detected between migraine patients and controls. These results show that GM volume abnormalities of nociceptive and multisensory vestibular brain areas occur in VM patients. Overall, our findings suggest that an abnormal brain sensitization might lead to a dismodulation of multimodal sensory integration and processing cortical areas in VM patients.
Access options
Buy single article
Instant access to the full article PDF.
US$ 39.95
Tax calculation will be finalised during checkout.
Subscribe to journal
Immediate online access to all issues from 2019. Subscription will auto renew annually.
US$ 159
Tax calculation will be finalised during checkout.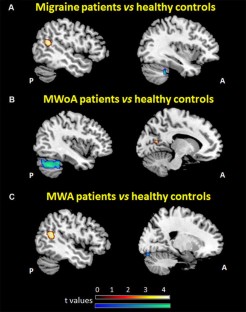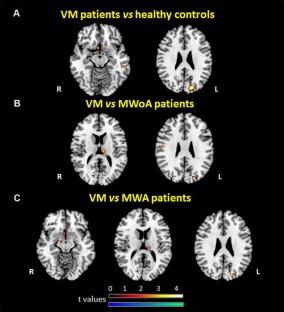 References
1.

Headache Classification Committee of the International Headache Society (IHS) (2013) The international classification of headache disorders, 3rd edition (beta version). Cephalalgia 33(9):629–808

2.

Lempert T, Olesen J, Furman J, Waterston J, Seemungal B, Carey J, Bisdorff A, Versino M, Evers S, Newman-Toker D (2012) Vestibular migraine: diagnostic criteria. J Vestib Res 22(4):167–172

3.

Neuhauser H, Leopold M, von Brevern M, Arnold G, Lempert T (2001) The interrelations of migraine, vertigo, and migrainous vertigo. Neurology 56(4):436–441

4.

Radtke A, von Brevern M, Neuhauser H, Hottenrott T, Lempert T (2012) Vestibular migraine: long-term follow-up of clinical symptoms and vestibulo-cochlear findings. Neurology 79(15):1607–1614

5.

Dieterich M, Obermann M, Celebisoy N (2016) Vestibular migraine: the most frequent entity of episodic vertigo. J Neurol 263(Suppl 1):S82–S89

6.

Espinosa-Sanchez JM, Lopez-Escamez JA (2015) New insights into pathophysiology of vestibular migraine. Front Neurol 6:12

7.

Rocca MA, Ceccarelli A, Falini A, Colombo B, Tortorella P, Bernasconi L, Comi G, Scotti G, Filippi M (2006) Brain gray matter changes in migraine patients with T2-visible lesions: a 3-T MRI study. Stroke 37(7):1765–1770

8.

Messina R, Rocca MA, Colombo B, Valsasina P, Horsfield MA, Copetti M, Falini A, Comi G, Filippi M (2013) Cortical abnormalities in patients with migraine: a surface-based analysis. Radiology 268(1):170–180

9.

Schmitz N, Admiraal-Behloul F, Arkink EB, Kruit MC, Schoonman GG, Ferrari MD, van Buchem MA (2008) Attack frequency and disease duration as indicators for brain damage in migraine. Headache 48(7):1044–1055

10.

Coppola G, Di Renzo A, Tinelli E, Iacovelli E, Lepre C, Di Lorenzo C, Di Lorenzo G, Di Lenola D, Parisi V, Serrao M, Pauri F, Fiermonte G, Bianco F, Pierelli F (2014) Evidence for brain morphometric changes during the migraine cycle: a magnetic resonance-based morphometry study. Cephalalgia 35(9):783–791

11.

Obermann M, Wurthmann S, Steinberg BS, Theysohn N, Diener HC, Naegel S (2014) Central vestibular system modulation in vestibular migraine. Cephalalgia 34(13):1053–1061

12.

Ashburner J, Friston KJ (2000) Voxel-based morphometry—the methods. Neuroimage 11(6 Pt 1):805–821

13.

Lopez C, Blanke O (2011) The thalamocortical vestibular system in animals and humans. Brain Res Rev 67(1–2):119–146

14.

Russo A, Marcelli V, Esposito F, Corvino V, Marcuccio L, Giannone A, Conforti R, Marciano E, Tedeschi G, Tessitore A (2014) Abnormal thalamic function in patients with vestibular migraine. Neurology 82(23):2120–2126

15.

Shin JH, Kim YK, Kim HJ, Kim JS (2014) Altered brain metabolism in vestibular migraine: comparison of interictal and ictal findings. Cephalalgia 34(1):58–67

16.

de Tommaso M, Ambrosini A, Brighina F, Coppola G, Perrotta A, Pierelli F, Sandrini G, Valeriani M, Marinazzo D, Stramaglia S, Schoenen J (2014) Altered processing of sensory stimuli in patients with migraine. Nat Rev Neurol 10(3):144–155

17.

Burstein R, Jakubowski M, Garcia-Nicas E, Kainz V, Bajwa Z, Hargreaves R, Becerra L, Borsook D (2010) Thalamic sensitization transforms localized pain into widespread allodynia. Ann Neurol 68(1):81–91

18.

Schwedt TJ, Chiang CC, Chong CD, Dodick DW (2015) Functional MRI of migraine. Lancet Neurol 14(1):81–91

19.

Coppola G, Tinelli E, Lepre C, Iacovelli E, Di Lorenzo C, Di Lorenzo G, Serrao M, Pauri F, Fiermonte G, Bianco F, Pierelli F (2013) Dynamic changes in thalamic microstructure of migraine without aura patients: a diffusion tensor magnetic resonance imaging study. Eur J Neurol 21:287–292

20.

Magon S, May A, Stankewitz A, Goadsby PJ, Tso AR, Ashina M, Amin FM, Seifert CL, Chakravarty MM, Muller J, Sprenger T (2015) Morphological abnormalities of Thalamic Subnuclei in Migraine: a multicenter MRI study at 3 Tesla. J Neurosci 35(40):13800–13806

21.

Messina R, Rocca MA, Colombo B, Pagani E, Falini A, Comi G, Filippi M (2015) White matter microstructure abnormalities in pediatric migraine patients. Cephalalgia 35:1278–1286

22.

Brandt T, Bartenstein P, Janek A, Dieterich M (1998) Reciprocal inhibitory visual–vestibular interaction. Visual motion stimulation deactivates the parieto-insular vestibular cortex. Brain 121(Pt 9):1749–1758

23.

Habas C, Guillevin R, Abanou A (2010) In vivo structural and functional imaging of the human rubral and inferior olivary nuclei: a mini-review. Cerebellum 9(2):167–173

24.

Leiva J, Saavedra H (1990) Eye movement-related neurons in the red nucleus. Neurosci Lett 118(1):37–40

25.

Lopez LI, Bronstein AM, Gresty MA, Du Boulay EP, Rudge P (1996) Clinical and MRI correlates in 27 patients with acquired pendular nystagmus. Brain 119(Pt 2):465–472

26.

Satoh Y, Ishizuka K, Takahashi M, Iwasaki SI (2016) Role of the vestibular nuclear complex in facilitating the jaw-opening reflex following stimulation of the red nucleus. Neurosci Res

27.

Halasi G, Bacskai T, Matesz C (2005) Connections of the superior vestibular nucleus with the oculomotor and red nuclei in the rat: an electron microscopic study. Brain Res Bull 66(4–6):532–535

28.

Lakhan SE, Avramut M, Tepper SJ (2013) Structural and functional neuroimaging in migraine: insights from 3 decades of research. Headache 53(1):46–66

29.

Vogt BA (2005) Pain and emotion interactions in subregions of the cingulate gyrus. Nat Rev Neurosci 6(7):533–544

30.

Farina S, Tinazzi M, Le Pera D, Valeriani M (2003) Pain-related modulation of the human motor cortex. Neurol Res 25(2):130–142

31.

Maleki N, Becerra L, Brawn J, McEwen B, Burstein R, Borsook D (2013) Common hippocampal structural and functional changes in migraine. Brain Struct Funct 218(4):903–912

32.

Bilgic B, Kocaman G, Arslan AB, Noyan H, Sherifov R, Alkan A, Asil T, Parman Y, Baykan B (2016) Volumetric differences suggest involvement of cerebellum and brainstem in chronic migraine. Cephalalgia 36:301–308

33.

Ruscheweyh R, Kuhnel M, Filippopulos F, Blum B, Eggert T, Straube A (2014) Altered experimental pain perception after cerebellar infarction. Pain 155(7):1303–1312
Ethics declarations
Conflicts of interest
This study was approved by the Local Ethical Committes on human studies and all subjects provided written informed consent prior to study participation.
Ethical standards
The study was approved by the Local Ethical Committee on human studies and was performed in accordance with the ethical standards laid down in the 1964 Declaration of Helsinki and its later amendments.
Informed consent
Written informed consent was obtained from all participants at inclusion.
About this article
Cite this article
Messina, R., Rocca, M.A., Colombo, B. et al. Structural brain abnormalities in patients with vestibular migraine. J Neurol 264, 295–303 (2017). https://doi.org/10.1007/s00415-016-8349-z
Received:

Revised:

Accepted:

Published:

Issue Date:
Keywords
Migraine

Vestibular migraine

Gray matter abnormalities

Voxel-based morphometry