Access options
Buy single article
Instant access to the full article PDF.
USD 39.95
Price excludes VAT (USA)
Tax calculation will be finalised during checkout.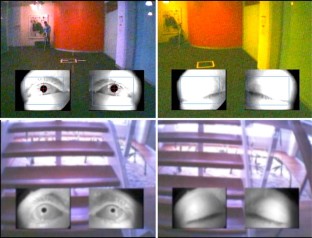 References
Janssen S, Soneji M, Nonnekes J, Bloem BR (2016) A painted staircase illusion to alleviate freezing of gait in Parkinson's disease. J Neurol 263:1661–1662. doi:10.1007/s00415-016-8195-z

Nonnekes J, Snijders AH, Nutt JG et al (2015) Freezing of gait: a practical approach to management. Lancet Neurol 14:768–778. doi:10.1016/S1474-4422(15)00041-1

Snijders AH, Jeene P, Nijkrake MJ et al (2012) Cueing for freezing of gait: a need for 3-dimensional cues? Neurologist 18:404–405. doi:10.1097/NRL.0b013e31826a99d1

Rahman S, Griffin HJ, Quinn NP, Jahanshahi M (2008) The factors that induce or overcome freezing of gait in Parkinson's disease. Behav Neurol 19:127–136

Nutt JG, Bloem BR, Giladi N et al (2011) Freezing of gait: moving forward on a mysterious clinical phenomenon. Lancet Neurol 10:734–744. doi:10.1016/S1474-4422(11)70143-0

Ehgoetz Martens KA, Pieruccini-Faria F, Almeida QJ (2013) Could sensory mechanisms be a core factor that underlies freezing of gait in Parkinson's disease? PLoS One 8:e62602. doi:10.1371/journal.pone.0062602

Howard IS, Ingram JN, Wolpert DM (2011) Separate representations of dynamics in rhythmic and discrete movements: evidence from motor learning. J Neurophysiol 105:1722–1731. doi:10.1152/jn.00780.2010

Pisotta I, Molinari M (2014) Cerebellar contribution to feedforward control of locomotion. Front Hum Neurosci 8:475. doi:10.3389/fnhum.2014.00475

Schaal S, Sternad D, Osu R, Kawato M (2004) Rhythmic arm movement is not discrete. Nat Neurosci 7:1136–1143. doi:10.1038/nn1322

Wolpert DM, Landy MS (2012) Motor control is decision-making. Curr Opin Neurobiol 22:996–1003. doi:10.1016/j.conb.2012.05.003

Almeida QJ, Lebold CA (2010) Freezing of gait in Parkinson's disease: a perceptual cause for a motor impairment? J Neurol Neurosurg Psychiatr 81:513–518. doi:10.1136/jnnp.2008.160580

Azulay J-P, Mesure S, Blin O (2006) Influence of visual cues on gait in Parkinson's disease: contribution to attention or sensory dependence? J Neurol Sci 248:192–195. doi:10.1016/j.jns.2006.05.008

Lewis SJG, Shine JM (2014) The next step: a common neural mechanism for freezing of gait. Neuroscientist. doi:10.1177/1073858414559101

Snijders AH, Toni I, Růžička E, Bloem BR (2011) Bicycling breaks the ice for freezers of gait. Mov Disord 26:367–371. doi:10.1002/mds.23530
Acknowledgements
M Gilat is supported by a University of Sydney International Scholarship. JM Hall is supported by a Western Sydney University Postgraduate Research Award. KA Ehgoetz Martens is supported by Parkinson Canada. JM Shine is supported by a National Health and Medical Research Council CJ Martin Fellowship. CC Walton is supported by an Australian Postgraduate Award at the University of Sydney. HG MacDougall is supported by a grant from the Garnett Passe and Rodney Williams Memorial Foundation. ST Moore is supported by NASA grant NNX12AM25G. SJG Lewis is supported by an NHMRC-ARC Dementia Fellowship.
Ethics declarations
Conflicts of interest
All authors have nothing to disclose and declare to have no conflicts of interest. The funding sources of the study had no influence on the preparation, review or approval of this manuscript.
Ethical standard
Ethical approval for this study was obtained from the University of Sydney Human Research Ethics Committee and written informed consent was obtained from each patient prior to their inclusion in the study as per the ethical standards laid down in the 1964 Declaration of Helsinki and its later amendments.
About this article
Cite this article
Gilat, M., Hall, J.M., Ehgoetz Martens, K.A. et al. Staircase climbing is not solely a visual compensation strategy to alleviate freezing of gait in Parkinson's disease. J Neurol 264, 174–176 (2017). https://doi.org/10.1007/s00415-016-8329-3
Received:

Revised:

Accepted:

Published:

Issue Date:

DOI: https://doi.org/10.1007/s00415-016-8329-3
Keywords
Visuospatial Memory

Overground Walking

Rhythmic Task

Online Visual Feedback

Basal Ganglion System