Abstract
Gait freezing as a presenting and relatively restricted condition is uncommon but a distinctive disorder. This entity was initially defined as "pure akinesia with gait freezing", and later a neuropathological substrate of progressive supranuclear palsy has been recognized. Limited studies have reported the clinical evolution after presentation, which is important for patient counseling. The objective of this study was to assess the demographic and clinical features, treatment-response, neuroimaging, and evolution of pure akinesia with gait freezing. A retrospective review of patients with this phenotype as previously defined was performed. Patients included had no or minimal limb rigidity and/or bradykinesia and no resting tremor, and all underwent neuroimaging of the brain after onset. Inclusion criteria were met by 30 patients, who were followed up to 21 years after symptom onset. During their course, 28 patients had falls (93 %), 12 patients had dysarthria (40 %), and 13 had handwriting changes (43 %). All patients had progression of their gait disorder over time, but with a variable interval until falls occurred. None of the patients developed vertical gaze palsy or met diagnostic criteria for an alternative parkinsonian disorder. Pure akinesia with gait freezing is a distinctive disorder that can be recognized in the clinic. Despite the previously reported progressive supranuclear palsy-like neuropathology, the clinical course is much less aggressive and disabling than classic Richardson syndrome, although fall risk eventually develops in nearly all patients. Bradykinesia, tremor, and rigidity do not develop, distinguishing pure akinesia with gait freezing from Parkinson's disease and other parkinsonian disorders.
Access options
Buy single article
Instant access to the full article PDF.
USD 39.95
Price includes VAT (USA)
Tax calculation will be finalised during checkout.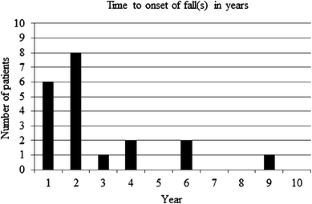 References
1.

Nutt JG, Bloem BR, Giladi N, Halett M, Horak FB, Nieuwboer A (2011) Freezing of gait: moving forward on a mysterious clinical phenomenon. Lancet Neurol 10:734–744

2.

Factor SA, Jennings DL, Molho ES, Marek KL (2002) The natural history of the syndrome of primary progressive freezing gait. Arch Neurol 59:1778–1783

3.

Factor SA (2008) The clinical spectrum of freezing of gait in atypical parkinsonism. Mov Disord 23:S431–S438

4.

Imai H, Narabayashi H (1974) Akinesia-concerning 2 cases of pure akinesia. Shinkei Xenkyu Shimpo 18:787–794

5.

Atchison PR, Thompson PD, Frackowiak SJ, Marsden CD (1993) The syndrome of gait ignition failure: a report of six cases. Mov Disord 8:285–292

6.

Williams DR, Holton JL, Strand K, Revesz T, Lees AJ (2007) Pure akinesia with gait freezing: a third clinical phenotype of progressive supranuclear palsy. Mov Disord 22:2235–2241

7.

Imai H, Nakamura T, Kondo T, Narabayahi H (1993) Dopa-unresponsive pure akinesia or freezing. A condition within a wide spectrum of PSP? Adv Neurol 60:622–625

8.

Compta Y, Valldeoriola F, Tolosa E, Rey MJ, Marti MJ, Valls-Sole J (2007) Long lasting pure freezing of gait preceding progressive supranuclear palsy: a clinicopathological study. Mov Disord 22:1954–1958

9.

Achiron A, Ziv I, Goren M, Goldberg H, Zoldan Y, Sroka H, Melamed E (1993) Primary progressive freezing gait. Mov Disord 8:293–297

10.

Nakajima Y, Matsuda K, Mizuno Y (1996) Akinesia and axial rigidity without limb rigidity: an intermediate form between progressive supranuclear palsy and pure akinesia of Iman and Narabayashi. Parkinsonism Relat Disord 2:209–214

11.

Riley DE, Fogt N, Leigh RJ (1994) The syndrome of 'pure akinesia' and its relationship to progressive supranuclear palsy. Neurology 44:1025–1029

12.

Virmani T, Moskowitz CB, Vonsattel J, Fahn S (2015) Clinicopathological characteristics of freezing of gait in autopsy-confirmed Parkinson's disease. Mov Disord 30:1874–1884
Acknowledgments
Funding was provided by the Mayo Clinic Rochester Department of Neurology.
Ethics declarations
Conflicts of interest
There are no relevant conflicts of interest for all authors. Dr. Josephs receives support from the National Institute of Health. Dr. Klassen receives research support from Medtronic Inc. Dr. Bower receives research support from the Parkinson's Disease Foundation.
Ethical standards
The study was performed in accordance with the 1964 Declaration of Helsinki and complies with the institutional ethical standards. Consent was obtained from all participants.
About this article
Cite this article
Owens, E., Josephs, K.A., Savica, R. et al. The clinical spectrum and natural history of pure akinesia with gait freezing. J Neurol 263, 2419–2423 (2016). https://doi.org/10.1007/s00415-016-8278-x
Received:

Revised:

Accepted:

Published:

Issue Date:
Keywords
Gait freezing

PSP

Falls

PAGF