Abstract
We report the efficacy of three versus single session of 10 Hz repetitive transcranial magnetic stimulation (rTMS) in chronic migraine (CM) and chronic tension-type headache (CTTH). Ninety-eight patients with CM or CTTH were included and their headache frequency, severity, functional disability and number of abortive medications were noted. Fifty-two patients were randomly assigned to group I (three true sessions) and 46 to group II (one true and two sham rTMS sessions) treatment. 10 Hz rTMS comprising 600 pulses was delivered in 412.4 s on the left frontal cortex. Outcomes were noted at 1, 2 and 3 months. The primary outcome was 50 % reduction in headache frequency, and secondary outcomes were improvement in severity, functional disability, abortive drugs and side effects. The baseline headache characteristics were similar between the two groups. Follow up at different time points revealed significant improvement in headache frequency, severity, functional disability and number of abortive drugs compared to baseline in both group I and group II patients, although these parameters were not different between the two groups. In group I, 31 (79.4 %) had reduction of headache frequency and 29 (74.4 %) converted to episodic headache. In group II, these were 24 (64.8 %) and 22 (59.2 %), respectively. In chronic migraine, the severity of headache at 2 months reduced in group I compared to group II (62.5 vs 35.3 %; P = 0.01). Both single and three sessions of 10 Hz rTMS were found to be equally effective in CM and CTTH, and resulted in conversion of chronic to episodic headache in 67.1 % patients.
Access options
Buy single article
Instant access to the full article PDF.
US$ 39.95
Tax calculation will be finalised during checkout.
Subscribe to journal
Immediate online access to all issues from 2019. Subscription will auto renew annually.
US$ 159
Tax calculation will be finalised during checkout.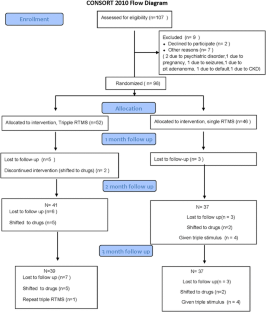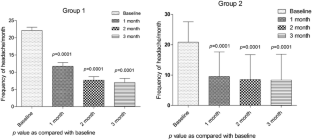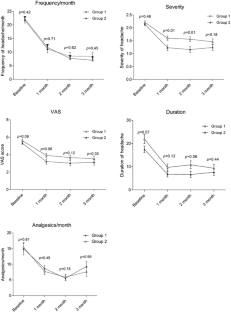 References
1.

Silberstein SD (1993) Tension-type and chronic daily headache. Neurology 43(9):1644–1649

2.

Bigal ME, Sheftell FD (2006) Chronic daily headache and its subtypes. Continuum-Lifelong Learn Neurol 12(6):133–152

3.

Lipton RB, Bigal ME, Diamond M, Freitag F, Reed ML, Stewart WF, AMPP Advisory Group (2007) Migraine prevalence, disease burden, and the need for preventive therapy. Neurology 68(5):343–349

4.

Natoli JL, Manack A, Dean B, Butler Q, Turkel CC, Stovner L, Lipton RB (2010) Global prevalence of chronic migraine: a systematic review. Cephalalgia 30(5):599–609

5.

Munakata J, Hazard E, Serrano D, Klingman D, Rupnow MF, Tierce J, Reed M, Lipton RB (2009) Economic burden of transformed migraine: results from the American Migraine Prevalence and Prevention (AMPP) Study. Headache 49(4):498–508

6.

Kalita J, Bhoi SK, Misra UK (2013) Amitriptyline vs divalproate in migraine prophylaxis: a randomized controlled trial. Acta Neurol Scand 128(1):65–72

7.

Jackson JL, Cogbill E, Santana-Davila R, Eldredge C, Collier W, Gradall A, Sehgal N, Kuester J (2015) A comparative effectiveness meta-analysis of drugs for the prophylaxis of migraine headache. PLoS One 10(7):e0130733

8.

Mathew NT, Jaffri SF (2009) A double-blind comparison of onabotulinumtoxina (BOTOX) and topiramate (TOPAMAX) for the prophylactic treatment of chronic migraine: a pilot study. Headache 49(10):1466–1478

9.

Bhola R, Kinsella E, Giffin N, Lipscombe S, Ahmed F, Weatherall M, Goadsby PJ (2015) Single-pulse transcranial magnetic stimulation (sTMS) for the acute treatment of migraine: evaluation of outcome data for the UK post market pilot program. J Headache Pain 16:535

10.

Misra UK, Kalita J, Bhoi SK (2013) High-rate repetitive transcranial magnetic stimulation in migraine prophylaxis: a randomized, placebo-controlled study. J Neurol 260(11):2793–2801

11.

Headache Classification Subcommittee of the International Headache Society (IHS) (2005) The International Classification of Headache Disorders. 2nd edition. 1st revision. Cephalalgia 25:460–465

12.

Headache Classification Committee of the International Headache Society (IHS) (2013) The International Classification of Headache Disorders, 3rd edition (beta version). Cephalalgia 33(9):629–808

13.

Kalita J, Yadav RK, Misra UK (2009) A comparison of migraine patients with and without allodynic symptoms. Clin J Pain 25(8):696–708

14.

Yadav RK, Kalita J, Misra UK (2010) A study of triggers of migraine in India. Pain Med 11(1):44–47

15.

Conforto AB, Amaro E Jr, Gonçalves AL, Mercante JP, Guendler VZ, Ferreira JR, Kirschner CC, Peres MF (2014) Randomized, proof-of-principle clinical trial of active transcranial magnetic stimulation in chronic migraine. Cephalalgia 34(6):464–472

16.

Misra UK, Kalita J, Bhoi SK (2012) High frequency repetitive transcranial magnetic stimulation (rTMS) is effective in migraine prophylaxis: an open labeled study. Neurol Res 34(6):547–551

17.

Brighina F, Piazza A, Vitello G, Aloisio A, Palermo A, Daniele O, Fierro B (2004) rTMS of the prefrontal cortex in the treatment of chronic migraine: a pilot study. J Neurol Sci 227(1):67–71

18.

Teepker M, Hotzel J, Timmesfeld N, Reis J, Mylius V, Haag A, Oertel WH, Rosenow F, Schepelmann K (2010) Low-frequency rTMS of the vertex in the prophylactic treatment of migraine. Cephalalgia 30(2):137–144

19.

Brighina F, de Tommaso M, Giglia F, Scalia S, Cosentino G, Puma A, Panetta M, Giglia G, Fierro B (2011) Modulation of pain perception by transcranial magnetic stimulation of left prefrontal cortex. J Headache Pain 12(2):185–191

20.

Meng FG, Zhang JG, Schoenen J, Vandersmissen B, Herroelen L, Vandenheede M, Gerard P, Magis D (2013) Migraine prevention with a supraorbital transcutaneous stimulator: a randomized controlled trial. Neurology 81(12):1102

21.

Brighina F, Palermo A, Panetta ML, Daniele O, Aloisio A, Cosentino G, Fierro B (2009) Reduced cerebellar inhibition in migraine with aura: a TMS study. Cerebellum 8(3):260–266

22.

Fumal A, Bohotin V, Vandenheede M, Schoenen J (2003) Transcranial magnetic stimulation in migraine: a review of facts and controversies. Acta Neurol Belg 103(3):144–154

23.

Klein MM, Treister R, Raij T, Pascual-Leone A, Park L, Nurmikko T et al (2015) Transcranial magnetic stimulation of the brain: guidelines for pain treatment research. Pain 156(9):1601–1614

24.

Coppola G, Currà A, Di Lorenzo C, Parisi V, Gorini M, Sava SL, Schoenen J, Pierelli F (2010) Abnormal cortical responses to somatosensory stimulation in medication-overuse headache. BMC Neurol 10:126

25.

Kropp P, Gerber WD (1993) Is increased amplitude of contingent negative variation in migraine due to cortical hyperactivity or to reduced habituation? Cephalalgia 13(1):37–41

26.

Kalita J, Bhoi SK, Misra UK (2014) Is lack of habituation of evoked potential a biological marker of migraine? Clin J Pain 30(8):724–729

27.

Fumal A, Coppola G, Bohotin V, Gérardy PY, Seidel L, Donneau AF et al (2006) Induction of long-lasting changes of visual cortex excitability by five daily sessions of repetitive transcranial magnetic stimulation (rTMS) in healthy volunteers and migraine patients. Cephalalgia 26(2):143–149

28.

Misra UK, Kalita J, Tripathi GM, Bhoi SK (2013) Is β endorphin related to migraine headache and its relief? Cephalalgia 33(5):316–322

29.

Maniyar FH, Sprenger T, Monteith T, Schankin C, Goadsby PJ (2014) Brain activation in the premonitory phase of nitroglycerin—triggered migraine attacks. Brain 137(1):232–241

30.

Czéh B, Welt T, Fischer AK, Erhardt A, Schmitt W, Müller MB, Toschi N, Fuchs E, Keck ME (2002) Chronic psychosocial stress and concomitant repetitive transcranial magnetic stimulation: effects on stress hormone levels and adult hippocampal neurogenesis. Biol Psychiatry 52(11):1057–1065

31.

Cho SS, Strafella AP (2009) rTMS of the left dorsolateral prefrontal cortex modulates dopamine release in the ipsilateral anterior cingulate cortex and orbitofrontal cortex. PLoS One 4(8):e6725

32.

Michael N, Gösling M, Reutemann M, Kersting A, Heindel W, Arolt V, Pfleiderer B (2003) Metabolic changes after repetitive transcranial magnetic stimulation (rTMS) of the left prefrontal cortex: a sham-controlled proton magnetic resonance spectroscopy (1H MRS) study of healthy brain. Eur J Neurosci 17(11):2462–2468

33.

Manack A, Buse DC, Serrano D, Turkel CC, Lipton RB (2011) Rates, predictors, and consequences of remission from chronic migraine to episodic migraine. Neurology 76(8):711–718

34.

Silberstein SD, Dodick DW, Lindblad AS, Holroyd K, Harrington M, Mathew NT et al (2012) Randomized, placebo controlled trial of propranolol added to topiramate in chronic migraine. Neurology 78(27):976–984

35.

Bussone G, Diener HC, Pfeil J, Schwalen S (2005) Topiramate 100 mg/day in migraine prevention: a pooled analysis of double-blind randomised controlled trials. Int J Clin Pract 59(8):961–968

36.

Yang CP, Chang MH, Li TC, Hsieh CL, Hwang KL, Chang HH (2013) Predicting prognostic factors in a randomized controlled trial of acupuncture versus topiramate treatment in patients with chronic migraine. Clin J Pain 29(11):982–987
Acknowledgments
We thank Mr. Rakesh Kumar Nigam and Mr. Shakti Kumar for secretarial help.
Ethics declarations
Conflicts of interest
There is no conflict of interest to declare.
Ethical approval
This study was approved by Institutional Ethics Committee, SGPGIMS, Lucknow, India.
Electronic supplementary material
Below is the link to the electronic supplementary material.
About this article
Cite this article
Kalita, J., Laskar, S., Bhoi, S.K. et al. Efficacy of single versus three sessions of high rate repetitive transcranial magnetic stimulation in chronic migraine and tension-type headache. J Neurol 263, 2238–2246 (2016). https://doi.org/10.1007/s00415-016-8257-2
Received:

Revised:

Accepted:

Published:

Issue Date:
Keywords
Chronic daily headache

Chronic tension-type headache

Chronic migraine

Magnetic stimulation

Migraine prophylaxis