Abstract
Headache attributed to ingestion of a cold stimulus (ICHD-3 beta 4.5.1) is also known as ice cream headache (ICH). This cross-sectional epidemiological study included 283 students (10–14-year-olds) attending a grammar school in Germany, their parents (n = 401), and 41 teachers. A self-administered questionnaire was used to analyze the prevalence and characteristics of ICH based on the ICHD classification. Additionally, the association between ICH and other headaches was investigated in students and parents. Prevalence of ICH in students was 62 % without gender difference. In adults, only 36 % of females and 22 % of males reported ICH. There was an increased risk for ICH in students when mother (OR 10.7) or father (OR 8.4) had ICH. Other headaches in parents had no influence on the prevalence of ICH in students. However, in the groups of students and parents itself there was a highly significant association between ICH and other headaches (students: OR 2.4, mothers: OR 2.9, fathers: OR 6.8). There was a decreased risk for ICH when parents and students had no headache at all (OR < 0.4). ICH in students clearly shows a familial disposition by both father and mother. There was also an association between ICH and other headaches within the student and adult groups. The absence of headache history seems to be a protective factor for ICH.
Access options
Buy single article
Instant access to the full article PDF.
USD 39.95
Price excludes VAT (USA)
Tax calculation will be finalised during checkout.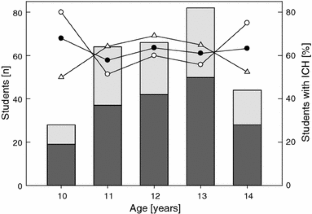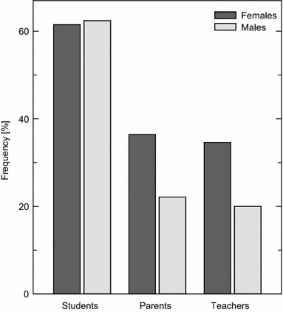 References
Headache classification subcommittee of the International Headache Society (2013) The international classification of headache disorders, 3rd edition (beta version). Cephalgia 33:629–808

Sjaastad O, Bakketeig L (2005) Hydrogen sulphide headache and other rare, global headaches: Vaga study. Cephalgia 26:466–476

Aromaa M, Sillanpää ML, Rautava P, Helenius H (1998) Childhood headache at school entry: a controlled clinical study. Neurology 50:1729–1736

Fuh JL, Wang SJ, Lu SR, Juang KD (2003) Ice-cream headache–a large survey of 8359 adolescents. Cephalalgia 10:977–981

Kaczorowski M, Kaczorowski J (2002) Ice cream evoked headaches (ICE-H) study: randomised trial of accelerated versus cautious ice cream eating regimen. BMJ 325:1445–1446

Mattson P (2001) Headache caused by drinking cold water is common and related to active migraine. Cephalgia 21:230–235

De Oliveira DA, Valenca MM (2012) The characteristics of head pain in response to an experimental cold stimulus to the palate: an observational study of 414 volunteers. Cephalgia 15:1123–1130

Bird N, MacGregor EA, Wilkinson MI (1992) Ice cream headache–site, duration, and relationship to migraine. Headache 1:35–38

Raskin NH, Knittle SC (1976) Ice-cream headache and ortostatic symptoms in patients with migraine. Headache 16:222–225

Drummond PD, Lance JW (1984) Neurovascular disturbances in headache patients. Clin Exp Neurol 30:93–94

Selekler HM, Erdogan MS, Budak F (2004) Prevalence and clinical characteristics of an experimental model of 'ice-cream headache' in migraine and episodic tension-type headache patients. Cephalalgia 4:293–297
Ethics declarations
Conflicts of interest
The authors declare that they have no conflict of interest.
Ethical standard
This means that the study has compliance with the ethical standards of the Medical Faculty.
About this article
Cite this article
Zierz, A.M., Mehl, T., Kraya, T. et al. Ice cream headache in students and family history of headache: a cross-sectional epidemiological study. J Neurol 263, 1106–1110 (2016). https://doi.org/10.1007/s00415-016-8098-z
Received:

Revised:

Accepted:

Published:

Issue Date:

DOI: https://doi.org/10.1007/s00415-016-8098-z
Keywords
Ice cream headache

Cold induced headache

Prevalence

Students

Family history