Abstract
Almost 20 % of cerebral ischaemic strokes occur in the posterior circulation. Estimates are that 20 % of these patients present with isolated vertigo. In approximately one-sixth to one-third of these patients, this symptom is wrongly diagnosed to be peripheral vestibular in origin. As a result, these missed stroke patients are withheld from therapeutic and secondary prophylactic treatment, which may result in unnecessary morbidity and mortality. We therefore propose a diagnostic algorithm concerning the clinical differentiation of acute vestibular syndrome (AVS) patients based on a critical review of the available literature.
This is a preview of subscription content, log in to check access.
Access options
Buy single article
Instant access to the full article PDF.
US$ 39.95
Price includes VAT for USA
Subscribe to journal
Immediate online access to all issues from 2019. Subscription will auto renew annually.
US$ 199
This is the net price. Taxes to be calculated in checkout.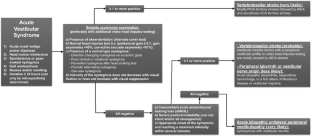 References
1.

Nouh A, Remke J, Ruland S (2014) Ischemic posterior circulation stroke: a review of anatomy, clinical presentations, diagnosis, and current management. Front Neurol. doi:10.3389/fneur.2014.00030

2.

Venhovens J, Meulstee J, Verhagen WIM (2016) Vestibular evoked myogenic potentials (VEMPs) in central neurological disorders. Clin Neurophysiol 127:40–49. doi:10.1016/j.clinph.2014.12.021

3.

Kim MB, Boo SH, Ban JH (2013) Nystagmus-based approach to vertebrobasilar stroke presenting as vertigo without initial neurologic signs. Eur Neurol 70:322–328. doi:10.1159/000353285

4.

Seemungal BM, Bronstein AM (2008) A practical approach to acute vertigo. Pract Neurol 8:211–221. doi:10.1136/jnnp.2008.154799

5.

Kim JS, Lee H (2013) Vertigo due to posterior circulation stroke. Semin Neurol 33:179–184. doi:10.1055/s-0033-1354600

6.

Grewal K, Austin PC, Kapral MK et al (2015) Missed strokes using computed tomography imaging in patients with vertigo: population-based cohort study. Stroke 46:108–113. doi:10.1161/STROKEAHA.114.007087

7.

Kerber KA, Brown DL, Lisabeth LD et al (2006) Stroke among patients with dizziness, vertigo, and imbalance in the emergency department: a population-based study. Stroke 37:2484–2487. doi:10.1161/01.STR.0000240329.48263.0d

8.

Lee H, Sohn SI, Cho YW et al (2006) Cerebellar infarction presenting isolated vertigo: frequency and vascular topographical patterns. Neurology 67:1178–1183. doi:10.1212/01.wnl.0000238500.02302.b4

9.

Lee H (2014) Isolated vascular vertigo. J Stroke 16:124–130. doi:10.5853/jos.2014.16.3.124

10.

Tehrani ASS, Kattah JC, Mantokoudis G et al (2014) Small strokes causing severe vertigo: frequency of false-negative MRIs and nonlacunar mechanisms. Neurology 83:169–173. doi:10.1212/WNL.0000000000000573

11.

Newman-Toker DE, Kerber KA, Hsieh YH et al (2013) HINTS outperforms ABCD2 to screen for stroke in acute continuous vertigo and dizziness. Acad Emerg Med 20:987–996. doi:10.1111/acem.12223

12.

Newman-Toker DE, Saber Tehrani AS, Mantokoudis G et al (2013) Quantitative video-oculography to help diagnose stroke in acute vertigo and dizziness: toward an ECG for the eyes. Stroke 44:1158–1161. doi:10.1161/STROKEAHA.111.000033

13.

Mantokoudis G, Tehrani ASS, Wozniak A et al (2015) VOR gain by head impulse video-oculography differentiates acute vestibular neuritis from stroke. Otol Neurotol 36:457–465. doi:10.1097/MAO.0000000000000638

14.

Cohn B (2014) Can bedside oculomotor (HINTS) testing differentiate central from peripheral causes of vertigo? Ann Emerg Med 64:265–268. doi:10.1016/j.annemergmed.2014.01.010

15.

Kohn MA (2014) HINTS to identify stroke in ED patients with dizziness. Acad Emerg Med 21:347. doi:10.1111/acem.12339

16.

Edlow JA (2013) Diagnosing dizziness: we are teaching the wrong paradigm! Acad Emerg Med 20:1064–1066. doi:10.1111/acem.12234

17.

Kattah JC, Talkad AV, Wang DZ et al (2009) HINTS to diagnose stroke in the acute vestibular syndrome: three-step bedside oculomotor examination more sensitive than early MRI diffusion-weighted imaging. Stroke 40:3504–3510. doi:10.1161/STROKEAHA.109.551234

18.

Newman-Toker DE, Curthoys IS, Halmagyi GM (2015) Diagnosing stroke in acute vertigo: the HINTS family of eye movement tests and the future of the "Eye ECG". Semin Neurol 35:506–521. doi:10.1055/s-0035-1564298

19.

Newman-Toker DE (2016) Missed stroke in acute vertigo and dizziness: it is time for action, not debate. Ann Neurol 79:27–31. doi:10.1002/ana.24532

20.

Tarnutzer AA, Berkowitz AL, Robinson KA et al (2011) Does my dizzy patient have a stroke? A systematic review of bedside diagnosis in acute vestibular syndrome. CMAJ 183:E571–E592. doi:10.1503/cmaj.100174

21.

Chen L, Lee W, Chambers BR, Dewey HM (2011) Diagnostic accuracy of acute vestibular syndrome at the bedside in a stroke unit. J Neurol 258:855–861. doi:10.1007/s00415-010-5853-4

22.

Akhtar N, Kamran SI, Deleu D et al (2009) Ischaemic posterior circulation stroke in State of Qatar. Eur J Neurol 16:1004–1009. doi:10.1111/j.1468-1331.2009.02709.x

23.

Searls DE (2012) Symptoms and signs of posterior circulation ischemia in the new England medical center posterior circulation registry. Arch Neurol 69:346. doi:10.1001/archneurol.2011.2083

24.

Brandt T, Dieterich M (1993) Vestibular falls. J Vestib Res 3:3–14

25.

Jeong SH, Kim HJ, Kim JS (2013) Vestibular neuritis. Semin Neurol 33:185–194. doi:10.1055/s-0033-1354598

26.

Lee H, Sohn SI, Jung DK et al (2002) Sudden deafness and anterior inferior cerebellar artery infarction. Stroke 33:2807–2812

27.

Lee H (2012) Audiovestibular loss in anterior inferior cerebellar artery territory infarction: a window to early detection? J Neurol Sci 313:153–159. doi:10.1016/j.jns.2011.08.039

28.

Lee H, Kim JS, Chung EJ et al (2009) Infarction in the territory of anterior inferior cerebellar artery: spectrum of audiovestibular loss. Stroke 40:3745–3751. doi:10.1161/STROKEAHA.109.564682

29.

Venhovens J, Meulstee J, Verhagen WIM (2015) The negative predictive value of the head impulse test, nystagmus, and test of skew deviation bedside oculomotor examination in acute vestibular syndrome. Ann Emerg Med 66:91–92. doi:10.1016/j.annemergmed.2015.03.009

30.

Chen L, Todd M, Halmagyi GM, Aw S (2014) Head impulse gain and saccade analysis in pontine-cerebellar stroke and vestibular neuritis. Neurology 83:1513–1522. doi:10.1212/WNL.0000000000000906

31.

Kerber KA, Meurer WJ, Brown DL et al (2015) Stroke risk stratification in acute dizziness presentations: a prospective imaging-based study. Neurology 85:1869–1878. doi:10.1212/WNL.0000000000002141
Ethics declarations
Conflicts of interest
None to be disclosed.
About this article
Cite this article
Venhovens, J., Meulstee, J. & Verhagen, W.I.M. Acute vestibular syndrome: a critical review and diagnostic algorithm concerning the clinical differentiation of peripheral versus central aetiologies in the emergency department. J Neurol 263, 2151–2157 (2016). https://doi.org/10.1007/s00415-016-8081-8
Received:

Revised:

Accepted:

Published:

Issue Date:
Keywords
Acute vestibular syndrome (AVS)

HINTS

Head impulse test (HIT)

Vertigo

Vertebrobasilar stroke