Abstract
Friedreich ataxia (FRDA) is due to a triplet repeat expansion in FXN, resulting in deficiency of the mitochondrial protein frataxin. Resveratrol is a naturally occurring polyphenol, identified to increase frataxin expression in cellular and mouse models of FRDA and has anti-oxidant properties. This open-label, non-randomized trial evaluated the effect of two different doses of resveratrol on peripheral blood mononuclear cell (PBMC) frataxin levels over a 12-week period in individuals with FRDA. Secondary outcome measures included PMBC FXN mRNA, oxidative stress markers, and clinical measures of disease severity. Safety and tolerability were studied. Twenty-four participants completed the study; 12 received low-dose resveratrol (1 g daily) and 12 high-dose resveratrol (5 g daily). PBMC frataxin levels did not change in either dosage group [low-dose group change: 0.08 pg/μg protein (95 % CI −0.05, 0.21, p = 0.21); high-dose group change: 0.03 pg/μg protein (95 % CI −0.10, 0.15, p = 0.62)]. Improvement in neurologic function was evident in the high-dose group [change in Friedreich Ataxia Rating Scale −3.4 points, 95 % CI (−6.6, −0.3), p = 0.036], but not the low-dose group. Significant improvements in audiologic and speech measures, and in the oxidative stress marker plasma F2-isoprostane were demonstrated in the high-dose group only. There were no improvements in cardiac measures or patient-reported outcome measures. No serious adverse events were recorded. Gastrointestinal side-effects were a common, dose-related adverse event. This open-label study shows no effect of resveratrol on frataxin levels in FRDA, but suggests that independent positive clinical and biologic effects of high-dose resveratrol may exist. Further assessment of efficacy is warranted in a randomized placebo-controlled trial.
Access options
Buy single article
Instant access to the full article PDF.
USD 39.95
Price includes VAT (USA)
Tax calculation will be finalised during checkout.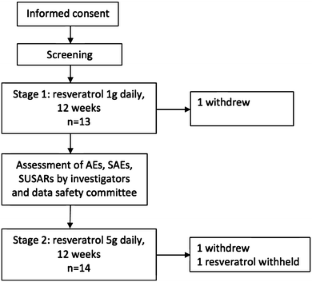 References
1.

Durr A, Cossee M, Agid Y, Campuzano V, Mignard C, Penet C, Mandel JL, Brice A, Koenig M (1996) Clinical and genetic abnormalities in patients with Friedreich's ataxia. N Engl J Med 335:1169–1175

2.

Campuzano V, Montermini L, Molto MD, Pianese L, Cossee M, Cavalcanti F, Monros E, Rodius F, Duclos F, Monticelli A, Zara F, Canizares J, Koutnikova H, Bidichandani SI, Gellera C, Brice A, Trouillas P, De Michele G, Filla A, De Frutos R, Palau F, Patel PI, Di Donato S, Mandel JL, Cocozza S, Koenig M, Pandolfo M (1996) Friedreich's ataxia: autosomal recessive disease caused by an intronic GAA triplet repeat expansion. Science 271:1423–1427

3.

Campuzano V, Montermini L, Lutz Y, Cova L, Hindelang C, Jiralerspong S, Trottier Y, Kish SJ, Faucheux B, Trouillas P, Authier FJ, Durr A, Mandel JL, Vescovi A, Pandolfo M, Koenig M (1997) Frataxin is reduced in Friedreich ataxia patients and is associated with mitochondrial membranes. Hum Mol Genet 6:1771–1780

4.

Marmolino D (2011) Friedreich's ataxia: past, present and future. Brain Res Rev 67:311–330

5.

Willis JH, Isaya G, Gakh O, Capaldi RA, Marusich MF (2008) Lateral-flow immunoassay for the frataxin protein in Friedreich's ataxia patients and carriers. Mol Genet Metab 94:491–497

6.

Vang O, Ahmad N, Baile CA, Baur JA, Brown K, Csiszar A, Das DK, Delmas D, Gottfried C, Lin HY, Ma QY, Mukhopadhyay P, Nalini N, Pezzuto JM, Richard T, Shukla Y, Surh YJ, Szekeres T, Szkudelski T, Walle T, Wu JM (2011) What is new for an old molecule? Systematic review and recommendations on the use of resveratrol. PLoS One 6:e19881

7.

Cottart CH, Nivet-Antoine V, Beaudeux JL (2014) Review of recent data on the metabolism, biological effects, and toxicity of resveratrol in humans. Mol Nutr Food Res 58:7–21

8.

Li L, Voullaire L, Sandi C, Pook MA, Ioannou PA, Delatycki MB, Sarsero JP (2013) Pharmacological screening using an FXN-EGFP cellular genomic reporter assay for the therapy of Friedreich ataxia. PLoS One 8:e55940

9.

Subramony SH, May W, Lynch D, Gomez C, Fischbeck K, Hallett M, Taylor P, Wilson R, Ashizawa T (2005) Measuring Friedreich ataxia: interrater reliability of a neurologic rating scale. Neurology 64:1261–1262

10.

Chow HH, Garland LL, Hsu CH, Vining DR, Chew WM, Miller JA, Perloff M, Crowell JA, Alberts DS (2010) Resveratrol modulates drug- and carcinogen-metabolizing enzymes in a healthy volunteer study. Cancer Prev Res (Phila) 3:1168–1175

11.

la Porte C, Voduc N, Zhang G, Seguin I, Tardiff D, Singhal N, Cameron DW (2010) Steady-State pharmacokinetics and tolerability of trans-resveratrol 2000 mg twice daily with food, quercetin and alcohol (ethanol) in healthy human subjects. Clin Pharmacokinet 49:449–454

12.

Popat R, Plesner T, Davies F, Cook G, Cook M, Elliott P, Jacobson E, Gumbleton T, Oakervee H, Cavenagh J (2013) A phase 2 study of SRT501 (resveratrol) with bortezomib for patients with relapsed and or refractory multiple myeloma. Br J Haematol 160:714–717

13.

Steinkellner H, Scheiber-Mojdehkar B, Goldenberg H, Sturm B (2010) A high throughput electrochemiluminescence assay for the quantification of frataxin protein levels. Anal Chim Acta 659:129–132

14.

Evans-Galea MV, Carrodus N, Rowley SM, Corben LA, Tai G, Saffery R, Galati JC, Wong NC, Craig JM, Lynch DR, Regner SR, Brocht AF, Perlman SL, Bushara KO, Gomez CM, Wilmot GR, Li L, Varley E, Delatycki MB, Sarsero JP (2012) FXN methylation predicts expression and clinical outcome in Friedreich ataxia. Ann Neurol 71:487–497

15.

Nestel PJ, Mellett N, Pally S, Wong G, Barlow CK, Croft K, Mori TA, Meikle PJ (2013) Effects of low-fat or full-fat fermented and non-fermented dairy foods on selected cardiovascular biomarkers in overweight adults. Br J Nutr 110:2242–2249

16.

Lee KF, Chung WY, Benzie IF (2010) Urine 8-oxo-7,8-dihydro-2′-deoxyguanosine (8-oxodG), a specific marker of oxidative stress, using direct, isocratic LC-MS/MS: method evaluation and application in study of biological variation in healthy adults. Clin Chim Acta 411:416–422

17.

Trouillas P, Takayanagi T, Hallett M, Currier RD, Subramony SH, Wessel K, Bryer A, Diener HC, Massaquoi S, Gomez CM, Coutinho P, Ben Hamida M, Campanella G, Filla A, Schut L, Timann D, Honnorat J, Nighoghossian N, Manyam B (1997) International Cooperative Ataxia Rating Scale for pharmacological assessment of the cerebellar syndrome. The Ataxia Neuropharmacology Committee of the World Federation of Neurology. J Neurol Sci 145:205–211

18.

Schmitz-Hubsch T, du Montcel ST, Baliko L, Berciano J, Boesch S, Depondt C, Giunti P, Globas C, Infante J, Kang JS, Kremer B, Mariotti C, Melegh B, Pandolfo M, Rakowicz M, Ribai P, Rola R, Schols L, Szymanski S, van de Warrenburg BP, Durr A, Klockgether T, Fancellu R (2006) Scale for the assessment and rating of ataxia: development of a new clinical scale. Neurology 66:1717–1720

19.

Lynch DR, Farmer JM, Tsou AY, Perlman S, Subramony SH, Gomez CM, Ashizawa T, Wilmot GR, Wilson RB, Balcer LJ (2006) Measuring Friedreich ataxia: complementary features of examination and performance measures. Neurology 66:1711–1716

20.

Rance G, Fava R, Baldock H, Chong A, Barker E, Corben L, Delatycki MB (2008) Speech perception ability in individuals with Friedreich ataxia. Brain 131:2002–2012

21.

Vogel AP, Fletcher J, Snyder PJ, Fredrickson A, Maruff P (2011) Reliability, stability, and sensitivity to change and impairment in acoustic measures of timing and frequency. J Voice 25:137–149

22.

Cano SJ, Riazi A, Schapira AH, Cooper JM, Hobart JC (2009) Friedreich's ataxia impact scale: a new measure striving to provide the flexibility required by today's studies. Mov Disord 24:984–992

23.

Ware JE, Kosinski MA, Dewey JE (2000) How to score version 2 of the SF-36 health survey. Quality Metric Inc, Lincoln

24.

Mottram PM, Delatycki MB, Donelan L, Gelman JS, Corben L, Peverill RE (2011) Early changes in left ventricular long-axis function in Friedreich ataxia: relation with the FXN gene mutation and cardiac structural change. J Am Soc Echocardiogr 24:782–789

25.

Boocock DJ, Faust GE, Patel KR, Schinas AM, Brown VA, Ducharme MP, Booth TD, Crowell JA, Perloff M, Gescher AJ, Steward WP, Brenner DE (2007) Phase I dose escalation pharmacokinetic study in healthy volunteers of resveratrol, a potential cancer chemopreventive agent. Cancer Epidemiol Biomarkers Prev 16:1246–1252

26.

Nachbauer W, Wanschitz J, Steinkellner H, Eigentler A, Sturm B, Hufler K, Scheiber-Mojdehkar B, Poewe W, Reindl M, Boesch S (2011) Correlation of frataxin content in blood and skeletal muscle endorses frataxin as a biomarker in Friedreich ataxia. Mov Disord 26:1935–1938

27.

Price NL, Gomes AP, Ling AJ, Duarte FV, Martin-Montalvo A, North BJ, Agarwal B, Ye L, Ramadori G, Teodoro JS, Hubbard BP, Varela AT, Davis JG, Varamini B, Hafner A, Moaddel R, Rolo AP, Coppari R, Palmeira CM, de Cabo R, Baur JA, Sinclair DA (2012) SIRT1 is required for AMPK activation and the beneficial effects of resveratrol on mitochondrial function. Cell Metab 15:675–690

28.

Metz G, Coppard N, Cooper JM, Delatycki MB, Durr A, Di Prospero NA, Giunti P, Lynch DR, Schulz JB, Rummey C, Meier T (2013) Rating disease progression of Friedreich's ataxia by the International Cooperative Ataxia Rating Scale: analysis of a 603-patient database. Brain 136:259–268

29.

Fahey MC, Corben L, Collins V, Churchyard AJ, Delatycki MB (2007) How is disease progress in Friedreich's ataxia best measured? A study of four rating scales. J Neurol Neurosurg Psychiatry 78:411–413

30.

Friedman LS, Farmer JM, Perlman S, Wilmot G, Gomez CM, Bushara KO, Mathews KD, Subramony SH, Ashizawa T, Balcer LJ, Wilson RB, Lynch DR (2010) Measuring the rate of progression in Friedreich ataxia: implications for clinical trial design. Mov Disord 25:426–432

31.

Hubbard BP, Gomes AP, Dai H, Li J, Case AW, Considine T, Riera TV, Lee JE, SY E, Lamming DW, Pentelute BL, Schuman ER, Stevens LA, Ling AJ, Armour SM, Michan S, Zhao H, Jiang Y, Sweitzer SM, Blum CA, Disch JS, Ng PY, Howitz KT, Rolo AP, Hamuro Y, Moss J, Perni RB, Ellis JL, Vlasuk GP, Sinclair DA (2013) Evidence for a common mechanism of SIRT1 regulation by allosteric activators. Science 339:1216–1219

32.

Haigis MC, Sinclair DA (2010) Mammalian sirtuins: biological insights and disease relevance. Annu Rev Pathol 5:253–295

33.

Coppola G, Marmolino D, Lu D, Wang Q, Cnop M, Rai M, Acquaviva F, Cocozza S, Pandolfo M, Geschwind DH (2009) Functional genomic analysis of frataxin deficiency reveals tissue-specific alterations and identifies the PPARgamma pathway as a therapeutic target in Friedreich's ataxia. Hum Mol Genet 18:2452–2461

34.

Marmolino D, Acquaviva F, Pinelli M, Monticelli A, Castaldo I, Filla A, Cocozza S (2009) PPAR-gamma agonist Azelaoyl PAF increases frataxin protein and mRNA expression: new implications for the Friedreich's ataxia therapy. Cerebellum 8:98–103

35.

Marmolino D, Manto M, Acquaviva F, Vergara P, Ravella A, Monticelli A, Pandolfo M (2010) PGC-1alpha down-regulation affects the antioxidant response in Friedreich's ataxia. PLoS ONE 5:e10025

36.

Ren J, Fan C, Chen N, Huang J, Yang Q (2011) Resveratrol pretreatment attenuates cerebral ischemic injury by upregulating expression of transcription factor Nrf2 and HO-1 in rats. Neurochem Res 36:2352–2362

37.

Brown VA, Patel KR, Viskaduraki M, Crowell JA, Perloff M, Booth TD, Vasilinin G, Sen A, Schinas A, Piccirilli G, Brown K, Steward W, Gescher AJ, Brenner DE (2010) Repeat dose study of the cancer chemopreventive agent resveratrol in healthy volunteers: safety, pharmacokinetics, and effect on the insulin-like growth factor axis. Cancer Res 70:9003–9011

38.

Howells LM, Berry DP, Elliott PJ, Jacobson EW, Hoffmann E, Hegarty B, Brown K, Steward WP, Gescher AJ (2011) Phase I randomized, double-blind pilot study of micronized resveratrol (SRT501) in patients with hepatic metastases—safety, pharmacokinetics, and pharmacodynamics. Cancer Prev Res (Phila) 4:1419–1425
Acknowledgments
This study was funded by the Kyle Bryant Translational Research Award, Friedreich Ataxia Research Alliance (USA). The authors gratefully acknowledge the participants of this study. This work was made possible through Victorian State Government Operational Infrastructure Support and Australian Government NHMRC IRIISS.
Conflicts of interest
Dr. Yiu is supported by a National Health & Medical Research Council of Australia (NHMRC) Early Career Fellowship. Ms. Tai reports no disclosures. Dr. Peverill reports no disclosures. Dr. Lee reports no disclosures. Dr. Croft reports no disclosures. Dr. Mori reports no disclosures. Dr. Scheiber-Mojdehkar reports no disclosures. Dr. Sturm reports no disclosures. Ms. Praschberger reports no disclosures. Dr. Vogel is a former employee of CogState Ltd, a company that provides services to the pharmaceutical industry, and owns CogState stock. Dr. Vogel has received salary support from the NHMRC. Dr. Rance reports no disclosures. Ms. Stephenson reports no disclosures. Dr. Sarsero receives research support from the Friedreich's Ataxia Research Alliance (USA), Muscular Dystrophy Association (USA) and National Ataxia Foundation (USA). Ms. Stockley reports no disclosures. Dr. Lee reports no disclosures. Dr. Churchyard reports no disclosures. Dr. Evans-Galea receives grant support and personal fees from the NHMRC. Dr. Ryan receives research support from NHMRC. Dr. Lockhart is supported by an NHMRC Career Development Fellowship. Dr. Corben is supported by an NHMRC Early Career Fellowship. Dr. Delatycki receives grant support from the Friedreich Ataxia Research Alliance and the NHMRC.
Electronic supplementary material
Below is the link to the electronic supplementary material.
About this article
Cite this article
Yiu, E.M., Tai, G., Peverill, R.E. et al. An open-label trial in Friedreich ataxia suggests clinical benefit with high-dose resveratrol, without effect on frataxin levels. J Neurol 262, 1344–1353 (2015). https://doi.org/10.1007/s00415-015-7719-2
Received:

Revised:

Accepted:

Published:

Issue Date:
Keywords
Friedreich ataxia

Clinical trial

Resveratrol

Oxidative stress

Mitochondrial disorder