Abstract
Predicting unfavorable outcome is of paramount importance in clinical decision making. Accordingly, we designed this multinational study, which provided the largest case series of tuberculous meningitis (TBM). 43 centers from 14 countries (Albania, Croatia, Denmark, Egypt, France, Hungary, Iraq, Italy, Macedonia, Romania, Serbia, Slovenia, Syria, Turkey) submitted data of microbiologically confirmed TBM patients hospitalized between 2000 and 2012. Unfavorable outcome was defined as survival with significant sequela or death. In developing our index, binary logistic regression models were constructed via 200 replicates of database by bootstrap resampling methodology. The final model was built according to the selection frequencies of variables. The severity scale included variables with arbitrary scores proportional to predictive powers of terms in the final model. The final model was internally validated by bootstrap resampling. A total of 507 patients' data were submitted among which 165 had unfavorable outcome. Eighty-six patients died while 119 had different neurological sequelae in 79 (16 %) patients. The full model included 13 variables. Age, nausea, vomiting, altered consciousness, hydrocephalus, vasculitis, immunosuppression, diabetes mellitus and neurological deficit remained in the final model. Scores 1–3 were assigned to the variables in the severity scale, which included scores of 1–6. The distribution of mortality for the scores 1–6 was 3.4, 8.2, 20.6, 31, 30 and 40.1 %, respectively. Altered consciousness, diabetes mellitus, immunosuppression, neurological deficits, hydrocephalus, and vasculitis predicted the unfavorable outcome in the scoring and the cumulative score provided a linear estimation of prognosis.
This is a preview of subscription content,
to check access.
Access this article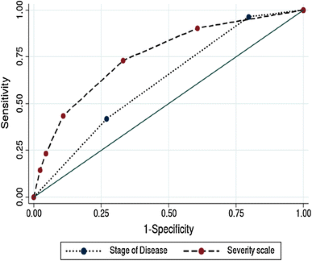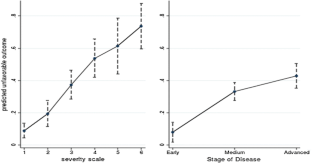 References
(1948) Streptomycin treatment of tuberculous meningitis. Lancet 1:582–596

(2012) WHO global tuberculosis report. WHO Press, Switzerland

Alarcon F, Moreira J, Rivera J, Salinas R, Duenas G, Van den Ende J (2013) Tuberculous meningitis: do modern diagnostic tools offer better prognosis prediction? Indian J Tuberc 60:5–14

Brancusi F, Farrar J, Heemskerk D (2012) Tuberculous meningitis in adults: a review of a decade of developments focusing on prognostic factors for outcome. Future Microbiol 7:1101–1116

Chou CH, Lin GM, Ku CH, Chang FY (2010) Comparison of the APACHE II, GCS and MRC scores in predicting outcomes in patients with tuberculous meningitis. Int J Tuberc Lung Dis 14:86–92

Christensen AS, Roed C, Omland LH, Andersen PH, Obel N, Andersen AB (2011) Long-term mortality in patients with tuberculous meningitis: a Danish nationwide cohort study. PLoS One 6:e27900

Ducomble T, Tolksdorf K, Karagiannis I, Hauer B, Brodhun B, Haas W, Fiebig L (2013) The burden of extrapulmonary and meningitis tuberculosis: an investigation of national surveillance data, Germany, 2002 to 2009. Euro Surveill 18

Erdem H, Ozturk-Engin D, Elaldi N, Gulsun S, Sengoz G, Crisan A, Somuncu-Johansen I (2014) The microbiological diagnosis of tuberculosis meningitis: results of Haydarpasa-1 study. Clin Microb Infect 20:O600–O608

Fitzgerald DW, Sterling TR, Haas DW (2010) Mycobacterium tuberculosis. In: Mandell GL, Bennett JE, Dolin R (eds) Mandell, Douglas, and Bennett's principles and practice of infectious diseases. Churchill Livingstone, Philadelphia, pp 3129–3163

Hosoglu S, Geyik MF, Balik I, Aygen B, Erol S, Aygencel TG, Mert A, Saltoglu N, Dokmetas I, Felek S, Sunbul M, Irmak H, Aydin K, Kokoglu OF, Ucmak H, Altindis M, Loeb M (2002) Predictors of outcome in patients with tuberculous meningitis. Int J Tuberc Lung Dis 6:64–70

Hsu PC, Yang CC, Ye JJ, Huang PY, Chiang PC, Lee MH (2010) Prognostic factors of tuberculous meningitis in adults: a 6-year retrospective study at a tertiary hospital in northern Taiwan. J Microbiol Immunol Infect 43:111–118

Humphries MJ, Teoh R, Lau J, Gabriel M (1990) Factors of prognostic significance in Chinese children with tuberculous meningitis. Tubercle 71:161–168

Joseph FG, Scolding NJ (2007) Cerebral vasculitis a practical approach. Pract Neurol 2:80–93

Joseph L, Belisle P, Tamim H, Sampalis JS (2004) Selection bias found in interpreting analyses with missing data for the prehospital index for trauma. J Clin Epidemiol 57:147–153

Kalita J, Misra UK (1998) EEG changes in tuberculous meningitis: a clinicoradiological correlation. Electroencephalogr Clin Neurophysiol 107:39–43

Kalita J, Misra UK (1999) Outcome of tuberculous meningitis at 6 and 12 months: a multiple regression analysis. Int J Tuberc Lung Dis 3:261–265

Misra UK, Kalita J, Roy AK, Mandal SK, Srivastava M (2000) Role of clinical, radiological, and neurophysiological changes in predicting the outcome of tuberculous meningitis: a multivariable analysis. J Neurol Neurosurg Psychiatry 68:300–303

Misra UK, Kalita J, Srivastava M, Mandal SK (1996) Prognosis of tuberculous meningitis: a multivariate analysis. J Neurol Sci 137:57–61

Raut T, Garg RK, Jain A, Verma R, Singh MK, Malhotra HS, Kohli N, Parihar A (2013) Hydrocephalus in tuberculous meningitis: incidence, its predictive factors and impact on the prognosis. J Infect 66:330–337

Sauerbrei W, Schumacher M (1992) A bootstrap resampling procedure for model building: application to the Cox regression model. Stat Med 11:2093–2109

Steyerberg EW, Harrell FE Jr, Borsboom GJ, Eijkemans MJ, Vergouwe Y, Habbema JD (2001) Internal validation of predictive models: efficiency of some procedures for logistic regression analysis. J Clin Epidemiol 54:774–781

Tan EK, Chee MW, Chan LL, Lee YL (1999) Culture positive tuberculous meningitis: clinical indicators of poor prognosis. Clin Neurol Neurosurg 101:157–160

White IR, Royston P, Wood AM (2011) Multiple imputation using chained equations: issues and guidance for practice. Stat Med 30:377–399

Yasar KK, Pehlivanoglu F, Sengoz G (2010) Predictors of mortality in tuberculous meningitis: a multivariate analysis of 160 cases. Int J Tuberc Lung Dis 14:1330–1335
Acknowledgments
We would like to thank Patrick Royston, an honorary professor of statistics in the Department of Statistical Science at University College of London, for his guidance in statistics, and for the valuable contributions he made in reviewing the statistical method and results of the study.
Conflicts of interest
We have no competing interests to declare.
Ethical standard
The Institutional Review Board of Fatih Sultan Mehmet Training and Research Hospital in Istanbul approved the study protocol.
About this article
Cite this article
Erdem, H., Ozturk-Engin, D., Tireli, H. et al. Hamsi scoring in the prediction of unfavorable outcomes from tuberculous meningitis: results of Haydarpasa-II study. J Neurol 262, 890–898 (2015). https://doi.org/10.1007/s00415-015-7651-5
Received:

Revised:

Accepted:

Published:

Issue Date:

DOI: https://doi.org/10.1007/s00415-015-7651-5
Keywords