Abstract
Peripheral neuropathic pain (PNP) poses a significant clinical challenge. The long-term efficacy of delta-9-tetrahydrocannabinol (THC)/cannabidiol (CBD) oromucosal spray was investigated in this 38-week open-label extension study. In total, 380 patients with PNP associated with diabetes or allodynia entered this study from two parent randomised, controlled trials. Patients received THC/CBD spray for a further 38 weeks in addition to their current analgesic therapy. Neuropathic pain severity was the primary efficacy measure using a pain 0–10 numerical rating scale (NRS). Additional efficacy, safety and tolerability outcomes were also investigated. In total, 234 patients completed the study (62 %). The pain NRS showed a decrease in score over time in patients from a mean of 6.9 points (baseline in the parent studies) to a mean of 4.2 points (end of open-label follow-up). The proportion of patients who reported at least a clinically relevant 30 % improvement in pain continued to increase with time (up to 9 months); at least half of all patients reported a 30 % improvement at all time points. Improvements were observed for all secondary efficacy outcomes, including sleep quality 0–10 NRS scores, neuropathic pain scale scores, subject global impression of change and EQ-5D questionnaire scores. THC/CBD spray was well tolerated for the study duration and patients did not seek to increase their dose with time, with no new safety concerns arising from long-term use. In this previously difficult to manage patient population, THC/CBD spray was beneficial for the majority of patients with PNP associated with diabetes or allodynia.
This is a preview of subscription content, log in to check access.
Access options
Buy single article
Instant access to the full article PDF.
US$ 39.95
Price includes VAT for USA
Subscribe to journal
Immediate online access to all issues from 2019. Subscription will auto renew annually.
US$ 199
This is the net price. Taxes to be calculated in checkout.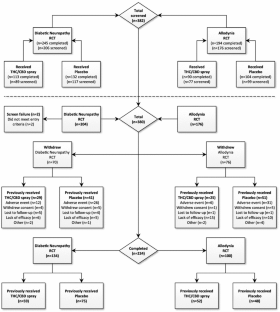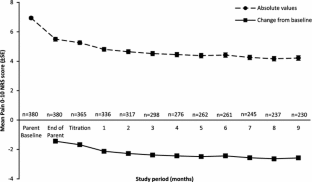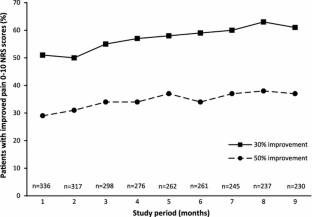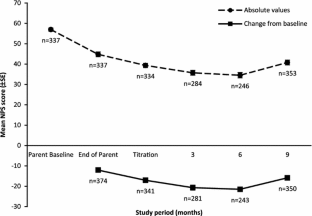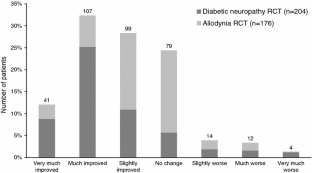 References
1.

Backonja M, Serra J (2004) Pharmacologic management part 1: better studied neuropathic pain diseases. Pain Medicine 5(Suppl 1):S28–S47

2.

Jensen TS, Gottrup H, Sindrup SH, Bach FW (2001) The clinical picture of neuropathic pain. Eur J Pharmacol 429(1–3):1–11

3.

Woolf CJ, Max BM (2001) Mechanism-based pain diagnosis. Anaesthesiology 95(1):241–249

4.

Pertwee RG (1997) Pharmacology of cannabinoid CB1 and CB2 receptors. Pharmacol Ther 74(2):129–180

5.

Russo EB (2011) Taming THC: potential cannabis synergy and phytocannabinoid-terpenoid entourage effects. Br J Pharmacol 163(7):1344–1364

6.

(2010) MHRA Public Assessment Report Decentralised Procedure, Sativex Oromucosal Spray, UK/H/2462/001/DC. http://www.mhra.gov.uk/home/groups/par/documents/websiteresources/con084961.pdf. Accessed 17 June 2014

7.

Welch SP, Stevens DL (1992) Antinociceptive activity of intrathecally administered cannabinoids alone, and in combination with morphine, in mice. J Pharmacol Exp Ther 262(1):10–18

8.

Smith FL, Cichewicz D, Martin ZL, Welch SP (1998) The enhancement of morphine antinociception in mice by delta-9-tetrahydrocannabinol. Pharmacol Biochem Behav 60(2):559–566

9.

Reche I, Fuentes JA, Ruiz-Gayo M (1996) Potentiation of delta-9-tetrahydrocannabinol-induced analgesia by morphine in mice: involvement of mu- and kappa-opioid receptors. Eur J Pharmacol 318(1):11–16

10.

Bushlin I, Rozenfeld R, Devi LA (2010) Cannabinoid-opioid interactions during neuropathic pain and analgesia. Curr Opin Pharmacol 10(1):80–86

11.

Svendsen KB, Jensen TS, Bach FW (2004) Does the cannabinoid dronabinol reduce central pain in multiple sclerosis? Randomised double blind placebo controlled crossover trial. BMJ 329(7460):253–260

12.

Karst M, Salim K, Burstein S, Conrad I, Hoy L, Schneider U (2003) Analgesic effect of the synthetic cannabinoid CT3 on chronic neuropathic pain: a randomized controlled trial. JAMA 290(13):1757–1762

13.

Rog DJ, Nurmikko TJ, Friede T, Young CA (2005) Randomized, controlled trial of cannabis-based medicine in central pain in multiple sclerosis. Neurology 65(6):812–819

14.

Rog DJ, Nurmikko TJ, Young CA (2007) Oromucosal delta-9- tetrahydrocannabinol/cannabidiol for neuropathic pain associated with multiple sclerosis: an uncontrolled, open-label, 2-year extension trial. Clin Ther 29(9):2068–2079

15.

Berman JS, Symonds C, Birch R (2004) Efficacy of two cannabis based medicinal extracts for relief of central neuropathic pain from brachial plexus avulsion: results of a randomized controlled trial. Pain 112(3):299–306

16.

Nurmikko TJ, Serpell MG, Hoggart B, Toomey PJ, Morlion BJ, Haines D (2007) Sativex successfully treats neuropathic pain characterised by allodynia: a randomised, double-blind, placebo-controlled clinical trial. Pain 133(1–3):210–220

17.

Serpell MG, Ratcliffe S, Hovorka J, Schofield M, Taylor L, Lauder H, Ehler E (2014) A double-blind, randomized, placebo-controlled, parallel group study of THC/CBD spray in peripheral neuropathic pain treatment. Eur J Pain. doi:10.1002/j.1532-2149.2013.00445.x

18.

GW Pharmaceuticals Ltd. NCT00710424 (2000) A double blind, randomized, placebo controlled, parallel group study of Sativex in the treatment of subjects with pain due to diabetic neuropathy. In: ClinicalTrials.gov (Internet). Bethesda (MD): National Library of Medicine (US). http://clinicaltrials.gov/show/NCT00710424: NCT00710424 (cited 23 Oct 2013)

19.

Committee for Medicinal Products for human use (CHMP) (2004) Guideline on clinical investigation of medicinal products intended for the treatment of neuropathic pain. London (CHMP/EWP/252/03)

20.

Neuropathic pain scale PDF (2013) Practicing clinicians exchange. http://practicingclinicians.com/cms/wb/PCEv3/site/hs09_pdfs/nps.pdf. Accessed 02 October 2013

21.

Farrar JT, Young JP Jr, LaMoreaux L, Werth JL, Poole RM (2001) Clinical importance of changes in chronic pain intensity measured on an 11-point numerical pain rating scale. Pain 94(2):149–158

22.

Attal N, Cruccua G, Haanpää M, Hansson P, Jensen TS, Nurmikko T, Sampaio C, Sindrup S, Wiffen P, EFNS Task Force (2006) EFNS guidelines on pharmacological treatment of neuropathic pain. Eur J Neurol 13(11):1153–1169

23.

Abrams DI, Jay CA, Shade SB, Vizoso RN, Reda H, Press S, Kelly ME, Rowbotham MC, Petersen KL (2007) Cannabis in painful HIV-associated sensory neuropathy: a randomised placebo-controlled trial. Neurology 68(7):515–521

24.

Ware MA, Wang T, Shapiro S, Robinson A, Ducruet T, Huynh T, Gamsa A, Bennett GJ, Collet JP (2010) Smoked cannabis for chronic neuropathic pain: a randomized controlled trial. CMAJ 182(14):E694–E701

25.

Toth C, Mawani S, Brady S, Chan C, Liu C, Mehina E, Garven A, Bestard J, Korngut L (2012) An enriched-enrolment, randomized withdrawal, flexible-dose, double-blind, placebo-controlled, parallel assignment efficacy study of nabilone as adjuvant in the treatment of diabetic peripheral neuropathic pain. Pain 153(10):2073–2082

26.

Casarett D, Karlawish J, Sankar P, Hirschman K, Asch DA (2001) Designing pain research from the patient's perspective: what trial endpoints are important to patients with chronic pain? Pain Med 2(4):309–316

27.

Turk DC, Dworkin RH (2004) What should be the core outcomes in chronic pain clinical trials? Arthritis Res Ther 6(4):151–154

28.

Dworkin RH, Turk DC, Farrar JT, Haythornewaite JA, Jensen MP, Katz NP, Kerns RD, Stucki G, Allen RR, Bellamy N, Carr DB, Chandler J, Cowan P, Dionne R, Galer BS, Hertz S, Jadad AR, Kramer LD, Manning DC, Martin S, McCormick CG, McDermott MP, McGrath P, Quessy S, Rappaport BA, Robbins W, Robinson JP, Rothman M, Royal MA, Simon L, Stauffer JW, Stein W, Tollett J, Wernicke J, Witter J, IMPACT (2005) Core Outcome measures for chronic pain clinical trials: IMMPACT recommendations. Pain 113(1–2):9–19

29.

Stacey BR, daCosta DiBonaventura M, Martin S, Bell CF (2010) Chronological characteristics of painful diabetic peripheral neuropathy. American Pain Society ASM, Abstract, Glenview 23

30.

Noble M, Treadwell JR, Tregear SJ, Coates VH, Wiffen PJ, Akafomo C, Schoelles KM (2010) Long-term opioid management for chronic noncancer pain. Cochrane Database Syst Rev 20(1):CD006605

31.

Bernal M, Haro JM, Bernert S, Brugha T, de Graaf R, Bruffaerts R, Lépine JP, de Girolamo G, Vilagut G, Gasquet I, Torres JV, Kovess V, Heider D, Neeleman J, Kessler R, Alonso J, ESEMED/MHEDEA Investigators (2007) Risk factors for suicidality in Europe: results from the ESEMED study. J Affect Disord 101(1–3):27–34

32.

Tang NK, Crane C (2006) Suicidality in chronic pain: a review of the prevalence, risk factors and psychological links. Psychol Med 36(5):575–586

33.

Dworkin RH, Gitlin MJ (1991) Clinical aspects of depression in chronic pain patients. Clin J Pain 7(2):79–94

34.

Fisher BJ, Cutler R, Rosomoff HL, Rosomoff RS (1997) Chronic pain associated with depression: antecedent or consequence of chronic pain? A review. Clin J Pain 13(2):116–137

35.

Kessler RC, Borges G, Walters EE (1999) Prevalence of and risk factors for lifetime suicide attempts in the National Comorbidity Survey. Arch Gen Psychiatry 56(7):617–626

36.

Yen S, Shea MT, Pagano M, Sanislow CA, Grilo CM, McGlashan TH, Skodol AE, Bender DS, Zanarini MC, Gunderson JG, Morey LC (2003) Axis I and Axis II disorders as predictors of prospective suicide attempts: findings from the collaborative longitudinal personality disorders study. J Abnorm Psychol 112(3):375–381
Conflicts of interest
B. Hoggart, S. Ratcliffe, E. Ehler, K. H. Simpson, J. Hovorka, J. Lejčko and M. Serpell were all investigators in this study and received investigator fees from GW Pharma Ltd. accordingly for their participation in the study. GW Medical Writers L. Taylor, H. Lauder and S. M. Greenwood undertook the initial compilation and quality control review of the manuscript. Together with the other authors, the target journal was then agreed and all authors reviewed and contributed to the content of the manuscript and agreed upon the final submitted version. All intellectual property rights arising out of the current clinical study are vested in or exclusively licenced to GW.
Ethical standards
The study was approved by the Institutional Review Boards or Ethical Committees in each of the countries in which it was run and was conducted in accordance with the principles of the Declaration of Helsinki and the International Conference on Harmonisation Good Clinical Practice guidelines.
Informed consent
All patients gave informed consent prior to their inclusion in the study and before any study-related procedures were carried out.
About this article
Cite this article
Hoggart, B., Ratcliffe, S., Ehler, E. et al. A multicentre, open-label, follow-on study to assess the long-term maintenance of effect, tolerance and safety of THC/CBD oromucosal spray in the management of neuropathic pain. J Neurol 262, 27–40 (2015). https://doi.org/10.1007/s00415-014-7502-9
Received:

Revised:

Accepted:

Published:

Issue Date:
Keywords
Cannabidiol

Cannabinoid

Delta-9-tetrahydrocannabinol

Neuropathic pain

THC/CBD spray