This is a preview of subscription content, log in to check access.
Access options
Buy single article
Instant access to the full article PDF.
US$ 39.95
Price includes VAT for USA
Subscribe to journal
Immediate online access to all issues from 2019. Subscription will auto renew annually.
US$ 199
This is the net price. Taxes to be calculated in checkout.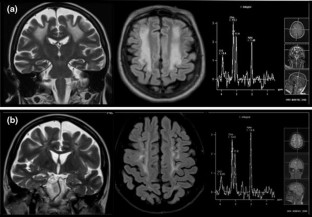 References
1.

Weglage J, Möller HE, Wiedermann C, Cipcic-Schmidt S, Zschocke J, Ullrich K (1998) In vivo NMR spectroscopy in patients with phenylketonuria: clinical significance of interindividual differences in brain phenylalanine concentrations. J Inherit Metab Disord 21:81–82

2.

Kasim S, Moo R, Zschocke J, Jinnah HA (2001) Phenylketonuria presenting in adulthood with progressive spastic paraparesis and dementia. J Neurol Neurosurg Psichiatry 71:795–797

3.

Weglage J, Oberwittler C, Marquardt T, Schellscheidt J, von Teeffelen-Heithoff A, Koch G, Gerding H (2000) Neurological deterioration in adult phenylketonuria. J Inherit Metab Dis 23:83–84

4.

Ishimaru K, Tamasawa N, Baba M, Matsunaga M, Takebe K (1993) Phenylketonuria with adult-onset neurological manifestation. Rinsho Shinkeigaku 33:961–965

5.

Jousserand G, Antoine JC, Camdessanché JP (2010) Musty odour, mental retardation, and spastic paraplegia revealing phenylketonuria in adulthood. J Neurol 257:302–304

6.

Narayanan D, Barski R, Henderson MJ, Luvai A, Chandrajay D, Stainforth C, Bradley J, Rogozinski H, Sharma R (2014) Delayed diagnosis of phenylketonuria—a case report of two siblings. Ann Clin Biochem 51:406–408

7.

Anderson PJ, Leuzzi V (2010) White matter pathology in phenylketonuria. Mol Genet Metab 99:S3–S9

8.

Cleary MA, Walter JH, Wraith JE, White F, Tyler K, Jenkins JP (1995) Magnetic resonance imaging in phenylketonuria: reversal of cerebral white matter change. J Pediatr 127:251–255

9.

Pietz J, Kreis R, Schmidt H, Meyding-Lamadé UK, Rupp A, Boesch C (1996) Phenylketonuria: findings at MR imaging and localized in vivo H-1 MR spectroscopy of the brain in patients with early treatment. Radiology 201:413–420

10.

Oka M, Hasegawa S, Matsushige T, Inoue H, Kajimoto M, Ishikawa N, Isumi H, Ichiyama T (2014) Tau protein concentrations in the cerebrospinal fluid of children with acute disseminated encephalomyelitis. Brain Dev 36:16–20

11.

Weglage J, Wiedermann D, Denecke J, Feldmann R, Koch HG, Ullrich K, Moller HE (2002) Individual blood-brain barrier phenylalanine transport in siblings with classical phenylketonuria. J Inherit Metab Dis 25:431–436
Acknowledgments
This research has been in part supported by a grant from Regione Toscana and National Ministry of Health to AF. Authors kindly thank Dr. F. Calì, Laboratorio di Genetica Molecolare, U.O.C. di Genetica Medica, Associazione OASI Maria SS. ONLUS—IRCCS, Troina, EN, for the execution of the genetic testing.
Conflicts of interest
On behalf of all authors, the corresponding author states that there is no conflict of interest.
Ethical standard
Patient's anonymity was protected in this case report.
About this article
Cite this article
Rosini, F., Rufa, A., Monti, L. et al. Adult-onset phenylketonuria revealed by acute reversible dementia, prosopagnosia and parkinsonism. J Neurol 261, 2446–2448 (2014). https://doi.org/10.1007/s00415-014-7492-7
Received:

Revised:

Accepted:

Published:

Issue Date:
Keywords
Newborn Screening

Phenylketonuria

White Matter Abnormality

Unbalanced Diet

Prosopagnosia