Abstract
Epileptic seizures can be provoked by several factors. Better understanding of these factors may improve a patient's sense of control and could reduce seizures. In daily practice, the recognition of seizure precipitants relies heavily on clinical or video-EEG evidence, which can be difficult to obtain. Studies of seizure provocation are largely based on selected hospital-based patient populations, which may lead to biased occurrence estimates. Self-reported seizure precipitants are rarely studied, yet are necessary to understand the experiences of patients and improve epilepsy management. We performed a cross-sectional community-based study of 248 epilepsy patients, selected by pharmacy records of anti-epileptic drug use. Self-reported seizure precipitants and potential associated characteristics were assessed using questionnaires. Almost half of all patients (47 %) reported one or more seizure precipitants, of which stress, sleep deprivation, and flickering lights were the most common. In this community-based setting, light-provoked seizures were especially frequent compared to the literature. Idiopathic generalized epilepsy (IGE), a lower age at seizure onset, and having auras or prodromes were found to be important independent prognostic factors associated with provoked seizures. IGE and a younger age at seizure onset have been linked to provoked seizures in earlier reports. The finding of auras or prodromes as a prognostic factor was unexpected, though case reports have described provoked seizures in patients having auras. Assessment of these factors may facilitate the early recognition of seizure precipitants in daily clinical practice. This is important for the optimization of epilepsy management for a large group of patients, as provoked seizures are expected to occur frequently.
Access options
Buy single article
Instant access to the full article PDF.
USD 39.95
Price excludes VAT (USA)
Tax calculation will be finalised during checkout.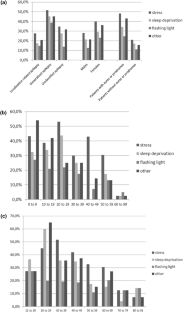 Reference
Kasteleijn-Nolst Trenite DG (2012) Provoked and reflex seizures: surprising or common? Epilepsia 53(Suppl 4):105–113

Spatt J, Langbauer G, Mamoli B (1998) Subjective perception of seizure precipitants: results of a questionnaire study. Seizure J Br Epilepsy Assoc 7:391–395

da Silva Sousa P, Lin K, Garzon E, Sakamoto AC, Yacubian EM (2005) Self-perception of factors that precipitate or inhibit seizures in juvenile myoclonic epilepsy. Seizure J Br Epilepsy Assoc 14:340–346

Fang PC, Chen YJ, Lee IC (2008) Seizure precipitants in children with intractable epilepsy. Brain Dev 30:527–532

Frucht MM, Quigg M, Schwaner C, Fountain NB (2000) Distribution of seizure precipitants among epilepsy syndromes. Epilepsia 41:1534–1539

Haut SR, Hall CB, Masur J, Lipton RB (2007) Seizure occurrence: precipitants and prediction. Neurology 69:1905–1910

Lunardi Mdos S, Sukys-Claudino L, Guarnieri R, Walz R, Lin K (2011) Seizure precipitants and inhibiting factors in mesial temporal lobe epilepsy. J Neurol Sci 308:21–24

Nakken KO, Solaas MH, Kjeldsen MJ, Friis ML, Pellock JM, Corey LA (2005) Which seizure-precipitating factors do patients with epilepsy most frequently report? Epilepsy Behav 6:85–89

Pinikahana J, Dono J (2009) Age and gender differences in initial symptoms and precipitant factors of epileptic seizures: an Australian study. Epilepsy Behav E&B 16:231–239

Spector S, Cull C, Goldstein LH (2000) Seizure precipitants and perceived self-control of seizures in adults with poorly-controlled epilepsy. Epilepsy Res 38:207–216

Sperling MR, Schilling CA, Glosser D, Tracy JI, Asadi-Pooya AA (2008) Self-perception of seizure precipitants and their relation to anxiety level, depression, and health locus of control in epilepsy. Seizure J Br Epilepsy Assoc 17:302–307

Tan JH, Wilder-Smith E, Lim EC, Ong BK (2005) Frequency of provocative factors in epileptic patients admitted for seizures: a prospective study in Singapore. Seizure J Br Epilepsy Assoc 14:464–469

Balamurugan E, Aggarwal M, Lamba A, Dang N, Tripathi M (2013) Perceived trigger factors of seizures in persons with epilepsy. Seizure J Br Epilepsy Assoc 22:743–747

Kasteleijn-Nolst Trenite DG, van der Beld G, Heynderickx I, Groen P (2004) Visual stimuli in daily life. Epilepsia 45(Suppl 1):2–6

Kasteleijn-Nolst Trenite D, Rubboli G, Hirsch E, Martins da Silva A, Seri S, Wilkins A, Parra J, Covanis A, Elia M, Capovilla G, Stephani U, Harding G (2012) Methodology of photic stimulation revisited: updated European algorithm for visual stimulation in the EEG laboratory. Epilepsia 53:16–24

Gilboa T (2012) Emotional stress-induced seizures: another reflex epilepsy? Epilepsia 53:e29–e32

Verrotti A, Beccaria F, Fiori F, Montagnini A, Capovilla G (2012) Photosensitivity: epidemiology, genetics, clinical manifestations, assessment, and management. Epileptic Disord Int Epilepsy J Videotape 14:349–362

Fisher RS, Harding G, Erba G, Barkley GL, Wilkins A (2005) Photic- and pattern-induced seizures: a review for the Epilepsy Foundation of America Working Group. Epilepsia 46:1426–1441

Zifkin BG, Kasteleijn-Nolst Trenite D (2000) Reflex epilepsy and reflex seizures of the visual system: a clinical review. Epileptic Disord Int Epilepsy J Videotape 2:129–136

Groenwold RH, Donders AR, Roes KC, Harrell FE Jr, Moons KG (2012) Dealing with missing outcome data in randomized trials and observational studies. Am J Epidemiol 175:210–217

Fisher RS, Vickrey BG, Gibson P, Hermann B, Penovich P, Scherer A, Walker S (2000) The impact of epilepsy from the patient's perspective I. Descriptions and subjective perceptions. Epilepsy Res 41:39–51

Novakova B, Harris PR, Ponnusamy A, Reuber M (2013) The role of stress as a trigger for epileptic seizures: A narrative review of evidence from human and animal studies. Epilepsia 54:1866–1876

Spector S, Cull C, Goldstein LH (2001) High and low perceived self-control of epileptic seizures. Epilepsia 42:556–564

van Campen JS, Jansen FE, Steinbusch LC, Joels M, Braun KP (2012) Stress sensitivity of childhood epilepsy is related to experienced negative life events. Epilepsia 53:1554–1562

Zifkin BG, Inoue Y (2004) Visual reflex seizures induced by complex stimuli. Epilepsia 45(Suppl 1):27–29

Stephani U, Tauer U, Koeleman B, Pinto D, Neubauer BA, Lindhout D (2004) Genetics of photosensitivity (photoparoxysmal response): a review. Epilepsia 45(Suppl 1):19–23

Blair RD (2012) Temporal lobe epilepsy semiology. Epilepsy Res Treat 2012:751510

Benbadis SR, Gerson WA, Harvey JH, Luders HO (1996) Photosensitive temporal lobe epilepsy. Neurology 46:1540–1542

Inoue K, Mimori Y, Harada T, Oshita T, Kumagai R, Nakamura S (2000) The relationship between photosensitive temporal lobe epilepsy and eye closure activity. Seizure J Br Epilepsy Assoc 9:347–351

Kasteleijn-Nolst Trenite DG, Verrotti A, Di Fonzo A, Cantonetti L, Bruschi R, Chiarelli F, Villa MP, Parisi P (2010) Headache, epilepsy, and photosensitivity: how are they connected? J Headache Pain 11:469–476

Castro MJ, Stam AH, Lemos C, de Vries B, Vanmolkot KR, Barros J, Terwindt GM, Frants RR, Sequeiros J, Ferrari MD, Pereira-Monteiro JM, van den Maagdenberg AM (2009) First mutation in the voltage-gated Nav1.1 subunit gene SCN1A with co-occurring familial hemiplegic migraine and epilepsy. Cephalalgia Int J Headache 29:308–313

Deprez L, Peeters K, Van Paesschen W, Claeys KG, Claes LR, Suls A, Audenaert D, Van Dyck T, Goossens D, Del-Favero J, De Jonghe P (2007) Familial occipitotemporal lobe epilepsy and migraine with visual aura: linkage to chromosome 9q. Neurology 68:1995–2002

Parisi P, Kasteleijn-Nolst Trenite DG, Piccioli M, Pelliccia A, Luchetti A, Buttinelli C, Villa MP (2007) A case with atypical childhood occipital epilepsy "Gastaut type": an ictal migraine manifestation with a good response to intravenous diazepam. Epilepsia 48:2181–2186

Toldo I, Perissinotto E, Menegazzo F, Boniver C, Sartori S, Salviati L, Clementi M, Montagna P, Battistella PA (2010) Comorbidity between headache and epilepsy in a pediatric headache center. J Headache Pain 11:235–240

Kasteleijn-Nolst Trenité DGA SLM (2003) Prevalence of photo paroxysmal EEG responses in normal children and adolescents in Teofile Otoni, Brazil 2001–2002 Epilepsia 44 (Suppl. 8):48

Aird RB (1983) The importance of seizure-inducing factors in the control of refractory forms of epilepsy. Epilepsia 24:567–583
Acknowledgments
This study was funded by the National Dutch Epilepsy Foundation. The funders had no role in design, collection, analysis, or interpretation of the data, nor in the writing of the report or the decision to submit the article for publication. Researchers were independent from the funders.
Conflicts of interest
All authors declare no conflict of interests. A grant provided by the National Dutch Epilepsy Foundation was received for the conduct of the OPPEC study that forms part of the submitted work. All authors have no financial relationship with any organization that might have an interest in the submitted work or relationships or activities that could appear to have influenced the submitted work.
Ethical statement
We confirm that we have read the journal's position on issues involved in ethical publication and affirm that this report is consistent with those guidelines. The study has been approved by the local ethics committee and was performed in accordance with the ethical standards laid down in the 1964 Declaration of Helsinki and its later amendments.
Additional information
On behalf of the OPPEC study group.
Members of this group are listed in the Appendix section.
Appendix
Appendix
The following are members of the OPPEC study group in alphabetical order: J A. Carpay (M.D., Ph.D.), A C.G. Egberts (Ph.D.), G.J. de Haan (M.D., Ph.D.), D.G. Kasteleijn-Nolst Trenité (M.D., Ph.D.), B.P. Koeleman (Ph.D.), F.S.S. Leijten (M.D., Ph.D.), P. van der Linden (Ph.D.), D. Lindhout (Ph.D.), K.G.M. Moons (Ph.D.), S.G. Uijl (Ph.D.), M. Wassenaar (M.Sc.), I. Wilting (Ph.D.) all residing in the Netherlands, and J.W. Sander (M.D., Ph.D.) (United Kingdom). All members of the OPPEC study group were involved in the design of the study. MW was responsible for the design/conceptualization of the study, the collection, analysis, and interpretation of the data and for drafting the manuscript. DK, GdH, JC, and FL were responsible for the design/conceptualization of the study, revising the manuscript for intellectual content and for final approval of the version to be published. All authors had full access to all of the data in the study and can take responsibility for the integrity of the data and the accuracy of the data analysis.
About this article
Cite this article
Wassenaar, M., Kasteleijn-Nolst Trenité, D.G.A., de Haan, GJ. et al. Seizure precipitants in a community-based epilepsy cohort. J Neurol 261, 717–724 (2014). https://doi.org/10.1007/s00415-014-7252-8
Received:

Accepted:

Published:

Issue Date:

DOI: https://doi.org/10.1007/s00415-014-7252-8
Keywords
Epilepsy

Seizure precipitants

Provoked-seizures

Community-based